Prambanan Temple, also known as the Roro Jonggrang Temple, is the largest Hindu temple compound in Indonesia. Prambanan is the name of the district where the temple complex is located, while the name Roro Jonggrang was given by the locals, according to the legend that was foretold. This 47 meter-high temple was built in the 9th century as a dedication to Brahma (God of Creation), Vishnu (God of Preservation), and Shiva (God of Destruction). Together, these three personifications of God are known by the Hindu people as Trimurti. This magnificent ancient construction was appointed as one of UNESCO World Heritage Sites and often said as one of the most beautiful temples in South East Asia.
As such, this temple receives a lot of tourists every year. The contemporary events that often held in the temple compound also helped in drawing more visitors to the area. This leads to the government establishing a State-owned Limited Liability Enterprise that was intended to manage and maintain the tourism at the Prambanan, Borobudur, and Ratu Boko Temple with their surrounding areas. The most frequently performed event in Prambanan is the traditional Javanese dance portraying the epic Ramayana story in a stage. The dance is performed every full moon night at the temple, and one of the most sought for by visitors, domestic and international alike.
Where is it?
Candi Prambanan is located in Karangasem village, Bokoharjo, Prambanan subdistrict, Sleman regency, Yogyakarta Special Territory, Central Java, Indonesia. This temple stands exactly above the border of Central Java and Yogyakarta Province.
You may also visit:
1. Learn Hindu Beliefs and Javanese Culture
As you enter the temple and explore around, you will witness the finely carved reliefs along the wall of the temple and majestic statues scattered around the temple. During your little exploration, it is not rare that people will find themselves interested in the Hindu beliefs and Javanese culture through their visits to the temples. Candi Prambanan or Roro Jonggrang consists of three main temples dedicated to three main personifications of god in Hindu belief and other smaller temples.
The Three Main Temple

The main temple, located in the center of Prambanan Temple National Park, is dedicated to the Shiva, God of Destroyer. The Shiva Temple is 47 meters high and is the largest and tallest of the six main temples in Prambanan. The forecourt of the temple is decorated with rich reliefs of Ramayana. There are four chambers with statues all around the temple.
The statue of Shiva Mahadeva stands in the eastern chamber while the statue of His elephant-headed son, Ganesha, stands on the west. The Shiva Mahadeva statue bears every symbols that commonly associated with Shiva called lakcana, such as prayer beads, feather duster, trident, skull, and a sickle. It stands above a lotus pad pedestal engraved with carvings of Naga serpents. On the north, stands the statue of Durga (or Roro Jonggrang) killing a bull demon, whilst on the south, stands the statue of the sage, Agastya. Its base is decorated with small lions statues flanked by  two kalpataru (trees of heaven), as well as peculiar half-human and half-bird heavenly beings, Kinnara, on the right side and left side.
The other main temple is dedicated to  Brahma, the God of Creator, and Vishnu, the God of Protection. The temple of Brahma is located in the south of Prambanan Temple National Park area, just a little to the south of Shiva's temple. Brahma Temple is smaller than Shiva's temple and is only about 33 meters high and 20 meters wide. This temple only contains one great chamber dedicated to Brahma. Brahma's temple is facing east As you enter the temple, you may notice the admirable doorway shaped like a monster's mouth. Brahma Temple also houses a statue of the four-headed Brahma inside and the fine reliefs are engraved all over the wall of the temple, continuing the story of Ramayana from those on the wall of Candi Shiva.
The Vishnu temple is also smaller than Shiva's temple with about 33 meters height and 20 meters wide. It is located north to the Shiva's temple and it has the same size and shape as Brahma's Temple. In fact, it is almost identical to the Brahma's temple, save for the statues housed inside the temple. As a dedication to Vishnu, the God of Preserver, this temple also only have one great chamber dedicated to Vishnu, just like Brahma Temple. Vishnu Temple houses a statue of four-armed Vishnu inside. The reliefs engraved on the walls of the temple depicts the story of Vishnu's avatar, Khrisna. Khrisna is known as the main hero in Mahabharata story.
2. Visits More Temples
Other than the three main temples, there are several smaller temples as well, such as the Nandi Temple, Garuda Temple, Hamsa Temple, Bubrah Temple, Lumbung Temple, and Sewu Temple. Not all of them belongs to the Hindu religion, though.
[accordion]
[toggle title="1. Nandi Temple" state="opened"]
Nandi Temple belongs to Nandi, the sacred bull mounted by Shiva. The Nandi Temple contains a statue of Nandi, as well as the statue of Chandra, the god of moon, and Surya, the god of sun. The statue of Chandra stands on his carriage pulled by 10 horses, and the statue of Surya also stands on a carriage pulled by 7 horses.
[/toggle]
[toggle title="2. Garuda and Hamsa Temple"]
The next one, Garuda Temple was dedicated to the Garuda, which is a sacred eagle-like being Vishnu rides as his mount. Unfortunately, the Garuda temple in Prambanan contains no statue in it, presumably because of the damage caused by an earthquake in 2006. The other temple, Hamsa or Angsa is a sacred swan belongs to Brahma. Hamsa temple in Prambanan also contains no statue in it, just like the Garuda Temple.
[/toggle]
[toggle title="3. Bubrah and Lumbung Temple"]
Next one is Bubrah and Lumbung Temple. These two temples are Buddhist temples located inside the area of Prambanan Temple National Park. Bubrah Temple is located between the Roro Jonggrang and Sewu Temple. Aptly named, this temple Bubrah, whih derived from local language that means damaged, was damaged when it's found. This ruins also have several buddha statues which are not intact anymore. Lumbung Temple, located adjacent to Bubrah, is a collection of 16 temples surrounding one main temple.
[/toggle]
[toggle title="4. Sewu Temple"]
Last one is the Sewu Temple. This grand Buddhist temple still located inside the area of Prambanan Temple National Park was built in the 8th century, even older than Prambanan Temple.The name Sewu means one thousand temples, in accordance to Roro Jonggrang Legend, although there are actually only 249 temples here. The main temple is about 30 meters high and has a diameter of 29 meters. If seen from above, the temple area will look like a mandala pattern. The existence of this Buddhist temple side by side with the Hindu Prambanan Temple shows that adherents of Hindu and Buddha in Java lived in harmony with religious tolerance since ancient times.
[/toggle]
[/accordion]
You may also visit:
Tourist Attractions Near Prambanan Temple
Indeed, there are many things to do in Prambanan Temple Yogyakarta, here are more attractions:
1. Watch the spectacular Ramayana Ballet
Ramayana Ballet is a Javanese dance performance held in an open theater inside the park, on the west on Candi Prambanan. The performance itself has gained fame across the world, so witnessing some foreigners watching the show is not a strange sight here. The performance tells a story of Hindu's epic Ramayana. It involves about 200 graceful dancers and skillful gamelan musicians to perform this fantastic show. Many tourists are enamored of the dance performance held just in front of the magnificent well-lit backdrop of Prambanan and the romantic silhouette of Mount Merapi under the starry night. Make sure to see the schedule thoroughly since it is not an everyday show and missing this dance performance during your visit to Prambanan is surely a big loss.
2. Batik Hunt at Batik Showroom around Prambanan
UNESCO recently had launched several batik showrooms and outlets near the outlying temples around Yogyakarta. Because of that, visitors now could do a batik hunt trip to these showrooms to buy some memorable souvenirs. The showrooms are Batik Rumah Jumputan Candi Ijo, Candi Sojiwan, Batik Dewi Wanu, and Batik Borobudur. The Candi Sojiwan batik showroom is the closest one to Prambanan Temple, but since the other temples such as Borobudur is located not far, you can also visit the other showrooms in one go. As the batik cloth originated from this area, there are lots of batik crafters that offer a state-of-the-art top notch batik products.
3. Eat and Enjoy The View of Prambanan at Night
Abhyagiri Resto is a classy dining place with Javanese style architecture nearby Prambanan. Located at the top of a hill, you can enjoy the incredible view of Prambanan Temple at night, Yogyakarta city light, and Mount Merapi view from afar. The scenic view merges together creating an impeccable and spectacular night view as you dig in the luscious international or local delicacies that the restaurant offers. Aside from the romantic view and delicious meal, this restaurant also offers you entertainment for special event such as Jonggrang Traditional Dance, Coke'an Traditional Accoustic Dance, and also live accoustic performance.
You may also read:
Best Places to Stay Near Prambanan Temple
Various hotels, guesthouses, and villas, from modest ones to luxurious ones, are available nearby The Prambanan Temple. Here are some of the recommended accommodations:
[accordion]
[toggle title="1. Quin's Colombo Hotel" state="opened"]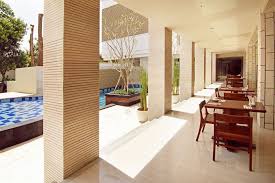 Quin's Colombo hotel is a modern minimalist three star hotel located about 3 km from Prambanan Temple. It provides you with pleasant rooms and friendly staffs, as well as a swimming pool, meeting rooms, a poolside restaurant and free transportation to  Adisucipto airport, Prambanan Temple, and Malioboro Road. Additional tips for you, the room at the top floor allows you to see the view of Mt. Merapi in the morning.
[/toggle]
[toggle title="2. Villa Banjoe"]
With modern tropical concept, this villa provides a comfortable venue for its visitor to relax. There are two kinds of villa, the three bedroom villa and the four bedroom villa. Each room is equipped with air-con, LCD-TV, and cold and hot shower. The villa also provides additional facilities such as swimming pool and whirlpool, daily breakfast, barbecue equipments, and various tour packages around Yogyakarta, including Prambanan.
[/toggle]
[toggle title="3. Alam Jogja Resort"]
Alam Jogja Resort can be an option for people who want to experience the ambience of staying in a tastefully furnished Javanese resort and rooms surrounded by tranquil and refreshing green garden. One of the main features provided by this resort is the motorcycle and bike rent which enables you to plan on your own tour around Yogyakarta.
[/toggle]
[/accordion]
You may also read:  Things to Do in Surakarta
Things to Do Near Prambanan
There are a lot of interesting nearby attractions as well, things to do in Prambanan Temple Yogyakarta, and we have compiled some of them into this list:
[accordion]
[toggle title="1. Beringharjo Traditional Market" state="opened"]
Beringharjo market is a paradise dedicated for shoppers. This oldest and largest trade center in Yogyakarta is a favorite destinations for tourists to satisfy their desire to buy batik, various souvenirs and antiques, herbs and spices, and local food and snacks. This market will offer you various things with cheaper price compared to other places. There is also a special area called Lor Market which formerly known as Chinatown Village.
Various local snacks you should try here are brem, krasikan, bakpia, hun kwe, ting-ting, and nagasari. There are also local drinks worth trying such as ice cendol, young coconut ice with palm sugar, herbal drinks such as kunyit asem (sour turmeric) and beras kencur. Usually the market is closed at 5 p.m. and replaced by night snack stalls that sell martabak, klepon, gudeg, and various oseng-oseng (stir fried food). As you stroll and chew around the market, you can listen to traditional Javanese music being played while greeting the amiable food sellers.
[/toggle]
[toggle title="2. Malioboro Street"]
This 24 hours hectic street has become one of most iconic places in Yogyakarta. The street stretches about 1 km from north to south, highlighting a combination of historical Dutch colonial-era architecture with modern architecture as well as the touch of Chinese contemporary commercial districts. The best way to explore the streets are by foot or by hiring a pedicab called becak or some kind of horse carriage called andong.
[/toggle]
[toggle title="3. Ijo Temple"]
Even though Ijo temple has't yet widely known by tourists, this temple offers you combination of enchanting hills scenery and cultural charm you cannot refuse. It is recognized as the temple with the highest location in Yogyakarta so that some visitors even managed to see the view of a plane landing or taking off at the west side of the temple.
[/toggle]
[toggle title="4. Ratu Boko Palace"]
This archeologic site located about 3 kilometers from Prambanan is situated on a hill at an altitude of 196 meters above the sea level. It is difficult to figure out of this site since only some building remains. From the laying pattern of the remaining buldings, this site is alleged to have been a king's palace. This is based on the fact that the area is more of a fortified palace as it has fortified walls and dry trenches meant for defense. It is neither a temple nor a building with religious nature. Remnants of settlements are also found around the site. This temple however is popular for its romantic sunset view as you can see Mount Merapi on the north of it.
[/toggle]
[toggle title="5. Plaosan Temple"]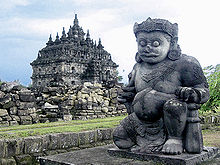 Located only 2 kilometers east of the northern Prambanan National Park, this buddhist temple is easy to reach even only on foot. There are two main structures here, The Plaosan Lor on north, and The Plaosan Kidul on south. Most of the statues were looted long time ago, but some statues remain intact and the reliefs are in excellent condition.
[/toggle]
[/accordion]
You may also read: Places To Visit in Indonesia
How to get there
Indeed, to enjoy all the things to do in Prambanan Temple Yogyakarta, here is the flexible accommodations:
1. By Plane
Yogyakarta airport, Adisucipto, serves direct international flights from Singapore and Kuala Lumpur, as well as domestic flights from Jakarta, Bali, and other major cities. Prambanan temple itself is located about ten kilometers away from the airport, so a taxi may be a good ride to take you from airport to the temple.
2. By TransJogja
TransJogja, Yogyakarta's newly operated bus service, also serves a direct route to Prambanan. Since the bus departs from many points in Yogyakarta, you can find that TransJogja is quite convenient for you to have a tour around Yogyakarta. It is air-conditioned and comfy, although there are times when the bus gets too crowded. Avoid taking the bus during the morning rush hours and the after-work hours, as there are a lot of local people who takes it daily to commute to their workplace.
3. By Train
Yogyakarta train station, Tugu station is strategically located at Jalan Malioboro, one of Yogya's main tourist attractions. Executive, business, and economy class trains are connecting all major cities in Java such as Jakarta, Bandung, Semarang, and Surabaya to Yogyakarta Station. Although the train is quite comfortable, it is too time-consuming and can cost you long hours and maybe even half a day or twelve hours, depending on what city you depart from.
4. By Intercity Bus
The intercity buses are also available to connect all cities in Java, Bali, and even Sumatra. Yogyakarta's main terminal for intercity buses, Giwangan Terminal, is located about six kilometers south of the city center. Executive and VIP buses usually have toilets, including meal, pillow, and blanket. Economy buses may have no air-con and less comfort, which is significant for long trips. The bus driver can be reckless sometimes and although it offers you a cheaper price than the train, it is actually more comfortable to take a train because of the winding road.
Operational Hours
Prambanan is open from 6 a.m. until 6 p.m., but the entrance ticket sales end at 5.45 p.m. It is suggested to come before noon to avoid the heat from the sun. The temple can be easily explored on foot, but when the weather is too hot, causing too much heat on either the road or your head, you may find a toy train shuttles around the park.
Indeed, Prambanan temple is located in Yogyakarta Indonesia. This temple is one of those best heritages of Budha-Hindu development in Indonesia. Thus, there are many things to do near Prambanan Temple Yogyakarta. So, let'd get lost here!
[accordion]
[toggle title="More Attractions in Indonesia"]
[/toggle]
[/accordion]