Yogyakarta is full of amazing tourist attractions, both the natural and historical ones. You may know the famous Malioboro Street or Keraton in Yogyakarta where you can explore the historical sites along those places.
However, Yogyakarta also has some magnificent natural attractions, specifically elaborated in beaches in Yogyakarta . These white beaches are incredibly beautiful and perfect for your holiday.
Most of the white beaches are in Gunungkidul Regency, and some are mentioned as beaches in Gunung Kidul too! This regency is popular for having many cliffy beaches and small islands nearby.
It also has some classic lovely white sandy beaches. Let's go beach walking through these 6 white beaches in Yogyakarta.
The first white beach in Yogyakarta is Siung Beach in Gunungkidul Regency. Siung Beach is known for having lovely white sandy beaches and a heaven for people who love rock climbing too!
There are some limestone cliffs around Siung Beach. These cliffs are perfect natural wall for climbers to test their skills, starting from beginners to experienced.
The road to this beach is quite challenging as you will experience a winding and ascending road. However, the exhausting trip will be paid off by the amazing view of the beach.
It does not matter whether you want to just chill next to the beach or try rock climbing, you will be mesmerized by the view of the Indian Ocean. It all can be enjoyed in Siung Beach!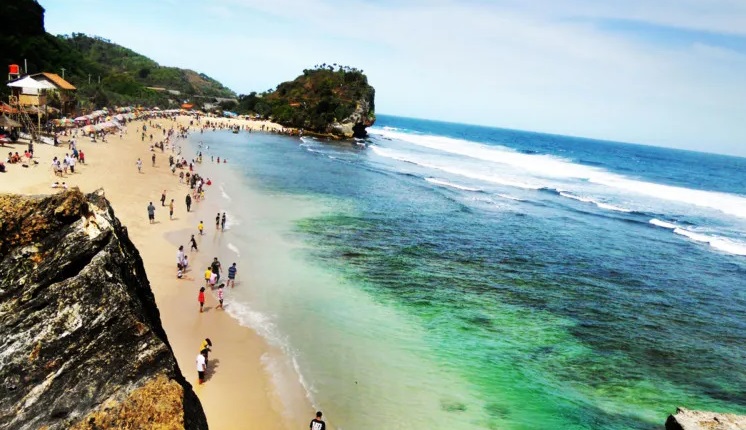 The second white beach located in Gunungkidul, Regency, Yogyakarta is Indrayanti Beach. If you wish to have a romantic and peaceful atmosphere, then you should visit this beach. This beach has a unique panoramic view compared to other beaches.
The silky white sand surrounded by enormous powerful rocks along with the clear blue color of the sea are the two main attractions of Indrayanti Beach. The sea water is very beautiful and clear as it is not contaminated by trash or any other waste.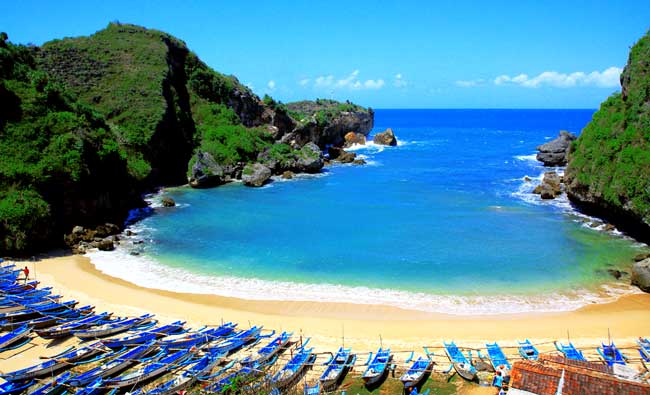 You might not be familiar with this beach yet, but this beach has become one of the tourist destinations in Yogyakarta you shouldn't miss. It is located in Saptosari, Gunungkidul Regency, Yogyakarta.
Unlike other beaches in Gunungkidul, Ngrenehan Beach is fulfilled of sailboats that are going to be used to sail on the ocean. It is because most of the local people are fishermen, and they park their boats at the beach.
Besides those sailboats, you will also be able to enjoy the blue water and white sand. This beach is also flanked by two big coral hills, which can reduce the intensity of wave action in seashore. That's why the waves are calm, and visitors are allowed to swim.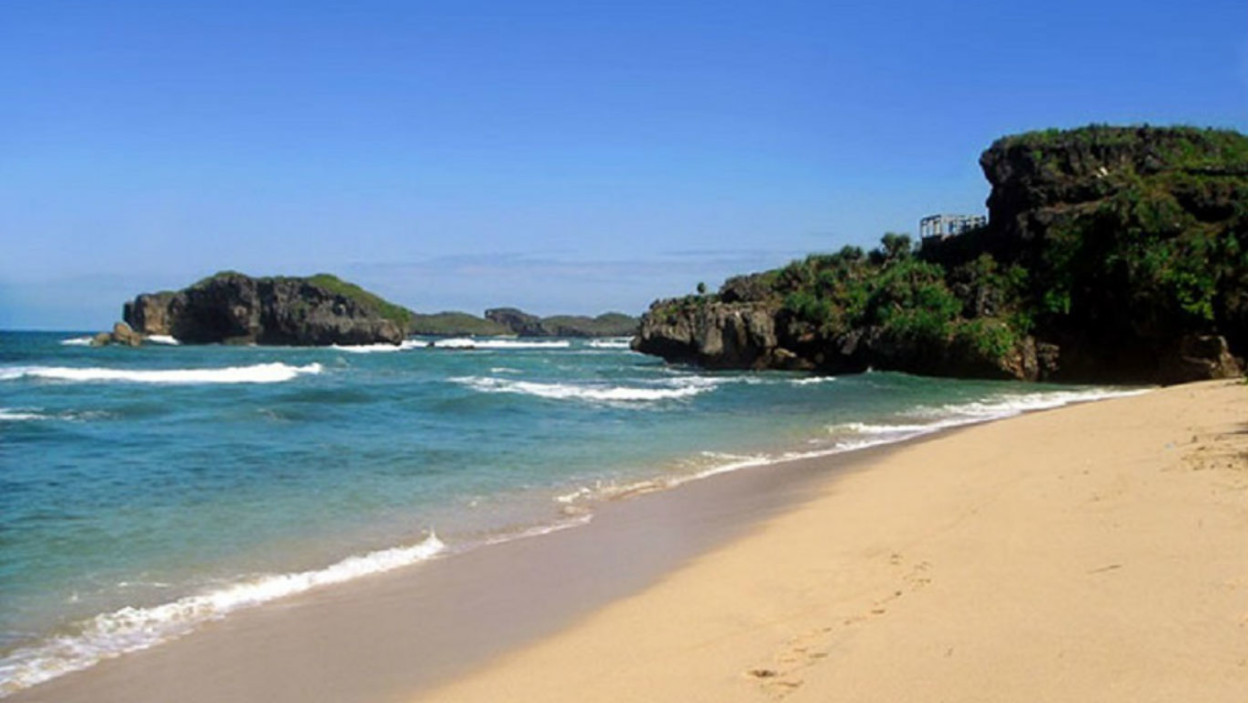 Sundak Beach is located in Sidoharjo Village. This beach is known for having bigger waves compared to the other beaches. There are huge limestone cliffs on each side of the beach, and it makes Sundak Beach feels to be a secluded hidden heaven.
Visitors are not allowed to swim during the big waves, but don't worry as Sundak Beach offers you more than white sand and clear sea water.
You can also build your tent here to have camping. While you're going camping, you can enjoy fresh seafood sold by the local fishermen. There are not many visitors coming to this beach yet, so it will surely offer you a peaceful atmosphere.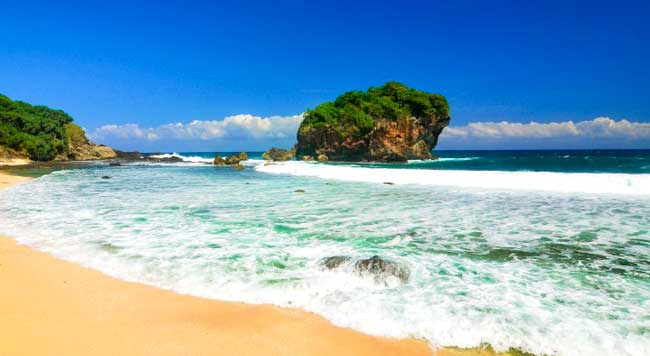 Jungwok Beach is another white beach located in Gunungkidul Regency, Yogyakarta. Clear sea water, great coral views and white sand are the three main attractions of this beach.
Jungwok Beach may not be as popular as the other beaches in Gunungkidul, such as Indrayanti or Siung Beach. It is because of the long distance; visitors should go through to reach this place.
However, due to this reason, visitors can enjoy more peaceful atmosphere here, making it feel like a private beach. The environment around this beach is clean and natural.
The best time to visit this beach is when the sun rises in the morning. Find the other sunrise view spots in Yogyakarta for you sunrise lovers!
If you wish to visit this beach, be mindful that visitors are not allowed to swim. Besides, make sure your vehicle is in the good condition, as the road to Jungwok Beach is not that smooth and tend to be narrow.
While you're in Yogyakarta, make sure you also consider visiting these temples in Yogyakarta and biggest shopping malls in Yogyakarta. Have fun!