Tambakromo might not sound familiar to all of you, however, it has some great hidden tourist attractions. Tambakromo is located in the province of Yogyakarta. Yogyakarta is one of the well-known cities in Indonesia, you can consider visiting this city too.
Read cultural attractions in Yogyakarta for your itinerary. It has some tourist attractions that are recommended to visit, ranging from the natural attractions to the culinary spots that will fulfill your hunger.
You should make yourself familiar with these hidden tourist attractions in Tambakromo if you plan to go there. Here are the 4 hidden tourist attractions you can find in Tambakromo.
Kedung Perahu has been viral since 2017 as there were some people posting the pictures of this place. This tourist attraction has a view of a river with rocks surround it. Kedung Perahu also has clear water that looks greenish.
The depth of Kedung Perahu is around 2 meters, so you need to be careful if you want to swim or play with water around. It is located on top of Kendeng mountainous hills, and you will be able to see the view of Pati Regency from the top. Also spend reading these caves in East Java if you love visiting caves.
It is named Kedung Perahu due to the shape of the rocks that look like a part of a boat that is hardened and become a ship-shaped rock. The unique shape of the rocks is the main attraction of this place, as many people take this spot for taking pictures.
The entrance fee is free. Many people also name this place as Dong Prau or other nicknames in the local language.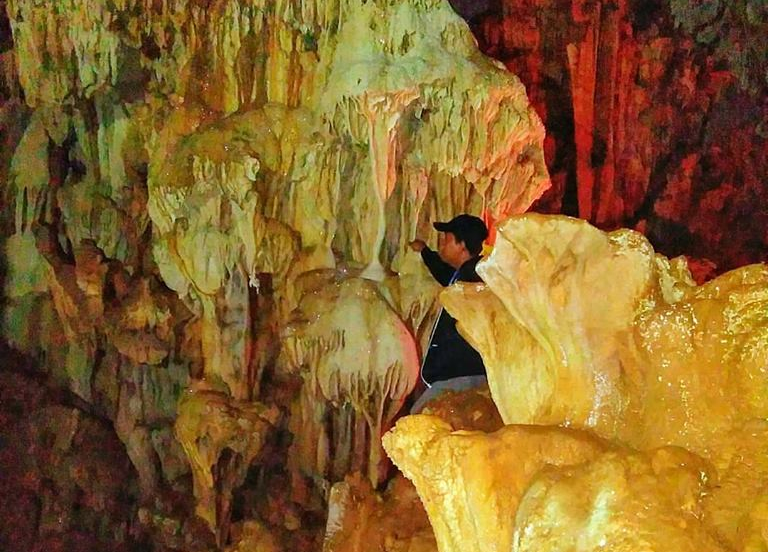 Kendeng Mountain, which is located in Pati, has lots of hidden tourist attractions. One of which is Goa Kembang. Goa Kembang is located in Pakis Village, Tambakromo District. This cave has also been viral recently.
Many people said that Goa Kembang is as beautiful as Goa Jomblang in Gunungkidul District, Yogyakarta, one of the Breathtaking Photo Spots in Yogyakarta That Prove It Is A Photographer's Heaven.
Inside the cave, the visitors will find stalactites and stalagmites that are very beautiful. Besides, they will also see the magnificent color of the cave wall.
This cave is located vertically, just like a well, so the visitors will need a rope or string to get inside the cave. If you're a nature lover, then you should visit this cave!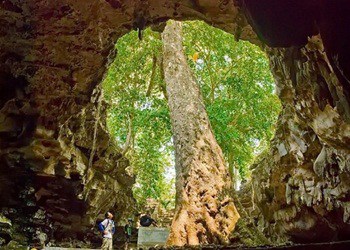 Another incredible cave found in Tambakromo is Goa Lowo. This hidden cave is located in Godo Village and it is famous for having its own uniqueness.
Lowo in Javanese language means bats and it was named that way because there are many bats inside the cave.
It is suggested to bring a torch while visiting this cave as this cave is really dark and doesn't have much light inside.
You will be able to enjoy the shade from the trees around it and the view of the hills of Kendeng Mountain. You can spend time relaxing there.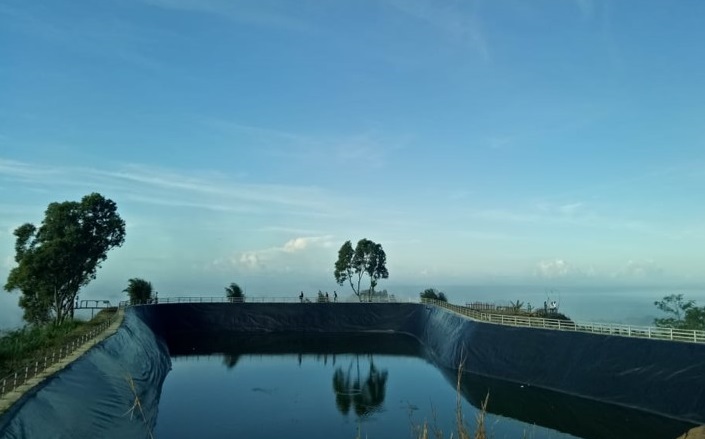 Embung is a retention basin, wet pond, wet detention basin or storm water management pond. Embung is used as an artificial pond with vegetation around it.
Embung Gunung Panggung is located in Gunung Panggung, in Gunungkidul, Tambakromo. This place is actually the part of Gunung Panggung, so while you go here, you can enjoy two places at the same time.
While you're still in Gunungkidul, make sure you also consider these 15 Things to Do in Gunung Kidul, Indonesia (Most Beautiful).
Embung Gunung Panggung is quite large and equipped with long posts look like the Eiffel Tower.
From this spot, you will be able to enjoy the natural panorama with some interesting spots and view you should put in as documentation. It is quite easy to reach this place, you just need to walk for around 200 meter up to the hill from the parking lot.
This place also has some spots for you to enjoy the sunset view in the evening. Many youngsters are hanging out around this place too.
There're some facilities provided in this place, such as camping ground, flying fox, gazebo and photo spots. If you like challenging sports, then don't miss these!
So, those are the 4 hidden tourist attractions you can visit in Tambakromo. They are fun to explore and by visiting those places, we really make contributions, especially on the economic and tourism field.
Still around Yogyakarta and Central Java, make sure you consider these 6 Beaches in Gunung Kidul, Yogyakarta Ideal for Summer Holiday and 7 Exotic Beaches in Cilacap, Central Java.