The best place for shopping and getting so many kinds of entertainment is the malls. In there, you can get so many things that you want like shirt, watch, or even a car. The malls got all the stuff, including the restaurants and cafe which becoming favorite places to hangout for any teenagers in town. Not only Jakarta that has some beautiful mall, Yogyakarta also has some beside historical places in Yogyakarta.
Even though the size of the mall is not as big as the malls in the big cities like Jakarta and Surabaya, they are also worth to visit, especially during weekend. Aside from enjoying instagrammable spots in Yogyakarta, you can visit them in order to make your night more colourful, either with some friends or your partner. So, be ready to visit these biggest shopping malls in Yogyakarta.
1. Galeria Mall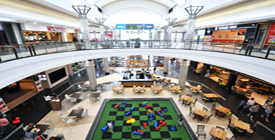 The fist mall included in the biggest shopping malls in Yogyakarta is the Galeria Mall. This one is located in an area of Yogyakarta called Gondokusuman of Yogyakarta, on the Jendral Sudirman street to be specific. Galeria Mall has a lot of popular tenants that can be enjoyed in this three floored building.
Aside for having three levels of building, Galeria Mall also has two ground levels. This mall is actually the second mall that firstly built in Yogyakarta city, just after the Malioboro mall. People of Yogyakarta like to call this mall as Gale. Mostly, the visitors of the mall are the college students who want to have some fun after days of study.
Location : Jendral Sudirman street 99 – 101, Terban. Gondokusuman
Tips : There will be so crowd during the night, you can come by day or evening
2. Malioboro Mall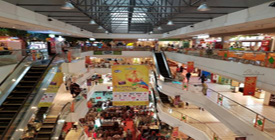 The next one is Malioboro street, a location just looks as good as instagramable places in Yogyakarta. This one is the first mall in Yogyakarta city, and now becoming one of the best malls in town. The mall was firsly built in 1993, located in a very strategic place of Malioboro street of Yogyakarta city, the famous spot in town where tourists and locals are gathering for geting the entertainments.
After exploring the street of Malioboro, taking selfies with the iconic lamps on the street, people can visit the mall to enjoy some stuff like sport station, book stores, culinary facilities, fashion center, etc. People usually come to this mall to fill their stomach, becuase there's like so many restaurants and stalls can be found inside.
Location : Malioboro street 52-58
Tips : You can always enjoy the street of Malioboro after visiting the venue
3. Jogja City Mall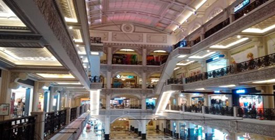 There's a mall located in Magelang street number 19 of Sleman Yogyakarta called Jogja City Mall. Even though it's considered younger than the other two malls mentioned above, this mall is actually the second biggest mall in the city. Even before entering the place, you can see how different this mall than the other ones.
On the front, you can see the pillars holding the upper structure, an architecture with the Roman style of building. The outer side then combined with all interior aspects that used the Javanese theme that very similar with the style that used inside Keraton of Yogyakarta.
Location : Kutu Patran, Sinduadi, Sleman
Tips : If you bring more budget, then this mall is suitable for you
4. Ambarukmo Mall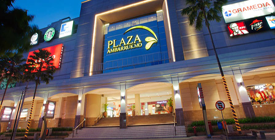 Next one on the biggest shopping malls in Yogyakarta is the Ambarukmo mall. This one is located around an area called Caturtunggal. Amarukmo Plaza or Plaza is also located near one university in Yogyakarta called UIN Sunan Kalijaga. That's why, during the weekend or at the end of the day, this mall usually filled with so many college students.
Why we can say that this mall is actually lokoks as great as Yogyakarta backpacker street is because of the modern looks that can be seen on the front side of it. It's simple, yet very stylish. Also in the inside, you can find some stuff that always being hunted by the people like Gramedia, KFC, Pizza Hut, etc.
Location : Ambarukmo, Caturtunggal, Depok
Tips : You can come here especially for hunting some books
5. Hartono Mall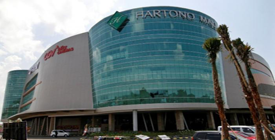 The name of Hartono is already very familiar. Hartono Mall is one mall located in Ring Road area in Sanggrahan Yogyakarta. This mall is the biggest one of all the malls in the town. This one is also considered the newest one.
Aside for having a large collections of electronic, this mall does have some famous tenants inside. That's why, spending some more time in this mall is also a worth thing to do, especially because of its strategic location.
Location : Ring Road Utara street, Sanggrahan
Tips : This is a perfect place for hunting electronics
6. Lippo Plaza Yogyakarta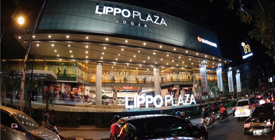 Next one that also looks as great as things to do in Bantul is the Lippo Plaza Yogyakarta. Lippo Plaza is located in the area of Demangan, Gondokusuman, Yogyakarta. This mall has about nive floors, making it the highest mall on the city.
Lippo Plaza was firsly opened on 2015, so it must be 3 years old now. Even though it considered new, this mall can gain its popularity easily because of its strategic location and also two popular tenants, Hipermart and also Matahari Department Store that still becoming popular spots of the mall. 
Location : Laksa Adisucipto 32-34
Tips : Always be very careful when riding on the street in fron of this mall, it's very crowded sometimes
7. Ramayana Mall Yogyakarta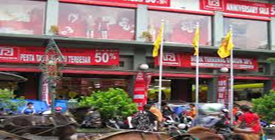 Ramayana is a famous brand of Ramayana Group, one company that very famous in the country for their price leadership strategy that makes the prices of the clothing lower than any other department store.
People usually come here massively when they saw the promotion and advertisement about the discounts that available only in Ramayana. The main products of Ramayana are clothes, shoes, and also slipper that become primary needs of Indonesian people.
Location : Malioboro street 125
Tips : Come here during special days like Ramadhan month or Christmas, you can get so much discounts!
Aside from the seven locations mentioned above, we also have the other list containing the other biggest shopping malls in Yogyakarta. So don't forget to check em out !
Sahid J-Walk
Jogjatronik Mall
Ramai Family Mall
Mirota Kampus Department Store
Gardena
Toko Progo
That's our topic for today, the top biggest shopping malls in Yogyakarta. Make sure you notice one that located near your area, so you don't have to go too far away to one particular mall that located very far from your location. Hope you can get a wonderful Saturday night, see ya !
Shopping in Jogja City Mall