Of course, as we travel to some attractions in certain area, we want to immortalize those moments into pictures that we can see every single day at any moment. With the help of technology, we can put those pictures, that sometimes come with pretty big size to a cloud server that available on some social medias like instagram to store some interesting pictures of the places like instagramable places in Yogyakarta.
There's so many spots in Indonesia that you can explore which also having a pretty great view that you can put on your feeds. Some people will be amaze by how beautiful your pictures are, and will ask where you took them. For this time, we will recommend some spectacular spots you can find in a city of Yogyakarta beside breathtaking photo spots in Yogyakarta that prove it is a photographer's heaven. So here it is, the list of instagrammable spots in Yogyakarta :
1. The Lost World Castle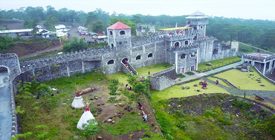 For the first location, we want to take you to a special place named The Lost World Castle. The place looks a bit unusual in a city like Yogyakarta where the Javanese culture can be found in every aspect. It's indeed formed like a castle, located near the village of Cangkriman, Sleman, Yogyakarta. It has about 1,3 hectares wide of area. Making it one of many wides attractions like hipster places in Yogyakarta.
The ownder was building this Lost World Castle in order to give the visitors the experience and feelings when visiting the long lost world. It's actually built for remembering how great the Merapi's erruption years ago. With this creative idea, visitors can get the whole experience inside this tourism and education spot. To enter, people need to pay for about Rp60.000,- only.
Location : Kepuharjo, Cangkriman
Tips : A camera is a must when visiting Lost World Castle
2. Soragan Castle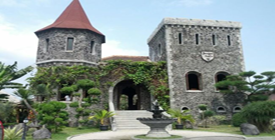 The next attraction is also in a form of castle that located in the street of Soragan number 13, Yogyakarta city. It's not less greater than the famous Keraton Yogyakarta that still standing after hundred years passing. This castle has a very authentic European style with the brick walls and tall tower, just like the one in Harry Potter movies.
Soragan castle is also having a full name, which is The Gubug Makan Mang Engking Soragan Castle. Yes, it's a place to eat. In this castle, you can order the seafoods that starting from Rp10.000,- up to Rp 80.000,-. So, don't forget to bring your wallet when visiting this castle, because all the foods in here look interesting and ready to spoil you.
Location : Soragan street number 13
Tips : Bring more fun to you with having some friends or family
3. Cafe Brick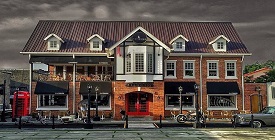 Not only both places above that have this kind of European style on the architecture. There's some cafes in the city that also look very good when combined with this type of building. One example is the Cafe Brick in Damai street number 8, Yogyakarta. From upfront, you can see clearly the vintage nuances that can be seen on the building.
As a good place beside things to do in mount Merapi Yogyakarta, Cafe Brick is very recommended for teenagers who want to spend their time with friends in a very instagrammable place. Not only the exterior and interior, this cafe also serves European foods. The price of foods and drinks are also very affordable, especially for students from universities or highschools.
Location : Damai street number 8
Tips : If you want to avoid crowd, come on weekdays
4. Jomblang Cave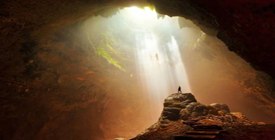 Moving from the European style of attractions, we're going to take you to one special place that also included as one of many instagrammable spots in Yogyakarta, special attraction that located on Keparakan, Mergangsan, Yogyakarta called Jomblang Cave. For the explorers out there, the name of this cave is not too strange anymore.
With the vertical climbing and wonderful spots. Jomblang Cave beauty can hipnotize everyone who visits it. It's one of many caves in the area of Gunung Kidul. But, the special thing about this cave is these particular spots that have wonderful sun rays to be captured. To enter it, visitors should pay for about Rp450.000,- for equipments and accomodation.
Location : Keparakan, Mergangsan
Tips : Don't forget to always follow the rules of the guide
5. Breksi Cliff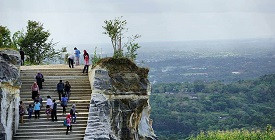 Next natural attraction of Yogyakarta is Breksi Cliff. Of course, for the people of Yogyakarta Breksi Cliff is a familiar spot. People are usually coming to this area for taking pictures, for many purposes of course like prewedding picts, group picts, and many others.
Some also coming just for filling their instagram feeds with best attractions in Yogyakarta. Beside offering a wonderful view of Prambanan Temple, you can also see clearly the view of Sleman area, Yogyakarta. To enter, you only need to pay for parking ticket only.
Location : Sambirejo, Prambanan
Tips : Coming during evening is the best time
6. Sili Beach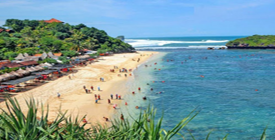 As an attraction that as great as old towns in Yogyakarta, Sili Beach shouldn't be forgotten. For anyone who comes with their own partner in life, Sili Beach can offer a very romantic view of the sunset that can make your love atmosphere growing stronger.
With a calming sea and also some green vegetations that make the place more fresh, Sili Beach is a great and affordable place to be. With the entrance ticket of Rp10.000,- , you can get a clean vast sand and crystal clear water. 
Location : Tepus, Gunung Kidul
Tips : Don't forget to bring sun block cream
7. Ratu Boko Temple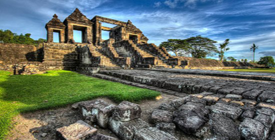 And for the seventh place in the instagrammable spots in Yogyakarta, we want to take you to one of many temples located around the city of Yogyakarta called Ratu Boko Temple. The temple is truly a beauty, with all the structures are still in one piece making it a wonderful place to learn about Javanese culture and history.
Beside that, Ratu Boko Temple also has a particular spot where the visitor can see the sunser. This spot is usually being hunted by tourists, especially for the ones who want to make a romantic picture for two. The administration ticket to enter the temple is about Rp25.000,- only.
Location : Gatak, Bokoharjo
Tips : Don't do vandalism like sratching the temple walls, etc.
The seven places above are not enough to be you instagrammable spots in Yogyakarta? Don't worry, because we got you with the other list that containing some beautiful places for you good ol' instagram :
Timang Beach
Puncak Becici
Gothic Sayidan Church
Rumah Paris
Lintang Sewu Hill
Gendhu Garden
Nglinggo Tea Garden
Kediwung Lake
Grojokan Pucung
So that's it for today guys, the instagrammable spots in Yogyakarta with their best view and wonderful aspects. It's really nice to visit Yogya for some times, because this city has a collections of wonderful attractions.
Ratu Boko Temple