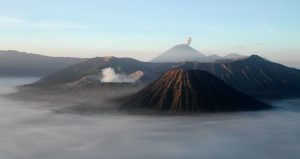 Bromo is one of mount in West Java that since a long time became tourist attraction. Unlike another mounts around it such as Semeru or Arjuno, mount Bromo ca be accessed by the visitors easily. Moreover, the visitors not need to do the exhausting hiking.
Besides Bromo, you can also visit Madakaripura falls or another falls in East Java as an alternative place for vacation. The tourist attractions in Madiun are as amazing as Bromo.
What to Prepare to Hike Mount Bromo for The First Time?
If you want to go to Bromo, it's better for you to follow traveling tips to Bromo, and here it is what to prepare for mount Bromo.
1. Avoid the long holiday
Bromo is a tourist area that is visited a lot, especially when holiday. If you want to travel privately,or you dislike many visitors in a site, don't ever go to Bromo when holiday. Come over Bromo when it is fewer visitors so you can enjoy the atmosphere more freely. For God sake, also check about This is How to Catch the Sunrise at Mount Merapi
2. Plan a Vacation Way
Determine whether you want a backpacker or travel exclusively. If you choose backpacker, it is very possible. You can camping there without ordering a lodge. Or you can hold down the prices by another way.
3. Prepare a Visit Schedule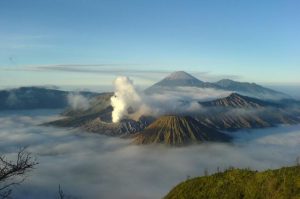 There are many objects to visit at Bromo such as Pasir Berbisik, Bromo caldron, temple, Penanjakan, sunrise view point, and teletubbies hill. Prepare your schedule carefully so your trip can be more complete and expedite.
4. Order a Lodge as soon as possible
If you are forced to be on vacation when holiday and you want to stay close to Bromo, you have to look for the lodge since a long time. This is necessary in order to avoid the depletion of the lodges.
5. Choose the Most Appropriate Route
There are many routes to go to Bromo. Bromo can be accessed from Malang, Probolinggo, or Lumajang. Adjust the route with your place or choose your most wanted route to Bromo. For God sake, also visit this Things to Do in Mount Pancar Bogor
6. Bring the Complete Equipment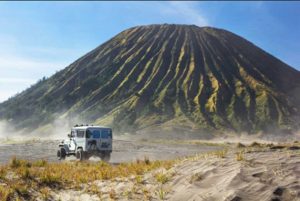 Because the difference temperature and natural conditions between Bromo and urban, prepare all of equipment that you need. Wear a sweater and the mount's outfit lest you get hypotermia on Bromo.
7. Prepare the Best Camera
Camera is a thing that will helpful during your trip. Prepare the best camera and adjust your destination.
If the visitor is a photographer, then bring the suitable equipment. But, the common visitor also can be able to bring another camera type. 
8. Come during the Traditional Ceremony
Bromo is inhabited by Tengger tribe that often hold traditional ceremony. There are interesting traditional ceremonies that held on the current dates. If you are interested, just come. It will gives you a different tourist impression. For God sake, also Things to Do in Mount Merapi Yogyakarta
9. The Tourist Objects around Bromo
What to prepare for mount Bromo, Bromo is within the scope of Bromo Tengger Semeru National Park. There are certainly many tourist objects in TNBTS area that can be visited whilst going to or after visiting Bromo. There are the number of falls (Coban Pelangi, Coban Trisula, or Madakaripura falls), temples, hills (Puncak B29), and lakes (Ranu Klakah, Ranu Pani, Ranu Regulo, and so on) here. If you are on the long holiday, it's a good idea to visit there too.
10. Check the status of the Mount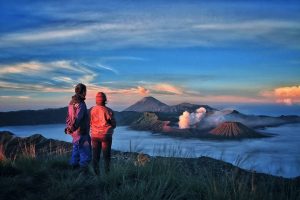 Mount Bromo is an active volcano, then you have to check it continually. Do not come when the status increases, because it will endanger you. Generally you can check it from the information about TNBTS.
11. Riding Horse
To hike to the Bromo crater, you can ride a horse from Pura Poten by paying some money. If you dislike hiking, it's better to ride a horse for saving time. But if you are strong, you can just take a walk. 
12. Bring Food Supplies
Bromo is a natural tourist object that is very natural. The food seller is rarely available there. Usually they sell souvenirs or gifts. Therefore, you may take your own food from home. Especially for those of you who will camping. It's better to bring the cooking utensils too so the foods can be cooked or warmed.
13. Bring enough Drinks
You have to bring enough drinks when hiking to the Bromo crater, because it will need an energy. Even though you can ride a horse, but it only takes you to the limit of the stairs to the Bromo crater.
14. Bring a Mask or Buff
Bromo spouts its sulfur stench sometimes. This smell will usually tighten the chest. Bring mask or buff to refine the flying dust or sand, especially during summer. For God sake, also 10 Best Hill Stations in Indonesia
15. Use Sunblock
Sunblock will very useful for skin protection, especially face from the sun exposure. The cold mountain temperature often deceive many people, so they thought that it is not a big deal to act under the sunlight. In fact, sunlight will still burn the skin. Do not let your skin unprotected during the Bromo trip.
16. Bring the Change Clothes
Even if you don't intend to stay overnight, better you bring a change of clothes just in case for trouble. Moreover if you want to see the falls around Bromo. A change of clothes will ensure you to play water there.
17. Prepare Cash
There is certainly no ATM in Bromo. Transactions in Bromo are definitely done with cash. Don't forget to always bring cash when traveling outdoors like mount Bromo.
18. Use Tour Guide Services
If you are not too familiar with the East Java region, including Bromo Tengger Semeru National Park, it is better to hire a tour guide service or follow a program of an experienced travel agent. Travel agent will be very helpful so you can travel safely, effectively, and efficiently. If you try to travel by yourself but spending much money, you can rent a tour guide service instead.
19. No Bargain for the Jeep Price
The price of a Jeep in Bromo Tengger Semeru already has a definite reference because they are in jeep coummuity of TNBTS harborage. You can ascertain the equally price in the region. All jeeps have the same price. It is useless to Bargain the jeeps price during your travel to Bromo. If you want to ride a jeep, do not make a bid on it. For God sake, also check on more Things to Do in Mount Bromo
20. Return with a Different Route
To get an impression of a different journey, you can take a different route when you go and come back. If you passed Probolinggo route when leaving, try to pass Malang route when getting back. With a different route you can get the different view. Probolinggo route offers the trip through the hills with winding asphalt roads. While Malang route gives more natural view, even you can see Teletubbies hill from a height. And you can try to visit Lamongan before go home.
Those are what to prepare to hike Mount Bromo for the first time, tips that need to be known. Read it till the end and have a nice holiday!