Indonesia, as part of the Southeast Asia, is home to natural beauty and more than 50 diverse national parks. You can find some rare and wonderful life there.
Besides meeting some animals and plants, some national parks in Indonesia also has some amazing volcanic mountains. Don't worry as you can visit these national parks when the volcano is not erupting.
Are you curious of those national parks? Here they are: the 5 amazing national parks in Indonesia with volcanic mountains.
Bromo Tengger Semeru National Park
Bromo Tengger Semeru National Park is known as the largest volcanic region in the province. It covers a massive area of 800 square km in the center of East Java.
While visiting this national park, you can enjoy both the beauty of wildlife and the smoke of ashes coming from Mount Semeru, which is an active volcano located 3,675 meters above sea level.
Tengger in the name of the national park refers to the sea of sand. This national park is also a conservation area which has 10 km of sand. From this area, four new volcanic cones have emerged.
They are Mount Batok, Mount Kursi, Mount Watangan, and Mount Widodaren. Despite the existence of these mountains, Mount Bromo is the only active volcano in the region.
There are some activities you can do in Bromo Tengger Semeru National Park, such as visiting temples, such as Kidal Temple, Luhur Poten Temple; exploring a serene village on the slopes of Mount Bromo called Ngadas; or some outdoor activities, such as riding a horse and hiking. If you wish to hike here, make sure you know these useful tips when you climb Bromo.
Ujung Kulon National Park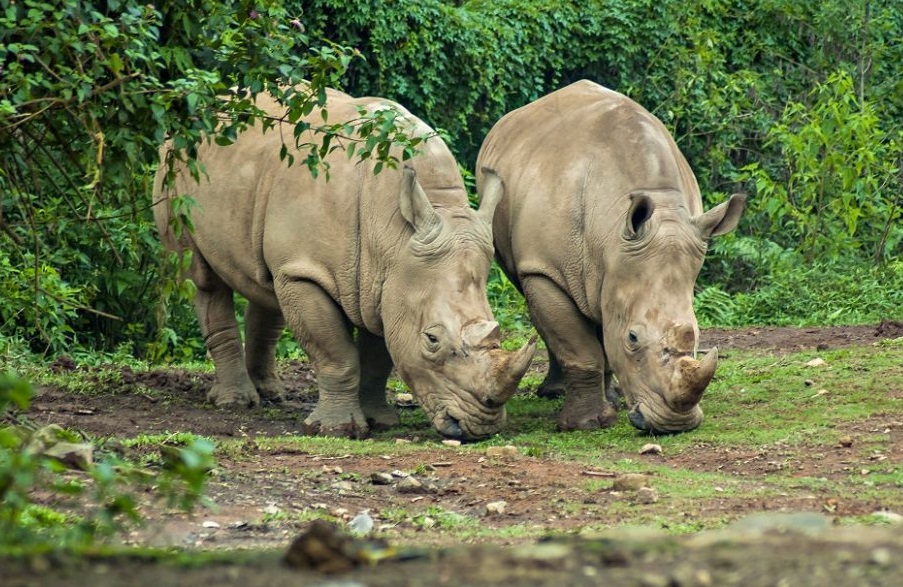 The next national park which has volcanic mountain is Ujung Kulon National Park. This national park is located south of Carita, the southwest trip of Java.
It covers an area of 420 square kilometers and supports the gravely endangered and rarely-seen Javan. Javan is a one-horned rhino.
The area of the national park also covers a lowland rainforest, open woodlands and wetlands. It is perfect for watching birds with beaches in the north and south. The volcanic mountain found here is the Krakatau.
Kerinci Seblat National Park
Kerinci, the second highest volcano in Indonesia, is also located in the middle of Kerinci Seblat National Park. This national park is located in West Sumatra and is home for Sumatran elephants and tigers, clouded leopards, Malayan sun bears and tapir and other species of birds.
This park covers an incredible 14,000 square meters of jungle and mountains, making it as one of the largest reserves in Indonesia.
If you come here, you can hire a trained local guide to take the adventurous on treks through the forest and climbing expeditions.
Make sure to check the recent activity of Mount Kerinci before visiting. Make sure to enjoy these things you can find in Kerinci Seblat National Park.
Mount Leuser National Park
Mount Leuser National Park is located in North Sumatra, specifically across two provinces, Aceh and North Sumatra. Mount Leuser National Park is home for some Indonesian faunas, such as orangutans, tigers, elephants, sun bears and rhinos. No wonder, Mount Leuser is considered as one of the most breath-taking mountains to hike in Aceh.
This national park is 150 km long and over 100 km wide. Indeed, it is also listed as an UNESCO World Heritage Site in 2004. In 2011, it was also listed as world heritage sites in danger. The park area is located at 3,404 m above the sea level with the summit of Mount Leuser.
Its area includes rivers, volcanoes and lakes. The rainforest is home of 750 different species of animals. Amazingly, the plants here are also various. There are more than 10,000 species of plants, including the spectacular Rafflesia arnoldi and Amorphophallus titanium.
Mount Merbabu National Park
Exploring Mount Merbabu National Park is considered as one of the adventurous activities. Mount Merbabu National Park is also called as Mountain of Ash is a stratovolcano in Java.
It has exploded twice in the past. The volcano is dormant now and is popular for its challenging hiking trails which serve stunning view. If you love watching sunrise, get to know these best sunrise spots in Yogyakarta.
In this national park, there is another volcano called Mount Merapi or also known as Fire Mountain. Mount Merapi is the most active volcano in Indonesia.
If you love visiting national parks, make sure you also visit these national parks in Sumatera Island and national parks in Kalimantan Island. They are home to amazing flora and fauna specialized in Indonesia. Get ready to witness the beauty of that wildlife.