Hiking is one of the challenging activities to do during vacation. They can enjoy the best and breath-taking view of the nature from the top of the mountain.
However, not all people love hiking on mountains because it may be difficult for some people. They need endurance, skill, and strong physics to be able to reach the top of the mountain.
Don't worry! If you are a beginner in hiking, West Java has some mountains that are recommended to be climb. They have easy and comfortable trekking routes that are suitable for beginners. Y
ou just need to prepare yourself and all the stuffs needed for trekking. Here they are, the 4 best mountains to climb for beginners in West Java.
Mount Papandayan is located in Sirnajaya Village, Cisurupan Sub-District, Garut, West Java. Most tourists consider this mountain as a nice place for trekking and photography.
Many of them come to the mountain to witness numerous craters that reside on it. Mount Papandayan is also one of the mountains to hike in Garut.
Mount Papandayan is about 2,665 meters above the sea level. This mountain features some hills, steep valleys, and mountainous landscapes. There are some trees and plants too and they are home for exotic animals.
During the trek, hikers can witness some popular floras, such as Magnolia, Argentea, Valium and Anaphalis. It is also home for some animals, such as porcupines, wild boar, deer and many exotic birds.
Isn't that fun to trek the mountain and enjoy the beauty of the nature at the same time?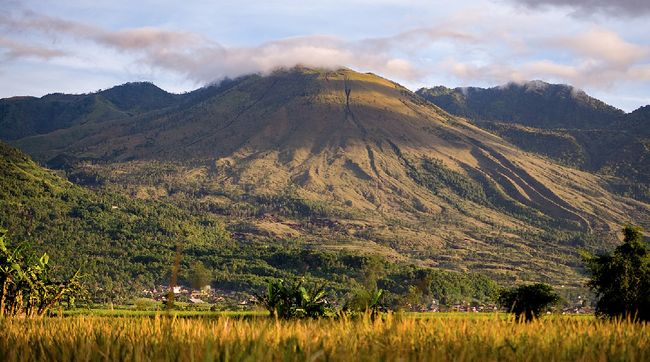 Another mountain in Garut which is suitable for beginner hikers is Mount Guntur. Mount Guntur is really popular among tourists, especially nature lovers. This mountain is located in Sukawangi Village, Tarojong Kaler Sub-District, Garut, West Java.
Mount Guntur is 2,249 meters above the sea level. In the past, this mountain was considered as a significant volcano, especially during the 1800s. However, it has become calmer as the time passed by. Many tourists love trekking and photography here.
One of the best features of this mountain is the presence of several formations of forests. That's why hikers can explore those landscapes and get unique experience.
For beginners, it is very important to get the information about the mountain before conducting trekking. Get as detailed information as you can, specifically about the route and available posts. The route is nice on the first journey. After passing the first post which takes around 1 hour, visitors will pass through a forest with several waterfalls.
Visiting Mount Galunggung is one of the listed things to do in Tasikmalaya. Mount Galunggung is located about 17 km from Tasikmalaya. This mountain is basically a volcano with 2,167 m above the sea level.
There are several objects tourists can explore in here, such as the forest-tour in at least 120-hectares area under Bureau of Forestry management.
This mountain is famous for being suitable for everyone. The presence of stairs really facilitates the visitors to see the craters from the top of the mountain. The stairs have 620 steps.
Still in Tasikmalaya? Then you should consider visiting these waterfalls in Tasikmalaya and put them on your list!
The next recommended mountain for beginner hikers in West Java is Mount Batu. Mount Batu is located in Bogor, West Java. Besides trekking, visitors can also enjoy sightseeing and photography.
Regarding to trekking, Mount Batu has easy trekking route. Its height is only 875 meters above the sea level. Everyone will be able to enjoy hiking comfortably, even for the beginners.
Once they reach the top of the mountain, the panorama becomes greater, and the atmosphere turns more soothing. As it has easy trekking route, it only takes around 45 minutes to reach the top of the mountain.
Visitors are able to conduct trekking anytime, however, they should avoid coming during rainy season as the route might be a bit slippery. If you wish to conduct trekking here, you should prepare everything, such as comfortable footwear, jacket, bottled water, snacks and others.
You may also hire a personal tour guide. Don't forget to take picture from the top of the mountain! You can also enjoy sunrise view here.
Some visitors even conduct camping activities here. Though it may take some efforts to build the tent, but once they are ready, it will give an unforgettable experience.
Near Bogor, there are some other mountains. Take a look at the list of mountains to hike in Bogor and get ready! And while you're in West Java, make sure to taste West Java's most popular cuisines.