Exploring food is one of the best parts while travelling. Getting to know the local food and their distinctive taste gives tourists a meaningful experience.
Indonesia is a country which is well-known for having rich-flavoured food and each province in Indonesia has its own delicious food to try. There are also spiciest food from West Sumatera you can try.
Yogyakarta may be known among tourists with its sweet-flavoured food, such as gudeg. Trying gudeg in Yogyakarta is one of the things to do near Malioboro Street, Yogyakarta.
However, there are some spiciest foods coming from this city. If you love spicy food, then you should consider trying these following spiciest foods in Yogyakarta!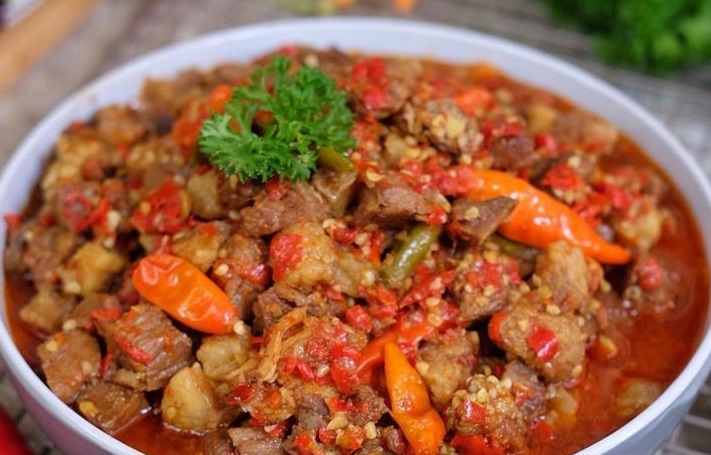 Whenever there is "mercon" on the name of every food menu, then it will surely be spicy. Oseng mercon is truly a dish you don't want to mess with.
Oseng mercon is simply a super-hot beef stew which consists of roughly chopped-beef, muscle tissue and it is slowly simmered with a lot of chilies.
The chilies are cut in half and added to the pot with the other spices and ingredients. That's why it creates a nice medley of colours.
There are some additional dishes you can enjoy with oseng mercon, such as fried chicken, tofu, or tempeh. Just make sure you don't add any additional hot chili relish or sambal as it is hot enough!
Penyet is a dish which consists of shredded meat with chilies. However, the choices of protein are varied, it can even be changed to vegetables.
The chosen protein or vegetables then will be mashed along with the chilies and garlic. It will be mashed using a mortar and pestle and that where the name "penyet" comes from.
There are some choices you can have for penyetan, such as fried chicken, fish, egg, tofu and many more.
Fried chicken with sambal will make the best combination and it never gets wrong. The Indonesian version of sambal gets a spicy treatment by a mortar or pestle.
Ayam geprek is also similar to penyet, the difference lies on how the meat is pounded with the pestle. Geprek is made by pounding rather than mashing to tenderize the meat until the flesh, bones and batter fall apart.
If you want to give this fusion of the Western and Eastern cuisine a try, then head to Ayam Geprek Bu Rum I. This modest food kiosk has been feeding hungry locals since 2003 with its top-notch ayam geprek. You can ask for more or fewer chillies as you wish.
If you want to add some terasi (shrimp paste), or tomatoes to the mix, you can absolutely do so. White rice and savoury vegetable soup or stir fry make perfect companions for the chicken. If you prefer to turn yourself into a fire-breathing dragon,
Krecek is a dish made from cow skin which is stewed with coconut milk. The stew is seasoned with cayenne, galangal, bay leaves, and many other spices. Krecek has a texture with a savory and spicy flavor.
Krecek is usually served as a complement to Gudeg. Therefore, you can find this food in almost all Gudeg stalls that are widely spread in Yogyakarta. Simply ignore the vegetable dish and let's see how well you handle the heat!
Entok is a bird similar to a duck, like muscovy duck in North America or manila duck in Southeast Asia. The meat is notoriously hard to process, but in the hand of the specialists, those meat becomes tender and delicious.
The duck is cooked almost similar to stews but uses a lot of chilies so that the taste becomes very spicy.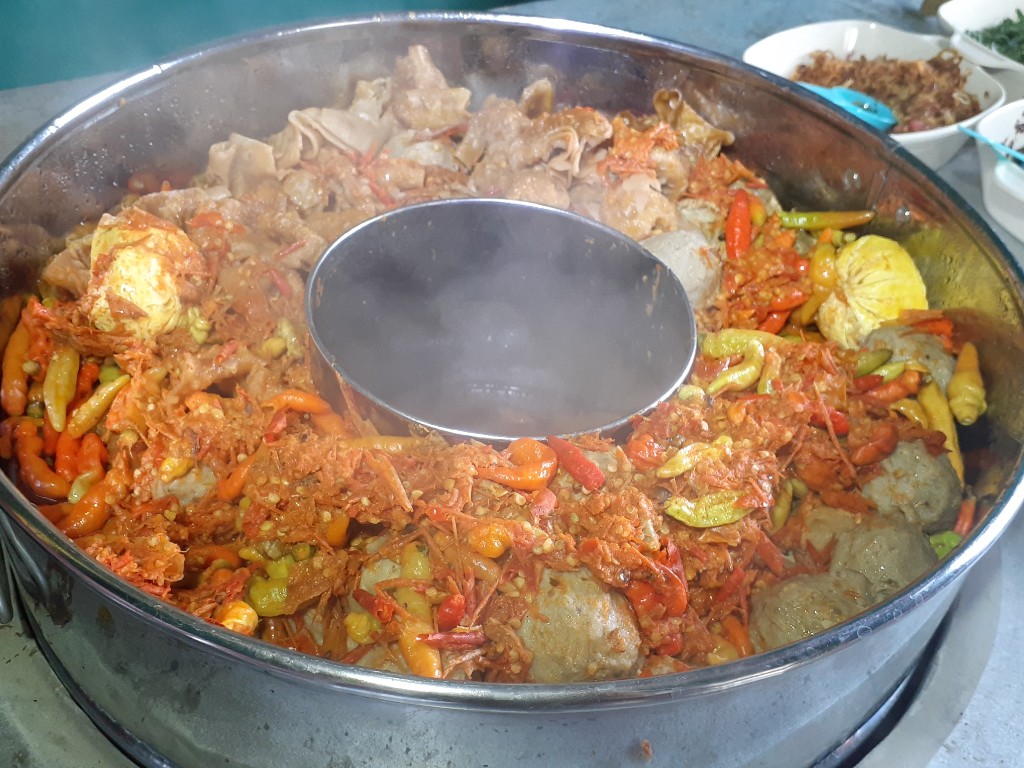 Bakso cuankhi kuah pedas is originated from Bandung, but there are some stalls selling this dish in Yogyakarta. This dish is basically a soup made of special broth and lots of chilies.
Then it is poured on top of meatballs, tofu, steamed and fried dumplings, chicken feet and others. There's even bakso mercon which is a medium-sized meatball stuffed with slices of chilies. Once you cut the meatball, the chilies will ooze out!
While you are in this city, make sure you try these local foods in Yogyakarta too! Yogyakarta also has a lot of amazing tourist attractions. Check these sunrise spots in Yogyakarta and white beaches in Yogyakarta!