Indonesia is famous for having a wide variety of delicious dishes, either the spicy ones or the savory ones. If you wish to know the spicy foods from Indonesia, you can read spiciest food coming from West Sumatera.
Another famous food from Indonesia is fried rice. Fried rice is a simple dish that can be enjoyed any time, for breakfast, lunch and dinner.
Once, the original recipe of fried rice was brought by Chinese migrants to Indonesia through the centuries and finally it was adapted to local taste.
Fried rice, or nasi goreng, can also be simply cooked at home as it has simple ingredients. Garlic, shallots and sweet sauce with the rice are the main ingredients. Some toppings can also be added, such stir-fried eggs and shredded chicken.
This dish has become a popular dish in Indonesia, and many street vendors have modified this dish with some variations. That is why fried rice becomes one of the street foods in South Jakarta. Let's taste these 6 popular types of Indonesian fried rice!
Nasi goreng gila or the 'crazy' fried rice is one of the best modified fried rice dish has ever happened to fried rice. Why? It is because this fried rice has extreme spiciness that will set your tongue on fire!
Besides, nasi goreng gila is also affordable as it only costs around IDR 15,000. For the spiciness level, you can choose, whether you want it non-spicy, medium spicy or very spicy. Besides famous for its spiciness, nasi goreng gila is also well-known for having abundant portion along with the toppings.
You can even share a portion of it with some friends or family members. For the toppings, it also has lots of toppings, such as sausage, eggs and shredded chicken! If you love spicy food, make sure you also spare your time reading spiciest food in Indonesia!
You can simply find nasi goreng gila at street vendors, such as in these street food spots in Jakarta.
Nasi Goreng Kambing (Mutton Fried Rice)
There is a legendary nasi goreng kambing in Jakarta, located in Kebon Sirih Street, Central Jakarta. Nasi goreng kambing is made by frying the mutton.
The mutton is cut as big as a dice and fried along with the rice and soy sauce. Befote the mutton is fried along with the rice, it is marinated with some spices and herbs to give it rich flavor.
The strength of this dish is in the mutton itself as it brings nice aroma and taste. You can also cook this dish at home as it is quite easy and practical to do. However, if you don't feel like you want to make it, you can simply find this dish at the street vendors or nearest restaurant.
Nasi Goreng Ikan Asin (Salted Fish Fried Rice)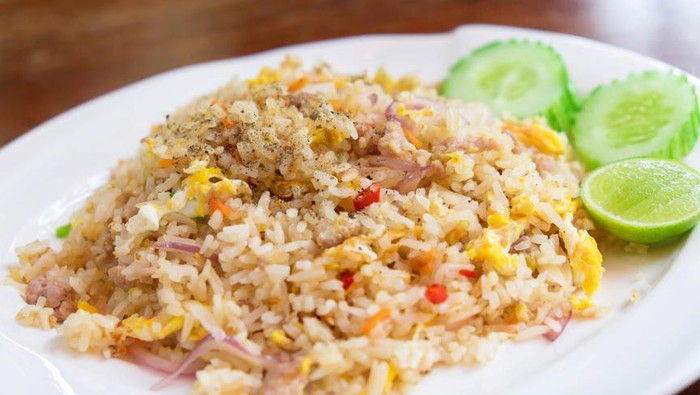 This fried rice can anyone's favorite dish. Nasi goreng ikan asin is simply made with frying rice, egg and salted fish. The common salted fish used in this dish are anchovies and cods. As the name suggests, this dish is known for its salty and savory taste from the fish.
What makes it different from the common fried rice is it doesn't use any soy sauce. Instead, it uses oyster sauce to season this dish. Instead of being brown-colored fried rice, this dish is a white-colored fried rice.
This dish is commonly served in Chinese restaurants. Read best Chinese restaurants in Surabaya East Java if you wish to have a meal in a Chinese restaurant.
Nasi Goreng Special (Special Fried Rice)
Nasi goreng special is probably the most common type of fried rice you can find in any restaurants. Many restaurants have this dish in their menu.
Nasi goreng special is known for its signature sunny side up egg put on the top of the rice. This menu is also a favorite menu for kids as it is simple and delicious. You can request it non-spicy too.
This dish is named 'special' because it has a lot of toppings and condiments, so it is really enjoyable to eat it. The toppings are chicken, sausages, meatballs, crackers and sunny side up egg. Nasi goreng special is also considered as one of the local's favorite food to eat.
Nasi Goreng Kebuli (Kebuli Fried Rice)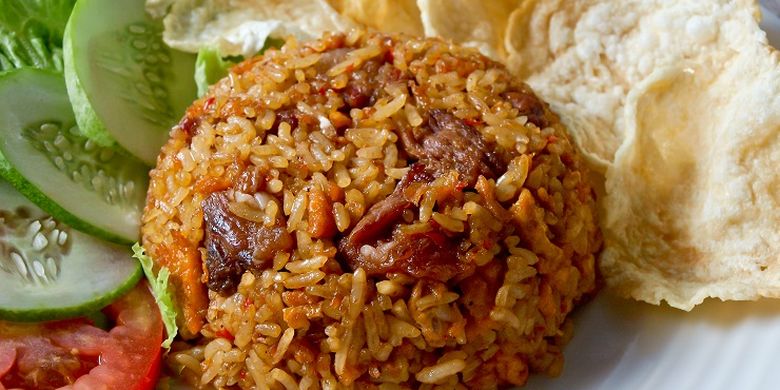 Nasi goreng kebuli is another type of Indonesian fried rice which was influenced the culture of India and Middle East. If you love Indian food, then take a look at cheap Indian restaurants in Jakarta.
The special thing about this fried rice is the base, which uses India's Biryani base. This base is cooked with various kinds of spices, such as black pepper, clove, cinnamon, ginger, nutmeg, shallot, garlic and caraway.
The original recipe of nasi goreng kebuli includes frying rice, mutton, broth, gee and milk. The taste of this dish is different from the common fried rice. You can also find this kind of fried rice at some restaurants selling India or Middle Eastern food or at street food stalls too.