Eating in a fancy restaurant is really mainstream, eating street food is another interesting and amazing experience. If you are the one who enjoy eating or drinking at fancy restaurant or bar, then you should consider these rooftop bars in Jakarta with stunning view and cheap drink.
Back to the street food, besides the price, the sensation of enjoying the food on the street is just incredible. Do you enjoy eating street food? Then, you must visit Jakarta. Jakarta has lots of spots serving you the best street food ever.
As the capital city of Indonesia, Jakarta has abundant interesting places to visit. One of the best part of visiting Jakarta is enjoying its culinary just as listed in best cheap local food in Jakarta.
The best way to have an amazing culinary trip is by enjoying the street food. Starting from the locals, common foodies and even celebrities enjoy street food! Let's explore the best street food spots in Jakarta to fulfill your hunger!
Jalan Sabang and Jalan Jaksa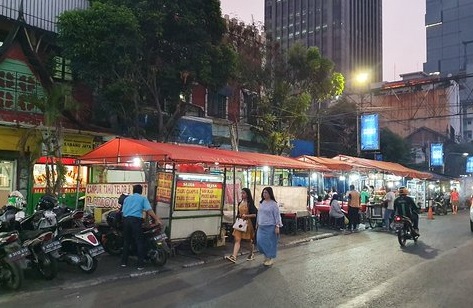 These two spots are famous for serving the best street food in Jakarta. Just mention some of the food, such as Indonesian satay and gado-gado or the Indonesian-style salad. You will find the more authentic street food along these two streets. They are located just south of Merdeka Square.
Along the way, you will find two parallel venues featuring rows and rows of food stalls. The local chefs are really skillful in whipping up some tasty originals. You can visit these two streets in the morning to get a breakfast or a middle of the night to get some snacks.
These two streets never sleep and always be ready to serve you the hot-and-ready order of Indonesian satay, fried catfish (lele) or even the gado-gado!
Not only the street food stalls, but Jalan Jaksa and Sabang are full of recommended restaurants too, such as Sate Khas Senayan, Plataran Menteng, Kopi Oey, Bangi Kopitiam and many more! Find more food stalls in here by reading cheap street food Jakarta in Sabang street.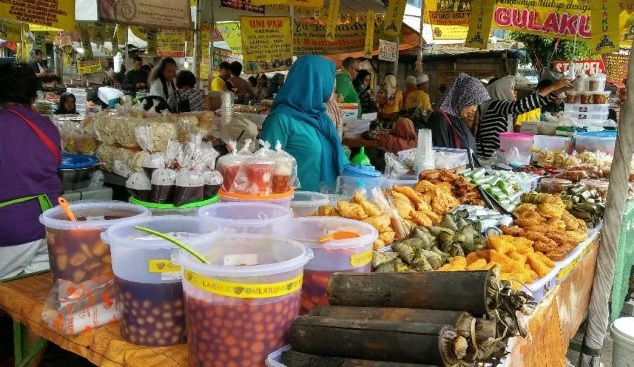 If you are fond of having local warung to eat, then you must visit Bendungan Hilir or popularly known as Benhil. You will be able to enjoy the authentic Indonesian street food here.
You can enjoy choosing the local favorites, all sold from a friendly warung (street side restaurants in Jakarta) or from the back end of "kaki lima" vendor parked on the street.
The recommended foods to try in Benhil area are martabak (stuffed pancake), bubur ayam (chicken porridge), gorengan (fritters) and bakso (meatball soup).
If you plan to visit Benhil, there are some recommendation of food stalls you can try, such as Ayam Penyet Pak Kumis and Mie Keriting Mas Pudjo. Ayam Penyet Pak Kumis sells fried chicken with very hot and spicy sambal. The sambal is a spicy sauce that is blended with cayenne pepper, salt and shrimp paste.
It will surely make you addicted, especially if you are a spicy food lover. Do you know that ayam penyet is also listed in this spiciest food in Indonesia!.
Mie Keriting Mas Pudjo serves noodles with chewy textures and chicken bathed in savory herbs. The price of the food in Benhil is very cheap and affordable, so you don't have to worry!
Glodok, Chinatown of Jakarta
Jakarta also has Chinatown just like in Malaysia or Singapore. The name of the area is Glodok and it is listed as best Chinatowns in Indonesia. Glodok is mostly inhabited by Chinese people who live in Jakarta. Not only as the trade center for electronics, but Glodok is also home for many amazing and delicious food!
One of the famous parts of Glodok is the Gloria Alley (Gang Gloria), a small street inside Glodok area that will serve you with both the local and oriental food. You will find some food stalls along this street, just like Kopi Es Takie, where you can enjoy the traditional iced coffee and some tasty local dishes.
Besides Kopi Es Takie, try some of the other local dishes sold along the street, such as ketoprak (vegetarian dish containing tofu, vegetables, rice cake covered in peanut sauce), ketupat sayur (sliced ketupat or rice cake and vegetables in a coconut milk soup), soto betawi (beef in coconut milk) and sekba (stewed park offals in a mild soy-sauced broth with Chinese herbs and garlic).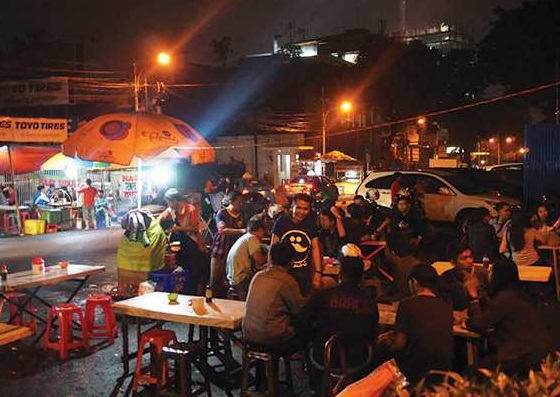 In Bulungan area, you will find a lot of culinary that you must try, especially at night. Bulungan is commonly visitied by young people or millennial generation in Jakarta to hangout. This place is crowded, especially during weekends.
Before getting to the main course, you can try the light snacks sold on the roadside. There are many snacks, such as egg rolls, lekker, skewer meatballs and many more. For the main couse, you enjoy eating one of the most popular dishes here called "Gulai Tikungan" that is served with beef and one portion of rice.