Indonesia is a multicultural country with several ethnicities like Javanese, Sundanese, Bataknese, Arabs, and also Chinese.
The diversity in Indonesia's ethnicity is a form of assimilation between its original ethnic and immigrant. One of those immigrants who stay in Indonesia and has a long story is Chinese.
Centuries ago, mainland Chinese initially come to Indonesia for trading purposes, but as time goes by, some of them decided to stay and even married the locals. As time passed, they built their civilization in Indonesia and influence the Indonesian's culture as well.
The Dutch government, who had governed Indonesia back in colonial era, decided to build a district for Chinese descents and it called Pecinan or Kampung Cina or Chinatown. In Chinatown, you can find Chinese traditions as their still keep the culture within themselves.
Here the lists of Chinatown in Indonesia you must visit, you can try Chinese food that already influenced by the Indonesian's culture, Indonesian-Chinese festivals, or just sense the ambience around the Chinatown.
1. Glodok
Jakarta Chinatown or popular with name Glodok is one of the biggest Chinatowns in Indonesia. Glodok has a lot of magical things to do in Glodok. It is also the oldest Chinatown in Indonesia.
Glodok still has an old-fashioned building that has been functioning as a legendary store that sells food or antique goods. That old-fashioned style is the earmark from Glodok.
Glodok full of merchants offering many kinds of goods, from foods, clothes, to electronics. Glodok is also popular for its tourist spots. Various temples built since the early 1900s and still operated on until now.
Those temples beside operated as prayer place also has an oriental culture and aesthetic element for tourist.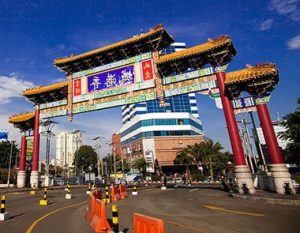 Glodok located in Taman Sari, West Jakarta.
2. Semarang Chinatown
In the colonial era, Semarang as the main port city in Indonesia attracts many Chinese merchants to come and stay in this city. Consequently, make Semarang the popular place to visit during the Chinese New Year festival, a popular annual festival to celebrate the coming of the Chinese New Year held in Semarang Chinatown called Pasar Malam Semawi.
Pasar Malam Semawi presenting some various attractions form Chinese culture and foods. If you visit Pasar Malam Semawi make sure to try Lumpia, special food from Semarang. Other than the festival, Semarang has a various number of temples to visit.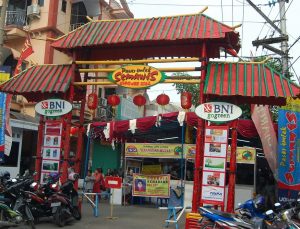 Semarang Chinatown located in Kauman, Central Semarang.
3. Bandung Chinatown
Bandung Chinatown gives you a modern sensation of Chinese culture. There you can visit a museum that shows a Chinese heritage and its history of Chinese ancestor in Bandung from the first time they arrived in Bandung until now. You can see artifacts, pictures, and relics.
This Chinatown also offers various Chinese food, and for Muslims people, you do not need to worry because Bandung Chinatown serves Halal foods. The Chinese foods here is the best things to eat in Bandung.
Bandung Chinatown also a perfect spot for young people who likes to take a selfie. There is a lot of nice background for photo spots. But you need to pay an entrance ticket for 10 thousand rupiahs.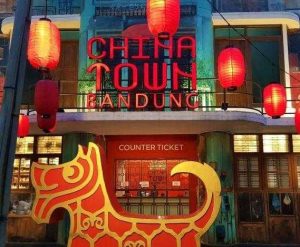 Bandung Chinatown is located in Ciroyom, Bandung. Open every day from 10 AM to 9 PM.
4. Asia Mega Mas
Asia Mega Mas was originally a residential area for Chinese-Indonesian descent. If you are wondering about what the best things to do in Medan, maybe this place could be the answer.
Located in Medan, North Sumatra, now, it became a culinary spot that serves various foods from Indonesia food, Chinese food, to extreme food. If you want to try a new food that pumped your adrenaline.
In Asia Mega Mas they served menus like frog, lizard, until snake you can try. It becomes a food travelers paradise at night. But if you want an up to date food, in Asia Mega Mas also serves Taiwan and Korean popular foods. In Asia Mega Mas additionally sells clothes, household goods, and any other cheap goods.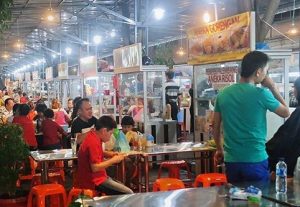 5. Singkawang
Singkawang is a city in West Kalimantan, it is the biggest Chinatown in Indonesia. Visiting the Chinatown here is one of the best things to do in Singkawang. It has the most active Chinese community around Indonesia.
In Singkawang, even though the culture influences both Chinese and Dayak, you can still find a Chinese ornament or Chinese culture in almost every corner of this city.
Singkawang is also a popular city to come during the Chinese New Year and Cap Go Meh. You can watch a parade, festival, and attraction held by this city.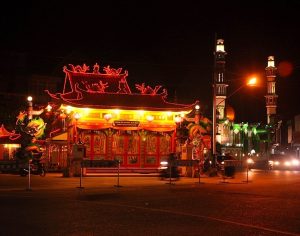 6. Kya Kya Chinatown

Kya Kya is a Chinatown located in Surabaya. It is popular for its Chinese cultural heritage like Rumah Abu Keluarga Han and Hok An King, the only temple for Makco Deity in Surabaya. At night, along the street in this area is full of food stalls and become more crowded.
Speaking of Chinese food in Surabaya, if you are looking for best Chinese restaurants in Surabaya, you might find it in Kya Kya.
You can enjoy tasting Chinese foods and watching cultural performances like Barongsai, Chinese Classical Music, and Keroncong. Also, you can enjoy watching the Lantern Festival during the Chinese New Year. Here check this out too.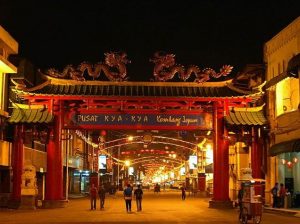 Located in Bongkaran, Pabean Cantian, Surabaya.
That is the 6 best Chinatown in Indonesia that we recommend to you. Of course, the number of Indonesia Chinatown is not limited only to 6, you can find more through the country as Indonesian-Chinese are all around the archipelago.