Bali, the most popular province in Indonesia especially in tourism, is also heaven for you who seek for cultural tourism. More than 4 million people inhabit Bali and gain their economy mostly from tourism.
No wonder, the locals try to protect the region's rich culture through local artistry, music and preservation of the treasured ancient landmarks. Also read let's visit these 3 historical places in Bali if you wish to learn about the history in Bali.
If you love cultures, then you should visit Bali as it has many cultural tourist attractions that are very interesting. They are not only sites of worship for the locals, but they also become the most popular Bali tourist attractions. Let's track the 4 most popular cultural tourist attractions in Bali.
Goa Gajah (Elephant Cave)
Don't get mistaken by the name as you won't be able to find any elephant in the cave. Instead, you will see many carvings on the wall, which were dating back to the 9th and 10th centuries. Elephant Cave is formerly a park, but it is also a site for Shiva Priest and Buddhist monks for retreat.
Elephant Cave is located in the west side of Bedulu Village, Blahbatuh District and Gianyar Regency. It is around 27 km from Denpasar City. If you're still in Gianyar, make sure to visit these beaches in Gianyar.
This cave is characterized by many menacing faces carved into the stone, which are believed to have the power of warding off of evil spirits. The primary figure was thought to be an elephant, that's why the nickname of this place is "Elephant Cave". Find more things to do in Goa Gajah, Ubud, Bali.
If you plan to visit this place, avoid wearing shorts as you will be asked to wear a sarong to tie around the waist before entering the courtyard.
Moreover, this site was enlisted in the UNESCO World Heritage Tentative list on 19 October 1995 in the cultural category, but was pull out along with the other 11 sites on 2015.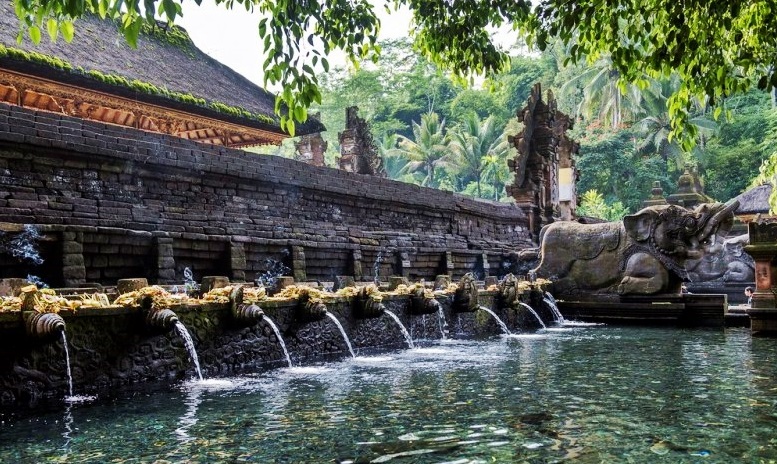 Tirta Empul Temple is another cultural tourist attraction in Bali. For more than a thousand years, Balinese Hindu worshipers have been visiting Tirta Empul Temple. Tirta Empul Temple has sacred springs which are said to be created by the God Indra and possess curative properties.
No wonder, as this tradition still continues and does not change, tourists and worshipers around the world come to this place. They come here to marvel at its beauty and even bathe in the refreshing blessed water.
Tirta Empul Temple is located in the Manukaya Village, near the town of Tampaksiring, Gianyar Regency, Bali. It is situated below the Presidential Palace in Tampaksiring. This temple as even visited by the former US President, Barack Obama with his family in 2017.
Tirta Empul Temple is a large temple complex and you will need around 30 minutes to explore the entire site. The entire site is divided into three sections. The first one is Jaba Tengah, which is the place where locals line up at two purification pools to cleanse themselves.
Then, the other ones are the Central Courtyard and the Jeroan. At the end, you will meet a corridor containing a koi pool and the temple stands a luxury villa built in 1954 for former president Soekarno.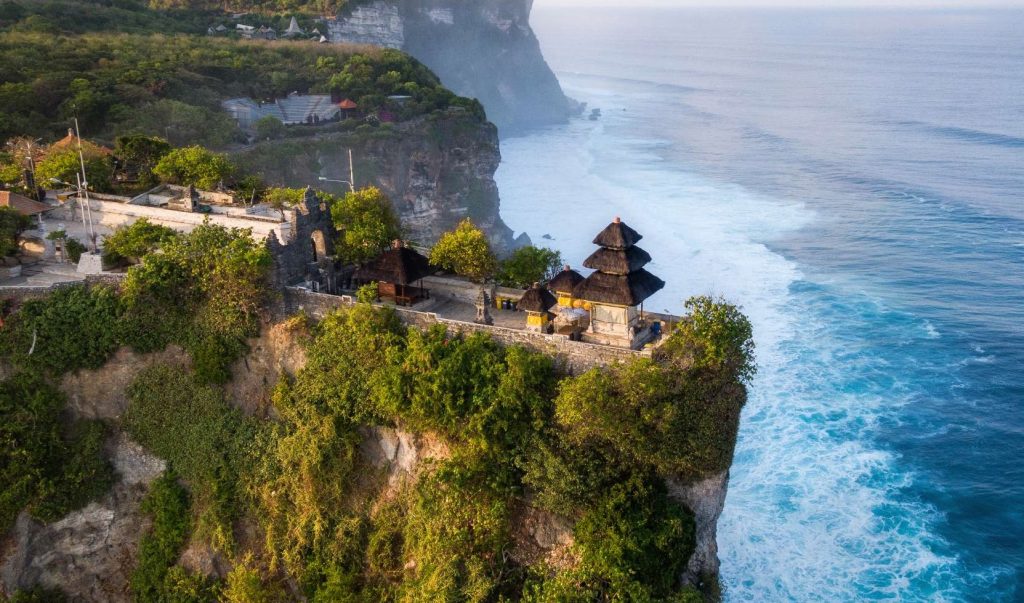 Uluwatu Temple is one of the legends in Bali. This temple was built at the 70-meter high cliff. Uluwatu Temple is the petrified ship of Hindu god Dewi Danu. Right from this temple, you will be able to enjoy the panoramic views of the Indian Ocean. You can also consider these 12 Top Things to Do near Uluwatu Temple, Bali Indonesia.
When you enter the temple, you will see the two entrances that are split gates with leaves and flower carvings. In front of these entrances, you will find a couple of sculptures shaped like human body with elephant head. You can also find two stones troughs in the temple, and when they are united, they will create a sarcophagus, a megalithic coffin.
There will be a big temple anniversary and celebration held at the temple every six months, according to the Balinese 210-day Pakuwon cycle. If you plan to visit this place, you should be aware of the precautionary signs.
There may be some monkeys grabbing your attractive items, such as sunglasses and camera, that's why avoid showing them off. Spend time reading Follow These 8 Etiquettes while Visiting Temples in Bali.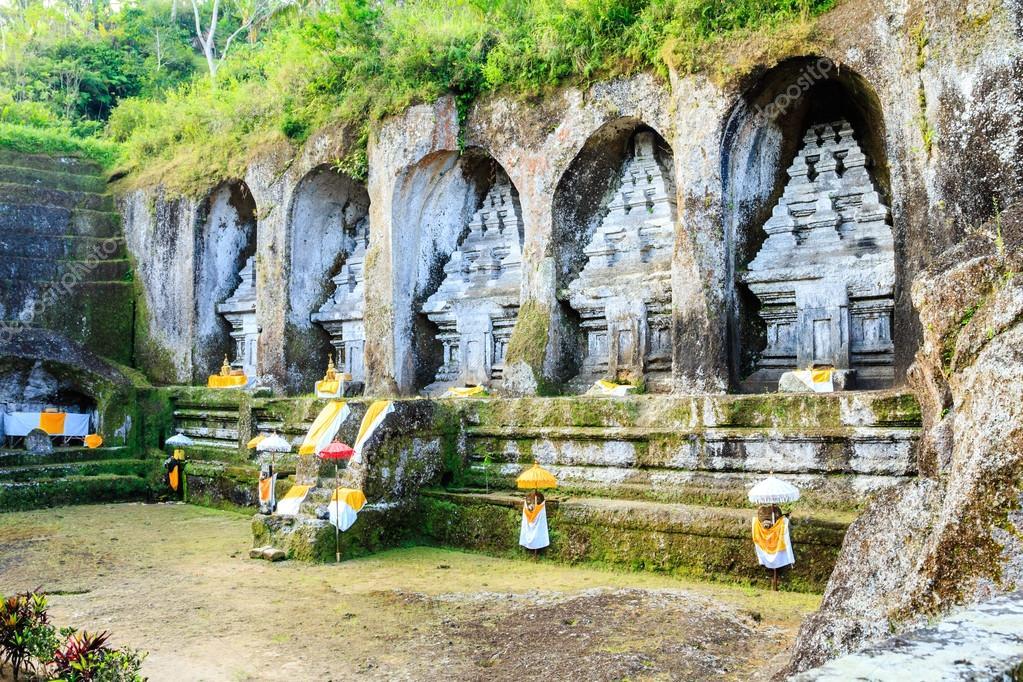 Gunung Kawi Temple is located in Tampaksiring Sub-district, Gianyar Regency. It will take around 20 minutes from Ubud or about 1,5 hour drive from Denpasar.
Gunung Kawi Temple exhibits the ancient religious remains which are still well preserved by the locals. The temple anniversary is still regularly conducted by the local worshipers to preserve the tradition and spiritual significance of the temple.