Visiting all areas in Bali island is always a very entertaining and satistyfing journey. Beside having your jaw dropped because of how wonderful those attractions are, you can always find something new on the island, things that you can't even find back in your hometown. That's the beauty of Bali island, always giving the tourists new experience every time you visit some of its best parts, like things to do in Ubud at night.
In this artilce, we're not talking about the famous areas around Sanur or Pandawa beach, but we're going to one of the best attractions in the area of Ubud Bali called Goa Gajah. Goa Gajah or The Elephant's Cave is a cultural attraction in Ubud, famous for its unusual formed gate that resembling a face with wide eyes. It maybe sacry looking, but once you enter the cave, maybe you can find something wonderful just like things to do in Pandawa beach. So, here's the things to do in Goa Gajah :
1. Goa Gajah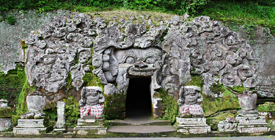 The first attraction on the list is of course the Goa Gajah itself. Goa Gajah is a tourism spot located in Ubud Bali, it looks just as great as the other attractions like things to do in museum Puri Lukisan. In this attraction, you shouldn't hope to meet an elephant and the ride on it, because there's not a single elephant can be found around the location of Goa Gajah.
This Goa Gajah was actually a place for meditating. It was used back in 10 – 14 centuries ago by the people in order to achive peaceful mind and gaining unhuman power naturally. The interesting things to see in the attraction are the beautiful relics or carvings that can be seen just before you enterting the "cave". Many people wouldn't miss the opportunity to take some pictures of the gate. The entrance ticket is Rp15.000,- per person.
Location : Ubud, Bali
Tips : Vandalizm is a big no
2. Monkey Forest Ubud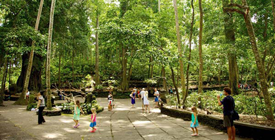 The next one is a pretty fun attraction located in Ubud, Gianyra, the Monkey Forest. Of course the name of this place is already known by many people, especially the ones who want to directly see the monkeys that love peacefully inside this forest. Many tour guides will recommend this place after the other attractions that you should visit in Ubud.
The condition of the forest is still amazingly good, and the monkeys there seem very happy. They can interact with the tourists, and sometimes they can do unusual things that can make them laugh. Don't worry about the health condition of the monkeys, they are pretty healthy and also very tame. So you don't need to worry when feeding them some bananas. The administration ticket is about Rp40.000,- rupiah per person.
Location : Monkey forest street, Ubud, Gianyar
Tips : Always pay attention to your belongings
3. Tirta Empul Temple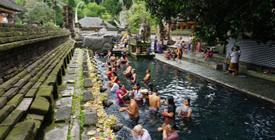 Moving from there, we're going to a temple located in Ubud. As you may know already, that in Bali island there are so many temples that you can see, starting from the small ones to the big ones. In Ubud, there's one popular temple that is known for having a very refreshing water called Tirta Empul Temple. It's one of some popular temples in Bali island.
Many people either locals or foreign tourists would love to spend some time in this temple just to taste the water. In this location, there's some shower-like spots that you can use. But remember, you need to queuing because there are maybe some people lining up for each shower. Talking about the entranc ticket, you need to pay for about Rp15.000,-
Location : Tirta street, Tampaksiring, Gianyar
Tips : You need to stay in line in order to feel the water.
4. Tegalalang Rice Fields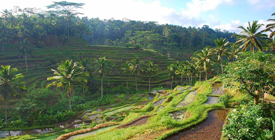 Coming to Bali is not complete without visiting its wonderful rice fields. In the area of Ubud, you can see one location that has this beautiful rice fields called Tegalalang. On this area, you should visit one of them to be able to feel the peaceful and calming atmosphere of Bali.
It's located near Kintamani though, so that's why there are some people who would love to spnd their time a bit after visiting that location. Around Tegalalang, there's also some cafe that is very good to visit if you want to calm yourself with a sip of coffee and green ricefields view.
Location : Tegalalang, Ubud
Tips : Be careful when stepping on the mud
5. Ayung River Rafting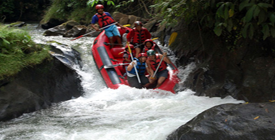 Another great thing to do in Bali beside enjoying Tegenungan waterfall Ubud Bali is to do rafting. There's some popular spots in Bali which are perfect to do that kind of activity. But in Ubud, there's one place, a pretty famous one called Ayung river.
It's located in Payangan village area. So maybe you need a vehicle that able to cross an offroad tracks to get to the village first. The flow of the river is not too strong even for newbie. So, it's pretty safe to do rafting on Ayung river. Each person should pay Rp350.000,- to be able to do it.
Location : Payangan village, Ubud
Tips : If you have a history of heart attack, maybe you should avoid this sport.
6. Blanco Museum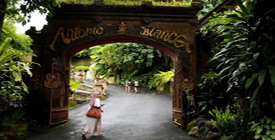 Next one is visiting a museum. In the area of Sayan, Campuhan highway to be specific, there's one museum called Blanco museum. What kind of museum is this you say? This is the museum to store creations made by talented artist, Don Antonio Blanco.
He was a popular because of his skills in the world of painting. Even though he already dead back in December 1999 ago, we can see his wonderful creations in the gallery of Blanco Museum. To enter, you need to pay about Rp30.000,-. 
Location : Campuhan highway, Sayan, Ubud
Tips : It closes at 5 pm, so don't forget to make your time
7. Tegenungan Kemenuh Waterfall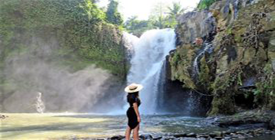 Waterfall just looks as great as things to do in Ubud Monkey Forest that located in Ubud is Tegenungan Kemenuh Waterfall. It's located at Ir. Sutami street of Kemenuh area. With its 16 meters high, Tegenungan Kemenuh can give a very fresh water for visitors.
Everyday, many people are coming this place. The flow of the water coming from above is very big and swift. But some people still wanted to be under the water anyway, which is actually very dangerous for them. The entrance ticket is about Rp10.000,- only.
Location : Ir. Sutami street, Kemenuh
Tips : It can be very dangerous if you explore the inner side of waterfall
Of course, not only those seven places are present in Ubud that ready to be visited. Here's some other attractions in the things to do in Goa Gajah :
Puri Lukisan Museum
Neka Museum Ubud
Tebing Gunung Kawi Temple
Taman Saraswati Temple
Saren Agung Temple
Blangsinga Waterfall
Arma Ubud Museum
Tirta Srinadi
Kanto Lampo Waterfall
So that's the article for today, the things to do in Goa Gajah. Hope you can get a wonderful experience when visiting Ubud and its wonderful attractions. See you later !
Exploring Goa Gajah