Officially named the Sacred Monkey Forest Sanctuary or Mandala Suci Wenara Wana in the Balinese language, this nature reserve is one of the most popular tourist destination in Bali. Over 700 monkeys live in the vicinity and there are more than 180 species of trees in this 12.5 hectares forest. It is located in Ubud area, within the village of Padangtegal, to be more precise. This sanctuary is built to conserve the area according to the Hindu principle, Tri Hata Karana. This principle aims to make people live their life harmoniously with three things: other people, environment, and supreme God. Thus, a natural conservation was born as the people in the vicinity seek to preserve the natural flora and fauna in the vicinity.
This famous tourist attraction netted at least 10.000 visitors annually, and there are some educational institutions that do their research in this place. Other than the beautiful natural sceneries and interesting flora & fauna, this sanctuary also has some Hindu temples, a hall, galleries, open stage, canteen, and other tourist facilities. Although it is open to the public, this forest is still used for ceremonial and religious activities, therefore, there are some places that are off-limits to visitors during certain times. Although there are some instances where the monkey attacks the visitors, as long as you stick to the rules and follow the instructions, you should be fine. The guards and park attendance are armed with a slingshot to quickly fend off any aggressive monkeys.
See also:
Main Attractions in Ubud Monkey Forest Bali 
This forest is actually owned and managed by the Padangtegal village, which is located within the forest. The main popular thing to do here is obviously to blend in with nature and hike, trek, and explore the forest while observing the beauty contained within it. Indeed, here are all the great things to do in Ubud Monkey Forest Bali, Indonesia.
1. The Temples
As stated above, the monkey forest contained several Hindu temples which are still used for religious ceremonies and activities until the present day. There are three temples you can find inside the Sacred Monkey Forest area, which are Pura Dalem Agung Padangtegal, Pura Beji, and Pura Prajapati. These temples are located in different area of the forest and are used in different occasions. The local people use this temple to worship God (Hyang Widhi) in different personifications. The first and main temple, Pura Dalem Agung, lies in the southwestern part of the park and is used for traditional ceremonies. The foreigners often call it as the temple of the dead. In this temple, people worship God or Sang Hyang Widhi in the personification of Shiva, known as the Recycler or Transformer in Hindu mythologies.
The second temple, Pura Beji, is used for purification and physical and spiritual cleansing before ceremonies and also known as the "Holy Spring" bathing temple. In this temple, people worship God in a personification of the goddess Gangga. It is located in the northwestern part of the park. Lastly, the Pura Prajapati, located next to the cemeteries, are used for a temporary burial while they wait for a mass cremation that was held once in every 5 years. In this temple, people worship God in a personification of the goddess Prajapati.
2. The Monkeys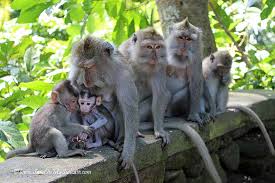 The monkeys in the Sacred Monkey are living freely inside the conservation area. As mentioned before, there are about 700 monkeys living here. After all, they are the main reason this forest was named as the Sacred Monkey Forest. The monkeys in Sacred Monkey Forest Ubud are mostly crab-eating macaques, known locally as the Balinese Long-Tailed Monkey or in scientific name known as Macaca fascicularis. Crab-eating macaques are native to Southeast Asian countries, who got their name due to they were often found foraging the beaches for crabs. They have a very wide diet as they were known as opportunistic omnivores. Due to their eating habit, they are considered as agricultural pests in some areas. However, some certain areas also consider these monkeys as sacred animals, guardian of temples and such.
Normally, these monkeys are classified into five age groups: infants (0 – 1 year), juvenile 1 (1 – 2 years), juvenile 2 (2 – 4 years), subadult male (4 – 6 years), adult female (> 4 years), and adult male (> 6 years). These monkeys are divided into five different groups and are scattered in 5 different places: the main temple, the Michelin area, the eastern area, the central area, and the cremation and cemetery area.
As the monkey population grew larger each year without disturbance, conflicts between these groups are unavoidable. Most of these monkeys are active during the day and sleep in the night, which makes them familiar to human activities in the park during business hours. As such, they are unperturbed by the presence of humans inside their territory.
Ubud Sacred Monkey Forest Business Hours:
Mon – Sun, 08.30 AM – 06.00 PM
Entry Fee: Rp. 20.000,00 IDR
Tips & Trick When Visiting the Monkey Forest
Come around 2 p.m. in the afternoon is more advantageous since the monkeys are usually less aggressive and more relaxed during that time, as they are already full from being fed by the previous visitors.
Put your belongings into a bag since there were some cases where monkey take the belongings of the tourists. Monkeys are known to take small things, as they easily get curious about trinkets, therefore you should keep your important items inside your bag at all times.
Keep a watch of your bag and pockets, as monkeys are known to reach inside your bag if they think there's something inside.
Don't pull back the food or try to take it back after you give it to them.
Stay on the track and don't get too near to the monkeys to respect their territory. Monkeys tend to be easily irritated when someone enters their territory.
Avoid eye contact and smiling, as showing teeth is considered as an act of aggression for the monkeys.
Be responsible for your own trash. Don't litter the park and keep it clean.
Follow the signs and guide, as some part of the forest, are restricted and off-limits to tourists especially during certain times, e.g. ceremonies.
What to Feed and What Not to Feed
The monkeys will not come to you if you don't give them any food. If you want to interact with the monkeys, you may feed them some bananas, but not the other human food, so we can keep the monkeys healthy. The long-tailed monkeys are omnivores. Their primary foods are sweet potato, banana, papaya leaf, corn, cucumber, coconut, and other local fruit. Just remember that when you feed them, don't pull your hand back before they finish.
You may also visit:
Attractions Nearby the Sacred Monkey Forest
As a culture-rich destination, Ubud has several interesting spots that every tourist should consider visiting them during their trip to this place. Here are some of these interesting attractions around the Sacred Monkey Forest, Ubud Bali Indonesia.
[accordion]
[toggle title="1. Ikat Batik" state="opened"]
Located only about 100 meters from the Sacred Monkey Forest, Ikat Batik offers you a wide variety of high-quality authentic batik. The price is also varied, depending on how the batik is made, the patterns, and the materials. You may want to check out their specialty, Indigo Batik Prints that are beautiful and classy. The staffs are friendly and not pushy, so you can shop comfortably. You may even get discounts or special price if you buy more than one things in one sitting!
[/toggle]
[toggle title="2. Sarasvati Garden Temple"]
This water temple is a little bit different with other temples in Bali as its main feature is the blooming pink lotus pond that surrounds the temple. Sarasvati Garden Temple or Pura Taman Saraswati is also one of the best places to watch the renowned Kecak dance performance. To watch the graceful yet energetic dancers on the stage directly at the front of the temple will give you a real Bali experience. The shows start at 7.30 p.m. only on Tuesday and Thursday.  A sash and sarong are compulsory to enter this temple to show respect and humility.
[/toggle]
[toggle title="3. Balinese Spas"]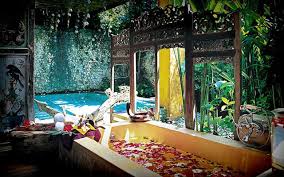 Since you are already here in Bali, why don't you try the so called Balinese Massage? Many Traditional Balinese Spas are rowed only meters away from the Sacred Monkey Forest. Pamper yourself in the exclusive selection of Bali Massage and Spas like Putri Ubud Spa, Jaens Spa, DaLa Spa, Shambala Spa, and others, all located just meters away from the Monkey Forest.
[/toggle]
[toggle title="4. Hubud"]
This co-working space located near the Monkey Forest is the first and most popular co-working space in Bali. The construction is mostly made of bamboo and woods, completed with the rice field scenery. Some monkeys randomly come to this place. This surely would be a perfect ambiance for remote workers. The people here are friendly. It is not strange to see two complete strangers talking about jobs, business, or even only random things. It is said that workers from 30 different countries visit this place regularly.
[/toggle]
[/accordion]
See also:
Art Museums and Galleries Near Ubud Monkey Forest
As you strut in the Monkey Forest Road, you will immediately notice that there are plenty of art museums and galleries. With the genuine natural beauty and serene surroundings, it is not peculiar that Ubud is often called to be the center of Balinese art and culture. Two of the most famous are:
[accordion]
[toggle title="1. Agung Rai Museum of Arts" state="opened"]
Founded by a Balinese, Agung Rai, this art museum exhibits traditional & contemporary works by Balinese, Indonesia & other artists including foreign artists. This cultural tourist destination has managed to steal the heart of its visitors. The building design itself blends Balinese art, culture, and architecture with the sophisticated and modern lifestyle. The museum allows you to enjoy a vast collection of paintings, even many performances such as theater, dance, and music. Facilities like a resort, spa, bookshop, library and reading room, boutique, restaurant, cafe, and coffee shop are also provided. If you are an art enthusiast, this museum also provides you with painting classes, cultural workshops, conferences, seminars, and training programs.
[/toggle]
[toggle title="2. Blanco Renaissance Museum"]
Don Antonio Blanco, a Filipino, first landed in Bali in 1952. He was given a piece of land in Campuan, Ubud. He lived and worked with his beloved Balinese dancer wife, Ni Ronji, and their four children, Tjempaka, Mario, Orchid, and Maha Devi in peaceful surroundings of rice fields and lush trees and bushes at a hilltop. Later after his death, his son Mario finally fulfilled Blanco's dream to turn his mansion into a museum open for public, to exhibit both Mario's work and Blanco's work. The museum building is grand and mostly influenced by Balinese and Spanish architectural styles.
The major theme of Blanco's artwork is the women body and Balinese women, so some people might find his work a little bit too erotic. It's recommended for art lovers and it is not suggested to bring children here because of this fact, aside from its beautiful tropical gardens and birds collection. In spite of the pros and cons, Blanco's paintings bear the soul of the painters that relentlessly fell so deep in love with Bali and its culture. The museum also provides a Balinese nuanced cafe that serves you with Balinese, Asian and European cuisines, a gift shop, and welcome drinks for the visitors. Blanco's family temple are placed not far from the museum. Indeed, there are all the great things to do in Ubud Monkey Forest Bali, Indonesia.
[/toggle]
[/accordion]
You may also read:
What to Eat Nearby the Area
As you spend some time exploring the Sacred Monkey Forest and the surrounding areas, time will surely pass on very quickly and leave you hungry for some food. Don't worry as we have compiled several famous dining spots around Ubud area for you, these restaurants are surely able to provide you with the food you need to fill your belly. Indeed, here are all the great things to do in Ubud Monkey Forest Bali, Indonesia.
[accordion]
[toggle title="1. Warung Babi Guling Ibu Oka" state="opened"]
Although this small tavern is located in a small alley, Warung Babi Guling Ibu Oka is already extremely popular among international tourists. It is even said that you did not really come to Bali if you haven't tried the roasted suckling pig here. The succulent pork and the crackling of the pork skin are to die for. The most recommended menu here is rice with a separated roasted suckling pig or special roasted suckling pig which includes the pork skin, pork rolls, deep fried pork, blood sausage, and mix vegetables.
[/toggle]
[toggle title="2. Bebek Bengil (Dirty Duck Diner)"]
The other dish you should try around Monkey Forest Ubud is Bebek Bengil. The restaurant is a traditional Balinese wooden house with several gazebos available for you to eat in "lesehan" way. Lesehan means you will sit on the ground. Some pillows are provided for you to sit comfortably. The restaurant is also surrounded by the rice fields, adding more traditional vibe as you dive in the exotic flavor of this local delicacies.
The main dish of this phenomenal Dirty Duck Diner is,  of course, the deep-fried crispy duck, served separately with steamed rice and sambal matah and lawar (a mixture of vegetables with minced meat and coconut, mixed with herbs and spices). The duck itself is cooked to perfection, crispy to the bone. The other favorite menu includes the so-called Balinese Mix Rice and Green Sambal Grilled Duck. This restaurant also offers you with a wide selection of beverages such as soft drinks, juices, even liquors.
[/toggle]
[toggle title="3. Gelato Secrets at Monkey Forest Road"]
If you are heading to Monkey Forest Road, you may find plenty of Gelato Secrets stalls which could be worth trying. You will have a chance to gobble up homemade gelatos with many creative and tempting flavors, such as Chocolate Chilli, Peanut Butter, Takesumi Bamboo Charcoal and Vanilla Bean, Pumpkin Hazelnut, Coconut Pandan, Salted Butter Caramel, Tiramisu, and Gingerbread. What a tempting choice of flavors!
[/toggle]
[toggle title="4. KOU cuisine"]
Owned by a Balinese and Japanese husband and wife, this little yet cozy homemade jam and salt outlet can be found between rows of art shops at Monkey Forest Road Ubud. This vintage-looking white colored dominated outlet was also visited by a Hollywood actress, Julia Roberts, during her filming of Eat, Pray, Love which was released in 2010. When you enter the shop, the first thing you will face is the neat lines of glass jars of jams with various flavors. Some of the jars are also beautifully packaged and wrapped. The flavors of gelatos offered are quite varied, such as apple and cinnamon, caramel milk, mango, grape, etc. Besides jam, the outlet also provides a variety of homemade salts, such as kitchen salt and bathing salt.
[/toggle]
[toggle title="5. Cafe Lotus"]
As the famous meeting place for backpackers, local artists, and travelers in the 80s, Cafe Lotus is definitely one of the most beautiful places in Ubud to have a meal. At first, it was a standard bohemian-style restaurant that offers standard foods at cheap prices. Nowadays, it has transformed into an elite restaurant with an above average price but with a more scrumptious menu and outstanding service. You can enjoy your meal facing an immense pond filled with lotus flowers with Pura Saraswati located just beyond the pond, which comes to life at night with an amazing performance of Balinese traditional dance.
[/toggle]
[toggle title="6. Naughty Nuri's"]
Naughty Nuri's has been the favorite hangout place for expats and tourists alike. Although the menu here is not a local Balinese dish, but it is really one of the best barbecued spare ribs you'll probably ever taste. The atmosphere around here is always crazy and lively, as their dirty martinis are acknowledged by many as extremely fabulous.
[/toggle]
[toggle title="7. Mozaic"]
This gourmet restaurant is definitely quite steep in their price, but for a good reason. The food they serve here is the lavish cuisine of the Franco-American dishes, and guests can enjoy their meal out in the open in a candle-lit garden that looks so incredible and magical. For the best experience, it is advised that you dine in here in the evening, as a meal could last for several hours. With a selection of menu that changes daily, you can never get bored with visiting this place, as long as your pocket allows it.
[/toggle]
[/accordion]
Indeed, there are all the great things to do in Ubud Monkey Forest Bali, Indonesia. Here you can explore mare Bali attractions that just visiting beaches or chasing sunsets. Ubud Monkey Forest Bali, Indonesia can also be your best holiday trip in Bali.
[accordion]
[toggle title="More Indonesia Tourism Here" state="closed"]
See also:
[/toggle]
[/accordion]