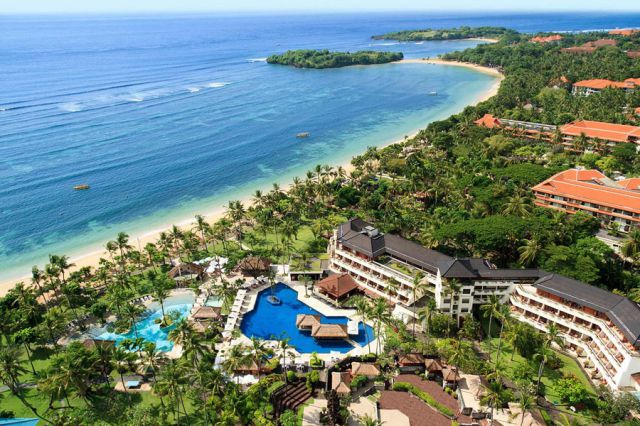 Nusa Dua is literally translated as two islands because there are two islands in the bay area. The first island is the Peninsula Island that located at the southern part. Towards the north is the smaller Nusa Dharma Island which is where Pura Nusa Dharma is located.
The name Nusa Dua is used to refer to both the entire eastern side of Bukit Peninsula at the southern part of Bali Island as well as the purpose built tourist district known as the enclave of famous 5-star hotels and resorts in the area. Nusa Dua is also known for the golf course as well as the main convention center on the island of Bali.
You may also search:
Located some twenty-two kilometers from Bali's provincial capital of Denpasar, Nusa Dua is under the administration of South Kuta District. The hotels in Nusa Dua Bali are beach front hotels and each of them has private white sand beaches that are connected together. If you are a guest of the hotels in Nusa Dua, you can easily rent a bicycle or roller blades to go around the beach area. Your hotel will mot certainly arrange an airport transfer for you.
Although the area is best known for its luxurious resorts, but Nusa Dua also has many tourism objects which you may want to visit. So let us begin to tell you all the things to do in Nusa Dua Bali Indonesia!
1. Nusa Dua Beach
Most of the beaches that are located within BTDC (Bali Tourism Development Corporation) area are private beaches belong to the five-star hotels. However, here you can also find a public beach. The public beach is located behind Bali Collection shopping center.
Nearby you, can also find a popular surfing spot, called Mushroom Rock. Although the waves and breaks here are not big, but you can always surf here, even when it is not the surfing season. Nusa Dua Beach is always crowded during the weekend as the calm and clean water makes it a family friendly beach.
2. Geger Beach
Geger Beach is a beautiful stretch of sandy beach located just outside of the BTDC in Nusa Dua area. It is located adjacent to the luxurious Mulia Resort and Nikko Bali Hotel,  it is also nearby to the St. Regis and The Bale. Unlike most beaches in BTDC area, this is a public beach. Thus, it's so exotic and romantic if you want to take your lovers here.
Some parts of the beach have been developed for tourism, but most parts of the beach have been left untouched. This is a white sand beach and the sea water here is warm and calm, making it suitable for swimming as well as seaweed farming. The seaweed plantations also invite small fish to the area, making Geger Beach also suitable for those of you wants to snorkel.
3. Pandawa Beach
Pandawa Beach is rather secluded and can be reached by about 30 minutes drive from BTDC area. The beach is located at the southern tip of Nusa Dua and road that leads to Uluwatu. Along the way to the beach you have to pass through some bumpy roads where you can also see big statues that have been carved along the cliff. If you go up the cliff, you can see the magnificent view of Indian Ocean, making this is a perfect place to take pictures.
Pandawa Beach is also popular for tourist to go for watersports, in particular, are kayaking and paragliding. The beach is not as crowded as the beach in Kuta area, making this beach more tranquil and peaceful. As a result, you can get yourself in perfect piece here.
4. Gunung Payung Beach
Gunung Payung Beach is a hidden paradise with an easy access. It is located in Nusa Dua, which takes about one hour to reach from Denpasar. Here you can enjoy the breathtaking view of the ocean far to the horizon. This is a clean and peaceful beach. The surf breaks here are good and not too far away from the beach. You can also go for snorkeling. Here you can also observe the activities of the seaweed farmers and the sea urchin collectors.
This beach is located towards the east from Pandawa Beach. It is also where Pura Gunung Payung is located. To reach the temple, you have to climb about 300 steps.
5. Water Blow Nusa Dua
Water Blow Nusa Dua is offering you a different experience to enjoy the ocean view. Here you can see the waves of sea water from the Indian Ocean come and smash to the rock cliff, creating a big water splash. This is a perfect place for you to see the forces of nature at its best. Water Blow is located inside the BTDC, behind the Grand Hyatt Nusa Dua. It is somewhat hidden compared to the resorts and beaches in the surrounding area.
At the front of the Water Blow, you can see a big gate made out of limestone. Right beside the gate, you will see warnings inscribed on a limestone pillar, reminding you not to swim, dangerous waves as well as the sharp coral and the steep cliff. Once you have passed the gate, you just have to walk along the paved pathway until you reach the end where the cliff is. Here the paths are made in a circular form, surrounding a rock monument. At the side of the paths, you can see the hand railings around it.
I highly recommend you to come here during the high tide as you can best see the forces of nature at work during this time. If you are visiting during the months of July until October, then get ready to get wet as the water will surely splash up high. What makes it better is the entrance to the Water Blow is free.
6. Pirates Bay
If you think pirates only exist in the Carribean, think again! Come to Pirates Bay and you will find a totally different experience. Pirates Bay is a unique restaurant. Built in the shape of stranded pirate ship, complete with the tree house, Pirates Bay offers you a new dining experience. Around the ship, you can see many thatched huts and tents which are decorated with ornaments that even better at recreating the pirate theme.
You can further enhance your experience by participating in the treasure hunt. Apart from that, you can also rent a pirate costume. Pirates Bay is not just a restaurant. Here you can also camp, fly kites as well as cook.
The food served in the restaurant mostly is Western and Indonesian food made from the seafood. The food varieties also include menus for children.
7. Surf and Turf 
The Surf and Turf is a beach club located inside the BTDC area, covering an area of 3,300 square meters. Here there are plenty of fun activities you can do like canoeing, cycling and playing on the water slides and space bowl, as well as a surf rider.
Whether you are a first-time surfer or an experienced surfer, you will surely have fun in the surfrider. The surfrider provides first time surfers with a safe and fun environment where you can learn how to surf from experienced instructors.
Surf and Turf Beach Club is open every day of the week. The beach activities can be enjoyed from 10 A.M. to 6 P.M. The cost for each activity differs and you will have to pay a higher price during the weekends. During weekdays, canoe rental for 1 hour will cost you IDR 100,000 for an adult and IDR 70,000 for a child age 5 to 11 years old. Meanwhile, for the weekend the canoe rental will cost you IDR 130,000 for an adult and IDR 100,000 for a child. Bicycle rental for 1 hour will cost you IDR 70,000 for an adult and IDR 50,000 for a child during weekdays, while during weekdays it will cost IDR 100,000 and IDR 80,000.
Water slides and space bowl ride will cost you IDR 100,000 for an adult and IDR 70,000 for a child during the weekdays. If you and your family come here during the weekends or public holidays, it will cost you IDR 150,000 for an adult and IDR 100,000 for a child.
The Surf Rider runs for a 2-hour session each, with the first session is from 10 A.M. to 1 P.M., which is continued from 2 P.M. to 4 P.M. and after an hour break will operate again from 5 P.M. until 7 P.M. A 2 hour session on the surf rider will cost you IDR 270,000 for an adult and 130,000 for a child during weekdays. Meanwhile, for weekends and public holidays, it will cost IDR 300,000 for an adult and IDR 160,000 for a child.
You can also buy Combo Activity Package that combines all the activities together. The price for this package is IDR 400,000 for an adult and IDR 200,000 for a child during the weekdays. During the weekend, the price of the package is IDR 450,000 and IDR 250,000 respectively.
8. Devdan Show
Looking to watch a show that displays the rich Indonesian culture? Then you don't need to look further as you can go and watch the Devdan show. This show displays the attractive and diversity Indonesian cultural heritage and combines them with modern and contemporary art, acrobat and high tech effect, creating a spectacular stage performance. Devdan Show is shown for 90 minutes and will take you on an amazing journey to explore Sumatra, Java, Borneo, Papua and for sure, Bali.
Firstly, you will be amazed by the exotic traditional dance performance with various effects. Next, the aerial acrobat performance will astound you. Devdan Show has a simple storyline, which can be understood and enjoyed by people of all age.
Devdan Show was first brought on stage on 2011 and has received Indonesia Travel and Tourism Awards (ITTA) as Indonesia Leading Tourism Show in 2014/15. Devdan Show also received Certificate of Excellence from tripadvisor in 2015 and 2016. The show takes place in Bali Nusa Dua Theater and is shows scheduled four times a week, namely on Monday, Wednesday, Friday, and Saturday, starting from 7:30 P.M. until 9 P.M. The most basic ticket for the show starts from IDR 520,000 per person for adults. VIP ticket for the show is at IDR 1,560,000 per person.
You may also search:
9. Flyboarding
Do you ever wonder how does it feel for Tony Stark when he donned his suit and becomes The Iron Man? Now you can, with the latest watersports that will surely send your adrenaline rushing. Yup, it is the sport of Flyboarding.
Flyboarding was invented by Franky Zapata, who was a professional jet-ski champion. The sport combines the sport of hoverboarding and motorized jet-ski. You will wear a pair of shoes which is placed on a surfboard. The surfboard, in turn, is connected to a motor which usually installed on the jet-ski. Due to the jet pressure, once the machine is turned on, you will be lifted right to the sky with water coming out from the nozzles. Flyboarding can take you as high as fifteen meters up from the surface of sea level.
Flyboarding can be used simply to float above the water and give you the feeling of flying or you can also do various acrobatic maneuvers. However, it is not easy and you should only do the maneuver if you have had some experience. Half an hour ride of flyboarding will cost you IDR 625,000 per person.
10. Nusa Dua Plane
This name refers to two old 737 planes that have been strangely stranded on the area around Kuta and Pandawa Beach. This made the planes are being hunted by people who made them as objects of photographs. Both planes have been claimed by parties who planned to turn them into restaurants, although this has not become a reality so far.
Here you can experience the feeling of walking on a plane's wing without having to be afraid of falling to your death. You can also enter the interior of the planes. If you are staying in Nusa Dua, I recommend you to go to the plane that is located near Pandawa Beach. It will take you about five minutes drive, or if you want to walk there it is about forty minutes walk from Pandawa Beach.
11. A Day in Paradise – Hilton Bali Resort
BTDC area in Nusa Dua is well known as an enclave for the luxurious beach resorts with various facilities that will surely pamper you. If you want to enjoy these facilities without having to spend your time overnight, now you can. Hilton Bali Resort now offers a special package called "A Day in Paradise".
This package offers you an access to the swimming pool and private beach of the resort, towel as well as one hour access to Jungle Camp Kids Club for children under twelve years of age, 15% discount on all food and beverages as well as 25% discount from Mandara Spa. I think this is a great deal as the package cost you only IDR 200,000 per person, you also get a bonus children ticket. If you spend up to IDR 500,000 for food and beverages, you will also get a free cabana, perfect for a relaxing day that definitely will not bust your budget.
12. High Tea at St. Regis Bali Resort
During your stay in Bali, you can enjoy the British tradition of afternoon tea in a classy King Cole Bar, located within St. Regis. Not only tea, here you will also enjoy various pastries which are made by international pastry chefs while enjoying music from a classical piano. Best of all is the food and pastries are served in all you can eat manner. If you stay at King Cole Bar until evening, you can also enjoy the traditional dance and fire attraction. The cost is IDR 350,000 per person and it is free for children under 9 years of age.
You may also search:
13. Serangan Island
One of the greatest things to do in Nusa Dua Bali Indonesia is playing the blue water in Serangan Islands. You can take glass-bottomed boats, which can be used to observe the marine life without having to get yourself wet. Serangan Island or Turtle Island is the place for sea turtles conservation. Nearby, you can also found Bali Sharks which is aimed at conservation of black tipped and white tipped reef sharks.
You may also search:
14. Mangrove Boardwalk
The fact is, 23% of the world's mangrove forest can be found in Indonesia. Being in the country with the largest mangrove forest area in the world, you definitely have to visit one. One of the best options you can choose is the mangrove forest in Denpasar, which covers an area of over 1,300 hectares. Here you can have a fun and educational walk with your friends and family.
You may also search:
15. Pasifika Museum
Pasifika Museum is a big museum located inside BTDC compound, right next to Bali Collection. It is underrated and seldom known to Nusa Dua visitors. The museum has 11 galleries, which displays over six hundred pieces of artworks from two hundred international artists, including expatriate artists who reside in Bali.
Admission ticket to the museum cost IDR 70,000. I would highly recommend this museum if you would like to know about Bali and Indonesia art in general.
You may also search:
16. Pantai Suluban or Blue Point Beach
The beach is less known compared to Kuta or beaches in Sanur area. The beach will surely fascinate you with the panoramic view from the cafe area which offers you a great vantage point. You can walk down the rather steep hill to reach the beach. The beach is surrounded by a wall of rocks which formed into caves and large rocks that dotted the landscape.
You may also visit:
17. Watersports
As with the places around Bali in Nusa Dua you can also do many water sports like banana boat, parasailing, jet-ski, diving, snorkeling and flying fish. Here you can have your hotel organize them for you or you can go directly to the spot on the beach at Tanjung Benoa. Each activities will normally cost you USD 25 to 30.
Nusa Dua has many charming spots and attractions which you will surely enjoy during your holiday in Bali. It offers many pleasant and relaxing activities which you can do with your friends and family for a memorable holiday. So what are you waiting for, get a ticket to Bali and book yourself into one of the hotels in this prestigious region. Then, enjoy all Bali attractions and all the things to do in Nusa Dua Bali Indonesia wildly.