Among many Indonesian cities which have exotic spots for tourism, Palembang is one of them. Palembang is the capital of South Sumatera province, and also the second largest city in Sumatera next to Medan. Palembang was historically the center of Sriwijaya, the Southeast Asia's largest Buddhist kingdom in the 9th century, and subsequently of the Palembang sultanate ruling around 15th century until the arrival of the Dutch colonial forces.
According to Kedukan Bukit inscription, Palembang was founded in June 17, 688 CE, which makes it the oldest city in Indonesia. It is known in the West as the "Venice of the East", along with Semarang in Java Island and Banjarmasin in Borneo.
Read Also:
Best Sites to Visit in Palembang
Just like any other cities in Sumatera, Palembang also has many tourist attractions to offer. Here are 20 attraction sites in Palembang you should not miss:
1. The Ampera Bridge
Ampera Bridge has been an iconic site of Palembang. Its construction began in 1962, and it took 3 years to complete. Standing across the Musi River, this 1,117-meter long bridge connects the regions Seberang Ulu and Seberang Ilir on opposite sides of the river. Formerly it was named after Indonesia's 1st president Soekarno, thus Bung Karno Bridge. Later, due to strong anti-Soekarno movement in 1966, it was renamed Ampera Bridge.
Originally, the middle part of the bridge could be lifted up so that big-sized ships could sail through from under the bridge. Nonetheless, the lifting was halted in 1970 due to traffic disturbance it caused. The scenery of and around the Ampera Bridge looks even more beautiful and glamorous at night due to thousands of lights decorating the bridge. About 50 meters from the bridge you can find a market where you can buy food and souvenirs.
2. The Musi River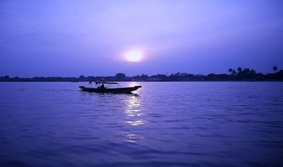 The Musi River, about 750 km long, is the Sumatra's longest river. Flowing across the city, this calm-watered river used to be the main transport line in Palembang. Nowadays it also becomes a tourist destination, where you can ford the river by boat while enjoying the surroundings.Meanwhile, there are also several interesting places you can visit along the river sides. Among others, you have the floating restaurant, the Arabian Village, and the Kuto Besak Fort. As a result, Musi river is so beautiful. Mostly, if you visit there in evening then you can watch the sunset beautifully.
3. The Kemaro Island
The Kemaro Island is located about 6 km from the Ampera Bridge, right amidst the Musi River. Presently, it is one of the most famous tourist spots in Palembang. You can reach this island by a 30-minutes trip with a traditional boat from the Ampera Bridge. It has, among others, a Buddhist temple frequently visited either for pilgrimage or to pray in.
According to an old legend, this island was the grave of a Palembang princess named Siti Fatimah, the daughter of Sriwijayan king. It was told that this princess married a Chinese prince named Tan Bun An, and the dowry was 9 ewers filled with gold. Unfortunately, because of some misunderstanding this marriage ended tragically as this couple jumped into the river and drowned. The graves of Siti Fatimah and Tan Bun An on the bottom of the river then became the island Kemaro.
Other interesting places in Kemaro Island were a 9-level pagoda built in 2006, the temple of Kwan Im goddess and statues of other Chinese deities, and the so-called "love tree". It is believed that couples will experience a lasting relationship, even into marriage, if they carve their names on the tree. The story of this tree is also connected to the Siti Fatimah legend. Unfortunately, access to the tree is now limited by local authorities, as too many couples' names are carved on it to the extent that it became like vandalized and less attractive to see.
4. The Punti Kayu Forest Park
The Punti Kayu Forest Park is known to be the only forest park in Palembang and also the largest downtown pine forest park in Indonesia. It is also one of the most favored tourist spots, located about 7 km from Palembang city center. With the area of about 50 hectares, this park has pretty good facilities for visitors, even 3 camping grounds for boy/girl scouts and any camping enthusiasts.
If you enjoy swimming, boat-rowing, picnic, horseback riding, elephant attraction, or visiting a zoo or crocodiles breeding place, you have them all here. You can use one of the gazebos in the park for taking a rest or to have meals together with your family, free of charge. Brave enough to try crossing the hanging bridge? You have it here too. There is the Kid Water Park for your little ones to have fun in. You can also freely interact with monkeys in the park, but then you must take enough precautions not to lose your bag, your hat, your camera or even your wallet to the monkeys' hands.
By paying just IDR 10,000 for each person, or IDR 12,500 on weekends and holidays, you can have a full 7-hours fun in the park starting at 9 a.m. Well, adding another IDR 10,000 each for some attraction and playing facilities in the park will certainly give you more fun. That's one of the best things to do in Palembang Indonesia.
5. The Kuto Besak Fort
The Kuto Besak Fort is another iconic and historic site of Palembang, which dates back to the period of the Palembang Darussalam sultanate in the 18th century, when at the time it also functioned as the royal palace. Standing firm at the Musi River side, this building is a silent witness to the popular struggle against the Dutch colonial forces in the past. Right from atop the fort you can enjoy watching the ships sailing along the Musi River, especially in the evening, the best things to do in Palembang Indonesia.
6. The Sultan Mahmud Badaruddin Great Mosque
The Sultan Mahmud Badaruddin Great Mosque is the biggest mosque in Palembang. Its architectural style is a combination of Indonesian, European and Chinese styles. They hold religion activities here where it feels safe and sound for Muslim.
Indeed, next to the mosque there are 2 marketplaces where you can buy various souvenirs like woven fabrics, wooden handicrafts, or local culinary. As a result, The Sultan Mahmud Badaruddin Great Mosque is beautiful place inside and out. Things to do in Semarang Indonesia.
7. The Kambang Iwak Park
The Kambang Iwak Park is another historic site. It was once the recreation park exclusively enjoyed by Dutch families living near the park. Today it is a favorite public place where people jog in the morning along the 800+ meter long pool. You can also enjoy many kinds of playing facilities and find your favorite meals in one of many restaurants in and around the park.
8. Sriwijaya Sports Arena
Sriwijaya Sports Arena is Indonesia's 3rd biggest soccer stadium able to accommodate up to 40,000 people. Acknowledged to be an international level stadium, it is thus another icon of Palembang. Presently, the stadium is being used by the city's soccer team FC Sriwijaya as headquarters, and also being used for other events which include tens of thousands of participants.
9. The Lematang Indah Falls
Among Palembang's natural tourism destinations, the Lematang Indah Falls is the most well-known. Located in Pagar Alam, and around 40 meter in height, which is not quite high, this waterfall has an astoundingly fascinating environment that will indulge your eyes. Even all along the way to the location of the waterfall, the scenery is so beautiful that you won't get bored for even a second. When the rainy season comes, the stairs on the waterfall's location can be so slippery, so you'd have to be very careful when stepping on it. The entrance ticket to the Lematang Indah Falls is priced IDR 4,000 only for each person.
10. Cheng Ho Mosque
Cheng Ho Mosque is another iconic site of Palembang, famous for its one-of-a-kind uniqueness. Its architectural style is so Chinese and mixed with a little Malayan style, that it looks more like a pagoda rather than a mosque. Due to this special feature, the Cheng Ho Mosque has become one of the most favorite tourist spot in Palembang, besides being used for religious services. Visitors to this mosque even come from other countries like Malaysia, Taiwan, and Singapore. The construction of this mosque began in 2003, and is one out of four mosques in Indonesia bearing the same name.
11. Bukit Siguntang Hill
This historic site is the highest spot inside Palembang city. In the past, this 30-meter high hill was used by royal families to meditate and to refresh themselves. Its tidy natural environment and fresh air certainly fit that need, as even today this place still attracts tourists and pilgrims alike. Visitors can relax on chairs and gazebo's built surrounding the hill while enjoying the freshness and tranquility of this place. The pilgrims used to visit the shrines of the aristocrats who were considered to have played a major role in developing and establishing Palembang as a city. There are seven shrines on this hill which you'll encounter one by one on your way to the top.
Read More:
12. Mount Dempo
This 3,195-meter high mountain lies on the border of South Sumatera province and Bengkulu province, and is the highest mountain in South Sumatera. In order to reach this mountain, you must first go to Pagar Alam city, about 7 hours trip from Palembang. The Mount Dempo lies about 15 km from Pagar Alam. Especially for hikers and mountaineers, this mountain presents a hard but rewarding challenge. All the way up to the top is beyond exhausting, but the reward waiting up there is quite precious. A gloriously beautiful view from the top is a priceless experience you should not miss.
you may also read:
13. Manna River Rafting
For rafting fanatics, the Manna River could be your new favorite. Located at about 40 km from Pagar Alam city, this river presents a quite exciting challenge. It was wide and calm at the beginning, but then the next 15 km is full with thundering torrent across the considerably narrow tracks. Limestone walls along the river banks and basin-shaped and round-shaped current add up to the challenge. In the meantime, there are refreshing views from the tropical rain forest on either side of the river for your entertainment while struggling through the torrent.
You may also search:
Things To Do in Kalimantan – Lombok Attractions
14. Ranau Lake
This is South Sumatera's biggest lake, and Sumatra's 2nd biggest next to Toba Lake in North Simatra. Located on the border of the Ogan Komering Ulu regency of South Sumtera and the Lampung Barat regency of Lampung province, this lake offers another natural attraction, as it still has fresh and unpolluted environment surrounding it. This lake originated from a huge earthquake and volcanic eruption, which created a big basin.
Right in the middle of the lake there is Marisa Island, where you can enjoy bathing in the hot water spring. There are also a waterfall and an inn to stay. You can reach this island by a fishermen's boat.
Ranau Lake was officially opened for public in 2007. A 3-star hotel near the lake stands ready at your service. Fishing on the lake and then roosting the caught fish is a favorite activity tourists used to do here.
15. Bumi Ayu Temple Complex
This was the biggest Hindu temple complex outside Java, according to the discovery by archaeologists, which also found out that these Shiva-sect temples imitated the Prambanan temple in Central Java. In fact, these temples are also the only ancient heritage of Hinduism in South Sumatera.
It is located in Bumi Ayu village in Muara Enim regency, covering an area of approximately 76 hectares. It consists of nine temples. Here you can also see various sculptures of Hindu deities.
16. Monument of the People's Struggle
This is another historical tourism site where many things related to the history of Palembang are treasured. It is built to commemorate the Palembang people's resistance in the years 1946-1947 against the Dutch military forces.
Located near the Great Mosque, this monument also covers a museum where you can view many historical items such as collections of old coins, pictures of local heroes, weapons, clothes, and other interesting items.
17. The Sriwijaya Kingdom Archaeological Park
It is also nicknamed the Karang Anyar site due to its location in Karang Anyar village. This park covers ancient buildings and bridges from the ancient times, so it is not just an ordinary park. Located at the northern side of the Musi River and the southern side of the Siguntang Hill, this park also has a network of water channels and pools quite neatly and orderly arranged.
There is even a quite huge pool with two "islands" in the middle. Another smaller pool has but one "island" in it. Water channels were constructed to provide drainage and also for the transportation between the Musi River and inland areas surrounding the site.
There are also many old artifacts in this area which show the lifestyles of the ancient people once living there. It is strongly believed that this spot was once the center of the ancient Sriwijaya Kingdom.
18. State Museum of South Sumatera
Formerly known as Balaputra Dewa Museum, this museum was built in 1978. It covers an area of about 23,500 sq. meters. In this museum you can find more than 3,800 collected items divided in 10 categories, including Geology, Biology, Palembang Traditional Items, Fauna Species from all over South Sumatera, and miniatures of inland houses. You can also find replica's of ancient inscriptions once discovered in Bukit Siguntang, which explained how the Sriwijaya Kingdom came to existence. Many ancient artifacts from the periods of pre-historic times, the Sriwijaya Kingdom, the Palembang sultanate, and Dutch colonialism were kept and displayed here. Culturally typical items like the songket cloth and carving handicrafts are also among this museum's many collections.
19. Kawah Tengkurep
Unexpectedly, this tourist attraction is actually a cemetery, a heritage from the Mahmud Badaruddin sultanate. The name "Kawah Tengkurep", which literally means "prone crater", came from the dome-shaped cemetery roof likened to a green skillet laid upside down. It was first built in 1728, with a mix of Malay, Indian, and Chinese architectural styles. Tourists coming to this historical site wish to not only visit the cemetery itself, but also to learn the history of the sultans of Palembang, as told by the kuncens, or the cemetery's keepers.
You may also search:
Things To Do in Flores – Things To Do in Padang
20. Ogan Permata Indah Water Fun
Despite its location hardly accessed by public transportation, this water park is one of the most favorite recreational places for tourists and local residents alike. This relatively new recreation park is just officially opened in 2011. It covers a 3-hectares area, and usually crowded with visitors on weekends and holidays. Considered to be the best water park in Palembang so far, it is certainly a good choice to spend your holiday with your family. Its water fun facilities are variously complete, for little children as for adults.
There are still many, many other Palembang attraction. Nonetheless, the ones mentioned in this article serve as an example and a glance of the whole wonderful experience awaiting you in the Sriwijaya Land. Indeed, if you plan to visit Palembang in Indonesia, then you may visit those places for better. As a result, there are just many things to do in Palembang, South Sumatra for fun.