There are so many Places To Visit in Indonesia, one of them is Bogor. Meanwhile, Bogor city is located in the province of West Java, about 52 kilometers south of the Indonesian capital of Jakarta and about 86 kilometers northwest of the West Java provincial capital of Bandung. It is known as Kota Hujan, which literally translated as "Rain City" due to the intensity of the rain that drenched the city every year, even during the dry season.
The modern city of Bogor has a close relation to the ancient city of Pakuan Pajajaran, which served as the capital of the Sunda Kingdom. During the Dutch colonial time, the city is known by its Dutch name, Buitenzorg, which means "without a care" and serves as the summer residence for the Governor-General of the Dutch East Indies. During the brief British occupation, Bogor also serves as the capital of Indonesia.
The total number of the population in Bogor is about 3 million people. Most of the residents in the city are Sundanese which made up about 87% of the population. Bogor also has a considerable number of Betawi, Javanese, and Chinese. Based on the official data published by the government, the hotel and restaurant industry contributed about 30% of the Gross Regional Product of Bogor, making it the largest contributor of income to the city of Bogor.
You may also search:
Bogor Popular Attractions
Bogor has plenty of interesting places to visit. As a matter of fact, in 2010 National Tourism Exhibition held in Jakarta, Bogor was selected as the most attractive tourist city in Indonesia. Should you be planning to visit Bogor, you definitely should spare some time to visit the following places for the best of experience and memories. Indeed, that's the things to do in Bogor Indonesia.
1. Bogor Botanical Garden
Situated at the very heart of the city of Bogor and adjoining the Presidential Palace Complex, Istana Bogor, the Botanical Garden is regarded as the city's pride and one of its' landmark. The precursor of Bogor Botanical Garden was founded by the very man who later also founded the city of Singapore, Sir Stamford Raffles during the brief period of British occupation. The garden was first established in 1811 with English style to serve as the private garden of the Lieutenant-Governor's residence.
As Europe saw the end of the Napoleonic War, The Dutch and Great Britain signed the Anglo-Dutch treaty that saw the return of the colony to the Dutch rule in 1816. A year after, the chief official for the agriculture, arts, and science of the colony, Caspar Reinwardt proposed the establishment of the Botanical Garden. His idea is supported by Governor-General Van Der Capellen and thus Botanical Garden was officially established on May 18, 1817. Reinwardt becomes its first director for five years and collected various plants and seeds of economic potential from all over the colony.
2. The Flora Collections
Today, the Botanical Garden which covers an area of about 87 hectares, boasts one of the largest collection with about 3,300 species as of January 2016. One of its' most famous collection is the world tallest unbranched flower cluster Amorphophallus titanum, which is well known for the stench of rotting meat when it blooms. The latest blooming event was on 3 July 2011. Bogor Botanic Garden is known to have five specimens, which is the largest number of specimens amongst botanical gardens.
Bogor Botanical Garden is open every day from 7 A.M. to 5:30 P.M. The entrance ticket fee as of July 2016 is IDR 15,000 for locals and IDR 25,000 for foreigners. You can also rent a bicycle to help you go around the garden, which costs IDR 5,000 per bike without any time limits.
3. Bogor Zoology Museum
Besides the plant collection, you may also be interested in visiting the Bogor Zoology Museum, which is located next to the main entrance of the Botanic Garden. The Museum was established by Dr. J.C. Koningsberger in August 1894 as a small laboratory at the corner of the botanic garden that specializes in collection and research of plants pests insects. After his visit to Sri Lanka in 1898, Dr. Koningsberger was inspired to collect animal specimens for research. Later, a special building dedicated to housing the collection of specimens was completed in late August 1901. The museum is famed as the place where Peter Ouwens wrote the very first scientific description of the Komodo Dragon in 1912.
Covering area of 1,500 square meters, the 24 rooms of the museum house one of the most extensive fauna collection in Asia. The museum collection of fossilized and preserved animals including over 2.5 million specimens of insects from 12,000 species. The main feature of the museum undoubtedly is the skeleton of Balaenoptera musculus or blue whale, which is the biggest of its kind in Indonesia. You can pay a single ticket fare for entrance to both Bogor Botanical Garden as well as the Zoology Museum.
4. Orchid Garden
Another place you can visit without paying any additional fee is the Orchid Garden or known locally as Rumah Anggrek, which is located in the northeastern corner of the Botanical Garden. Bogor Botanical Garden is famous for its collection of orchids, which numbers to 572 species according to data from August 2015. The collection including the largest species of orchid in the world, Grammatophyllum speciosum. The Orchid Garden is divided into two sections, which is the glasshouses and the orchidarium.
You may also search:
5. Bogor Presidential Palace
Istana Bogor or Bogor Presidential Palace is located adjacent to Bogor Botanical Garden. It is one of the six presidential palaces in Indonesia. The original palace was completed in 1750 and functioned as a retreat for the Governor General during the dry season in Batavia (today's Jakarta). However, in 1834 the palace was heavily damaged by the earthquake from the eruption of nearby Mount Salak. The damage was so severe that the building was unusable and later it was demolished and replaced by the current building. The new building was completed in 1856.
The palace complex covers an area of 28.4 hectares. The palace garden is well noted for its herd of some 250 tame spotted deer that roam the garden. These deer are originally brought by Governor-General Herman Willem Daendels from India and Nepal for hunting and sports. You can also feed the deer with carrots which are sold by local farmers on the streets around the palace.
The original artworks housed in Istana Bogor was looted by the Japanese and Allied troops during World War II leaving only 5 mirrors in the palace. Now Istana Bogor has a collection of some 450 paintings and 360 statues.
The Palace grounds is open for public visiting the Botanical Garden, but tour inside the Palace requires 5 days advance notification.
6. Safari National Park
Located on the eastern outskirts of Bogor city, around 20 km towards Bandung is the first safari park in Indonesia. Covering an area of 170 hectares, the safari park houses collection of about 2,500 animals which predominantly Indonesian, including Komodo Dragon and Bali Myna.
Similar to safari tours in the wild, visitors are given the chance to drive around the park in their private vehicles and even come within touching distance with the animals. The tour duration itself is around 45 minutes. Afterward, visitors can enjoy 9 wildlife shows, including Wild West Show, Dolphin Show, and Elephant Show. Visitors can also enjoy 20 amusement rides and 7 animal exhibits in the recreation area. The animal exhibits focused on crocodiles, Humboldt penguins, wallabies and kangaroos, and nocturnal animals from India and Indonesia. Additionally, Taman Safari now also offers Night Safari which is conducted on guided tram.
If you would like to spend a longer time and stay overnight at the park, Taman Safari also provides various accommodations.  You can choose from Safari Lodge, which is a hotel located inside the park or if you wish to stay close to nature, you can opt to stay in the Safari Caravan or The Tree House. If you are traveling with a bigger group, you may wish to select the Bungalow.
The entrance ticket to Taman Safari for locals is IDR 140,000 for a child from 1 to 5 years of age and IDR 150,000 for an adult. Meanwhile, the ticket fare for foreigners will set you back by IDR 250,000 for a child of 1 to 5 years old and IDR 300,000 for an adult. There are no differences in entrance fee for vehicles between locals and foreigners, which is IDR 15,000 for a car or IDR 5,000 for a motorcycle.
7. Jaksa Waterfall 
Aside from the animal collection, things to do in Bogor Indonesia, Taman Safari is also known as home to waterfall or curug in Sundanese. Curug Jaksa is situated inside Taman Safari itself and is about 300 meters from the parking lot. You should be aware that the road to the waterfall is quite steep. Alternatively, you can also walk for about 200 meters to the waterfall from Cowboy Show area.
The waterfall itself is about 45 meters high and underneath there is a small pond. Curug Jaksa is an ideal place to take a rest after doing the safari tour. Besides waterfall, another attraction in this area is Amorphophallus titanum, so if you did not have any luck to see it blooming during your visit to the Botanical Garden, you may want to try your luck here. Local residents believe that by washing face with the waterfall water, a person will be youthful. The waterfall area is open until 5 P.M. Entrance to the waterfall itself is already included in the entrance fare you paid when you entered Taman Safari Indonesia.
8. Nangka Waterfall 
Besides Curug Jaksa, Bogor is known for its abundance of waterfalls. This makes the city is also nicknamed "Kota Seribu Curug" or literally translated as the city of a thousand waterfalls. One of these waterfalls is Curug Nangka, which is located in Halimun Salak National Park. As it is located in a mountainous area, the route to Curug Nangka is quite challenging, but not to worry as it is totally rewarding.
The height of this waterfall is about 30 meters, but the uniqueness lies in the way to reach the waterfall. After passing 2 other waterfalls, you have to be ready to get wet as you have to walk in a small creek of about 4 meters wide for about 100 meters before you can actually reach Curug Nangka. Why don't we walk beside the creek you asked? Well, on the left and right-hand side of the creek are steep cliffs that are too steep to climb, so there is no other way to reach the waterfall except through the creek.
9. Daun Waterfall
Once you have reached the area, you can also visit other waterfalls that are located along the way, such as Curug Kawung and Curug Daun. One you have passed through the entrance, the first waterfall you will come by is Curug Daun. The distance of this waterfall is about 400 meters from the entrance. The height is only about 6 meters and underneath you can find a wide pool which can be used for swimming.
You may also search:
10. Kawung Waterfall 
Further along the way, you can also find Curug Kawung which is about 600 meters from Curug Daun. This height of this waterfall is about 25 meters. It is surrounded by greeneries and the water is quite calm. This waterfall is regarded as more beautiful and many visitors like to make a brief rest and take some pictures before continuing their journey.
The entrance fee you have to paid to enjoy all three waterfalls is IDR 30,000, which is very cheap. The waterfalls are most often frequented by locals, hence there is no difference of fee between local and foreign tourists. Thus, as Bogor is almost rainy all time, so you will get double experiences by the waterfall water melting with rainwater. As a result, that's so beautiful.
11. Mekarsari Recreation Park
Mekarsari Recreation Park is located in Cileungsi district of Bogor Regency. It was established as the world's largest center aiming to preserve the biodiversity of various fruits. It also serves as agronomy and breeding research ground. The park covers an area of 264 hectares and consisted of fruits, vegetables, and flowers.
The Park is also supported by various amusement rides. For those of you who love the adrenaline rush, you can play in the Sabut Kelapa Outbound or you can also try to play the paintball. If you are traveling with children, you especially have to visit Kids Fun Valley, where there are various fun rides like the mini go-kart and fancy train. Inside Mekarsari itself there is a man-made lake called Danau Makarsari that spans about 25 hectares. Here you can enjoy taking a ride on the dragon boat, water bike or canoe. There are also wide varieties of water games like banana boat, floating donut, flying fish, and giant bubble.
12. Staying Overnight
After spending the whole day around Mekarsari and its attractions, you can also choose to spend the night here. Yes, Mekarsari also offers accommodations for you to stay the night. You can choose from Family Camp, where you are camping for the night amongst the trees in the provided tent (suits 4 persons) and do various activities. If you prefer a more comfortable place than a tent you can stay in a cottage that is fashioned from wood and thus called Rumah Pohon or Tree House. There are 5 Rumah Pohon available for rent. Each of them is fully air-conditioned and equipped with water heater, TV, and a small refrigerator. Otherwise, you can also stay at D'Cabin, which made from modified cargo containers. The containers are also having the same facilities as Rumah Pohon as well as a Queen size bed for the adults and a bunk bed for the children, making it suitable for 4 person family.
Mekarsari Recreation Park is open from 9 A.M. to 4:30 P.M. on Monday to Friday and 8 A.M. to 5 P.M. on Saturday, Sunday and Public Holidays. The entrance to the Park is IDR 25,000 per person, regardless of age. Mekarsari also does not charge different fares for foreigners as other tourist objects. There is an entrance fee of IDR 15,000 for a car and IDR 5,000 for a motorcycle.
13. The Jungle Water Park
One of the newest attraction in Bogor is The Jungle Water Park, which is located in the southern part of Bogor. This water park has various attractions that will entertain you for all day long. Not only Bogor local people, but local tourists from another Indonesia big cities love to visit this giant water park. It's not only swimming pool yet they have more challenging spots of water spot. Indeed, it's the best for family holiday or if you want to hang out with your lovely squad. Thus, there are Kiddie Pools for your lovely children, Slide Pools for the fun with your friends, and the 4D Cinema for your new watching experience. As a result, here is the explanations.
[accordion]
[toggle title="Kiddie Pools" state="closed"]
As the name suggest these are two pools for children with a depth of around 20 to 50 centimeters. The pools have various games like the see-saw, toy dolphin, mini slide, water cannon and water bucket as well as a few water fountain that sprays water at certain time intervals. Thus, it's safe for children.
[/toggle]
[toggle title="Slide Pools"]
This is the favorite rides for The Jungle visitors as it is suitable for both adult and children alike. There are three slide pools. The first one is called Racer Slide with a height of about 8 meters and 4 lanes. Next is Spiral Slide and the third one is Tube Slide. These two slides have a similar height of about 12 meters with total length of about 100 meters.
[/toggle]
[toggle title="4D Cinema"]
Besides the pools, there is also a 4D Cinema, which is the first one to be made in Bogor. This 4D Cinema is also the second one to be available in Indonesia after the 4D Cinema in Dunia Fantasi, Jakarta. Inside, we are thrilled by the various sensation that makes us feel like we are experiencing the real thing. The special 4D glasses accompanied by the vibrations and shakes from the seats, added by the blowing of wind and splashes of water as well as the enhanced audio makes us feel like  we are really sitting in the movie itself.
[/toggle]
[/accordion]
14. Bogor Traditional Culinary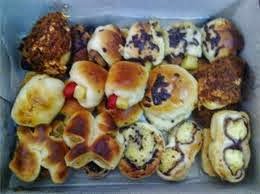 Well, you can just go to Bogor in hunger. Thus, there are many traditional tasty food in Bogor that you need to try. Likewise, you may find cost restaurant but Bogor street food is everything. A long the highway you can find many types of menu such as pia apple, Bogor roasted macaroni, cake, crepes, chips, and even more just as tasty as heavens.
You may also read:
Thus, Bogor is a beautiful city to visit. There many more attractions that you will love. Also, Bogor people are friendly, unique, and humble. They can be your great tour guide to do great things in Bogor.
Tips for Visiting Bogor
As there are many great things to do in Bogor West Java Indonesia, then you need several tips to make it more awesome. As a result, here is the tips:
Always prepare an umbrella and rain coat as Bogor is a rainy city almost everyday.
Plan your trip ahead of time yet in national holidays Bogor is crowded like a capital city.
Understand your trip route as there are many one-way roads in Bogor.
Bring snacks, as Bogor traffic can be quite heavy.
Try the unique Bogor culinary, such as soto mie Bogor and toge goreng.
That is what you will definitely things to do in Bogor Indonesia to make your trip memorable. Since Bogor does not have an airport of itself, the easiest way to get to Bogor by air is either to fly to Jakarta's Soekarno-Hatta airport or to Bandung's Husein Sastranegara airport. The better choice is to go to Bogor via Jakarta as it is nearer and has more number of flights. So what are you waiting for? Go ahead and plan your next vacation right now!
You may also search: