Legian is one of the villages locates in district of Kuta, Indonesia. This village is a part of the well-known island of Bali which globally known for its nature beauties. But especially in Legian, you can find more of a night life activities that happen to start at approximately midnight. Meanwhile, here is all the best things to do in Legian, Bali Indonesia.
You may also want to read: Airport in Bali, Indonesia – Amazing Places To Visit in Bali
Nightlife at Legian
This area doesn't have many natural tourist attractions just like any other areas in Bali. But Legian definitely is a place for you who like to enjoy the night together with your fellow friends. There are many recommended bar and café that usually full every night such as Skygarden, Bounty, and Vi Ai Pi. They mostly located near Legian street. Each bar and café generally offer you many options of food and drinks to order. And don't worry about the price cause you can always find places that suits your budget, cause they have a wide range of prices. Starts from the most expensive offers to the price for broke people are available. Those kind of ambiences are really suitable for a foreign tourists that need to socializing at night after spending the day full of exploring the island.
There are many bar & cafe along the Legian street, here are several of them that already famous among tourists:
[accordion]
[toggle title="1. Sky Garden Rooftop Lounge" state="opened"]
Sky Garden is located in a rooftop of 61 Legian Entertainment Complex building. This building consists of several independent venues but the biggest one is the one at the top with a huge buffet, free beers, and an upbeat musics from International DJs from around the world. Sky Garden opens at 6 PM to serve you best place to chill, with an updated music and a nice view from the top. You can get a promo for buying drink starts from 9 PM – 11 PM.
[/toggle]
[toggle title="2. Vi Ai Pi"]
Vi Ai Pi is one of the numerous venues offering free entry for all. Located in central Legian, you just need to walk a couple steps from the "Ground Zero" monument. It has a main venue between two surfing boutiques. Several fashion show with exotic dancers are filling up the background of this bar. And DJ will drop the beat near midnight inviting all the party goers to dance along together hitting up the dance floor.
[/toggle]
[toggle title="3. Bounty"]
Bounty became famous for its rave foam parties and is a regular watering hole for Aussies. The Bounty's exterior is inspired by the legendary mutinous ship, also referred to as 'Bounty Ship', and inside are glittering disco balls of different sizes reflecting colorful lasers over two dancing floors arranged as the ship's decks. Another Bounty's signature things are the peculiar 'bird cages' to climb into and dance away. By paying around $7.5  you already have the access to enter this discotheque with a free drinks. It might not seem to be the most cool bar in the area, but it has a great combinations of dance musics, cheap drinks and a cheerful vibe.
[/toggle]
[/accordion]
Aside from these 3 bar options, there are too many cool places to explore around Legian street. Just stop by and look around to make sure the crowd suits your need. Also, don't forget to adjust your option with your poket depth. Don't be overly over budget and scatter all your money in one night. Save it for another outstanding spot the next day. And here we sort listed you some Legian Exciting Attractions.
Legian Exciting Attractions
Apart from its night life, here are several things to do in Legian, Bali Indonesia if you are planning your holiday trip here. Check them out!
4. Relaxing at Legian/Padma Beach
Legian Beach is one of the spots that is recommended to visit when you are in Bali, of course after Kuta Beach. This spot offers you the same beauty as what Kuta offers but with a calmer ambience. If you prefer a relaxing and quite beach, this beach probably suits your needs! Legian beach has a resort-like impression and suitable for you who seek for a solitude moment in your holiday. Just lie down on its white smooth sand, and enjoy the breezes, the sun, the constantly moving waves, and its surrounding will make you feel relieve.
This beach also has a pretty high waves at level 3 meters which makes this spot is great for surfing. Many surfers from around the world often come here to enjoy its wavy waves to practice their surfing skills. Indonesian surfers also do the same thing. They come here to relish its challenging waves and if they're lucky enough they could meet fellow surfers and exercising together. Because in fact, Legian has a competing numbers of International surfers. One of them is a globally known surfer, Nengah Kasim, who is now a stakeholder / prayer leader at Temple Puseh.
For a reference, Legian beach has one most famous spot that is located in front of Jalan Padma Legian. The beach is also well-known by another name, the Padma beach. On this beach part of the Legian beach, you can feel more relax and very suitable for surfing. And don't worry about the cleanliness of this area because each of the hotels near the shoreline have a specific job for people who will maintain the cleanliness of the beach for you.
You may also want to read:
5. Enjoying Sunset at Double Six Beach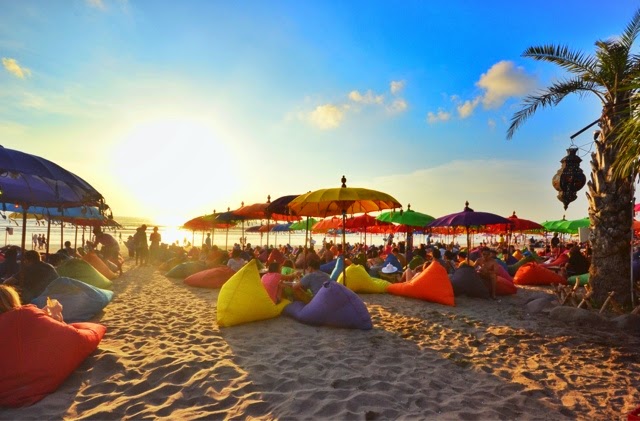 Double Six beach is located in a line with Kuta and Legian beach. They both have the same white sand characteristic with low and wide seashore contours. If you are confused on the name of this beach, let us explain it to you.
This "Double Six" western-like name, came from a name of bar located across the street. A couple years ago, before this beach become famous, there was this "66" pub that was very famous at that time. And people started to look around the club and decided to name the beach area near this club with a same name, to make it catchier, which is Double Six beach.
Because of the coordinate location of this Double Six and Kuta beach is located in front of the Strait of Bali, the sunset view from this area tend to be similar. But as a note, both are relatively have different atmosphere. Even though this beach is not too far from Kuta beach, it offers exotic sunset with a little quiet milieu compared to Kuta beach that is too mainstream.
There are a lot of activities to do here such as strolling around the shoreline with bare foot, surfing with its nice waves, swimming, or just sitting there while reading some chic books. But the most favorite thing to do here is of course watching the sun sets! Under colorful umbrellas that many hotels offer through the length of the beach, you can wait for the sunset while ordering some snacks and drinks too. They have lots of variation for beverages, don't worry! And we guarantee you that this will be such a romantic and unforgettable experience especially when you enjoy it with your loved one.
Additional Note:
To reach this Double Six beach you can rent a motorbike in Kuta. Navigate yourself to Legian street to Seminyak street (approximately 2 km). You will be faced a T junction, turn left and take a straight way up to 200 meters and you will see a navigation board to 66 Beach. Or, you can just take a ride along the coastline of Kuta beach until you reach this 66 beach.
Related spots in Bali:
6. History Visit to Ground Zero Monument
Do you still remember about what happen here in Bali on October 12th 2012? This tragedy happened neat Kuta tourist attractions. Bombs exploded unexpectedly killed 202 persons. The victims were not only from Indonesia but also from Australia, America, and Sweden. And since then, the tragedy are well-knows as Bali Bombing Tragedy 1 & 2. Yes, this hoodoo incident happened twice and that's why this monument is occasionally built according to what happened in Kuta.
This Bali Bombing Monument is a monument built to commemorate the 202 victims of the bomb blast at the Sari Club and Paddy's Cafe in Legian street, October 12, 2002. The monument was built on the idea Nyoman Rudana (Chairman of PUTRI Association of Tourist Attraction Indonesia Bali), recommending that erected a monument at the scene of the bombing (known as the location of "Ground Zero").
This monument was built to honor human values especially for the victims that were killed by accident. This monument also known as "Ground Zero" Monument and located in Legian street, Kuta. Jalan Legian Kuta itself is one of the centers of nightlife in Bali, because along roadsides there are many bars, discotheques, restaurants, and hotels. Almost every night of Legian street is never empty of tourists both foreign and domestic, who liked going to the nightlife.
Additional Note:
To visit Bali Blast Monument, it is recommended not to bring personal vehicles, because it's quite hard to find the car park in the area of Legian. So it's better to come here by taxis or online vehicles such as Uber, Grab, or Gojek.
7. Museum Visit to Dream Museum Zone (DMZ)
DMZ, or Dream Museum Zone is one of Legian unique tourist attraction. This museum isn't displaying ancient things from the past but mostly exhibiting many 3D paintings from Korean maestro. Inside this DMZ there are 120 pieces of art with 14 different themes such as underwater scenery, temples, animals, etc that will take you around the world. You just need to pay for around $10 to get the entrance ticket.
What is interesting here, is that tourists can pose in front of the paintings and get a picturesque photos. We need to be creative when it comes to pose likely as the theme to get the mood of the paintings.  For example, in front of a temple with a hole in front of it kind of painting, you need to start mimicking as if you're afraid to fall into the hole, and so on. But, when you're not sure which pose is suitable to make the photos look realistic, there are few museum guides that will teach you how. They might even help you taking a photos.
When you're interested, you can come here starts at 9 AM until 10 PM. For an entrance ticket there isn't any time limitation so you're allowed to take photos in front of any painting you like.
Additional Note:
DMZ Museum is located in Jalan Nakula no. 33. Approximately 100 m from JL Nakula towards Legian. It is 1.6km from Kuta Beach, and takes about 20 minutes by foot. As a note, when you come here later in the afternoon, you will be likely faced people queuing to buy ticket. It's better to come earlier in order to have lavish access to every paintings without having to wait.
8. Having fun at 100% Genuine Fake Shop
This 100% Genuine Fake Shop has a really interesting branding. They say that what they sell are 100% genuinely fake! You can't bargain for a cheaper price here, because they mostly sell their products in the cheapest price already. They hold a principle: rather than deceived by the street seller for buying a fake product with high price, it is definitely better to buy the fake one at the first place with an affordable price. After all, if you really looking for an original product, you won't hesitate to buy at the official store. Not at the road side. Be a smart buyer! Moreover, this shop happen to be a ding-dong shop just to have fun.
Additional Note:
This shop is located in Jalan Legian no. 375, Kuta, Bali 80361. If you are not familiar with the street recommended to use google maps or an online vehicles to get you there. But, if you're finally stray out of the way, you can just call the shop's number (0812 3802 603) because the shopkeeper even provide pickup services if you are having trouble finding this shop.
9. Batik History at Beachwalk Mall
When you're not into a crowded place, you can start visiting museum like the one inside Beachwalk Mall. Even if this mall literally will be filled with so many people, but you'll find a unique little museum of Batik at the 2nd floor. If you're keen on learning more about batik, you literally should go visiting this museum! They display lots of batik fabrics with vivid presentation of each fabrics. They also provide many tablets with interactive explanation for each display from the 19th century batik to the upcoming models. You can also have a free drink after purchasing the entrance ticket for around $5 for local visitor, and $10 for international visitor. You can learn and understand more of batik history and get some new knowledge about it.
Additional Note:
It is located near Kuta Beach so just walk directly to the beach and you'll see the Beachwalk Mall building. Besides walking, the best way to visit the Beachwalk Mall is by taxi or rental car and driver in Bali. By this way, of course you would not have to  look for a parking space which will spend you so much time.
You may also want to read:
Religious Temples at Legian
For any of you who are seeking for a religious journey in Bali, you should try visiting some of these temples in Legian. To Parahyangan in Legian there are several temples.
You may also visit:
[accordion]
[toggle title="10. Legian Grand Temple" state="opened"]
This Pura Agung is located in Jalan Legian Kaja, Legian, Kuta, Bali. It is a place to praise God Brahma in hinduism that believed to be the creator of the universe. This Grand Village Temple Pura Desa usually built in the middle of Caturpata corner, or at the sublime intersection. In another corner there is a bale wantilan (bale of the village) official home villages, and markets around the area.
[/toggle]
[/accordion]
[accordion]
[toggle title="11. Legian Puseh Temple" state="closed"]
This Pura Puseh Desa Adat Legian is located in Jalan Sriwijaya. It has a similar shape with ancient arca or sculpture. Usually function as a place of worship of Lord Vishnu in his function as a custodian. Puseh temple built in the south of the village that leads to the beach because it is often called as Pura Segara in North Bali.
[/toggle]
[/accordion]
[accordion]
[toggle title="12. Legian Dalem Khayangan Penataran Temple" state="closed"]
This temple is located in Jalan Patih Jelantik. Pura Dalem was built leading to the southwest of the village due to the southwest wind direction, which is ruled by the God Shiva Rudra, which serves to negate the universe.
[accordion]
[toggle title="13. Other Holy Temples" state="closed"]
In addition, there are also some temples like:
Pura Bagus Pemaksan Teruna
Pura Segara Benoa
Batan Ae temple
Pura Batu Pageh
Uluwatu
Pura toss
Ulun Tanjung
[/toggle]
[/accordion]
Those above are several evident spots for you who are searching for another options beside having a nightlife activities at Legian. There are few things to do in Legian, Bali Indonesia as exciting as other areas in Bali island. But at the bottom list, for a religious people, Bali also has some temples to visit. It depends on you which spot to choose for your holiday destination. I hope this article help you enough to reserve some unique tourist attractions to visit and things to do in Legigan, Bali. Happy Holiday!
You may also want to visit: