Yogyakarta or Jogja is located in central-south of Java island, Indonesia. the geographical location of Yogyakarta is in 8º 30 '- 7º 20' South latitude and 109º 40 '- 111º 0' east longitude. Thus, Yogyakarta has its own government (Zelfbestuurlandschappen) where it's separated from cities but still under the rules of Indonesia. Meanwhile, Yogyakarta is one of the best cities in Indonesia with beautiful tourists attractions such as nature tour, culture tour, culinary tour, and more enchanting tours. Also, Yogyakarta is the center of art, most popular from its friendly people, diversity of religion, traditional culture, and sure it's a lovely city. As a result, here is the lists of things to do in Yogyakarta Indonesia that may make you feel like you won't go home.
Things to Know about Yogyakarta Culture
Yogyakarta is the city of culture and art. Thus, every city in Indonesia has its own traditional culture yet it's different in Yogyakarta. Meanwhile, Yogyakarta people hold their local culture for their real life, I mean, they proud of. Even though there are many modern things come in, Yogyakarta stand still to explore and conserve their cultures. Thus, it sounds so wonderful. Likewise, on the street, on the public spots, and every beat of Yogyakarta you may see their people still wearing local outfit, speak their language nicely, and magical art is the beat. Thus, here is the things you must know about culture in Yogyakarta.
1. Visit the Temples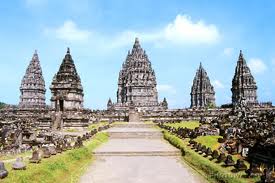 What to do in Yogyakarta West Java? You may heard about temples in Bali, yet there are large, old, beautiful temples in Yogyakarta. The temple are Borobudur temple and Prambanan temple. Thus, these two temples are the most popular tourist attractions in Yogyakarta. Meanwhile, both the temples got recognition as the world's heritage site by UNESCO in 1991. By these temples, you may learn about history, religious civilization of Hindu and Buddha in Indonesia.
Meanwhile, Borobudur temple is a Buddha temple. The location is in Mangelang city, 40 kilometrs from Yogyakarta. Indeed, Borobudur temple has ten levels building with 72 stupa and Budda statues. Thus, Borobudur temple now as the icon of Budda religion in Yogyakarta, still uses for religion celebration and so on. If you want to enter this temple, you have to wear a traditional fabric of Indonesia which is Batik. Also, you need to pay attention to your manner as Borobudur temple is a holy place. While Prambanan temple is a Hindu temple. Prambanan has an exotic design and its history is so popular. On the temple, you may learn about art, literature, and history. Also, it's a beautiful vintage spot to hunt photos.
2. Learn Batik Craft 
Batik is a cultural heritage from Indonesia. Batik got recognition as the world's heritage from UNESCO in 2009. Meanwhile, Batik is a craft, a fabric with full meaning and philosophy form its carving and design. Thus, Yogyakarta is one of the cities with its beautiful local of Batik craft. Meanwhile, Museum Batik Yogayakarta is the place to learn how to create Batik. The museum location is in Dr Sutomo street number 13. A Yogyakarta. Thus, Batik Museum is of converse Batik place. It has Batik collection from five generation and 1500 Batik fabric with thousands carvings and patterns.
Meanwhile, you can learn how to create Batik there from the very first step till the last production step. You will learn in from the expert and they will also tell you about the philosophy of each pattern. Then, you will love it. They open sale for Batik souvenir where you can buy beautiful Batik and knit it for female or male clothes. As a result, the museum opens on Sundays to Saturdays at 9 am to 3 pm.
3. Visit the Sultan Palace 
Sultan Palace is the official palace of Yogyakarta located in south of Yogyakarta square or it's just 50 kilometers from Malioboro street. Meanwhile, Sultan Palace is one of cultural attraction where you can learn about history and art. Thus, the special tour in Sultan Palace is you can do historical tour. Here is you can see the collection of old kindom pictures, paintings, heritage stuff such as spear, sword, and music instruments. Also, they serve you with Yogyakarta cultural style and custom. There is art show everyday for the visitors. Meanwhile, on Mondays is the show of Wayang (puppet) and dance performances. On Sundays and Tuesdays is gamelan music orchestra. On Wednesday, the show of Wayang golek (puppet) which is the traditional puppet of Java. Then, on Thursday is macapat show, the traditional show of Java poetry and song. The last, Saturday is wayang show again.
Meanwhile, you need to keep your manner if you visit Sultan Palace. Do not break the rules and keep on polite line. Then, the palace opens at 8.30 am to 2.00 pm, expect on Fridays only till 12 pm. The ticket price is cheap which is less than one dollar. Indeed, you can take pictures with traditional classic background there, Yogyakarta attractions.
4. Watch The Ramayana Balet 
What to see in Yogyakarta? This is looking like a perfect theater. Meanwhile, Ramayana Ballet is a dance show performing Ramayana story. Thus, the dancers are incredibly beautiful with the melody of traditional music.  The sound of gending Java melts with the dancer's soft movement. Then, the dance story goes on where Rahwana and the monkey troops walk in through the climax story. Meanwhile, the show is really awesome bringing the traditional and classic beautiful touch.
Meanwhile, it is the outdoor show in garden party theme and visits by 1.500 audience. Thus, Ramayana Ballet performance opens on Tuesdays, Thursdays, and Saturdays started at 8 pm to 9.30 pm. There are many international tourists who love to watch it and it amazes them. Indeed, if you want to watch it, then you need to book the ticket firstly. Thus, the price is Rp. 110.000 in Indonesia currency or it's about 10 dollars. Also, every night shows different episode, so you gotta watch it out.
5. Visit Silver Jewelry Making 
Places to visit in Yogyakarta Indonesia? One more unique tour that you can see in Jogja is silver jewelry making in Kota Gede Yogyakarta. Thus, this is the best place if you want to hung rings, wedding rings, necklace, bracelet, brooch, and other beautiful accessories. Indeed, the silver jewelry making here has different, unique, beautiful design that others. Indeed, they still hold the traditional handmade crafts that makes it more special. So, you can bring your own design and ask them to craft it. As a result, you will get a double special rings or jewelry for your lovers.
Meanwhile, along the Kota Gede street you will find many jewelry shops with its own design and crafts. Thus, the price is belong to how difficult the silver jewelry making process is, yet it is just a logical price. So, if you ever looking for a very wonderful rings, you may come here.
6. Watch Sugriwa Subali Show 
Sugriwa Subali is a legend of Kiskendo cave, which is also the part of Ramayana story by Walmiki. Meanwhile, Sugriwa Subali show is held in the entrance of Kiskendo cave. The outdoor show presents the story in gentle and supple movement and complete with traditional outfits. Thus, they tell Sugriwa Subali story as a wonderful performance. Meanwhile, Sugriwa Subali is a story about two siblings sent by God to safe Tara God from Mahesasura and Lembusura. Nevertheless, those siblings got fight.
Indeed, many visitors feel enchanted to watch this magical performance. Thus, the shows held on the third week every month and the ticket price is so cheap. As a result, Sugriwa Subali show brings again the history and may we get massage from its philosophy.
7. Enjoy Jazz Mben Senen Show
So, if you think jazz is only European or American thing, then you probably wrong. Meanwhile, jazz is also the music art that grows in Jogja apart the real local culture. Indeed, jazz mben senen means jazz on Modays. Thus, jazz mben senen show held in the home of Bentara Budaya on Sundays at 8 pm to midnight. Also, there is no ticket price if you want to watch the show, just voluntary give money to the box.
Meanwhile, the local performers bring jazz music to everybody. They play it really good and right. Thus, you can enjoy it there while listening to some international jazz songs. Even though, jazz is organized as upper class music but here in Jogja everybody can learn and enjoy jazz as well.
Also read:
8. Visit Traditional Museum 
Apart the Batik Museum, there are more museums in Yogyakarta which are Affandi Museum and Sonobudoyo Museum. These two museums are worth to visit, mostly if you love art that much. Meanwhile, Affandi Museum exhibits the best works of Affandi. Thus, Affandi was the best painter maestro of Indonesia. The museum is actually was his private home, now uses as the artistic gallery. On this museum, you can see many paintings from Affandi and another best painters Indonesia. The works are perfectly artistic. Thus, the museum opens on Mondays to Saturdays with ticket prices for two dollars or so.
Meanwhile, Sonobudoyo Museum located near North Square Yogyakarta. Thus, there are 43. 000 collection here from geological, biological, and more. There are also library, auditorium, and Wayang show here. Indeed, Sonobudoyo Museum is the place with all arts and cultures of Yogyakarta. As a result, you must visit these artistic and beautiful museums to get knowledge and some fun tho.
9. Visit 13 Temples Again
Nevertheless, visiting just Prambanan and Borobudur temples is never enough. Meanwhile, there are many more temples in Yogyakarta that you must visit. They are Plaosan temple, Tara temple, Barong temple, Mendut temple, Ijo temple, Sambisari temple, Sari temple, Barong temple, Kedulan temple, Sewu temple, Gebang temple, and Pawong temple. Meanwhile, those temples are archaeological sights where you can learn about architectures, religions, philosophy, and old history of Yogyakarta.
Meanwhile, the temples are lost paradise. Each temples has mystery and different background story.
10. Visit Ratu Boko Palace 
Ratu Boko is located in Boko hill which is 195.75 under the sea level. Thus, the location is nearby Prambanan temple. Meanwhile, Ratu Boko palace is a large palace from 8th century with four main parts which are central, west, southeast, and east part.
Then, the places are the main gate, square, combustion Temple, pond, berumpak and assembly hall. Thus, the southeast part includes halls, three temples, ponds, and complex for princess. The cave complex, Buddhist Stupa, and there is a pond in the east.
Also read:
Visit Natural Places
Indeed, you are going to a new city to enjoy their beautiful places, right? Then, it must be the best choice to visit Yogyakarta. As a result, here is the natural places you must visit in Yogyakarta.
11. Hike Merapi Mountain 
Merapi is a legendary mountain with myths and mysteries. Meanwhile, Merapi has 3000 height under the sea level and it is the most active volcano in Indonesia. The last eruption was in 2010 and it was worst. Thus, Merapi has not blue-green scenery yet it is a hot, arid, and rocky tracks. You cannot hike to the top, that's the rule. If you ever try to reach the top, that is illegal.
Meanwhile, what fun you can do in Merapi is try Merapi lava tour. Thus, that's not playing in active lava, but riding the mountain slope by jeep. By that jeep riding, you will love the scenery there. Then, you may visit a museum named The Rest of My Treasure Museum which is a heart breaking museum ever. That museum exhibits the last things from the eruption. Also, come there at 3 am to see sunrise. The most sexy sunrise you have ever seen.
12. Enjoy Kalibiru National Park 
Kalibiru is a natural tour located in Kulon Progo Yogyakarta. Meanwhile, there are uncountable beauty here such as Kalibiru village and forest. Unlike the standard national par, Kalibiru is totally nature and fresh. The scenery around is mountain, hill, and plantation. Thus, the air is fresh and cold.
Indeed, there are many ways to explore Kalibiru National Park like you can crossing the bride, play flying fox while seeing the nature from the top. Also, it is the best spot to take natural beauty picture and on the garden there is the best viewpoint for pictures. Then, the ticket is cheap but you need pay some more for outbound activity. As a result, Kalibiru National Park is just another heaven to visit.
13.  Sand-Boarding in Gumuk Parangkusumo Desert 
You think you need to go to Arabian countries to see desert? No, it is not. There is also a real desert in Jogjakarta. Meanwhile, Gumuk Parangkusumo is quite not popular but you maybe wonder about it. Gumuk Parangkusumo is located in the estuary of Opak river till Parangtristis beach. Thus, the desert made from the ashes of Merapi eruption brought by Opak river. Thus, Gumuk Parangkusumo becomes the best holiday spot by local or international tourism. Also, this place is the world's research object as it is the only one in Southeast Asia.
Meanwhile, you can do sand-boarding there or just playing around. Yet, the whether is extreme there so you may wear sunblock. Then, the ticket is about two dollars for a group trip minimum 6 people for two hours playing in the desert. As a result, the best time for visit Gumuk Parangkusumo is during evening for sunset time. In the end, you do not want to miss the sunset scenery with desert background there.
14. Explore Pindul Cave 
Pindul cave location is in Bejiharjo village, Gunung Kidul Jogjakarta. Meanwhile, Pindul cave is made by natural way for hundred years. This phenomena is calle Pindul cave. That is why, it creates natural stalactite and Stalagmit on the cave roof. Also, a pure water flows from above making it super beautiful and natural. According to the information, stalagmites in the Pindul cave is the fourth world's largest stalagmite.
Indeed, to travel and explore the cave, it takes about fifty minutes. Thus, the natural and magical view may bless you there. It's mysterious yet wonderful. Meanwhile, it's a dark creepy cave that you have to be careful. Then, the ticket price to enter the cave depend on the tour package tour. Yet, it's about about two dollars for a group tour around 30 to 45 people.
15. Explore Jomblang Cave 
Jomblang cave location is Karst hills south coast. The Jomblang cave was formed by geological process of the soil collapse to earth base a hundred years ago. Indeed, if you want to go there then there are a lot to prepare. You need all complete equipment and supplies, mentally and physically. Also, you need a tour guide there to guide you exploring the cave, the forest, and the natural situation there.
Meanwhile, caving Jomblang cave needs a real technique such as single rope technique to explore there. Thus, the beautiful scenery of the cave will impress you. Also, there is underground river there where you can feel relax and warm. As a result, caving Jomblang cave needs adrenaline and complete preparation.
16. Luweng Sampang Waterfall 
Wonder about Grand Canyon as one of the one of the greatest Yogyakarta attractions? Meanwhile, Luweng Sampang waterfall has structure just like Grand Canyon. The shape of karst rocks shaped by the river erosion. Thus, the waterfall is just so beautiful. The pure water, the rocks, and the river around making it looks so wonderful. As a result, it is the best holiday spot whether with family, best friends, or your lovers.
However, it's free to play the water or if you want to take a bath in nature spot. Also, the scenery is just perfect for photography. Then, there are myths as the background of its waterfall, yet the beauty of this natural masterpiece is what we talking about. Meanwhile, the waterfall location is in Sampang village, Gunung Kidul Yogyakarta.
17. Dive the Underwater World in Umbul Ponggok 
Umbul Ponggok location is in Pongok village, Klaten The West Java. You maybe wonder what's special thing in Umbul Pongok, then let us check it out. Meanwhile, Umbul Pongok is a natural pool that now develops as water tourism. It is a freshwater pool. Meanwhile, you can do diving and snorkeling here by the deep of pure water. The underwater view is perfect with vary types of fish, sand, and rocks.
Meanwhile, there is not only fish all things that is usually live on water, but there is something more that you will love. Thus, you will meet unusual things on the underwater such motorcycle, TV, chairs, bike, table set, laptop, and even more. So, this things become the best and unique for photography shot.
18. Fly above The Clouds Orchard 
What to do in Yogyakarta? There is an orchard in Bantul, Yogyakarta named Mangunan orchard. Meanwhile, Mangunan orchard is special that another orchard you ever visited. This orchard is on 150-200m height above the sea level. So, you don't just see orchard yet you see the city from the top. Indeed, the view is perfectly beautiful where you can see mountain, beaches, trees, local houses around. Thus, such as amazing viewpoint.
Meanwhile, the orchard itself plants fruits such as rambutan, starfruit, durian, mango. So, the view is more perfect there with lush trees and fresh air. Nevertheless, you cannot pick up the fruits, just adore them. Indeed, Mangunan orchard is amazing viewpoint ever.
19. Play in Water Castle Tamansari 
Tamansari location is in Kraton, Yogyakarta. Meanwhile, Tamansari was a part of Mataram Islam Kingdom as its religion history in Yogyakarta. In the old time, Tamansari used for Mataram King to held the bathing rituals in special months and ceremony to greet kings. Thus, the architecture is so unique and the water flows buildings has beautiful design too. That is why people call it as water castle.
Meanwhile, here you can see some water container heritage and its classic architecture. Also, there are some myths that you may love to hear here. Then, you can take pictures and enjoy the scenery.
20. Date in Stars Hills
This is the evening trip you must do in Yogyakarta. Meanwhile, Stars Hills location is on Pathuk hills Yogyakarta. Indeed, this is the best place that you may enjoy by starring at the night sky, counting stars, and wishing stars. There are many local food stands while you enjoying the nigh in its cold air and romantics scene.
Meanwhile, teenagers love to visit this place to hang out. Indeed, it is the best place recommendation to visit with your lover and date theme here. Apart the stars looking, the local houses light is also beautiful mixing with the real nature of Yogyakarta panoramas. As a result, it's the best perfect sky to watch.
Also read:
Indeed, Yogyakarta is the city of culture and art and there are many places to visit in Yogyakarta Indonesia. The people is so friendly and nice and there are many cute things to do in Yogyakarta Indonesia. Thus, they still hold their culture like a heartbeat and that is what the visitors love. Also, the nature is the most beautiful thing you can enjoy on earth. It seems like God drop heaven there. As a result, if you someday visit Yogyakarta then you may list those places and do these things to get some more fun. So, have a wild trip in Yogyakarta!