Pink Beach, or Pantai Merah Muda in Bahasa Indonesia, is one the many fascinating attractions of Komodo National Park area in Eastern Nusa Tenggara, Indonesia. This beach is unique since the color of its sand is a striking pink color that would emanate every time the sand gets wet from a crashing wave.  The beautiful color comes from the red pigment on the coral produced by a microorganism called Foraminifera. The result is a stretch of sandy beach that shine with such a dazzling beauty that enthralled every visiting tourist. It is, in fact, the most well-known beach in Komodo Island National Park area, on account of its untouched and isolated natural beauty.
There are only seven beaches in the world that bear striking pink colors such as the Harbor Island in the Bahamas, Santa Cruz Island in the Phillippines, Sardinia in Italy, etc. But the one in Eastern Nusa Tenggara is special and different, as it is located in the vicinity of the Komodo National Park, an eco-park tourist attraction that is extremely popular in the world. The park owes its fame to the gigantic monitor lizards that live in the area, the majestic Komodo Dragons. The Komodo Dragons are believed to be the living fossil that survived from the prehistoric era until the present day, and as such, become a great spectacle to this whole world to come and see themselves in flesh in their natural habitat.
The beach itself is located immediately west of Flores Island in East Nusa Tenggara. Visitors could reach this place by a 15-minute boat ride from the Loh Liang docks in Flores. The  Pink Beach is a popular destination among tourists who visit the Komodo National Park. People visit this island as a getaway from the hustle and bustle of their urban life due to the serenity and tranquility offered by the island, other than catching a glimpse at the magnificent Komodo Dragons on the islands nearby. If you happened to be visiting Flores or Komodo Island, don't forget to add this lovely beach to your itinerary as you won't regret it.
You may also visit:
Things To Do in Pink Beach
If you never been to the Pink Beach before and you don't know what to do once you got there, don't panic! We have compiled several awesome stuff that might give you some ideas of what to do, or maybe you can get some inspiration after reading this and come up with an idea of your own.
1. Snorkel and Swim to Deep 
Pink Beach Komodo Island Indonesia is one of many beaches in the eastern Indonesia that are still a home to excellent hundreds of species of soft and hard corals and thousands of species of fish. It is a cradle to a galore of species that surely will entertain any snorkelers. Prepare to be dazzled with the underwater beauties of the Flores Sea when you dive or snorkel in this beach. Once you reach the Pink Beach, the speedboat cannot get too close to it, as it might bring some harm to the coral reefs and the surrounding ecosystem in the area. Most of the speedboats, however, may provide a smaller boat to bring you to the shore. Or else, you can just jump, swim, and snorkel to the shore, like most of the visitors around these parts usually do.
People commonly believe that if you want to have the best parts of marine experiences in this beach, you need to scuba dive. But here in Pink Beach, it's not necessary for you to scuba dive to get those best experiences, since the water is so shallow and clear you will be able to see such healthy and vibrant-looking underwater life so close to the shore. You won't believe your eyes and without realizing, you will already have spent hours swimming there. It really is a paradise for snorkelers!
More Snorkel Spots Here:
2. Scuba Diving
For those who want to tackle a more challenging attraction and already obtained the license for it, there are plenty of excellent diving spots around the area of Pink Beach Komodo Island Indonesia. In fact, the Flores Sea around the Komodo National Park is one of the best diving spots in Indonesia, with a varying degree of difficulty that everybody, from the beginner to the pro diver, would certainly find it interesting and challenging at the same time. For instance, there is the Batu Bolong diving spot that hosts a myriad of marine biodiversity with a massive hollow rock that somewhat offers some protection from the strong currents of the area.
Due to the strong currents in the sea around these diving spots. it is advisable to hook up with a trusted diving tours who will certainly qualified to provide the entertainment while ensuring the safety of the divers. Due to the rising popularity of this place as a good diving spot, some diving tours are not actually qualified at all, as there has been a case where a group of divers who got lost in the sea due to the boat that carries them lost track of the divers. As long as they are qualified and you follow the instructions from the master diver, there is completely nothing to worry about.
More Scuba Diving Spots:
3. Sea Kayaking
Although it's not really a beach for an adrenaline seeker, sea kayaking can be a good option to enjoy the amazing beauty of Pink Beach. Due to the calm sea current and tides, the water in Pink Beach is not really suitable for extreme, thrilling, adventurous kind of water sports such as surfing, wakeboarding, etc. Hence, the adrenaline rush junkie might not find the sea sports in this area entertaining at all. However, if you are a lover for a serene, calm, and tranquil place, this might just be the right place for you.
To make a good use of the calmness of this beach, a sea kayaking might be a really good idea. It is the perfect water sport that doesn't require extreme skills or conditions to execute, yet it is adventurous enough to let you enjoy the beauty of the marine ecosystem of Pink Beach while doing some exploration. If you are exploring the Komodo National Park you can bring the kayak on a local boat and find an even more promising place for kayaking. If you're lucky enough, you may have the opportunity to paddle side by side with the Manta Ray or dolphins. Some people even managed to catch a glimpse of dugong lifting its nose from the water around these parts.
If you are exploring the Komodo National Park you can bring the kayak on a local boat and find an even more promising place for kayaking. If you're lucky enough, you may have the opportunity to paddle side by side with the Manta Ray or dolphins. Some people even managed to catch a glimpse of dugong lifting its nose from the water around these parts. However, keep a watchful eye while sea kayaking and don't stray too far from the beach, as the current is quite strong in the open sea and it might sweep you away far from the island without you noticing.
4. Sunbathing
Are you looking forward to getting yourself a tanned skin? Pamper yourself on the magical pink sands and bathe in the sunlight while you let yourself captivated by the beauty of the Pink Beach. Let yourself be lulled to sleep by the sound of the wave and the soft breeze. It surely will bring you to a state of bliss, and certainly a moment that will be remembered for the rest of your life.
The Pink Beach offers you all of that as the dazzling pink-colored beach has such a soft sands that are certainly suitable to lie on and get some good tan. The beach is also far from crowded so you can have a great deal of serenity while you sunbathe in peace. Some people even do it by floating around in the sea on top of some inflatable mattress, buoy, life jacket, etc. The water is extremely calm on the surface as the strong current only exists below the water. Do be careful as there might be Komodo Dragons in the vicinity and don't forget to bring some suntan lotions to avoid those pesky sunburns!
5. Hike and Explore
You can also try exploring on two hills at the edge of the beach. In about 15 minutes, you will already have arrived at the top of the hill. The scenery presented there is such a joy to behold. The golden powdery beach with slight pink color that you see down there looks even more pinkish from up here. There are plenty of areas around the beach for you to explore and take a good look of. Make sure you bring enough food, water, and other essential stuff while hiking, as the island is deserted and you will certainly won't find any stalls or kiosks to buy something should you need it.
After you are set and ready to go, there are plenty of adventures and amazing spectacles that will surely await you. Make sure you are accompanied by a guide or a park ranger, as the Komodo Dragons are known as a good swimmer and often swim from one island to another, therefore they might be around the Pink Beach so you need to stay alerted. If you watch it closely, silhouettes of surrounding islands can be seen vaguely in the distance. Carpets of arid savanna, the calm blue sea, and white clouds rolling perfectly merge in a beautiful horizon. This surely will make your day!
See also:
6. Stroll, Relax, and…Snap!
You can still enjoy Pink beach even if you are not an adventure-seeker! What could be more relaxing than strolling around the pink sandy beach, blue sky, green hills, and turquoise calm seawater, while dipping your feet into the water from the crashing waves every once in a while? Even when you are only sitting by the shore, you can spot many fishes swimming in the crystal clear water. What's more, you don't need proper equipment to stroll around, compared with hiking, nor a proper provision as you won't trek too far from the beach.
Don't forget to bring a camera and get yourself a good shot since the stunning panoramic sight in Pink Beach, Komodo Island Indonesia offer you so many beautiful spots to snap many impressive pictures. Make sure to stay around until the sunset as the view is getting more and more amazing by then, as the sunset seen from this place is one of the best views you can get during your visit here.
Other Amazing Spots Nearby Pink Beach Komodo Island
There are many islands and attractions nearby Pink Island Komodo Indonesia  that you can visit and explore. These places are usually included in a tour package, so you should consult first with a travel agent at Labuan Bajo before you go to the Pink Beach Komodo Island Indonesia.
[accordion]
[toggle title="7. Komodo Island" state="opened"]
Komodo Island is notable as the natural habitat of the largest monitor lizard in the world, Komodo Dragon. It is also one of the islands that are contained within Komodo National Park, besides its neighbor, Rinca Island and Padar Island, as well as the other smaller island. Covered in a lush forest, Komodo island is quite different with its neighbor Rinca Island, which is dominated by savannah, although both offers the tourist to get a closer look to the Komodo Dragons. In these two islands, you can see that the local people can live side by side with the Komodo Dragons. It is said that the Komodos in Komodo Island are bigger and less aggressive than those in Rinca Island, so if you want to get near and take pictures with the Komodo, it might be better to do it in Komodo Island.
[/toggle]
[toggle title="8. Rinca Island"]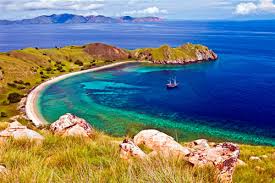 As mentioned before, Rinca Island is one of the islands that is appointed as Komodo National Park. Usually, the travelers prefer this island to Komodo island, since it has a shorter distance from Labuan Bajo (launching points for trips to Komodo Islands). In addition, this island also offers you a fantastic journey in a savannah, which according to some professional photographer makes Rinca Island the better place than Komodo Island to catch some good quality pictures.
[/toggle]
[toggle title="9. Padar Island"]
Padar Island once was also home for the Komodo Dragons, but it has changed drastically due to the illegal hunting and lack of food. This island, however, has the most beautiful view from the top of the hikes. You can see about seven beaches from up there and of course, it will be a perfect spot to take spectacular pictures. The view is acknowledged by many photographers as the best view in the Komodo National Park. Hence, it is almost customary for every tourist to at least take a picture from the top of the hill in Padar Island. If Pink Beach is a paradise for snorkelers, then Padar Island is a paradise meant for photographers.
[/toggle]
[toggle title="10. Manta Point"]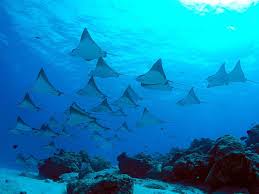 Manta Point in Komodo National Park is one of the most celebrated diving spots for sea travelers around the world. It is a 15-meters shoal that is often visited by the extraordinary marine life form known as the manta rays, and as such, become a very popular place to spot and swim with the gigantic manta rays. A lot of manta rays with the size of three to four meters are often encountered here. Although it is not guaranteed that you will definitely meet, or even better, swim with the Manta Ray, this area offers you an excellent diving or snorkeling experience. You don't have to dive to see these gigantic creatures, as you can see them from the boat, but diving and swimming around schools of manta rays are certainly more fun and memorable than seeing them from a distance.
See also:
[/toggle]
[toggle title="11. Namo Island"]
Although Namo Island is not as widely known as The Pink Beach, the people who have gone to this island will say that Namo Island is the real Pink Beach, since it has more reddish sand than the Pink Beach itself. Nevertheless, this island provides you with great snorkeling spot to enjoy. There is also a possibility that you can witness several wild deer walking around the beach during your visit in this place.
[/toggle]
[/accordion]
You also visit: Honeymoon Destinations in Indonesia
Traveling Tips During Your Pink Beach Trip
It's better to hire a travel agent to plan your trip and you will certainly need a ranger to accompany you exploring the Pink Beach. The Pink Beach is still in Komodo National Park area which means it can be quite dangerous to explore the island without consulting to an experienced local guides or Ranger there, as the Komodo Dragons are known to swim from island to island. You might encounter several of them during your trip, and these beasts are by no means a peaceful animal, so some precautions are needed.
Strap on a good traveling shoe if you want to hike on the hill in Pink Beach. Some tourists haven't made their way to the top due to wearing improper footwear that got ruined halfway, forcing them to go back to the beach. You will need the shoes even more if you are also going to visit Padar Island and Rinca Island, as there will be a more difficult terrain for trekking on those islands.
There is no shop, hotel, and restaurants in Pink Beach.  So before you get to Pink Beach, make sure to bring enough food, drink, and essential equipment which you can get from Labuan Bajo. You have three options to stay for a few days during this trip, stay at the house of the local people or ranger, LOB (live on board), or book a hotel in Labuan Bajo.
[accordion]
[toggle title="More Indonesia Tourism Here" state="closed"]
You may also visit:
[/toggle]
[/accordion]