Sunsets are so beautiful to be missed. If you wish to have a beautiful vacation with viewing great panorama of sunset, then you should visit Flores. Flores is an island located in East Nusa Tenggara.
Flores is famous for having one of the world's wonders, which is Komodo National Park. Besides, it also has three-colored lake, Lake Kelimutu in Ende District. Read more about it in Kelimutu Lake: The Ultimate Guide – Attractions, and Details.
Many tourists, both the locals and foreigners love to visit Flores due to its amazing tourist attractions. While you're in Flores, make sure to put these 25 Top Things to Do in Flores, Indonesia (Wonderful & Untouchable Spots) on your list! Some attractions are full of tourists as they give the best view of sunsets. Let's enjoy the beautiful sunset from these 5 spots in Flores.
Pink Beach is the famous and popular destination located in Komodo National Park. Tourists will have a fulfilling holiday here while enjoying the rare rosy hued shores. There's also another Pink Beach located in West Nusa Tenggara.
Amazingly, this beach is one of the only seven pink beaches in the world. The beach sparks in a glimmer of pink, however, the color is more apparent as the twilight beams. Watching sunset will surely be listed as the Best Time to Visit Pink Beach in Komodo Island East Nusa Tenggara.
There are some activities tourists can do here, such as swimming, snorkeling or even relaxing at the beach. The best thing to do here is waiting for the sunset.
Sunset view in Pink Beach is one of the most beautiful sunset sceneries. You can visit this beach and enjoy the sunset with your loved one and you can get a romantic moment too!
Are you looking for some romantic spots to spend holiday with your loved ones? Then you should read 6 Romantic Places to Visit for a Honeymoon in Lombok for Newlywed Couple.
Padar Island is a remote island located in the middle between Rinca and Komodo Island. This island is defended by strong currents coming from the nearby Indian Ocean.
It has made this island become an adventure spot itself. It has lots of amazing things, such as steep and dry hills, cliffs falling straight into the ocean, sea eagles flying around and the gigantic bays with crystal sea water.
One of the best thing people can do in Padar Island is trekking. Trekking in Padar Island is a battle against the blazing hot sun. The hike is not that long, it only takes around 30 to 40 minutes to get to the hilltop.
From the hilltop, tourists will be able to view the best panorama of Komodo National Park. Besides, the sunset and sunrise views from this spot are also the best!
It is named "Love Hill" because the youngsters in Labuan Bajo love to spend their time there for watching sunset and dating as well. From the top of the hill, visitors will be able to enjoy the view of the ocean to the west where the sun will set.
On the opposite, there is Labuan Bajo Airport and if you are lucky enough, you will see how airplane landing there. At the south side, there's a crowded Labuan Bajo harbor.
On the other side, you will also see savanna everywhere. It becomes one harmony when the sun sets and this is why it is called Love Hill.
To reach Love Hill, you need to rent a car or motorbike. It is located around 2 km from the city center of Labuan Bajo. It takes only 15 minutes to reach this hill.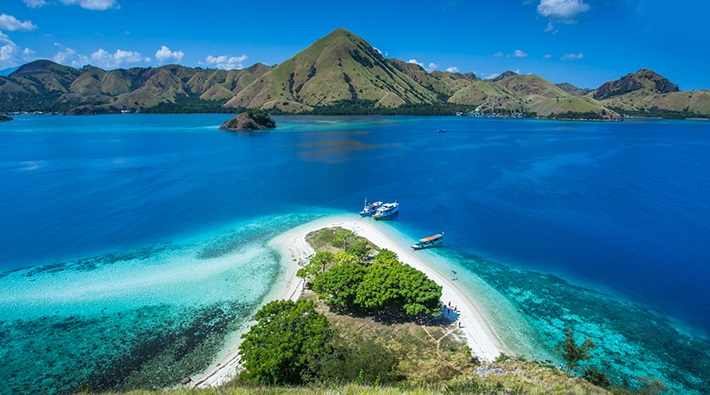 Koaba Island is also known as Kalong Island. Kalong means bats. This island is located not far from the Komodo National Park, one of the seven world's wonders. Koaba Island is also a large habitat of giant bats which inhabiting a row of exotic trees in the island.
This island is also a perfect spot for watching sunset. If you wish to have an exotic sunset experience, then you can hop on a sailing trip by the coast line of Kalong Island. During sunset, you can also see the amazing silhouette of the flying foxes taking over the golden sky.
Dermaga Putih is one of the harbors located in Labuan Bajo. It is named that way because all the wooden things are painted white and it is really elegant.
Despite the fact that Dermaga Putih is a harbor where all the ships are coming in and out, it still becomes one of the perfect spots for watching sunset.
Many visitors coming to Dermaga Putih as the sun goes down. The calm waves along with the departing and arriving boats and ships make the view of the sunset perfect.
It is very romantic and peaceful to watch sunset here. This spot is also Instagrammable as it has a very elegant design with all the white things.
7 Stunning Sunset Viewing Spots in Banyuwangi will also tell you the other amazing sunset spots you can find in other cities.