Indonesia is packed with hidden beauty and over the years there has been many tourist attraction being developed. Flores is a group of island in the eastern half of Indonesia with the largest town known as Maumere.
There are many tourist attraction in Flores especially location along the north coast of Flores is famous for snorkelling and diving. The most famous tourist attraction is the 1639 metres high Kelimutu volcano, containing the colored lakes called Kelimutu lake. Here we are going to see more about Kelimutu lake even the details of things to do there.
Location
Kelimutu lake is part of the Kelimutu National Park, located close to the small town of Moni in central Flores. The exact location is in Pemo Village, Kelimutu District, Ende Regency.
Kelimutu lake is actually three different crater lakes at the peak, it means Kelimutu lake is three lakes with the same name. You can find other things to do in Flores.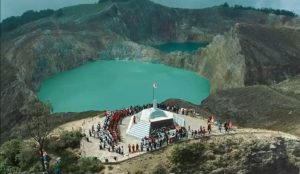 How to Get to Kelimutu Lake
Since this lake is in the eastern part of Flores there are 2 cities with airports which is Ende and Maumere. Flying into Ende is much more recommended since it is a little closer.
There are regular flights from Bali and Kupang directly to Ende, so you can fly with no problem. If you decide to fly into Maumere, don't forget to find things to do in Maumere Indonesia.
From Ende you can go straight to Moni, to get there you can travel by private taxi which should take around 2 hours. Another way is using shared cars, bemos or local buses, the travel time for those options take around 2.5 hours to 3 hours.
Getting to Kelimutu from Moni should take around 45 minutes. There are several option to get there such as renting your own motorbike and riding up the road, rent a motorbike with the driver known as Ojek, or rented jeep with a driver.
These option can be chose for one way and then you can walk back which will take around 3 hours from Kelimutu to Moni if you would like to safe cost.
Remember that transportation will only take you to a parking lot before Kelimutu's peak, from there you must walk 30 minutes along the mountain side to reach Kelimutu lake. There are other lakes in Indonesia, you can check it on best lakes in Indonesia.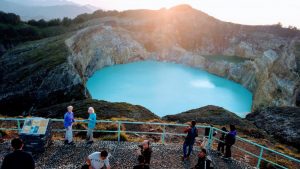 Ticket Fee
Kelimutu lake is open for public at all time which means 24 hours since tourist usually comes here to see the sunrise. As for the ticket price is Rp 20.000 for local tourist and Rp 150.000 for foreign tourist. Beside paying cash, you can also pay by using your debit or credit card.
Details about Kelimutu Lake
As mentioned before Kelimutu lake is located at the peak of a volcanic mountain, which is Mountain Kelimutu. Kelimutu lake consists of three lakes with three different colors which is red, blue and white, but these colors will always change.
The total area of this lake is 1051000 square metres with 1292 million metre cubic of water. The three lakes has a barrier of rock walls with a height of 50-150 metres and a slope of 70 degrees. You can find out about mountains to hike in Papua.
At 5377 MDPL where the lake is located, each color of the lake has a meaning. The blue colored lake is called Tiwu Nuwa Muri Koo Fai, the society believe that this lake is the gathering place for the young souls who have died.
The red colored lake called Tiwu Ata Polo is believed as a gathering place for the souls who have died but especially for those who have done crime in their lifetime.
The last is Tiwu Ata Mbupu the white colored lake, the society believe that it is a gathering place for the old souls. The locals who lives nearby always gives offerings for the dead spirit when the lake changes color.
Experts say that the changing color happens because of the composition of the material at the bottom of the lake, but some says that the color change follows the political atmosphere of Indonesia country.
The best time to visit Kelimutu lake is during the dry season of Indonesia which is May to September, moreover July or August is the most peak time where you may need to do some advance booking when visiting Kelimutu. If you enjoy stunning views then you can see more in hills stations in Indonesia.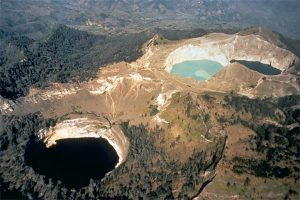 Things to See and Do in Kelimutu Lake
Here are things you can see and do while visiting Kelimutu lake:
Admire the beauty at thousand metre high
Yearly event of Pati Ka
See the guardian monkeys
Rest at the Rest Stop Monument
Don't miss the chance to witness Sunrise
Witness the colored lakes
Don't feed the monkeys
Hike and Trek around Mount Kelimutu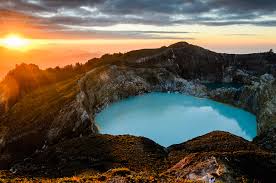 All things considered the changing colored of Kelimutu lake is what attracts tourist locally and globally. More over this will get people to know more about East Nusa Tenggara since it is packed with tourist attractions waiting to be discovered or visited.
When visiting Kelimutu lake, don't forget to explore more around the Kelimutu National Park to see more around the volcanic mountain and see variety of floras and fauna. You should also visit other national parks in Bali and Nusa Tenggara.