Indonesia is known for its beautiful scenery from the mountains to the beach. Sometimes people want both of it at the same time. Enjoying water sport with beautiful mountain scenery as the background, if that is the case maybe lake is the best choice for your summer vacation recommendation.
Indonesia has many beautiful lakes. Its fresh air and scenery is a perfect combination of healing therapy. So, here lists of best lakes in Indonesia you should visist during summer.
Lake Toba is one of the biggest volcanic lakes in the world. It has length of 100 Km and a depth of 1600 m. Located in North Sumatra, one of the unique things from Lake Toba is the Island in the middle of the lake named Samosir Island.
In Lake Toba, there are a lot of things you can do in Lake Toba like a cruise ship, Batu Hoda beach, Tomok tourist village, Batak museum, and many more. You need to pay Rp 5.000 (to enter Lake Toba, but maybe there are other entrance tickets when you enter other tourist attractions)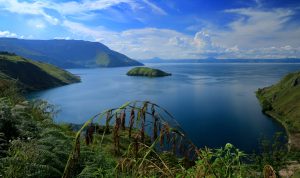 Lake Labuan Cermin or known as Lake Dua Rasa, located in Labuan Kelambu village, East Kalimantan. Tourists need to rent a boat to go there, with only Rp 20.000 to commute there. Lake Labuan Cermin gives you a stunning view by its surface that reflects the sunlight and makes it look like a mirror.
The lake consists of two water. On the surface, it is saltwater and freshwater on the bottom of the lake. Lake Labuan Cermin has a depth of 4 to 5 meters. The tourist can go swimming, snorkeling, and diving but still be careful.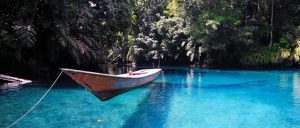 Lake Sentarum included in the Sentarum Lake National Park. Lake Sentarum located in Kapuas Hulu, West Kalimantan. The lake formed a river path with dense aquatic plants, make some small islands isolated.
It is also a home for native tribes, like the Melayu tribe and the Dayak Iban tribe. There are two popular things in Lake Sentarum, which are organic honey and Sentarum Lake Festival.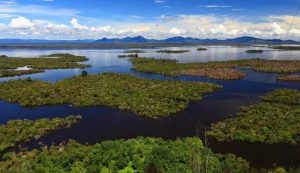 Lake Ranu Kumbolo located on Mount Semeru hillside about 2,400 meters above sea level. This lake is functioning as a resting place for mount climbers. The entrance ticket for tourists is Rp 10.000 and Rp 20.000 to rent a tent for spending the night.
In the morning, tourists will be served a beautiful sunrise from behind the hill. In Lake Ranu Kumbolo, it restricts to bathe, defecate, and swim.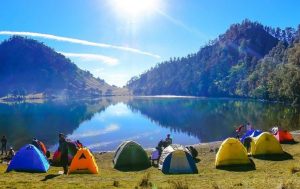 Lake Segara Anak is a volcanic lake in Mount Rinjani. It formed in the caldera of Mount Rinjani. Instead of located 2.000 mdpl, water in Lake Segara Anak is warm because of volcanic activities. In Lake Segara Anak, tourists can go fishing, there are various types of fish there, like tilapia, goldfish, and parrotfish.
There are also hot springs for mount climber, or they can build a tent there. Or tourists can explore Manik Cave, Susu Cave, and Payung Cave. For domestic tourists, the entrance ticket for weekdays is Rp 5.000 and Rp 7.500 at the weekend. For international tourists, the entrance ticket for weekdays is Rp 150.000 and Rp 250.00000 at the weekend.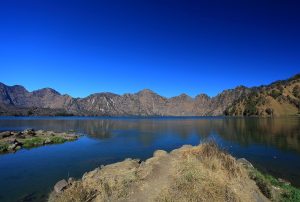 Lake Maninjau is a volcanic lake located at West Sumatran. Maninjau recorded as the eleventh largest lake in Indonesia. It has a length of 16 Km and a depth of 165 meters. Some attractions tourists can explore in Lake Maninjau are Puncak Lawang, paragliding sport, and route km 44, but there are many wonderful things in Lake Maninjau.
In route km 44 is the best spot to take a photo because it shows the beauty side of Lake Maninjau. The entrance ticket is Rp 3.000 for all day.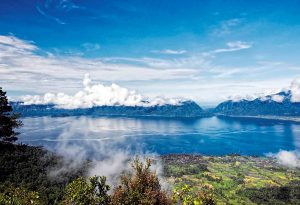 Lake Bratan located in the Bedugul area, Bali. Lake Bratan has a record as one of the most beautiful lakes in the world. In Lake Bratan, tourists can visit Pura Ulun Danu. There are many things you can do in Pura Ulun Danu. The reflections of the temple in the lake are one of the most favorite photo spots for tourists.
They can have water sports like a canoe, parasailing, and jet ski too. Lake Bratan also a place for endangered species like deer. Near Lake Bratan is the Bedugul Botanical Garden. The ticket entrance for an adult is Rp 30.000 and Rp 20.000 for children.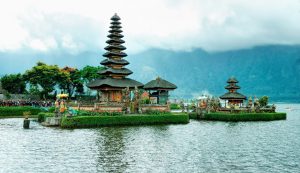 Lake Kelimutu is consists of three lakes. Lake Kelimutu located in Kelimutu National Park, Flores Island. The unique thing from Lake Kelimutu is its three different colors for each lake. The differences in its color happen because of the materials in the lake.
There are many other things you should do in Kelimutu National Park. The entrance ticket for domestic tourists is Rp 20.000 and Rp 150.000 for international tourists.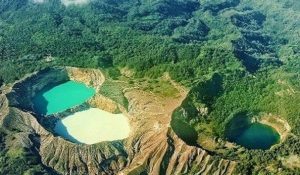 In 2007, Lake Paniai recorded as the most beautiful lake in the world. Lake Paniai located in Paniai, Papua. Tourists will experience the fresh air and the beautiful scenery of the hills.
Tourists can explore Lorentz National Parks because Lake Paniai is inside the national park. They can also visit Lake Tage near Lake Paniai. It said both of the lakes connected by a natural tunnel. There is no entrance ticket to enter Lake Paniai.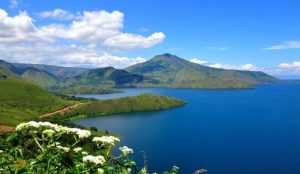 Lake Batur located in Bangli, Bali. It is a lake located inside an active volcanic caldera from Mount Batur. Because of its location, tourists can experience fresh air and healing sensation when visiting this lake.
There is no entrance ticket to enter, but tourists need to pay a parking ticket Rp 5.000 for motorcycle and Rp 10.000 for the car. Tourists can enjoy the hot spring or visit Batur Geopark Museum. Actually, there are more things you can do in Lake Batur