Kalimantan (Borneo) is the largest island in Indonesia. It still holds a natural beauty to explore. There are many activities you can do in Kalimantan, things to do in Kalimantan. Kalimantan consists of 4 provinces one of them is West Kalimantan.
Ketapang is one of the districts in West Kalimantan. Similar to other regions in West Kalimantan, Ketapang area consists of mountains and forests.
Ketapang located on the banks of the Pawan River. It is a good place for tourists who want to spend their holiday time in nature. Here a list of 10 tourists attractions in Ketapang.
Mount Palung National Park
Mount Palung National Park has an area of 9000 hectares that covers six districts and is the center of the river flow from the west and south coast of West Kalimantan.
Mount Palung National Park is a home for proboscis monkey and orangutan. There are two mounts inside Mount Palung National Park, Mount Palung and Mount Panti.
Check another best National Park in Indonesia. The entrance ticket is around Rp 2.000 to Rp 10.000 for domestic tourists and around Rp 25.000 to Rp 50.000 for international tourists.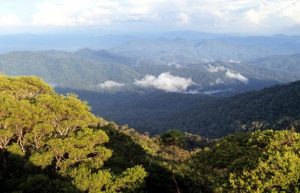 Air Mata Permai Beach located in Sungai Awan Kanan Village or 10 Km from Ketapang city. Air Mata Permai Beach is a conservation place for at least 27 endemic birds and also a place for bird watching.
There is also mangrove forest conservation. In a particular month, there is a traditional ritual called Bekaluk by locals. There are many best beaches in Kalimantan.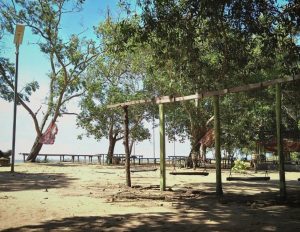 Ketapang City Forest is a forest in the middle of the city, named Teluk Akar Bergantung. Located in Sukaharja village or about 3 Km from Ketapang city. Ketapang City Forest has a function for water absorption and a place for various types of plants. Ketapang City Forest also provides a location for outbound.
In this forest, tourists will find fresh air that good for their health. There is no entrance ticket to enter the forest, but the visitor may need to pay a parking ticket. Indonesia also has many good botanical gardens, check some best botanical garden in Indonesia.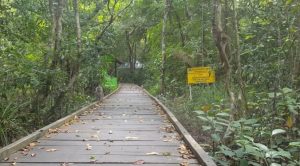 Matan Palace is one of the historical sites in West Kalimantan. Located in Mulia Kerta village, about 4 Km from Ketapang city. In Matan Palace, tourists can find relics from hundreds of years old, such as Padam Pelita Cannon. The myth said that Padam Pelita Cannon build by the spirit.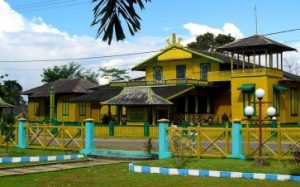 Tanjung Belandang beach located in Sungai Awan Kanan village or about 12 Km from the downtown of Ketapang city. Tanjung Belandang beach often holds events, like water festival in August to coincide with Indonesia's Independent Day, scouting activities, until volleyball matches. There is no entrance ticket to enter Tanjung Belandang Beach.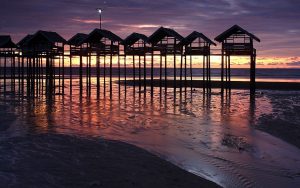 The Tomb of The King of Tanjungpura
Tanjungpura Kingdom is the oldest kingdom in West Kalimantan. The government decides to make the tomb of the King of Tanjungpura opens for the public. Located on the shores of the Pawan River in the Tanjungpura village. Tourists can also make a pilgrimage there.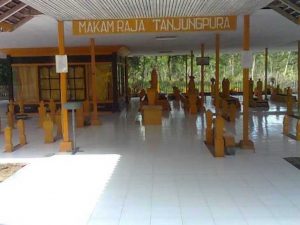 Sawi Island is located in Sungai Kendawangan village, about 70 Km from Ketapang city. Tourist needs to rent motorboat called " kapal klothok" to go there. Sawi Island is a conservation place for marine biota.
Tourists can travel there to experience the scenery or snorkeling to see the underwater scenery. The surface is as clear as crystal makes the marine biota visible for eyes. There is no entrance ticket in Sawi Island.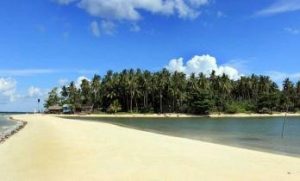 Cempedak Island located in Kendawangan, about 90 Km from Ketapang city. Cempedak Island has beautiful scenery perfect for taking photos. This island also has various types of fish for those who like fishing. This place also has many villas, the perfect alternative to spend the holiday.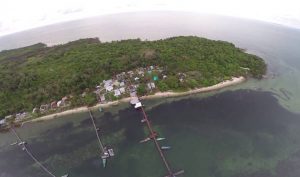 Batu Daya Hill located near Mount Palung and still included in Mount Palung National Park. It is a giant rock with a height of 958 meters above sea level.
Batu Daya Hill is a favorite place for climbers, even though it is quite dangerous. There is also traditional ritual by locals holds every year as an offering to Batu Daya Hill. The entrance ticket for entering Batu Daya Hill is Rp 10.000.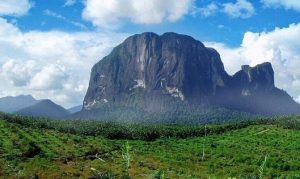 Pek Kong temple is an old temple build in 135 years ago by 6 Chinese merchants. Pek Kong temple located in the center of Ketapang city, at Merdeka street, right on the left side of the road.
Apart from being a place of worship, this place is also open to tourists. The interesting thing tourists can see is when Chinese Lunar New Year. There will be many festivals holds in there. There are also many best Chinatowns in Indonesia you might want to visit.