Eas Nusa Tenggara is the southernmost province in Indonesia, it consists of more than 500 islands this means many sea and beaches can be found here. Recently it is getting more popular as it is one of the best diving and snorkeling spot in the world.
Tourists visit East Nusa Tenggara to enjoy the underwater beauty, since when you dive you can many sea creatures and lots more. For that case, let us see the 13 Diving Spots in East Nusa Tenggara. Don't forget you can find things to do in East Nusa Tenggara.
Taman Laut 17 Pulau Riung
This diving spot is located in the waters of Desa Tadho, Kabupaten Ngada which is around 75 kilometers from Bajawa. Taman Laut 17 Pulau Riung consists of 17 big and small islands close to each other and can be seen by going around in the speedboat for more or less 2,5 hours.
The condition of the sea in this area can be said really clear and dominated by many kinds of coral like soft coral, table corals and sea fan. This is a great diving spot since there are many spots in this one area which you can explore and witness variety of sea creatures and corals.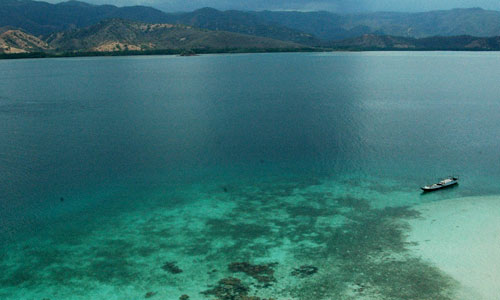 Reputedly that Taman Laut Selat Pantar is the second most beautiful sea park in the world, it is located in Kabupaten Alor.
There are around 26 diving spots in this sea park, so it is known as heaven for divers, a few of the famous spots are Half Moon Bay, Peter's Priza, Crocodile Rook and Shark Close.
Here divers might get a chance to interact with sharks who are actually friendly and maybe some dolphins too, moreover there are many colorful marine biota. Your eyes can be spoiled by seeing rows of purple, green, yellow, red, orang and white corals, it is enlivened by beautiful fishes like flasher, alien and invaders.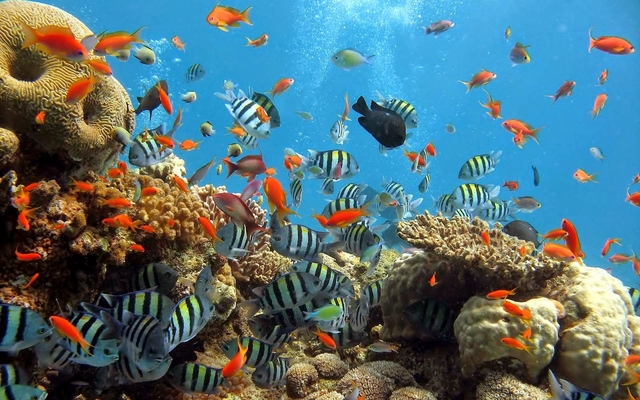 Pulau Bidadari is a little island in Labuan Bajo, Kabupatan Manggarai Barat, it stands out since there is a sea park with the diversity of fishes. This diving spot is great for amateur divers, within the depth of 5 meters you can already see the corals and the sea life with colorful fishes.
If you can dive deep then you might see a big sea turtle but if you can't dive then snorkeling is the best option since you can still witness the gorgeous underwater. The island itself is a great island if you would like to enjoy a calming relaxing afternoon and adoring the surrounding view.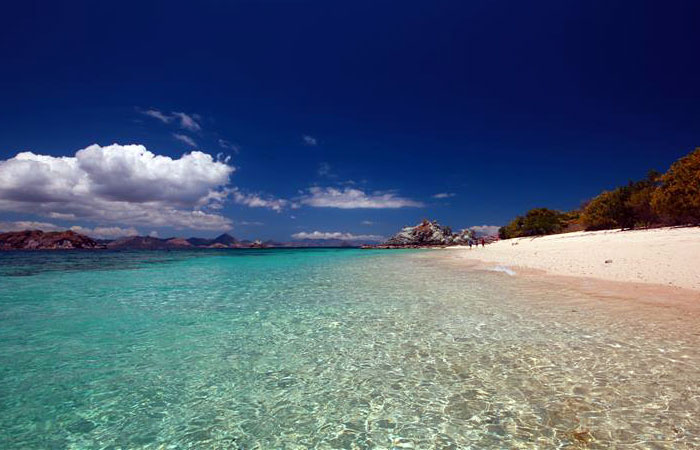 Teluk Ninge is located in Dampek Desa Satar Padut, it was a former old village called Kampung Ninge that was drown into the bottom of the sea caused by Tsunami in 1918. Teluk Ninge is a historical tourist attraction for the Ninge tribes and an underwater tourism that attracts foreign tourists.
When the low tide comes then you can see the ruins of the houses which makes a unique view, moreover the ruins underwater eventually turns into corals. Those corals which makes this diving spots intresting, in addition becoming one of the favourite diving and snorkeling spot.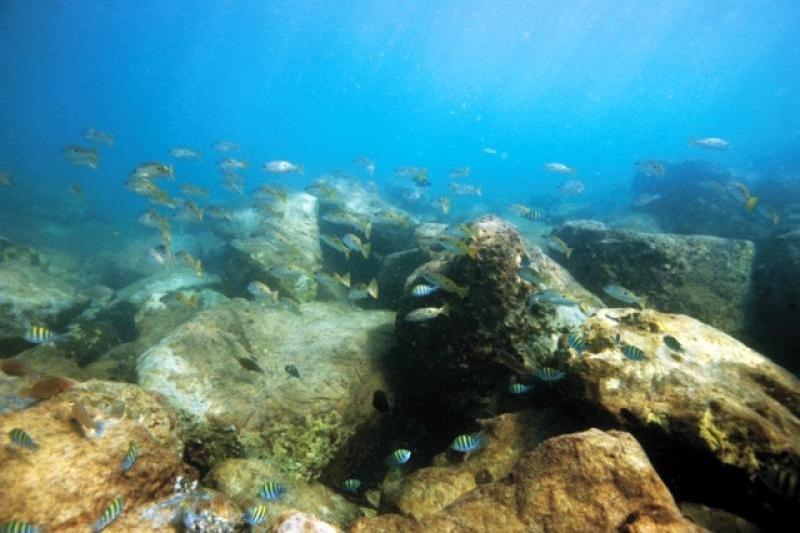 Tanjung Kajuwulu is located in the north coast of Kecamatan Magepanda, around 24 kilometres from the Maumere city. The white sand beaches hypnotizes visitors and of course the wonderful underwater completes it.
The headland which is surrounded by green high hills has a clear sea water just like glass, and on the hills there is a popular tall cross statue. If you live in Jakarta, you can also see how do i get to Komodo Island from Jakarta.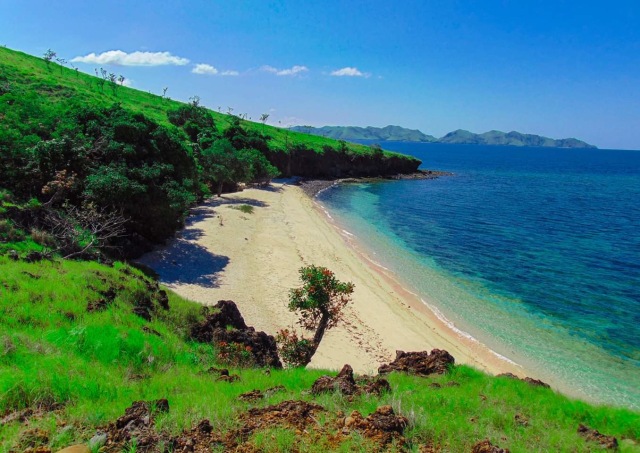 Pulau Kepa is little island in Kabupaten Alor which has a charming clear blue sea waters, moreover the white sand on the beach making it more special. Pulau Kepa seems like it is left behind since the natural condition is still awake and making it attracts tourists.
The corals in this area is nominated as one of the best in the world, you can enjoy the rich sea life by diving or snorkeling. Behind the corals sometimes hidden colorful fishes, moreover there are actually around 42 diving spots that is close to each other. The diving spots making it easier for divers to explore the underwater life.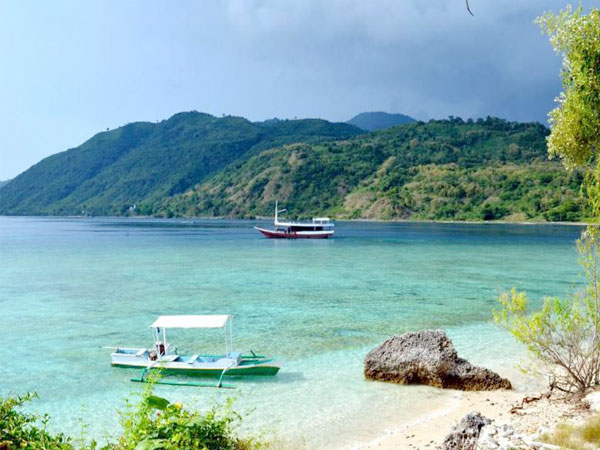 Teluk Maumere is located in Kabupaten Sikka, it is grown to be one of the popular diving spots. Moreover Taman Laut Teluk Maumere is known as one of the best 9 diving spots in Indonesia, there are around 19 islands here and a few of the popular diving spots are in Pulau Besar, Dambilah, Permaan, Pangabatang, Pemana Besar and Pulau Babi.
Not only corals there are seagrass beds and mangroves which is important as the nutrition source and habitat for many marine biota. Hard corals, brain corals, leaf fish, clown fish and lots more can be found in this area since there are many spots to explore.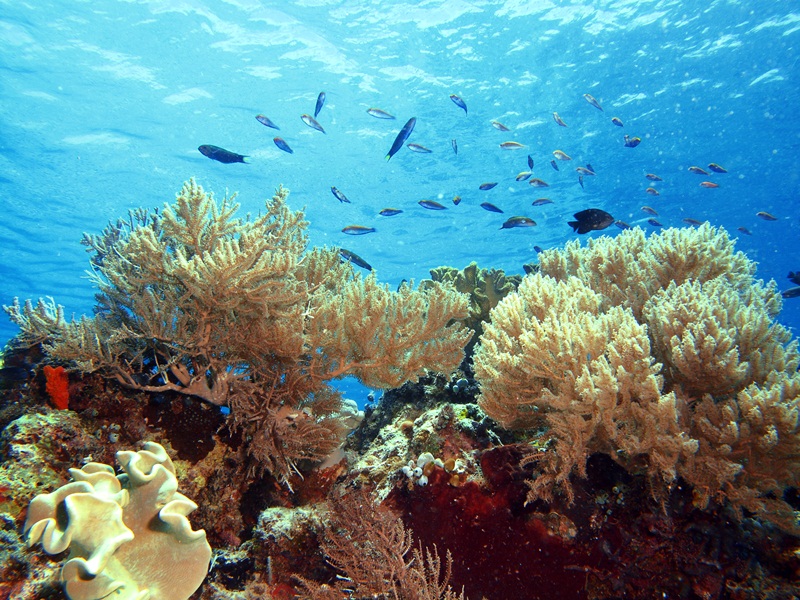 Pulau Kambing or Goat Island is located near Labuan Bajo, Kabupaten Manggarai Barat, even tough it is called Pulau Kambing there are no goat in this island but actually a little island with a beautiful panorama. The stretch of white sand and the crystal clear water makes you feel calm.
The diversity beauty is kept underwater in this island, there are many corals and aquatic animal can be seen such as sea eel, lion fish, turtles, stingray and a few species of hippocampus can be found. The uniqueness of this island is also when the sunsets you can witness thousands of bats leaving their nest.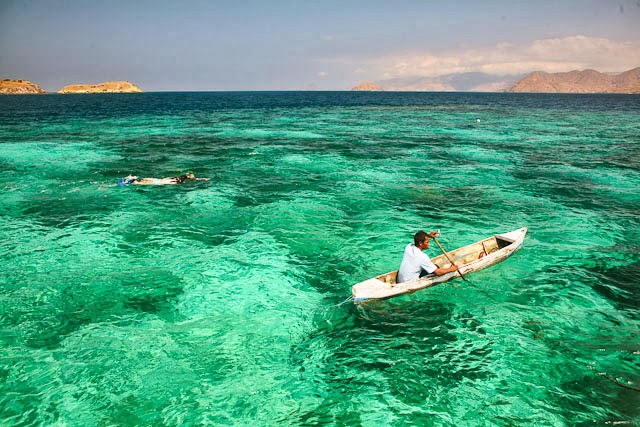 Pulau Seraya is another small island on the north of Labuan Bajo, it is a resort island but it doesn't ruin the chance to enjoy this island. It goes into our 13 Diving Spots in East Nusa Tenggara since the underwater world is an attraction for divers, the clear water is another reason why people visit this island.
Snorkeling and diving can be pleasant in this island cause you can see fishes, star fish and other sea creatures. Foreign tourist and locals come to this island just to adore the underwater world. Not just in East Nusa Tenggara but you can find diving spoits in Sulawesi Islands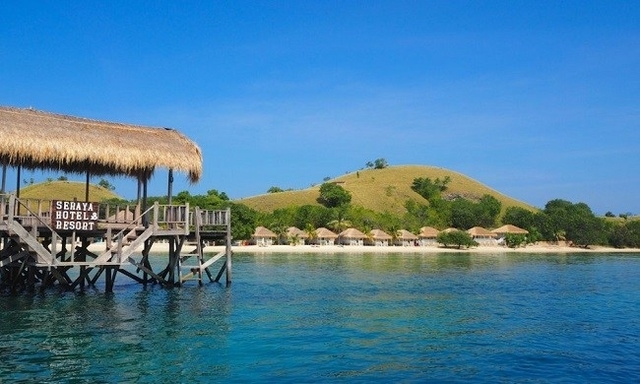 Pulau Sebayur is one of the island in Labuan Bajo, it is chosen as one of the best location for snorkleing and diving. Resorts in this island provides facilities and equipemnts for tourists there is even a diving package.
There are many diving spots here including crystal rocks, castle rock, batu bolong and others around Pulau Sebayur. From the surface of water you can see fishes swimiming around and between the corals, thanks to the clear water you can witness this moment.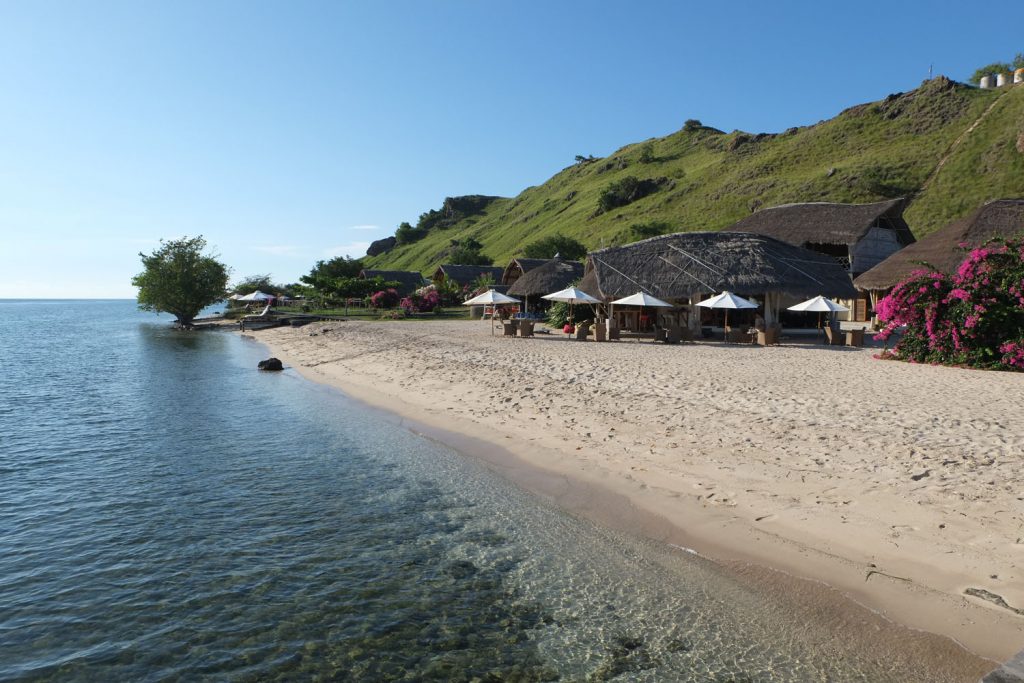 Pulau Kukusan is located near Labuan Bajo and still one cluster with Komodo Island. This may not be a popular diving spot but in this island you can adore the underwater beauty. There are natural corals and a diversty of marine biota around this island since it has a clear water and calm wave.
There is also hills that you can hike and see the beach while looking at fossils of ancient animal on top of the hills. While you are around Labuan Bajo, you can find things to do in Labuan Bajo.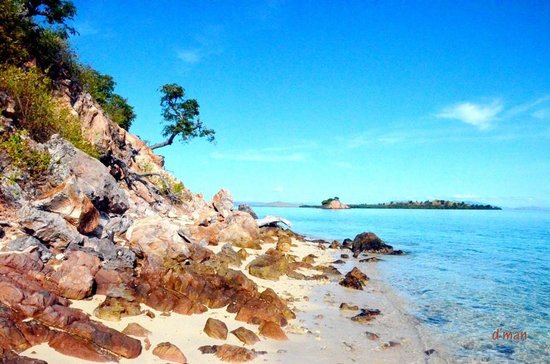 Pulau Kelor is another island near Labuan Bajo, around 30 minutes by boat from Labuan Bajo. This quite white sand beach and clear water makes it beautiful and one of the favorite diving and snorkeling spot in East Nusa Tenggara.
Corals here is crowded completed with colorful fishes and other marine biota, you will be lucky if you get a chance to see clown fish or Nemo between the anemone. The wave in this island is quite calm so you free dive, you can dive deep without worrying and beautiful corals can be seen not far from the edge of the beach.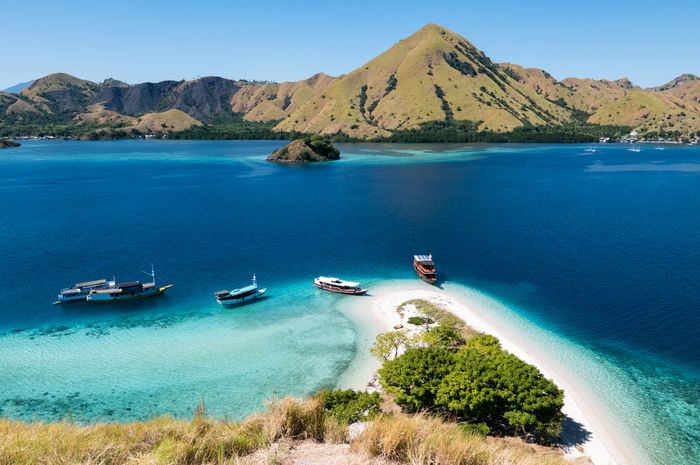 The last on our 13 Diving Spots in East Nusa Tenggara is Pulau Manjarite, it is located not far from Pulau Kelor. There is a pier stretched 20-30 metres long making it a great spot to take a photo.
The sea water here has a clear green color which makes sunlights penetrates through to the bottom of the sea, the depth is around 4 to 5 metres. Right away you will be astonished by the marine ecosystem where you can find colorful fishes and gorgeous coral.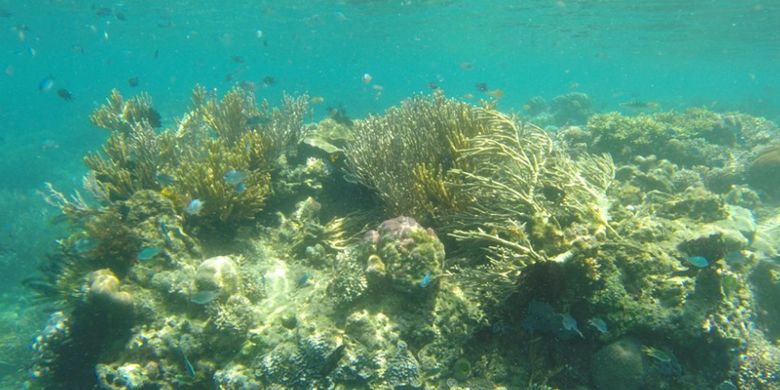 To sum up these diving spots are perfect for you who loves diving or even just to try snorkeling. These spots can be said as hidden paradise in Indonesia, since the marine biota and sea creatures are beautiful.
Mostly in these diving spots you must find colorful fishes and many varieties of coral. Hopefully these 13 Diving Spots in East Nusa Tenggara can be explored for you diving lovers. While in East Nusa Tenggara you can also go to Pink Beach Komodo Island.