26 Spectacular Waterfalls in Indonesia #The Highest and Most Untouchable Spots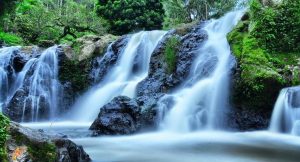 Indonesia is indeed a very beautiful country. It is a rich country with various ethnicity and culture. The country's landscape is also astonishing, from the plenty of beaches that line the coastland of its islands to the mountain. Not only that, you can also see the varieties of flora and fauna that inhabit its picturesque landscape. There are so many beauty of the Indonesian nature that has been made famous to the overseas.
Having said that, here in this article we would like to bring to your attention the beauty of Indonesian nature that existed inland. In this case are the waterfalls. Indonesia has a lot of waterfalls that can be found in various terrains like the mountain, highland, lowland and even at the beach.
Waterfalls are a natural phenomenon that formed by river flow that met with a cliff or gorge. The water will fall to the ground beneath and over time will erode the ground and establish a natural pond.
You may also visit: Places To Visit in Indonesia
You can find many waterfalls in Indonesia. All the five main islands of Indonesian archipelago have beautiful waterfalls that are well known and often visited by tourist. You must be wondering which is Indonesia's most beautiful waterfall? Here is the list of Indonesia waterfalls:
1. Sigura Gura Waterfall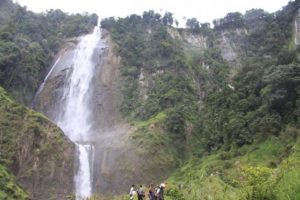 This waterfall or air terjun in Indonesian language is located in North Sumatra Province, in Toba Samosir Regency. It is about 250 kilometers away from North Sumatra provincial capital of Medan. This waterfall has a height of 250 meters, making it the tallest waterfall in Indonesia. Located near to Danau Toba or Toba Lake, the sound of this waterfall can be heard from quite a distance. This waterfall is within the flow path of Sungai Asahan or Ashan River. Right above the waterfall is Waduk Sigura Gura or Sigura- Gura Dam. The lake is relatively quiet as usually most of the tourists will prefer to go directly to Lake Toba itself.
You may also search: Raja Ampat Islands
2. Ngarai Harau Waterfall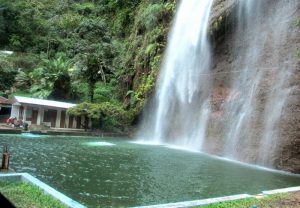 Located about 35 kilometers away from the city of Bukittinggi among the hills, these are one of the most beautiful waterfalls that become a favorite tourist object. Here you will not only find one waterfall, but seven. Yes, that is right, seven of this wonderful nature phenomenon is located in the canyon. Harau Canyon itself is located in a natural conservation park and is inhabited by various animals like long-tailed monkey, siamang, Sumatran tiger, tapir, porcupine, Kuau bird and more.
The waterfalls themselves are divided into two sections, namely Sarasah Bunta and Akar Berayun. The first location, Sarasah Bunta is suitable for those of you who wants to be closer to nature. Here you can find 5 waterfalls with natural ponds at their bottom. Meanwhile in Akar Berayun, you will only find 1 waterfall, but it is a more suitable location for those of you who desire more comfort during your holiday. Here you will find various facilities that will make you more comfortable like camping site, hiking path, cottage as well as resort. The waterfall in Akar Berayun is being directed into a deeper pond that emulates a swimming pool, making it more comfortable to swim in.
3. Dua Warna (Two Colors) Waterfall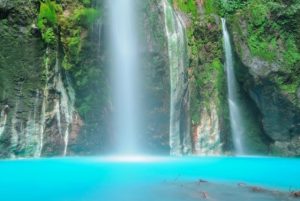 Literally translated, it means two color waterfalls. The name indicates that the waterfall has two colors, which in reality it does. The water at the pond below is turquoise while the waterfall is clear. This waterfall is located in Sibolangit District of Deliserdang Regency in North Sumatra province of Indoneisa. It is about 75 kilometers from Medan.
The terrain that you will have to pass through is not easy as you have to go through many climbs and steep road along the way. The hike will take you about 2 hours before you finally reach the waterfall. We recommend you to hire a guide to lead you through the jungle to reach the waterfall, especially if this is your first visit. However, once you have reached the waterfall, it is guaranteed that you will feel that all your struggle really worth it. At the site you will not only see one waterfall, but three waterfalls. The waterfalls are quite tall and the pond below is pleasant to swim in. The water in the pond contains phosphorous and sulfur though, so remember not to swallow the water if you want to go swimming.
Entrance to the waterfall area is IDR 25,000 per person and the guide will cost you IDR 100,000 for a group of two if you bargain.
4. Madakaripura Waterfall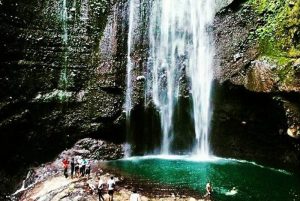 This waterfall is located in Probolinggo Regency in East Java province, within the Bromo Tengger Semeru National Park. This waterfall is not only fampous for its beauty but also because of its connection to the legendary Mahapatih Gajah Mada of the ancient Majapahit Empire.
This waterfall has a height of 200 meters. Madakaripura is the highest waterfall in the island of Java and the second highest waterfall in Indonesia. According to the legend, Gajah Mada often visited this waterfall to meditate in the cave behind the waterfall. The cave can be reached if we dive into the deeper part of the pond. Near the waterfall you will find a statue of Gajah Mada himself.
This waterfall can easily be reached from Malang or Probolinggo. There is no entrance cost to the waterfall, but usually they will offer you to use the tour guide. In actuality you can simply walk along the path for about 1 hour to reach the waterfall.
5. Sri Gethuk Waterfall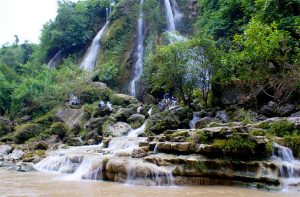 If you are coming to Yogyakarta, you definitely have to visit this waterfall. This is a charming waterfall because of its uniqueness. Located in Gunung Kidul Regency, Air Terjun Sri Gethuk has a height of about 80 meters and is in the flow path of Sungai Oyo or Oyo River.
Air Terjun Sri Gethuk has its water branched off on two slits of the cliffs and later re-emerge from the web spaces of the arid karst cliffs, which make this waterfall unique.
According to the story, the waterfall is named Sri Gethuk because in the old days people can often hear the sound of gamelan instrument, which is believed to be gamelan of the Slempret Djinn King, named Angga Mendura. The waterfall is believed to be a marketplace for the djinns.
You may also visit:
6. Moramo Waterfall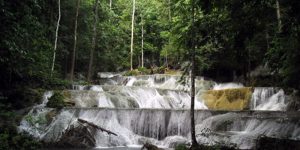 Moramo waterfall is located within the Tanjung Peropa Animal Sanctuary in the province of South East Sulawesi. The waterfall is about 60 kilometers from the provincial capital of Kendari. The locals believed that this waterfall is the bathing place for angels.
Moramo waterfall has seven larger steps as well as a few dozens of smaller sized steps, which makes this waterfall unlike other waterfalls. Around the waterfalls are many marble stones which makes the landscape even more beautiful. Also at certain time you will find plenty of butterflies as well as a rainbow which is result of the light reflection from the waterfall. It is simply astounding. No wonder the locals believed that this is an angles bathing spot.
You may also search: Komodo Island
7. Sendang Gile Waterfall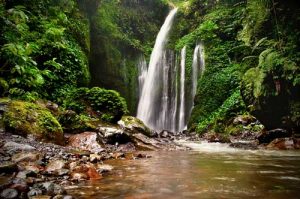 Bali waterfalls are the most beautiful in the world. This waterfall is located in the eastern part of Indonesia on the island of Lombok. This waterfall can be found in Bayan District of North Lombok Regency.
This waterfall is constantly supplied by water from Mount Rinjani, the tallest mountain in Lombok. To reach the waterfall, you will need to walk pass through 500 steps. You will definitely feel very comfortable as the green scenery and the surrounding nature will pamper you with peace and tranquility.
You may also search: Romantic Things to Do in Bali
8. Grojogan Sewu Waterfall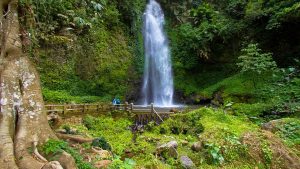 Grojogan Sewu is a waterfall underneath Mount Lawu in Tawangmangu district of Karanganyar Regency, Central Java Province. The name can be literally translated as one thousand (sewu in Javanese) waterfalls (grojogan in Javanese). Although there are no one thousand waterfalls here, but the waterfalls are amazing sight.
Located about 27 kilometers east from the city of Karanganyar, the tallest waterfall has a height of 80 meters. There are waterfall with lower height, but the water streamed into branches. The waterfall itself is within Grojogan Sewu Recreational Forest which has an area of about 20 hectares and is a home to many monkeys.
The area has been well developed as you can find many facilities in the area such as swimming pool, gazebos, food stalls, souvenir shops as well as clean toilet.
You may also want to read: Things to Do in Solo
9. Curug Cimahi Waterfall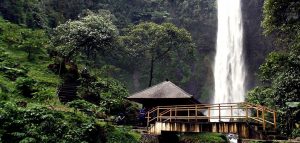 If you have read our previous articles, perhaps you would have guessed that this waterfall is located in West Java Province. In Sundanese, the local dialect of West Java Province, curug means waterfall.
The waterfall can be found in Cisarua District in West Bandung Regency. This is the tallest waterfall in Bandung. The waterfall has a height of around 85 meters. If you are lucky enough, you can spot the rainbow from the region around this waterfall.
You may also visit: Things to Do in Aceh
10.  Lawean Waterfall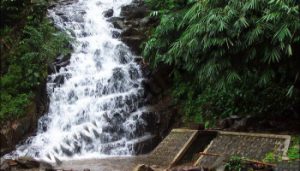 This is a waterfall in East Java province. The precise location of this waterfall is about 25 kilometer to the south west of the city of Tulungagung, in Sendang District.
This waterfall is located on the plateau at the slope of Mount Wilis which is about 2000 meters above the sea level. The hike to the waterfall is quite tough as visitors have to walk as far as 3 kilometers and crossing 9 creeks and some small ridges. Nearby Air Terjun Lawean, there is a smaller waterfall with equally amazing view.  This waterfall is called Air Terjun Panda Wangi. Within the same region you can also find Candi Penampehan.
11. Sipiso Piso Waterfall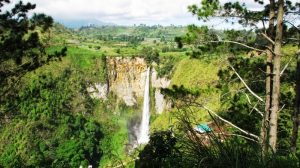 This is yet another waterfall that is located in North Sumatra province. Air Terjun Sipiso Piso is located at the height of 800 meters above sea level and also near to Danau Toba. Around the waterfall you can find pine forest that makes the landsacape become more beautiful and exotic.
The name Sipiso Piso itself comes from the local language, which means knife because the waterfall looks like a knife if you are looking at it from a distance. Another reason is that the water of this waterfall can be hurtful as a knife.
You may also want to read: Things to Do in Medan
12. Curug Citambur Waterfall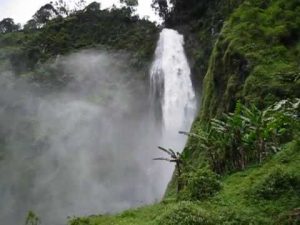 This waterfall is located in West Java province in Cianjur Regency, about 65 kilometer from the city of Cianjur itself. The waterfall is located in Pagelaran District. It has a height of about 40 meters. Some of the water that fall from the waterfall evaporated to become mist making the surrounding area feel cooler. The intensity from this waterfall is very high. Even if you are standing at the distant of 50 meters, you can still get wet from the water. On your way to the waterfall you will also find many other tourist objects that will surely be very interesting, like Rancabali tea plantation and Desa Cipelah.
13. Curug Cipendok Waterfall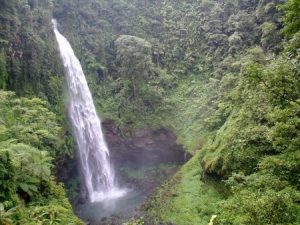 Although the name is a unique Sundanese name, this waterfall is actually located in the Central Java province, in Purwokerto Regency. This waterfall is located on the slope of Mount Slamet. The height of this waterfall is about 92 meters.
The waterfall and surrounding area has not yet known to many people, hence it is very natural, green and peaceful. Along the way to the waterfall, you will pass through plantation that will surely offer a very refreshing experience.
The waterfall itself is located in a camping ground and inside you can also find a small lake called Telaga Pucung. The lake has a very clear water. If you like bird watching, you maybe in luck to spot some rare birds like the Javanese eagle. The area is also known for an elusive species of endemic monkey called rek-rek.
You may also want to read: Top Places to Visit in Jakarta
14. Putuk Truno Waterfall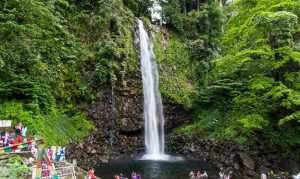 This waterfall is often being related to the romantic love story between Joko Taruna and Sri Gading Lestari. You can find this waterfall in Pasuruan Regency, East Java Province. The height of this waterfall reaches 45 meters. Down below the waterfall, you will find a natural pond with a depth of up to 2 meters. This waterfall is unique because it never runs dry even if the whole East Java province is in drought.
The surroundings of this waterfall are filled with lush greeneries which make the Putuk Truno waterfall even more beautiful.
You may also visit: Things to Do in Surabaya
15. Tancak Waterfall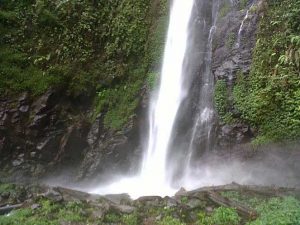 This waterfall is located very nearby to city of Jember in East Java Province of Indonesia. Located in Panti District, about 15 kilometers from Jember, this is one of the most famous tourist objects in Jember.
This waterfall is very suitable for the adventurers in you. To reach this waterfall you have to pass through quite an extreme terrain. You have to go through forest and plantation for about 2 hours, but once you got to the waterfall, you will feel rejuvenated by the beautiful view.
16. Kakek Bodo Waterfall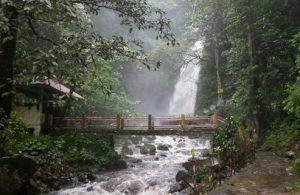 This waterfall is located in Pasuruan Regency of East Java Province. It was told that long time ago this waterfall is a meditation retreat of an old man in search of the meaning of life. This waterfall is very crowded during the weekend as the locals like to come here with their family to refresh their mind.
17. Sumber Nyonya Waterfall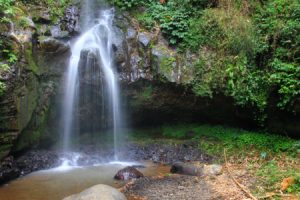 The water from this waterfall has been found to contain silver, which affecting the fertility of the locals in the area. This waterfall is located in Pasuruan, East Java and is one of the most favorite tourist object. The waterfall only has height of 6 meters.
18. Nglirip Waterfall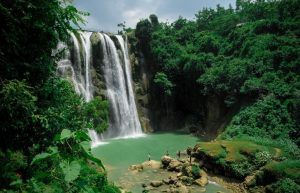 This waterfall is located in Tuban, East Java Province. According to the myth, the name Nglirip is name of a princess, whose soul still resides in the cave within the wall of the waterfall. Locals believe whoever who bathe in the waterfall will be able to find their soul mate easier.
19. Mursala Waterfall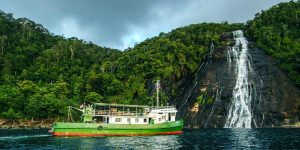 This waterfall is one of the most beautiful waterfalls in Indonesia. It is also very unique because the water from this waterfall flows directly to the ocean. You will find this waterfall in Tapanuli Tengah Regency of North Sumatra Province. It is located in Pulau Mursala which is a small island between Sumatra Island and Nias Island. The waterfall has a height of 35 meters and the water flows through black and red granite rocks before free falling into the Indian Ocean.
20. Segoro Gunung Waterfall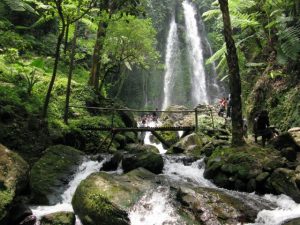 One of the waterfalls that has not been exposed to many tourism is Segoro Gunung. This waterfall is located in Karanganyar Regency, about 1 hour drive from Central Java city of Solo. This waterfall is surrounded by greeneries. Around the waterfall you will also be able to find camping ground, strawberry plantation and tea plantation.
21. Pantai Jogan Waterfall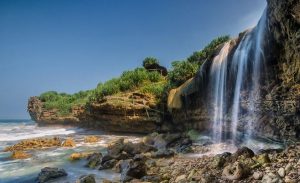 Apparently, North Sumatra is not the only place where you can find waterfall that flows directly to the ocean. In Yogyakarta, you can also find such a waterfall. The waterfall is located in Gunung Kidul regency.
You may also want to read: Things to Do in Yogyakarta
22. Coban Sewu Waterfall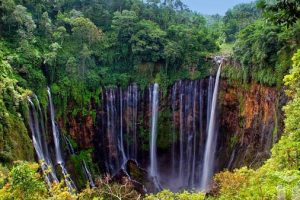 Next Waterfalls in Indonesia, this waterfall is also known by the name of Tumpak Sewu. It is a tourism object which is a landmark of Lumajang. The route that you will have to go through to reach this waterfall is quite extreme and that makes the waterfall that is located in Pronojiwo District of Lumajang becomes famous amongst traveler.
23. Curug Luhur Waterfall
24. Curug Malela Waterfall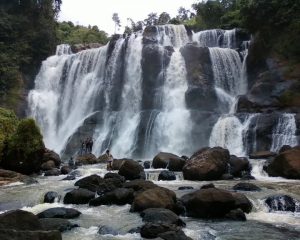 This waterfall is located under the feet of Mount Sanggabuana. The astonishing waterfall has a height of 60 meters. From a distant, this waterfall looks like a mini Niagara.
25. Benang Kelambu Waterfall

More waterfalls in Indonesia? This waterfall is also located in Lombok, at the feet of Mount Rinjani. The waterfall is in Batu Keliang Utara District of Lombok Tengah Regency. The name of the waterfall is translated as mosquito net. It was named as such because the water that comes down is very thin and soft, similar to mosquito net.
26. Saluopa Waterfall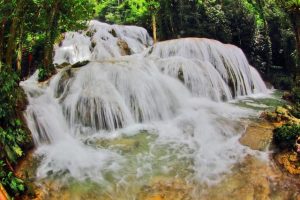 Similar to Moramo waterfall, this waterfall also has steps. The number of steps in Saluopa waterfall is 12, which means it has more steps than Moramo. At every step  you will find stone stairs. This waterfall is located in Pamona Pusalemba District in Poso Regency, Central Sulawesi province. Around the waterfall you will see a tropical rainforest with plenty of various animals.
You will certainly find that exploring Indonesia's natural world is very pleasant during your holiday. Indonesia has many waterfalls that display nature's beauty and splendor at its best. For those of you who love nature, Indonesia is obviously a very rich country with so many natural features it has to offer, so don't wait and come visit one of these Indonesia waterfalls.
You may also be interested in:
indonesia place, place, waterfall