Lombok has equality with Bali Island. The beauty in Lombok become the main attractiveness for International tourists. There are many attractions in Lombok Island. May be part of you still do not know about attractions in Lombok. Lombok is not only famous with Mount Rinjani and things to do in Gili Trawangan, but there are still many attractions that are no less cool.
A million charm that is radiated from Lombok Island, can attract foreign tourists to come to this island. The uniqueness of attractions in Lombok are  no less if it was compared with attractions in reasons go to Bali Island, because the island of Lombok can be the best alternative beside Bali Island.
Lombok Island has many mountains and hills, so it is no wonder if there are many waterfalls in Lombok. The freshness water and beauty of nature around it make waterfalls as prima donnas.
List of Beautiful Waterfalls in Indonesia :
Sendang Gile Waterfall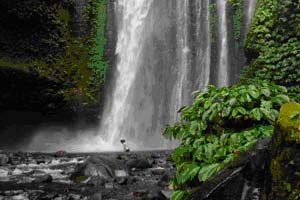 This Sendang Gile waterfall in Lombok has height around 35 meters. When tourists come to this place, they will be welcomed with clear water and cold air. If you wanted to come here, you will be made comfortable and you want to stay for a long time in Sendang Gile waterfall. Tourists who come there can enjoy the beautify of Sendang Gile waterfall and play or take a bath in this place.. The beautify is supported by trees and plants.
You do not need a lot of times to come to this waterfall location. It is around 15 meters, through trekking track to Mount Rinjani. But to reach Sendang Gile waterfall, you have to take 500 steps that must be passed. People said that if this Sendang Gile waterfall is used to take a bath or wash face, then it will make you stay young.
Tiu Pupas Waterfall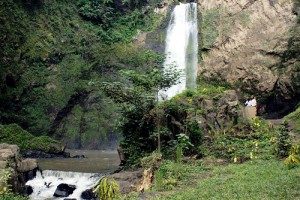 Tiu Pupas waterfall in Lombok is in Genggaleng, Gangga.
Its height is around 50 meters  with depth 4 meters and wide 100 square meters. The name of this waterfall has a meaning.
"Tiu" is a big puddle and "Pupas" is a root that grow from a tree in the riverbank and high mountains. This location is still quiet because tourists have not known this waterfall location.
So that, this location is an interesting place. You can play to satisfactions without any disturbances.
Tiu Kelep Waterfall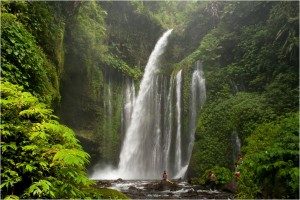 Tiu Kelep waterfall is one of attractions in Lombok. It is in Senaru, Bayan, North Lombok.
Its height is 42 meters. It has a big and heavy bulk water. Under the waterfall, there is a pond that function to collect water.
Based on people around it, if we take a bath use the water of Tiun Kelep waterfall, we will be stay young.
You can reach this location with covering a distance about 60 kilometers from Mataram.
Batara Lejang Waterfall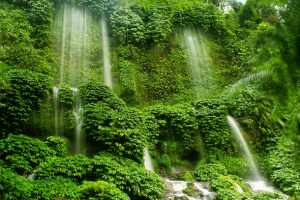 This waterfall is in upstream from Sedang Gile and Tiu Kelep waterfall. It is different with another destination.
Batara Lejang waterfall is still nature. Not many tourists come to here. But it is not meant that this place is not interesting.
When you visit to this waterfall, you can do relaxation. Batara Lejang waterfall has a hot water source.
To reach this location, you have to through things to do in Mount Rinjani track. 
Tiu Teja Waterfall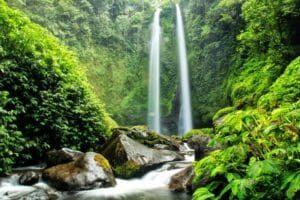 Tiu Teja Waterfall is one of attractions on Lombok. This waterfall is in Santong, Kayangan, North Lombok.
Its height is around 40 meters and it has two springs that are side by side.
This attraction is growth as a new attraction in Lombok. Another beautify of this waterfall, there is a rainbow when it get sunlight.
The appearance of rainbow become a background of Tiu Teja named, "Tiu" in Sasak Lombok language means rainbow.
Sweet Orange Waterfall or Jukut Waterfall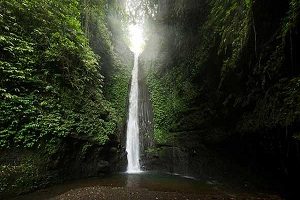 Sweet Orange waterfall or it often calls Jukut waterfall or local resident say it as Aik Temer. Its height is around 40 meters.
The bulk water from this waterfall is heavy and enough clear. The location of this waterfall is under the south foot of Mount Rinjani, the conservation area of Mount Rinjani national park.
From some waterfalls in Mount Rinjani, Sweet Orange waterfall or Jukut waterfall has been managed well. To reach this location, you do not need to climb tens or thousands of stairs. No wonder if this waterfall are often visited a lot of foreign tourists. 
Kerta Gangga Waterfall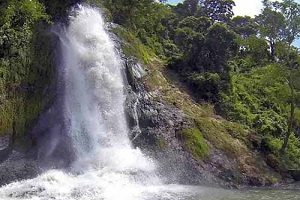 Kerta Gangga waterfall is in Kerta, Gengelang, Gangga, North Lombok. It has three levels. The first level are side by side, but for the first level hidden.
Its height is around 40 meters. If you were interesting to visit this attraction, you should be careful because there are ascents and descents that curve.
For you the nature lover, you have to come to this waterfall. You will get the beautify and water freshness that fell from above with full of sensations.
Benang Setokel Waterfall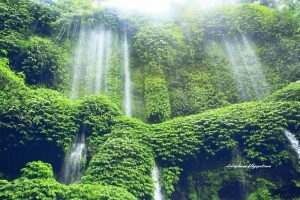 Benang Setokeel waterfall has two waterfalls that their height around 30 meters and it has a small pond to collect bulk water that is used for taking a bath and swimming. Benang Setokel has meant a ball of string. This waterfall is given name Benang Setokel waterfall, because water that fell similar to a ball of string.
This waterfall is in Pemotoh, Aik Berik, North Batu Keliang, Central Lombok. If you want to go to this location, you need to cover a distance around 45 minutes from Mataram. It is same with another attractions, this waterfall has also a myth that was believed by the people in there. They are considered that this waterfall is  a place of Goddess Anjani to self cleaning. The goddess Anjani is a supernatural being who was believed as watcher of Mount Rinjani.
Benang Kelabu Waterfall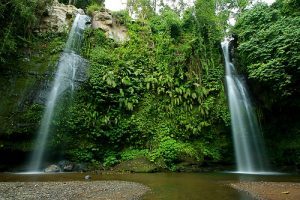 Benang Kelabu waterfall is in under the foot of Mount Agung, exactly, it is in the middle of Lombok Island. To reach this attraction, youshould cover a distance around 32 kilometers from Mataram. Its height is 40 meters. Water that appears  from the groove of plants that were in along the cliff.
Whereas the water appears from cracks along the cliff. So, you can  get wet under the waterfall. For tourists who want to go to the location of Benang Kelabu waterfall, you are advised to prepare physically well. Because its terrain is very steep, it is as same as hiking track. You can get there in a half hour through the access of forest groves. You may also read things to do in Mataram. 
Timponan Waterfall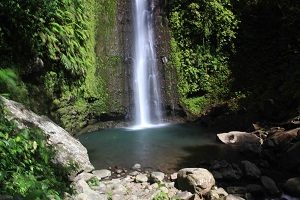 Timponan watefall is in Praba, Batu Mekar, Lingsar, West Lombok. It is around 35 meters from Mataram. This waterfall is in the depth of Sesoat forest. Its position is in the end of resident's plantation and its height is 35 meters with vertical waterfall.
Under the waterfall, there is a pond around 10 meters in diameter and its depth is as same as adult. In this pond, there are water animals, such as crab, shrimp, and small fish.
No many tourists know about this Timpong waterfall. You may also read things to do in West Lombok.
Semporonan Waterfall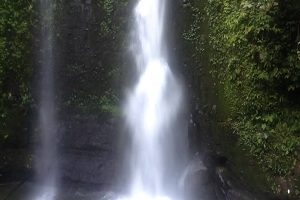 Semporonan waterfall is in the Senggigi nature reserve or it is in Timbanuh, Pringgasela, East Lombok.
This waterfall has 30 meters height. Before you were in this waterfall, you will be served with the view of green paddy.
Beside that, you will be served with the beautify of forest and the cool water along your way until the location of waterfall. You may also read things to do in East Lombok.
Those are some waterfalls in Lombok. Hope this article is useful for you. Do not forget bring your camera to take many photos in that beautiful waterfalls in Lombok.