Indonesia is one of the countries which has the various culture, art, and history deserved to be learned. Even, the people from abroad are curious with the unique of Indonesia. No wonder if there are so many cultural attraction in Indonesia which are most visited by the the overseas tourists.
Cultural Things to Do in Indonesia
Here are the lists of cultural attractions in Indonesia:
1. Tanah Lot Temple, Bali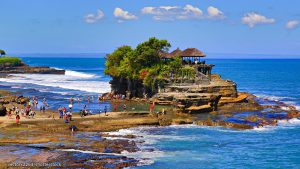 Tanah Lot temple is one of cultural place destination in Bali which is crowded by the tourists, either local tourists or international tourists. In this place, there are two temples which is put on the big stone. Both of temples are place for worshiping the god of the sea guard.
In addition to the beautiful temple, the tourists who come here are also interested in enjoying panorama. In this place, the waves are so big and when the waves bumps to the stone, the water will split very beautifully. Moreover, most of the tourists who come here also want to enjoy the sunset.
Read:
2. Borobudur Temple, Center Java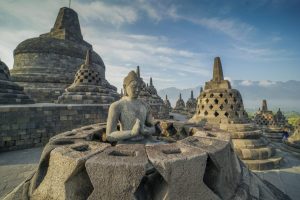 There are many cultural things to do in Indonesia. Borobudur is one of the temples of Buddhist heritage in Magelang, Central Java, Indonesia. This temple is shaped Stupa and based on the history it was built by Mahayana of Buddhist in the 8th century.
Borobudur Yogyakarta is a masterpiece of Buddhist in Indonesia with magnificent and earthy architectural techniques in the Java island. In there, the tourists are able to see the local wealth of megalithic punden berundak.
This building had become one of Unesco World Heritage Sites and also one of the 7 wonders of the world.
3. Prambanan Temple, Sleman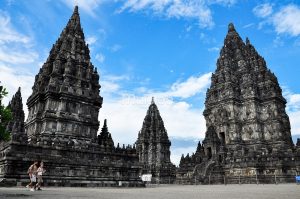 Prambanan temple is also known as Roro Jonggrang temple. This temple is also popular as well as Borobudur. The Prambanan tour destination was built on the 9th century. It is located in Prambanan, Sleman, more exactly at 17 km from the center city of Yogyakarta.
Prambanan temple is also included in UNESCO Sites Heritage World. This temple is also claimed as the biggest temple in Indonesia. Meanwhile in International, Prambanan is included as the most magnificent temple in the Southeast.
At this time, Prambanan temple is more reachable, even by public transportation because it is located in the side of the road.
Read: Things to do in Prambanan
4. Luhur Uluwatu Temple, Bali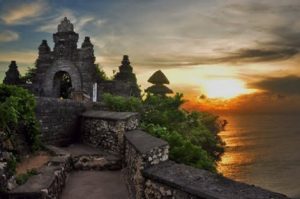 Luhur uluwatu temple in Bali is one of famous temple and most visited by the tourists. This temple is located in the Southwest tip of Bali island and it stands on the high stone platform.
This temple is a kind of Sad Kayangan temple which is believed as abuffer of 9 winds by Hindu community in Bali. It is located in Pecatu Village, Kuta sub-districts, Badung, Bali.
Besides because of this temple, this location is also popular because under the temple, there is Pecatu beach which has a big waves and often used as word-class surfing place. 
5. Tirta Gangga Palace, Bali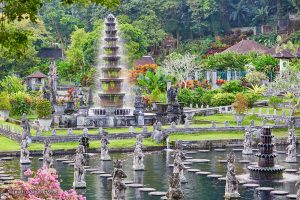 Actually, Tirta Gangga was a palace of kingdom like the Castle Sari Water Garden in Yogyakarta. It is located in the east of Bali island.
Tirta gangga becomes famous and very popular because this water palace is one of the water garden which is belong to Karangasem kingdom. A lot of tourists come to this place to learn history.
In Tirta Gangga, the tourists can see the maze of ponds and fountains which surrounds the garden.
You can learn many cultural things to do in Indonesia here! It's a beautiful place with deep historical values.
6. Shipwreck of USS Liberty, Bali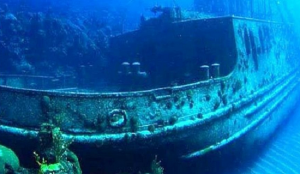 Shipwreck of USS Liberty in Bali is actually a warship form world war II which was wreck in 1942.  The place around this shipwreck becomes popular and able to draw attention of tourists because this place is overgrown by the colorful coral reef.
This colorful coral is used as home for many biota in the sea. Then, it creates a beauty which is quite unique and has a high historical value. So, in this way, a lot of tourists come for diving in this place.
The coral in the shipwreck is crowded by the international divers who are curious to see the shipwreck and the beauty of its sea biota.
Read: Things to do in Karangasem bali
7. The Mosque of Raya Baiturahman, Banda Aceh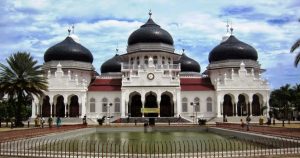 If we talk about Islam religion in Indonesia, perhaps Aceh has the most faithful people of Islam. One of the phenomenal religious attraction in Aceh is Raya Baiturahman Mosque.
Actually this mosque is a mosque of Aceh Sultanate built on 1022 by Sultan Iskandar Muda Mahkota Alam. This magnificent building is a miniature of Taj Mahal.
As the historical place, the mosque of Raya Baiturahman is included as the attraction place which has a beautiful architecture, the interesting carved and a large yard.
Read: Things to do in Banda Aceh
8. Tirta Empul Temple, Bali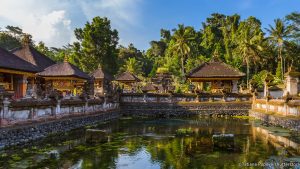 Tirta Empul which is located in Bali is a Hindu's temple. More exactly, it is located in Tampaksiring sub-district, Gianyar, Bali.
It was built on  962 M, in Wangsa Warmadewa era. On the left side of temple, there is a modern villa which is used as the rest location for VIP.
This temple is well known with its holy water. This holy water is used by Hindu people for sanctify their selves.
Read: Things to do in Balinese temple
9. Besakih Temple, Bali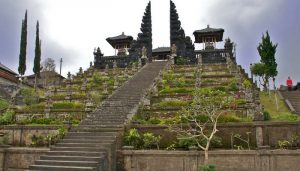 Besakih temple is a complex of temple which becomes a center of all the temples in Bali. It is located in Besakih village, Bali.
Among many temples in the complex of Besakih Temple, there is one the biggest temple, it is Penataran Agung temple. Penataran Agung becomes a center of all of the temples in Besakih complex.
Besides it is used as praying place, Besakih is also used as attraction object. At this time, this location is proposed to become one of the UNESCO World Heritage Site because it is already popular and crowded by the tourists from the overseas.
10. Maimun Palace, Medan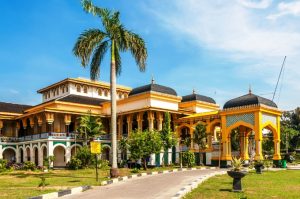 Maimun palace is a palace of Deliyang kingdom in Medan. This palace is also an icon for attraction place of Medan which is quite popular.
The building of this palace is designed based on the Italian architecture. The one who is responsible with the building of this palace is Sultan Mahmud Al Rasyid in 1891 M.
The area of this building has a square 2.772 meter. This palace consists of 30 rooms which are divided into two floors. There are 3 parts in this palace they are, the main building, the left wings building and the right wings building. This building combines a lot of cultural elements, they are Malay (Islam), Spain, Italian, and India.
Read: Things to do in Bestragi Medan
11. Taman Mini Indonesia Indah, Jakarta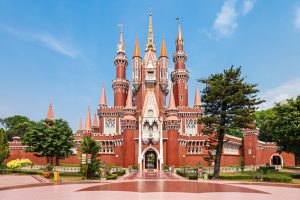 TMII a.k.a Taman Mini Indonesia Indah is located in the east area of Jakarta. TMII is a miniature of Indonesia which is accompanied with the platforms of each province. Most of tourists who come here is local tourists.
Touring in TMII can be one of the right way to learn the culture of all over Indonesia. Through the miniatures provided, the tourists can learn the historical heritage, house and custom clothes, and also several special things from the tribes of Indonesia.
Besides that, in TMII there are also several museums that can be visited. Those museums stores the historical things from all over Indonesia.
Read:
12. Keraton Yogyakarta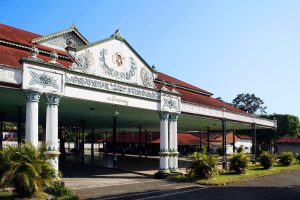 Keraton Kesultanan Ngayogyakarta Hadiningrat or commonly known as Keraton Yogyakarta is a center of cultural museum in Java, particulary in Yogyakarta.
Keraton is not only a place which is belong to Sultan with the family, but it also had become an cultural attraction place in Java tribe in Yogyakarta for a long time. Keraton Yogyakarta also becomes the main destination of the tourists in Yogyakarta.
The tourist who come to this place can learn and see directly about the Java culture and the history of Keraton Yogyakarta from the past till now. Keraton Yogyakarta is built in 1755, after the agreement of Giyanti was legalized.
Read: Things yogyakarta never knew existed
13. The Festival of Lembah Baliem, Papua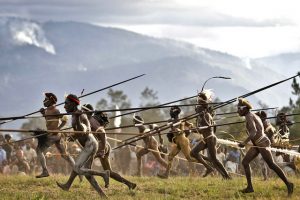 This festival is a special year festival for Papua tribe. Lembah Baliem festival is taken from the belief which is hold by the tribes around. One of the beliefs which is believed that a war is not only about conflict to fight for mere interests and powers, but also a symbol of prosperity and fertility.
Of course it is contrast with the peace mission. Therefore, more or less 20 years later, the local government has provided socialization to the society regarding the tribal peace.
Then, the Lembah Baliem Festival is opened with the purpose to replace the war between the tribes. So that, the ritual war can be turned into an unique and beautiful art.
Read: Things to do in Wamena papua 
14. The Krakatau Festival, Lampung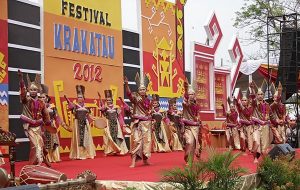 Krakatau festival is an annual festival which is held in Lampung. As its name, Krakatau festival is held in order to commemorate or appreciate the vulkanik island which is famous till abroad, it is Krakatau festival.
During festival, every tourists can enjoy the various of local performances. One of the famous performance from Lampung is Lampung Mask Carnival and the elephant attraction from Way Kambas.
Read:
15.  Toraja, Tana Toraja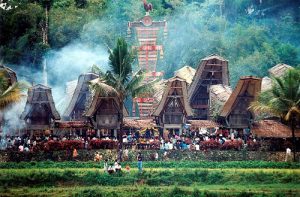 Toraja is located in Tana toraja, South Sulawesi province. It already has long been an unique destination in Indonesia.
The tourists who come to visit this place is not only local tourist but also international tourist who are curious with the culture, traditional clothes, traditional ceremony of Toraja.
Tana toraja is inhabited by Toraja tribes who still maintain their typical lifestyle.
Read: Things to do in South Sulawesi
More Cultural Things to Do in Indonesia
Beside the lists of cultural attractions that have been mentioned above, here are some additional places that may you want to visit:
Mount Bromo ( Things to Do in Mount Bromo )
Komodo Island ( Things to Do in Komodo National Park Indonesia )
Lawang Sewu
Old Town Jakarta ( Things to Do in Old Town Jakarta Indonesia )
The pilgrimage attraction of Wali.
Thus, that's all some of the cultural attractions which are spread evenly in throughout Indonesia.