Beside having some great spots in some certain areas like things to do in Kemang or maybe area that located around the national monuments, Jakarta city, our capital city of Indonesia also has some educational attractions that really good for the kids and teenagers these days. Even though some of them are really famous, but we have some spots that may not known yet by the people out there.
As the famous one, you can visit the Taman Mini Indonesia Indah in Jakarta, a land full of informations about culture and nationality. This can be a great alternative beside visiting the malls that mainly used for shopping only. Just like the other areas in Jakarta like things to do in North Jakarta, this TMII also has some attractions that located around it. To understand more about them, let's see those places that we pit into our list of things to do in Taman Mini Jakarta below :
1. Taman Mini Indonesia Indah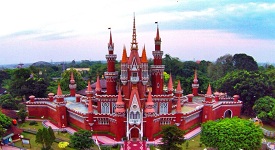 Of course, before visitingthe other locations around the Taman Mini Indonesia Indah, we better check the place first, before venturing forward. With the icon of the giant pink castle, well almost look like the Disney castle, people would recognize this place so easily by it looks and fame, which is getting really high in the past years.
Built as an educational spot, TMII always crowded with so many people, even though some of thm are usually students from different schools in Jakarta. But, beside the students, there are some tourists that also start crowding the place. Seeing form that we can concluded that TMII is not only suitable for the students, but also for all people in general.
Opening Hours : Opens every day from 7 am to 10 pm
Locations : East Jakarta, Indonesia
2. Fauna Museum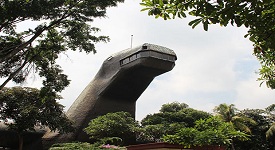 The next thin is also included inside the TMII, is the Fauna Museum. Of course, the museum is aminly filled with kids of animal that inhabited in Indonesia, especially for thoe endemic animals. Inside, you can also find the rare species like Komodo and the other.
To find the museum of Fauna, you can easil look aroud for the giant Komodo. There's a Komodo in a very big size in top of the building. It should be around five minutes from the main gate to finally reach it. It's a fun yet educating attraction at the same time.
Opening Hours : Opens every day from 9 am to 4 pm
Locations :Taman Mini Indonesia Indah
3. Pusaka (Heirloom) Museum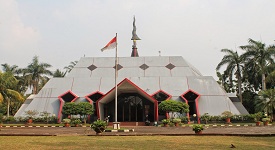 With the symbol of a Keris on top of it, the next place on things to do in Taman Mini Jakarta is a museum called Pusaka Museum. Pusaka basicall means Heirloom. So, indie you can find so many herilooms of Indonesia, the traditional ones that displayed in a glass case.
What kind of heirlooms that can be found within the Pusaka Museum? Youan find it for yourself, we won't tell you anything about it to make it more mysterious for the interested tourists. Maybe one of them is you.
Opening Hours : Opens every day from 8 am to 4 pm
Locations :Taman Mini Indonesia Indah
4. Museum of Sports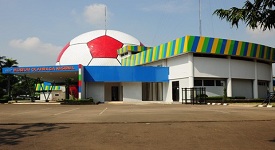 The next museum can offer much excitement for the boys. The Sports museum contains a lot of informations about the sports in Indonesia including the suit of some famos athletes. Even though the place is indeed not as big as the fauna museum, it's still fun to visit here.
Inside, you can see so many replicas or maybe some of the real form of sports that maybe you should try. You can also take some pictures with some statues in there, complete with the suites of the racer, etc. Portrayed by the gigantic ball, it should be easy to spot the museum.
Opening Hours : Opens every day except Monday from 8 am to 4 pm
Locations :Taman Mini Indonesia Indah
5. Ragunan Zoo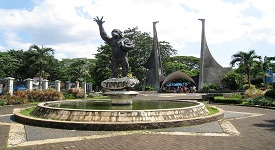 Looks beautiful as the one Bali Zoo in things to do in Gianyar Bali, Jakarta also has its astonishing zoo, called Ragunan Zoo. This is actually the zoo that many people in Jakarta like, considering it has sucha cheap entrance fee and also the place is being refurbished or maintenanced through years.
The animals in here also pretty complete, and also well maintained. Even though there were some controversies abotu the health condition of the animals, the fact will show us that all those bad news are wrong.
Opening Hours : Opens every day except Monday from 7 am to 4 pm
Locations : Harsono street 1 
6. AirCrew Sensation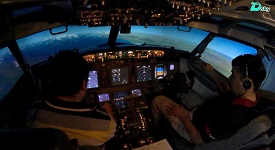 The next one as the sixth place in our list of things to do in Taman Mini Jakarta is the AirCrew Sensation. This spot has some of the benefits, depending on the visitors. Usually they come in here with different purposes, but mainly is just for fun.
The tourist can start to operating the replica of a plane, compete with buttons and parameters. These equipments can give you a real feeling of flying an airplane. This can also help to cure the phobia, especially for the people that really like to become a pilot.
Opening Hours : Opens every day from 9 am to 9 pm
Locations : Raya Doma street 33
Other than those locations mentioned above, of course we will the you about our usual small list csist of the other attractions located as things to do in Taman Mini Jakarta.
Indonesia Museum, place full with thousand informations about our beloved country
Telecommunication Museum, all about technology and communications cae found within
Indonesia Stamp Museum, perfect spot for philately
Museum of Transporation, giving you the exact feelings as Museum Angkot in things to do in Batu
Yep, those are our recommended locations for the things to do in Taman Mini Jakarta. As the Jakarta people, or maybe the people that live around Jakarta city, maybe you should spare some time to take your family to the educational spots available in the big city. You can start to reduce the mall visiting times, and swith to something more useful for the future of your kids, ke maybe visiting the museums in things to do in Kuningan Jakarta, or maybe visiting the Art School of Kandank Jurank Doank. Just make sure to pick the right one that fit your budget and your time with family.