Beside having such a great experience by visiting the capital city of Indonesia, we can get a new life experience by looking how great this big city is. Starting with thousand spots it has like things to do in Kemang, which is considerable attractive, especially for the people who have the modern life style, like the people in Jakarta.
Surely, this specific location at Jakarta with the name of Kuningan has some malls that worth to visit, like you can see in the largest shopping malls. But beside that, we also want to introduce you to some other attractions that really good for families and friends, but outside of the malls. All included in our list of things to do in Kuningan Jakarta below :
1. Art and Culture Center Lotte Shopping Avenue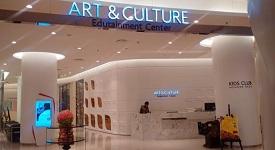 To build out art skills and performances, better we check out this place located inside the Lotte Shopping Avenue called the Art and Culture Center. This one is like an art class where people jon in to study and learn about all forms of art that can be performed in here, mainly paintings. But here's also a different of art, which is the stone carving.
This can be included as a serious class, where you can find many people will take the lesson seriously and not for goofing around. And because of that, better not bring any kids around, because they can make some mess and playing around with people' stuff. As an alternative, you can bring your kdis to the playing center, also inside the Lotte Shopping Avenue.
Location : Prof. Dr. Satrio Lotte Shopping Avenue 3F
Opening Hours : Opens every day from 10 am to 6 pm
2. Raffles Spa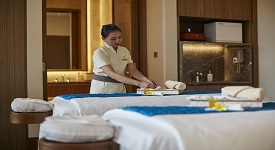 Want to do some relaxation? Well you an have some luxury at one of the highest hotel in Kuningan to feel the sensation of spa. Raffles Spa is the name. In here, you are not only getting a nice spa, but you can have it while having a great sensation of being in such a tall building.
So you can see the view around you, which is the wide area of Kuningan Jakarta from above, while having a relaxation of spa. Because of that condition, many people brace them self to finally come to this place to feel the true meaning ofr coziness inside the Raffles Hotel Jakarta. You should try it too, make some time to finally enjoy the calm for the rest of the day.
Location : Prof. Dr. Satrio Raffles Hotel Jakarta 12940
Opening Hours : Always opens
3. Ambasador Mall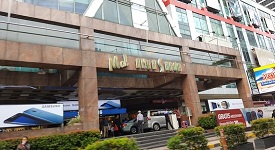 A beautiful mall that looks like the malls around things to do in Plaza Indonesia, located just about 0,3 km from the Kuningan City of Jakarta. Well, as you can expect in here, there are some great brands that sold in this one of the best malls in Jakarta.
All of them are complete, and you can just picking the right store to fulfill your wants. Inside, there are some clothing stores, gaming stores, accesorry stores, and many other. Well, having a good time shopping in this mall would be great.
Location : Prof. Satrio street
Opening Hours : Opens every day from 10 am to 10 pm
4. Satria Mandala Museum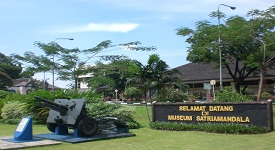 The next one in things to do in Kuningan Jakarta is of coure visiting the epic museum of Satria Mandala in Kuningan Jakarta. If you looking for some informations about the war in Indonesia, or maybe to study more about the National Army of Indoenesia (Tentara Nasional Indonesia), here's the most suitable place to get all of that.
Mainly the things you can find within are the vehicels and army units like the Jet plane, canons, and also the tank that has an old form. Even though the place is usually not so crowded with people, but it can be a crowded one when the schooling time finally comes. You can expect so many students exploring here and there to get their informations.
Location : Gatot Subroto street 14
Opening Hours : Opens every day except Monday from 9 am to 2.30 pm
5. Suropati Park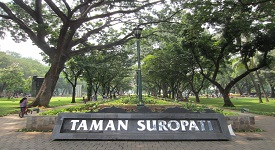 Finally, it's time to do some exercise in one of the things to do in Kuningan Jakarta, called Suropati Park. Of course tha name ain't to strange with you, right? We talked about this park in so many our previous articles like things to do near Grand Indonesia. Standing as a green location of Jakarta, Suropati Park becomes a crowded area for some people to do some sports like football or just jogging.
With such a well maintained area, it can give us another feels of quiet and peace in such a crowded area of Kuningan Jakarta. So, to make our stress level lesser, you could visit this park in the weekend to at least inhaling the fresh and clean air to freshen your mind.
Location : Taman Suropati street
Opening Hours : Always opens 
Not only those six locations that really good to visit, you can also check these attractions that contained in our small list of the other things to do in Kuningan Jakarta. All included spots are :
National Museum, a place that full of useful histories and informations
Gelora Bung Karno Stadium, the staditum that being an icon of sport in Jakarta
Senayan City, beautiful mall located 2,7 km from Kuningan Jakarta
Galeries Lafayette, a good bag hunting place
Kite Museum, another unique museum that cen be found in Jakarta
So those are the wonderful places to visit in Kuningan Jakarta. Remember, this spot located in Jakarta city, just like the other area like things to do in Serpong, because there are two Kuningans, another one you can find is located in West Java Province, that rich in natural attractions. But, this Kuningan we talekd about also has its own speciality, especially to fulfill the life style of the Jakartan people. All is balanced, from the malls, up to the natural attactions, even some city forest. Just be sure to pick the right time to visit it, because the traffic is really bad in here. Pick the work hours to visit this Kuningan area, because usually the road will be much empty than in the morning or dusk.