Hello everyone, back here again with us in AllIndonesiaTouritsm.com to talk some more about the beautiful attractions in Indonesia. We'll go again in this busiest area of Indonesia, which is Jakarta. Like we all know, Jakarta is the capital city of Indonesia, which has so many kind of stuff ranging from the natural and also the human made spots.
Now, we're not talking about the natural ones, we've talked about that in previous article like things to do in South Jakarta for example. We want to tell you about the attractions in the location of Grand Indonesia. The Grand Indonesia or GI, is one of the biggest shopping center in Jakarta. The place is filled with so many stuff within. Just like other places like things to do in Kemang, in this location there are some choice about something to do to take you away from boredom. You can visit these nice places below. All included on our list of 12 lovely things to do in Grand Indonesia Jakarta :
1. Grand Indonesia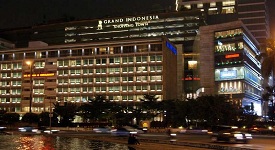 Of course, you must visit the place of our topic today, Grand Indonesia itself. The mall is located on Menteng area. Well, this mall is pretty big, really suit the people of Jakarta, either by some exotic and exclusive brands, and the size of the mall itself.
You can find so man stuff inside, almost everything that you need is available in there if you look more closely. There's shopping center, food sellers, up until the toy stores for your children. All is well and really synergize inside. This Grand Indonesia is also one of the best things to do in Jakarta in New Years Eve.
Entry Ticket : Parking Ticket Only
Opening Hours : Opens everyday from 10 am – 10 pm
2. Selamat Datang (Welcome) Monument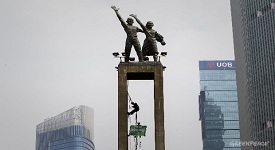 The next one is the famous monument of Jakarta, The Selamat Datang Monument. As the name implies, the monument will greet you upon your arrival on the area of Menteng Jakarta. There are two statues on top of the monument, the man and his partner holding  flower.
The statues look like they waving towards the travelers on the road. Well, this is like the gate tot the Menteng area in Jakarta. It's really great and has a beautiful story behind it. You should take a look at its story first before start to visit.
Entry Ticket : No entry ticket
Opening Hours : No opening hours
3. TeamLab Future Park Plaza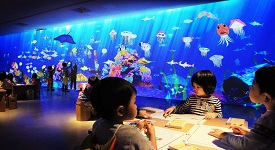 After the Grand Indonesia, there's TeamLab Future Park Plaza, located not far from there. In the Street of K.H. Wahid Hasyim, this beautiful plaza stands. Inside, you can find so many wonderful things for your children.
These rides, or maybe facilities are really great to educated the children about so many things. Even some parents are amazed by how beautiful the place is. Because of that, you don't' need to worry about not having a child to get here, by you and yourself, you can explore this magnificent plaza your own. What a great things to do Near Grand Indonesia!
Entry Ticket : Parking Ticket Only
Opening Hours : Everyday from 9 am – 9 pm
4. Thamrin City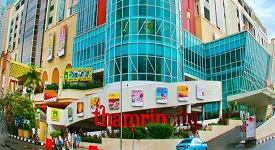 After those two plazas included in our list of lovely things to do in Grand Indonesia, there's one more plaza to explore, the Thamrin City. The place located on K.H. Mas Mansyur street, Jakarta. This plaza is more focus on the clothes center.
In this mall, you can find so many cloth sellers, especially the local ones. Here you can explore the best seller with the best price and quality. Well, it's easy to find one, usually the lowest price can be found on the back, not the front.
Entry Ticket : Parking Ticket Only (About 2-5 thousand rupiahs)
Opening Hours : Opens every day from 9 am – 10 pm
5. Menteng Park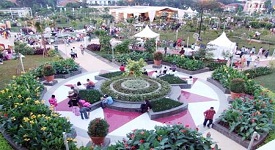 After visiting those busy malls, finally here's the time to enjoy the chill situation in a park. One of the best park in Menteng area is of course Menteng Park. You may confuse this one with the residential area with the same name, The Menteng Park.
But in this park of Menteng, you can find so many good architectures all around you. Starting from the benches, to the big building not far from there. The place is really good for enjoying the calm evening, with family.
Entry Ticket : Parking Ticket Only (Rp2.000,-)
Opening Hours : Always opens
6. Suropati Park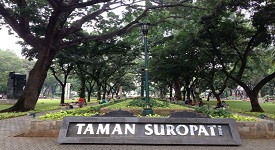 The next best park is the Suropati Park. We've talked about this in previous article of top attractions in Jakarta . Fortunately, the change hasn't change much from the start. They keep this place as natural as possible, which is a good move.
By having so many dense trees, this park is really suitable for working out in the morning, or to do other exercise in a beautiful Sunday morning. Some of you really need that once a week to reduce much stress level
Entry Ticket : Parking ticket only

Opening Hours : Always opens 
7. Bartelle Gallery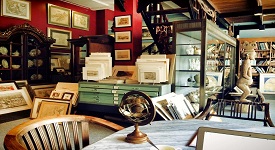 The last place we want to tell you is actually the most unique place of them all in the area of Menteng. This place called as Bertelle Gallery, the place that has so many stuff about painting, maps, and other old books. Most likely a museum like in things to do in Old Town Jakarta than a usual shop.
They mainly sell us the good stuff from the old times, including the colonial era in Indonesia. You can take a look at them for a second at witness a great manifest that put into the papers. Well, they look so beautiful for some reason.
Entry Ticket : No entry ticket
Opening Hours : Always opens from 9 am – 5 pm
Other Attractions Near Grand Indonesia
You can visit these last four places in the area of Grand Indonesia, to make your trip more complete
Tanah Abang Market, a heaven for merchandise shopping
National Museum, go right away through histories
Seribu Rasa (Thousands Flavors) Menteng, best place to eat in Menteng
Tanamera Coffee, have a good coffee
Kokue Reflexology, such a nice place for relaxing
And now our list will end in here. Thank you for your great support by reading this article, hope you can get the best experience when visiting those locations in lovely things to do in Grand Indonesia Jakarta. Have a nice trip!