Ubud is known as the heart of Balinese culture. Its tranquil atmosphere is the perfect place to rest soul and body. The verdant rice fields, the lush trees and birdsong chirping are the evidence of the natural beauty of Ubud. After a day of enjoying the charm of Ubud, exploring things to do in Ubud, many wonder what can be done to spend the night. Do not worry… Ubud may not be as glamorous as Kuta or Seminyak, but there are definitely various fun and exciting night activities. There are plenty of cool places to hang out where tourists and locals blend in harmony. Let's find out the joyful things to do in Ubud at Night.
1. Watching Traditional Dances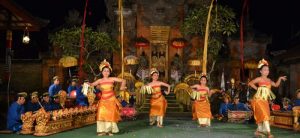 Attractions that must be visited when in Ubud are the temples and palaces. The beauty of its architecture and magical ambiance can be seen clearly during the day. By night, these wonderful places turn into a place for traditional dance performances.
There are some places where the show is held. Royal Ubud Palace is the most famous place to watch Balinese Legong Dance. The show is held every evening at 7 pm. Be prepared to be amazed by the gamelan orchestras, colorful costumes and hypnotic dance movements. Take pictures as much as possible.
How to Get There
Royal Ubud Palace is located at Ubud Street, Ubud, Gianyar Regency. The show starts at 7 pm. The admission starts from Rp 80,000.
2. Having Romantic Dinner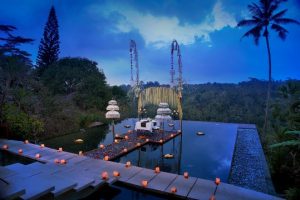 The beautiful nature of Ubud is the perfect place for a romantic dinner. Old or young couples should not miss this opportunity. This thing is well understood by local businessmen. Therefore you will not have trouble finding fancy restaurants in Ubud.
Some of the restaurants that are well worth a visit are La View which has a private infinity pool; Bridges which offers a river valley view; and Folk which impresses with the stunning atmosphere of clash of cultures. With flickering lights, a starry night sky, relaxing music and delicious food you will have an unforgettable experience. Hopefully one day you will have the chance to do it again.
How to Get There
La View is located at Kedewatan Street, Ubud – Bridges is located at Campuhan Street, Ubud – Folk is located at Monkey Forest Street, Ubud.
3. Culinary Tour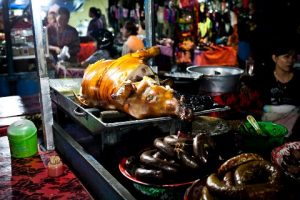 One of the best ways to experience the local culture is by culinary tour. Tasting local food will give you insights on the culture and habits of local communities. You just have to be open-minded and maybe a little guts. Most local food will taste different from the dishes you normally eat.
At the Ubud Night Market you can find a variety of street food. There are martabak, terang bulan, fried bananas, fried rice, chicken satay, grilled chicken and suckling pig. As always, all the food here is affordable and tastes like a five-star hotel cuisine. You can eat on the spot or take it home.
How to Get There
The Ubud Night Market is located at Tebongkang Street, Ubud. Opening hours is 5 pm – 2 am. The price of the food starts from Rp 13,000. Culinary tour is perfect thing to do in Bali for solo travelers.
4. Watching Movie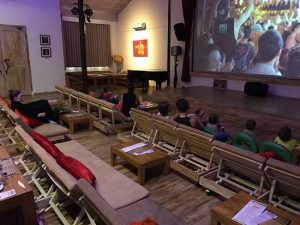 Do not imagine watching movies here like in the regular cinemas. Forget about the network cinema 21 or XXI. Besides this is Ubud Bali, not Jakarta where the malls are crowded. So you will get different sensation of watching, typical Balinese atmosphere.
Paadiso is a must-visit cinema in Ubud. The hallmark of Paradiso is to offer delicious vegetarian meals to accompany you to watch movies. So it will be healthier for you. The cinema is able to accommodate up to 150 people and equipped with surround sound system. Before coming, it's good to check first what movies will be played.
How to Get There
Paradiso is located at Goutama Selatan Street, Ubud. Opening hours is 7 am – 10 pm. The admission is Rp 50,000.
5. Night Spa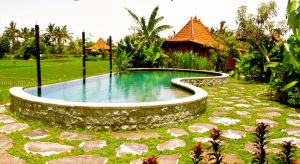 When you come to Bali for vacation, then it is the right time to pamper yourself. The beautiful Balinese atmosphere will make you relax and escape the hustle and bustle of life. Having fun and making great memories are the main agenda. You will surely wish the clock stopped ticking.
After a day of walking in all directions, at night you can enjoy the spa for relaxation and rejuvenation. One of the best spas in Ubud is Dragonfly Village which offers herbal steam sauna sessions. With a view overlooking the verdant rice fields, it's definitely the best way to spend the night.
How to Get There
Dragonfly Village is located at Ubud Street, Ubud. Opening hours is 6 pm – 9 pm. The price starts from Rp 70,000.
6. Wine Testing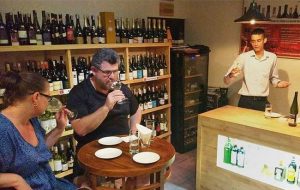 Wine is a high class drink that is only present at special occasions. Dinner at a fancy restaurant is usually where wine is served.Moreover, drinking wine is not a habit in Asian cultures. Therefore not everyone has an adequate knowledge of wine.
But in Ubud there is Bridges, the Divine Wine & Cocktail Bar. Here you can enjoy a good glass of wine accompanied by gorgeous river view. Every Friday at 5.30 pm there will be a wine tasting class. It's the opportunity to add your insights about wine. And perhaps someday you can be the expert of wine.
How to Get There
Bridges is located at Campuhan Street, Ubud. Opening hours is 11 am – 11.30 pm. Wine tasting class costs Rp 295.000.
7. Climbing Mount Batur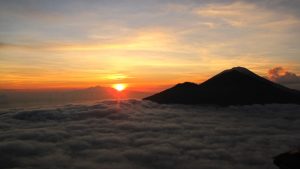 Early risers see the world differently. The old saying is undoubtedly the truth. Being able to see the sunrise is a luxury to be grateful for, especially when you have the chance to see the sunrise in Bali. Not everybody is as lucky as you.
One of the best places to see the sunrise is Mount Batur. Therefore you must start the climb at 2 am. It is not easy to get out of bed and climb in the darkness of the night, but the beautiful view of the sunrise from the top of Mount Batur is worth the sacrifice. Maybe after returning to the hotel you will feel the cramps, but still it is a priceless experience.
How to Get There
There are many tour operators offering Mount Batur Sunrise Trekking. The price starts from Rp 200,000 including pick-up and drop-off to hotel. Certainly there are many things to do in Mount Batur.
More joyful things to do in Ubud at night
8. Enriching Mind and Soul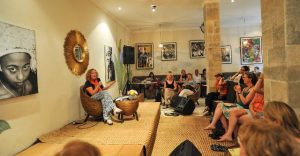 Bali is not just a place for party and going crazy. Here in Ubud you have the chance to enrich mind and soul. Come to Bar Luna, there's always something interesting in this laid back bar such as literary evenings, art movie screening, mind-opening discussions, showing documentaries and live music.
Bar Luna has amazing atmosphere that makes visitors feel at home. Live music displayed varies, ranging from local bands, jazz players to international guitarists. There is definitely something for everyone. Bar Luna is really a great place to meet inspiring people.
How to Get There
Bar Luna is located at Ubud Street, Ubud. Opening hours is 3 pm – 11 pm.
9. Playing Various Games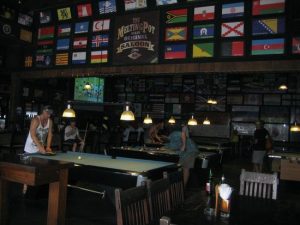 Playing games is the classic way to kill the time. Playing games alone is fun, playing with friends is even more fun. There are games that drain the sweat, but some only need to move the fingers. The point is games are fun. Don't you agree?
The Melting Pot is home to a wide range of popular games. It has fun games like ping-pong, billiards, darts, foosball and coin-operated video games. The games bring visitors from different backgrounds to blend in. Moreover competing is always exciting. Not just killing the time, games also has the danger of forgetting time.
How to Get There
Melting Pot is located at Hanoman Street, Ubud. Opening hours is 12 pm – 1 am. Melting Pot is just one of fancy clubs in Bali.
10. Bar Hopping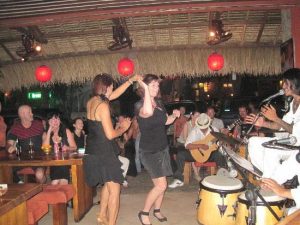 When people think about party, many seem to underestimate Ubud. The truth is Ubud is not inferior to Kuta or Seminyak. Ubud has many cozy bars to relax and drink. With live music performances from local bands and international musicians, it's obviously the great way to spend the night.
Some of the popular bars in Ubud are Laughing Buddha Bar, CP Lounge and No Mas. Because they are located on the same street, it is easy to do bar hopping. Oftentimes the bars open till past midnight and close when the last person has leaved. The bar is the perfect place to socialize with fellow travelers.
How to Get There
Laughing Buddha Bar is located at Monkey Forest Street, Ubud – CP Lounge is located at Monkey Forest Street, Ubud – No Mas is located at Monkey Forest Street, Ubud. After sober, you have lots of things to do in Ubud Monkey Forest.
Well guys, now you know the joyful things to do in Ubud at night. It is as fun as in the daytime.Dress up, bring your wallet and have fun. Let's visit Ubud Bali Indonesia.