Even though in Indonesia there are some big cities like Jakarta and Surabaya with its Surabaya attractions , some of them can't provide to us the best natural attractions because of their envinroment and geographical locations. If you really want to seek one of them, you better check the other areas that located near those big cities.
Looking for an example, if you living in the capital city of Jakarta, you guys can check the other cities in West Java like the Tangerang. Located in South Tangerang, there's this location called Serpong, fampus for its malls and attractions like you can find in things to do in Tangerang. But focusing on the area of Serpong, what are the other spots in there? Let's find the answer below :
1. Jombang Forest ( Kehati Forest)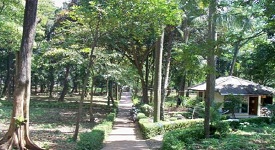 As the first location on our list of things to do in Serpong South Tangerang, better for us to check out the nature first in the location of Jombang Forest. Even though it was named Jombang Forest, this forest is not located in Jombang city with its things to do in East Java.
The forest is also has another name, which is Kehati Forest. Kehati is a short name for Keanegaman Hayati, the rich of nature. Like the name implies, you can find the green forest in here, plus the additional jogging track for the people who like exercising during the weekend.
Opening Hours : Opens everyday from 6 am to 5 pm
Location : Tidore Street, Gang Salak
2. Tanah Tingal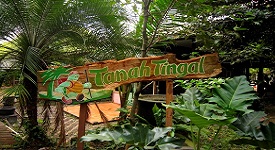 Another spot given by the nature is the Tanah Tingal attraction in South Tangerang. This is one educational park for the people at every age. The kids to elderly people can enjoy the services here with their own favorite one.
The things you can do in here is so many, like fishing, doing some canoe, and even harvesting some delicious fruits. For the yongsters, they can try something a little bit challenging, like the flying fox, exploring the lake with canoe, or maybe some wall climbing.
Opening Hours : Opens every day from 8 am to 5 pm
Location: Merpati Raya street 32B
3. Kandank Jurank Doank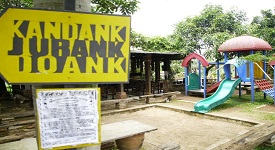 The next one is also included as an educational park, called Kandank Jurank Doank. This is the really perfect place for looking some informations and having some good times with the nature, complete with dozens of activity that can be done in here.
So, for the parents outside who want to give their children an alternative beside playing games allday long, they can take their kids to this natural play room that built so well for them. Of course, the children will have a lot of fun during their visit in here.
Opening Hours : Opens every day from 7 am to 4 pm
Location: Complex Avita Q 14
4. Ocean Park BSD City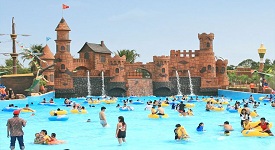 As the best water park in the area of South Tangerang, you should try a visit to this water park called Ocean Park BSD City. Of course some of you who live around Tangerang are familiar with this  attraction. Because beside having a great rides, it also charged you with an affordable price.
There are a lot of rides in here that can be chooes based on their own interests. You can findthis calm river with a lot of decorations, also the most challenging ride in here, the flying fox that will flew you accross the attraction in full speed.
Opening Hours : Opens every day from 10 am to 10 pm
Location: Pahlawan Seribu street, BSD City
5. Situ Gintung Outbound Spot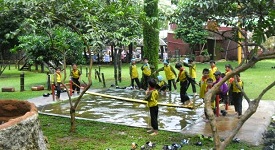 You know, after the two educational parks above, you can find another educational park in the area of South Tangerang called the Situ Gintung Outbond Spot. The Situ Gintung is a beautiful attraction by itself, it's a fact. But, let's not forget the outbound area inside it, that can be found easily beside the lake.
Here, the kids will play with some of the toys available in there. Also, the palce can be used by some teenagers to play some sports like the paintball, and also for doing some camping during the scouting schedule. Many people can use the place with ease and will getting much comfort from it. And that's the beauty of it.
Opening Hours : Opens every day from 7 am to 4 pm
Location: Kertamukti Pisangan Raya street 121 
6. Froggy Floating Castle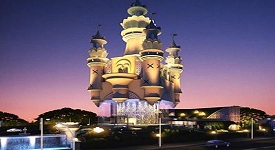 Water Castle Yogyakarta is indeed a spectacular spot that Indonesia has. With its outstanding archictecture, surely it will get the people's attention. In Serpong, there's also a castle that made beautifully by Fernando Iskandar, by the name of Froggy Floating Castle.
It has almost the same name as one of the Ghibli's film, the How's Moving Castle. But, it actually doesn't have any relation to this castle. Heavily inspired by the story of Jack and the Bean Stalk, you can witness the castle of Froggy in this area. And for your information, during the night, it's indeed floating.
Opening Hours : Always opens
Location: BSD Grand Boulevard, Cluste Commercial Park
Beside those other spots you can see for yourself, here's the other list of the attractions left on our list of things to do in Serpong. Be sure to visit all of them !
World of Wonders, a spot filled with so many fun rides!
Cangkir (Cup) Island, enjoy a big "cup" of enjoyment in this island
Taman Potret, a park of photographs
Breeze BSD City, the lifestyle center combined with nature
So that's our humble list of things to do in Serpong South Tangerang, located near Jakarta, our capital city. Even though Jakarta has something to offer like things to do in Kemang, which is filled with thousand choices of night life, it's fun to explore the other areas near Jakarta, especially the nearest ones like Tangerang. Beside having a fun experiences enjoying all the new attractions you haven't tried before, you can save some money because the attractions always spent little money of yours. Happy exploring !