What is in your mind if talking about Banten tourism? Perhaps you will think about marine tourism activities in Banten beaches. Indeed, Banten is quite popular with its beaches. Banten is near ocean geographically. No wonder, there are so many beaches in Banten.
If you are planning to explore Banten, do not forget to visit these 6 amazing beaches!
Pantai Anyer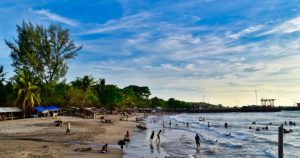 Banten explorers must be familiar with this beach, Pantai Anyer. Located in Jalan Raya Anyer, you need about 3 to 4 hours from Jakarta. Pantai Anyer is not only popular with its beauty, but also its history.
Anyer is the starting point when highway was built in Java Island. The iconic spot is Anyer Lighthouse, which is functioned as guide for the large ships.
You can enjoy the beauty around Pantai Anyer with local boat. During the journey, you will see the view of Mount Anak Krakatau. There is also a village called Sambolo Village, about 3 kilometres away from Pantai Anyer.
To visit Pantai Anyer, you just have to spend Rp 5.000, the parking fee is Rp 5.000 for motorbike, and Rp 10.000 for car. There are also some other beaches near Pantai Anyer area, such as Pantai Pasir Putih and Pantai Karang Bolong.
Pantai Carita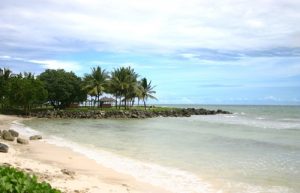 There is another beach that might be popular enough if you often seek for beach vacation. That is Pantai Carita in Pandeglang, Banten. Once you step on this beach, you will see how beautiful is the white sand.
You can do swimming, snorkeling, and some other activities with banana boat or jet ski. You can rent for doing those activities, starting from Rp 10.000 up to Rp 100.000.
To enter Pantai Carita, you need to prepare Rp 20.000 if you go by motorbike, and up to Rp 150.000 if you go by car or any other private transportations. You can get access to public facilities, such as food area, public toilet, praying roo, etc.
Pantai Tanjung Lesung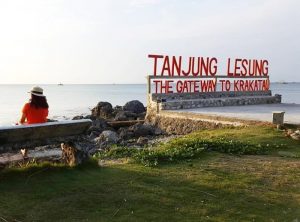 Still in Pandeglang, Banten, there is Pantai Tanjung Lesung. This is also a popular beach. You can even find the official website of Pantai Tanjung Lesung. Some people say Pantai Tanjung Lesung is as beautiful as Bali. Interesting, right?
There are so many activities you can do here. You can do surfing in Pulau Panitan with the view of Mangrove forest, coastal forest etc. You are also able to do diving. It is fine if you are not skillful in diving, there will be the guide who will help you.
There are a lot of fishes for you to fish. For your kids, they can enjoy ATV Adventure here. There is Tanjung Lesung Beach Club here too. You might also be able to visit Baduy Village, this place is so cultural and historical. You can find some tips while visiting Baduy tribe easily on the internet.
With all the amusements you get, the entrance ticket is only Rp 30.000 on weekdays, and Rp 40.000 on weekend. For the parking fee, just prepare Rp 10.000 for motorbike, and Rp 20.000 for car.
Pantai Sawarna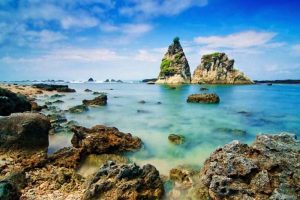 If you ever heard Sawarna Village in Lebak, Banten, you might ever know about Pantai Sawarna. This beach is so fascinating with beautiful caves inside. The beach heads to Hindia Ocean.
There are some other beaches near this area, such as Pantai Karang Tareje, Pantai Tanjung Layar, and Pantai Teluk Lagon Pari. The most interesting part in this beach are the caves. If you know about stalactite and stalagmite, you can find it here! Just go inside the caves, and find out the stalactite and stalagmite. There are also many birds around here.
When you play in the beach, be careful especially if you go with kids because the high wave that can reach 7 metres. For exploring this beautiful beach, you need to spend Rp 5.000 per visitor. For your private transportation, the parking fee is Rp 2.000 for motorbike, and Rp 5.000 for car.
Pantai Ciputih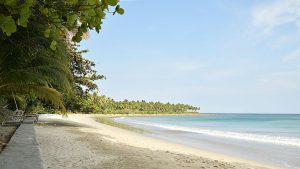 What are the things to do in Ujung Kulon National Park? You might never imagine that you can find a beach here! That is Pantai Ciputih. Not many people have known this beach, so the beach is still very clean, this is very nice for backpackers.
You can do diving and snorkeling here, but there is no people who rent the stuffs, so you have to prepare by yourselves. Near the beach, you can also visit Pulau Mangir.
This natural beach can be seen without any ticket, which means free! If you want to explore for more than a day, you can have a night in Ciputih Beach Resort with Rp 300.000 per night. But remember, since it is located inside Ujung Kulon National Park, pay attention to keep the area clean.
Pantai Umang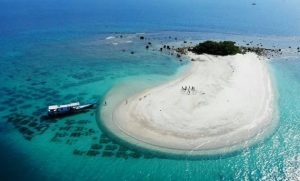 In Pandeglang, there is a popular island called Pulau Umang. There is also a beach named Pantai Umang. Crossing to Pulau Umang, you need to spend Rp 100.000 per person. It is about 5 to 6 hours journey from Jakarta. The fun fact is, in 2019 this area is the best tourism destination in Banten!
Some activities you can do here is jet ski, banana boat, and snorkeling. There is no more entrance ticket to visit Pantai Umang. If you want to spend more than a day, it is very possible because there are many places for you to have a rest.
Those are 6 favorite and popular beaches and the things to do in Banten. Which in do you really want to visit?