Indonesia is a country with abundant natural resources. There are many tourist destinations such as beaches, islands, rivers and also wildlife breeding. Now we will bring you especially the backpacker to enjoy one of the very attractive tourist destinations in ​​National Park area in Ujung Kulon, Banten.
Let's look at the following reviews about things to do in Ujung Kulon, Banten Indonesia:
Peucang Island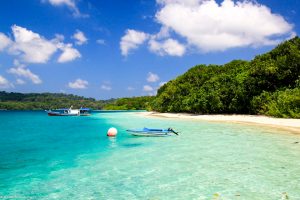 Peucang Island that located in Ujung Kulon is the first choice of backpacker-style tourist package for you. For those of you who claim to be beach lover must have this beautiful beach a visit. The island is located in Ujung Kulon, Banten and presents a awesome panorama that really tempts the backpacker to take some stylish selfie picture.
Here are some tips you should know:
Peucang Island Trip Packages are offered the trips for three days and two nights. For you backpacker mania not to worry cause the price is very fitting for you. The average package of peucang island is about Rp 750.000 per person.
With the cost offered, the true backpacker will get convenient transportation facilities from Jakarta to Ujung Kulon, lodgings for the night, eat 5 times a day, also barbeque, mineral water, snorkeling facilities, and you will get documentation photos as long as you enjoy your cool trip.
You guys will be accompanied by a guide that would be friendly and not boring. You can invite your friends or lovers to enjoy the beauty of this island and that must be very backpacker-style.
Badul Island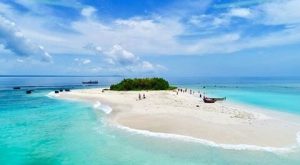 This island is also still included in the same area with peucang island. This island has a very mini size. When you are here, the backpackers will feel the sensation of being having your personal island. This sensation will be an unforgettable experience for you backpacker mania.
To get to this island you have to rent a speedboat. It's gonna be more interesting right?
After approaching this island you must stop the speedboat because the island is filled with coral reefs, and your speedboat will damage the coral reefs there.
Next, at least you have to swim about 25 meters for that. Of course this will be an exciting challenge for you.
You will really feel the sensation that you are on your own private island like a Hollywood artist. You will not be bored. In fact you will be willing to snorkel here for hours. But do not forget to wear sunblock, cause in this tiny little island there is no tree for you to take shelter.
Also visit: Things to Do in Banten Indonesia
Oar Island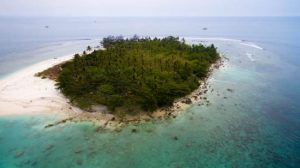 Well, still in the same category of beach and island tourism in National Park area, this is the third place named Oar Island. The journey to reach this place is about 7 hours from jakarta or approximately 70 kilometers.
Oar Island is one of the island that is still have its authenticity. No human hands has destroy the island. If you the backpacker visiting this island, it's guaranteed you will not be disappointed because the scenery really will make you feel at home.
But there are some things you need to note, that to reach the island we must enter Sumur Village. To reach the island you need to rent a local fishing boat. Really backpacker, right? All you need to provide for a boat trip is about Rp 200,000. However, do not forget to set up extra costs for snorkeling fun, it's usually requiring at least Rp 500,000.
Well, there are many  things to do in Ujung Kulon, Banten Indonesia, then you may also enjoy Things to Do in Cilegon Banten
Daplangu Beach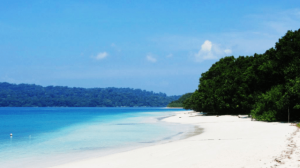 Daplangu Beach is the next trip destination that should not to be missed by beach lovers backpackers. The beach is close to our entrance to the Ujung Kulon trip, precisely in Sumur Village.  To reach this beach you do not need to rent a boat cause the location is very close. There is a villa nearby, namely Villa Sarang Badak. For your convenience, you can rent to stay in that villa. Don't worry cause the price is cheap and affordable for you, backpacker.
To reach our destination in Daplangu beach just need to walk down the path. The road that you will go through is often in muddy conditions, which will be certainly make the sensation of trip-style backpacker becomes more interesting and challenging.
We recommend you to have a walk from the villa to this beach. This road is just enough for one car to pass. For those of you who claim to be true backpacker, don't miss to try this backpacker-style destination.
Cigenter River Canoe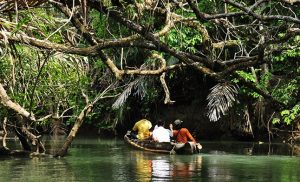 Well, this one is no less exciting trip destinations in Ujung Kulon. Using canoe on the Cigenter river could be the top option for you who loves adrenaline nuances. To get there we will enter a village named Paniis Village in Pandeglang District.
To reach the cigenter river we have to rent a local boat with a price of Rp 1,500,000 for a round trip. Take it easy, do not worry. The price of the boat may look expensive, but it is not. The boat you are traveling to is for 20 passengers capacity.
After the boat trip you still have to hire a canoe to explore the cigenter river, guys. This is what we call a wild nature backpacker-trip nuanced. You can feel the sensation of adventure across the river in the Amazon jungle. As long as you  have the canoe along which approximately 12 miles you will meet snakes in the trees along the river, there will even be some other wild animals such as crocodiles and deer.
Well, there are many  things to do in Ujung Kulon, Banten Indonesia, then you may also enjoy Things to Do in Anyer
Padang Cidaon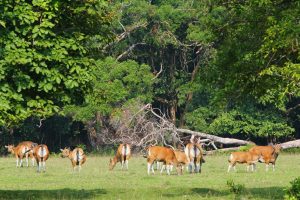 For you the backpackers who have wildlife photography soul, you can try this one, a place named Padang Savanna Cidaon. To get to this place we can enter through the same gate in Sumur village.
From the village you can rent a local fishing boat to Peucang island. Then you can continue the journey by another small boat because the location of Padang Cidaon is next to Peucang Island.
Here are some of the uniqueness of this place:
For those of you backpackers who have natural wild blood, you can choose to walk through the protected forest of Ujung Kulon National Park to reach this place. If you choose to walk through the forest, you will arrive at the location within 3 days. A journey that certainly will not be missed by a true backpacker, right? But we suggest using a boat if your time is limited.
In this savanna area that approximately 4 hectares you will be treated for a views of wildlife flora and fauna. Here you will be able to see some fauna such as cows, buffalo, peacocks, and ones will not be left behind, the one-horned rhinoceros, the original rhino species of Java. This is a species that's classified as very rare, also one of the animals listed in the list of protected animals in Ujung Kulon Tourist Park
Every day from 6 am to 5 pm you will be able to find wildlife scenery. You can come closer to photograph them. But, it is recommended if you backpackers want to enjoy the wild with them, you have to be careful.
Also have this place a visit:
Well that is a list of trips Ujung Kulon Backpacker you should visit. Maybe you will not be able to visit these destinations at the same time. Therefore make sure you visit it starting from a place that matches your backpacker type.