Komodo National Park is a national park located in the southern part of Central Indonesia just between Sumbawa Island and Flores Island. It belonged to the East Nusa Tenggara province. Originally, this park was built to conserve the population of the endemic fauna native to this island, which is the largest lizard in the world, Komodo Dragon, and their natural habitat.
As the time goes by, the park is now dedicated not only to protecting these gigantic living fossils, but also the terrestrial and marine biodiversity living in the area. The terrestrial or earthbound species that can be discovered in the area comprises of water buffalo, crab-eating macaque, Timor deer, civet, wild boar, orange-footed scrub fowl, various reptiles, and a diverse species of birds.
Whereas the marine diversity is even more galore as Komodo National Park is an outstanding home for many species of corals and sponges, whale sharks, ocean sunfish, manta ray, eagle ray, pygmy seahorse, blue-ringed octopus, nudibranch, clown frogfish, false pipefish, dolphins, sperm whale, and dugongs. Even blue whale and omura's whale are also spotted and confirmed to sometimes swim within the area.  Due to its wondrous nature, this park was declared as World Heritage Site and Man and Biosphere Reserve by UNESCO, as well as one of the new Seven Wonders of Nature.
Komodo National Park itself consists of three major islands, as well as numerous smaller islands and the surrounding waters. There three major islands are Komodo, Rinca, and Padar. This national park has become a popular tourist destination as it offers its visitors not only a closer look and interactions with the giants, but also the enthralling natural beauty of the white sandy beaches, dazzling blue seawater, solid mangrove vegetation, vast area of arid savanna, exuberant tropical forests, and of course, the impeccable underwater ecosystem.
See also:
1. Get in Touch with the Beast in Komodo and Rinca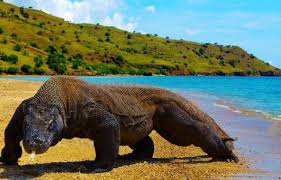 Already known worldwide as the natural habitat of the komodo dragon, Komodo Island and Rinca Island provides the opportunity for their visitor to see the komodo dragons from up close as they explore both islands. This is the activity you simply cannot miss when visiting Komodo National Park. Both island may provides the tourists the same attraction, which is to get a closer look to the komodo Dragons and how they live side-by-side with the local inhabitants, but it offers you different experience or sensation of where you interact with this beasts.
The landscape in Komodo is quite different with the landscape of its neighbor, Rinca. While Komodo landscape is mostly covered in exuberant rainforests, Rinca landscape is mostly dominated by savanna. It is also concluded that Komodo Island has bigger and less aggressive komodo dragons, so if you want to get near and take pictures with the beasts, it might be less risky to do it in Komodo Island. Nevertheless, some tourists prefer Rinca since it is closer to Labuan Bajo, the main launching point for trips to Komodo National Park.
2. Hike and Take the Mandatory Shot in Padar Island
Although the komodo dragons here in Padar Island are all extinct, Padar Island was initially also a natural habitat for Komodo Dragons. This extinction was mainly caused by the illegal hunting and lack of food. However, this island is acknowledged to be a paradise for photographers since it arguably has the most beautiful view in Komodo National Park.
You can capture as many spectacular shots as you want while at the same time witnessing the fantastic seven beaches from the top of the hill. To climb on the hills may be challenging and exhausting at first, but it is guaranteed that everything will all be worth it in the end. Therefore, it is almost obliged for every visitors to take at least one picture from the mandatory spot located on top of the hill in Padar Island.
3. Scuba Dive at Numerous Best Diving Sites in the World
There are at least dozens of beautiful and pristine diving sites available all around the area of Komodo National Park Indonesia. Komodo National Park waters are also a part of the Coral Triangle, which contains the richest marine biodiversity on Earth, other than Raja Ampat and Maluku Islands.
Thus, this area offers the divers the best diving spots in Indonesia. For instance, Manta Point, Crystal Rock, Castle Rock, Yellow Wall, Batu Bolong, and Toko Toko (Castle Rock) are only a few to name all of the best diving spots that host a myriad of marine biodiversity. If you don't have the diving permit or license yet, you don't have to worry as there are a lot of scuba diving schools in the nearby town of Labuan Bajo. Here are some of the famous diving spots in the Komodo National Park.
4. Manta Point
Being one of the most popular diving sites across the globe, this paradise for divers offer them nothing but a charming spot with galore plankton attracting dozens to hundreds of three to four meters Manta Ray for feeding and cleaning.
This area offers you a memorable diving experience with this intelligent and gentle underwater giants. As Manta Rays are harmless and naturally curious, the divers can expect the Manta to come close and attempt on touching them. It is such a one of a kind experience to watch them flapping their wings, swim circling above you.
5. Crystal Rock
This diving site is aptly named due to its crystal clear water surrounding it. It is such a joy for divers to enjoy a very colorful dive as they behold schools of yellow ribbon sweetlips, damselfish, large cuttlefish, pyramid butterflyfish, hawksbill turtles and several red octopus swimming around the healthy soft coral coverage.
It is also common to spot moray eels and scorpionfish. In the deeper part on the north side of the pinnacle, it is not peculiar for the diver to witness different species of black snappers, bluefin, bigeye trevally, whitetip sharks, and some seasonal fishes like tuna and mackerel.
6. Yellow Wall
Yellow wall is an incredible day or night diving sites where you can see walls abundant with extraordinary marine diversity. It is a perfect place to see invertebrate marine biotas such as many kinds of soft corals, sea urchins with various colors and size, beautiful Spanish dancers, sea apples, nudibranch, as well as the unique sea squirts.
It is also an exceptional place for night dive, which allows you to observe the night time fish and a great variety of lobsters and shrimps, sleeping turtles, and some sleeping coral groupers.
7. Batu Bolong
Batu Bolong or Hollow Rock is a world class diving site and one of the most accessible diving sites from Labuan Bajo, a small fisherman village where all trips to Komodo National Park depart from.
On the surface, the rock appears like a massive hollow rock that somewhat offers some protection from the strong currents of the area, but underneath, it is a gigantic rock going down to the depth of 70 meters. It is a sea garden displaying various hard corals and soft corals, sponges, thousands of reef fish, sharks, rays, trevallies, and more.
8. Toko Toko (Castle Rock)
This most northern diving site of Komodo National Park apparently is a small rock island in the middle of the sea. Toko Toko is intended for experienced divers as it is exposed to strong currents. The water surrounding the island allows the divers to meet big fish such as dolphin, sharks, mantas, giant trevally, and any other natural being of this sea.
You may also read:
Attractions Near Komodo Island
Indeed, there are many things to do in Komodo National Park Indonesia, here are more attractions:
9. Relax on the Beach and Snorkel
As a mini-archipelago in the central Indonesia, Komodo National Park offers you a lot of sensational beaches and shallow water experience around the park. If you are a less adventurous type of tourist, you may want to consider about having a walk along the shoreline while dipping your feet in the crystal clear water or enjoy a blissful sunbathing on its beautiful sandy beaches.
As you hop from island to island, snorkeling can be a good option if you are interested in exploring the underwater life. Pink Beach is one of the most well-known of them all, while the other islands offer you their own unique traits which are no less exciting.
[accordion]
[toggle title="10. Pink Beach" state="opened"]
As one of the most well-known beach in Komodo National Park, this isolated island has these essential features: The tranquil turquoise water collaborating with fascinating sea garden has successfully stolen the hearts of its visitors. Moreover, the serene vibe this beach gives off makes it a suitable place to relieve stress, far from the urban hustle and bustle.
Also read: Pink Beach, Komodo Island
[/toggle]
[toggle title="11. Kanawa Island"]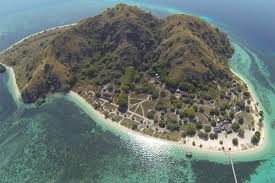 Kanawa island offers its visitors a perfect getaway to relax as it provides pristine calm sea waters and untouched reef, as well as untainted marine life. Plus, breathtaking sunsets and sunrises will paint the everyday sky in Kanawa with fantastic colors. This island is often said to be suitable for family guests as resorts with spacious rooms and bungalows are available here in Kanawa island. The 91 meters hill in the middle of the island is also an additional attraction for the travelers, as it allows them to hike and see a splendid view from the top of the hill.
[/toggle]
[toggle title="12. Sebayur Island"]
Sebayur island is especially noted as a perfect place for water sports as well as diving since there are many diving spots nearby this island such as Crystal Rocks, Castle Rock, Batu Bolong, and others. Thus, there are many resorts that provide diving equipment and diving packages here. Some visitors also enjoy trekking the beautiful hill close to the beach. If you only want to spend little energy, you can simply laze around in the resort room. The resorts in Sebayur provide you with excellent services and facilities.
[/toggle]
[toggle title="13. Namo Pink Beach"]
Things to do in Komodo National Park Indonesia, The name of Namo Pink Beach might not yet widely heard among international tourists or even local tourists. This is mostly because the government hasn't yet developed this beach as an official tourist destination in Komodo National Park. like the Pink Beach.
However, many of its few visitors compliment about the beauty of this beach. Namo Pink Beach in Komodo National Park features another admirable pink beach which is no less enticing compared Pink Beach. The sand itself is redder than the sand in Pink Beach, resulting in some visitors call it the Real Pink Beach. The sparkling and clear water with healthy marine ecosystem make this beach a perfect place to simply relax or snorkel.
[/toggle]
[/accordion]
See also:
Another Komodo Island Point of Interests
However, while there are many things to do in Komodo National Park Indonesia.
14. Watch a colony of bats in Kalong Island
This island got its name from the fact that there are thousands of bats living in this island. Kalong is a name that most Indonesians uses to identify a bat. Kalong island is one of many islands that has a special privilege to be the habitat of thousands of bats who live there. This place soon becomes a tourist favorite destination, where people get to witness the colonies of bats flying from their nest every twilight, from the boat on the edge of the island. The location of this island, between Labuan Bajo and Rinca island, makes it an ideal entrance when visiting Komodo National Park. You can reach this island using speedboat in less than an hour.
The island itself is surrounded by dense mangrove forests which are the natural habitats of the bats. Visitors can see the bats sleeping by hanging from these mangrove trees during the day. For the best experience, you should come to this island around dusk to see the bats in action. The thunderous flapping sound of thousands of bats flying out of their nests is surely a sight to behold.
15. Experience the Live on Board (LOB) Trip
The Live on Board Trip, commonly abbreviated as LOB Trip, is a sketchily an island-to-island trip where the travelers got to spend the night on a sailing ship to avoid any time wasted by transits and waiting for the ferries to arrived. By joining this trip, the travelers will experience the sensation of having living a live of a sailor, a home on the sea, as all the meals will be served on-board by a chef and his crews.
Boasting an authentic wooden sailing ship that looked like it belonged in the Golden Age of Sailing, the trip is definitely something new to tourists and travelers alike. Guests can spend their time chatting while eating some snacks, lounging on the chair until they fall asleep on the windy deck. At night, the travelers will enjoy the amazing starry night as the sound of the waves lull them to their sleep. It is definitely an experience nobody should miss!
16. Visit the Wae Rebo Village

Wae Rebo is a traditional village in the Flores Island, next to Komodo National Park, that was appointed by UNESCO as the World Heritage Site in 2012. The reason for this appointment is due to this place is the only place that still has the authentic traditional house of the indigenous Manggaraian people.  This house is known as "Mbaru Niang" and it has such a unique architecture and a uniquely shaped thatched roof. Visitors could opt to stay in one of these houses and enjoy the immersive experience of living so close with nature in all of its glory. Bask in the refreshing mountainous air free from any modern society pollution and unseen hazards, as the village is located so high in a plateau and out of reach from many signals and frequencies.
The people of the village is kind to any visitors, and they will provide basic amenities for every visitors who wished to stay the night at the village. Even when they are living far from modern civilization, the locals are still possess a vast knowledge of it. Most of these knowledge came from the donated books from outsiders or visitors in their local library. Visitors are encouraged not to give anything to the children in this village, as it may lead them to negative traits such as scrounging and smooching attitude. If you wished to donate or give something useful to the populace, it is better to donate them through the village elders or the library.
17. Have Fresh Seafood at Labuan Bajo Fish Market
Just like any other market in a harbor city, Labuan Bajo Fish Market open early in the morning until noon and then reopen again at 5 p.m. until midnight. So, at the end of the day, you can enjoy your food while watching the sunset. The morning market offers you with a wide selection of fresh seafood and dried fish for you to cook by yourself or to buy some pre-cooked ones, whereas the night market provides you with a long line of food stalls that you can try. These stalls mostly serve you various tempting seafood dishes but there are some stalls which also serve other local food such as Martabak.
Aside from the stalls, there are also restaurants that allow you to choose your own fresh fish in a small counter. After finished, they will cook it in accordance to your choice of spices, sauces, and cooking method. Depending on the place you choose, the price may be varied, but all of them are still affordable. If the local food does not quite suit you, there are also European, American, or Chinese restaurants available along the way of Labuan Bajo Fish Market such as Bajo Bay, Café Altomoro, Tree Top, and Café in Hit. These wonderful culinary extravaganza will truly create a more lasting experience for those who visited this place.
See also:
[accordion]
[toggle title="More Attractions in Indonesia"]
[/toggle]
[/accordion]