Kuta is a part of Bali that is best known for tourism internationally. Strategically located nearby to the provincial capital of Denpasar as well as the Ngurah Rai international airport, Kuta has developed into a popular tourist destination.
The rise of Kuta in international tourism scene begins in the 1980s. Back then Kuta is known as one of the backpacking route that is popular in Asia. Kuta was part of the three Ks, with the others being Khao San Road in Bangkok, Thailand and Katmandu in Nepal. Kuta is notably popular for young tourists from Australia.
Administratively, Kuta is a district as well as a subdistrict that is located in southern part of Bali Island. Kuta Bali begins with a humble beginning as a fishing village. It is one of the first Balinese towns that see significant tourism development. Since then, Kuta has become one of Indonesia's leading beach resort and to this day, remained as one of Indonesia's major tourist destinations.
Bali is famous for its many beautiful beaches. This is no exception for Kuta region. Kuta along with South Kuta area, which is also known as Bukit peninsula in southern part of Bali Island also have many beautiful beaches. Let us have a look at the many beautiful beaches in Kuta Bali Indonesia:
Also visit:
1. Kuta Beach
Kuta is internationally renowned for its long beach front. The 5 kilometers long beach front that stretches from north to south was originally discovered by surfers from the hippies time period. The beach has surf breaks that make it suitable for surfing. Kuta beach is conveniently located about 10 minutes drive away from the Ngurah Rai international airport through the toll road.
It is indeed has helped Kuta's rise to prominence as the many hotels, restaurants, bars, clubs and pubs along the beach front that has been established to support the tourism industry. This apparently has also spread out to the surrounding neighborhood like Legian and Seminyak.
The beach itself has been known since the 1970s. Kuta Beach is facing westward and is a great place to see the sunset in Bali. Therefore it is also named Sunset Beach. On the contrary, Sanur Beach that is facing to the east is known as Sunrise Beach. Due to its close proximity to Australia, Kuta is a well known budget tourist destination for Australians. In fact, it was featured in the single "I've been to Bali Too", by Australian folk rock band, Redgum in their Frontline album released on 1984.
The development of tourism however has brought about problem of garbage. In order to solve this problem, as of late August 2011 vendors are not allowed to sell food in Kuta Beach. This regulation still permits the vendors to sell beverages and souvenirs.
See also:
Beaches in South Kuta
Aside from Kuta Beach, towards the south there are many beaches which is located in South Kuta  that is a district by itself in the Badung regency of Bali. The area that is also known by the name of Bukit Peninsula have plenty of beautiful beaches that is not commonly known. Also read: Airport in Bali, Indonesia
2. Nusa Dua Beach
Next Beaches in Kuta Bali Indonesia is Nusa Dua Beach. Along this beach you can find many 4 and 5 stars hotels from internationally famous hotel chains. Nusa Dua beach is somewhat secluded and it offers a quiet and relaxing environment with beautiful and clean white sand. The beach is lined with many trees that provide shade with azure blue sea. Unlike Kuta Beach, vendors are not allowed to enter Nusa Dua Beach.
Here in Nusa Dua, you can sun bathe or simply for a relaxing swim. However, you can also do other water sorts like water skiing, jet skiing as well as parasailing. To the north of Nusa Dua is Tanjung Benoa where you can find many diving operators. Nusa Dua Beach is also popular for surfers. The best surf spot is on the reef in front of Club Med.
See also:
3. Uluwatu Beach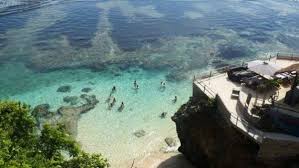 This beach is also known by the name of Suluban Beach. This beach undoubtedly has one of the most astonishing colors of the ocean. The mixture of emerald green and blue shades makes the ocean very enticing.
The beach is located directly underneath the Pura Luhur Uluwatu temple, one of the important sea temples that protect the island of Bali from evil. This beach is known as one of the best surf spot in Bali.
Also visit: Pink Beach, Komodo Island Indonesia – Things to Do in Flores
4. Padang Padang Beach
Another beak in South Kuta area is Padang padang, which has a long white sand that stretches for kilometers on end. The beach also has a magnificent azure blue ocean water.
In a few years time, Padang padang has seen quite a rapid development. It was a secluded beach with not many visitors and just a few food stalls selling food and drinks. These days, the beach is quite busy with many tourists as well as restaurants.
Padang padang offers a great surfing with one of the most famous surf breaks, the Bali Pipeline that can be found here. The beach is open after sunset for those who wants to enjoy a barbeque on the beach. You can even see live music shows here every Saturday.
See also:
5. Bingin Beach
If you are looking for a secluded quiet beach, this is the place. However, the minus point for being secluded means it is quite difficult to reach. Despite being a secluded beach, Bingin is not short of amenities.
Here you can find quite plenty of restaurants as well as accommodations. Most of these places are designed for surfers so don't expect anything fancy. Most of the cottages here are built on the cliff and have balconies right on the beach which overlook the Indian Ocean and offering the best of views. The beach itself is very narrow and located right below the cliffs which makes it has a much laid back atmosphere.
Also visit:  Things to Do in Seminyak Bali – Things to do in Sanur
6. Dreamland Beach
Another name of this beach is New Kuta Beach. It is located at the south of Kuta, about half way to Uluwatu. Prior to the development of residential complex of Pecatu Graha Indah this is an absolutely stunning strip of beach.
The beach is located right under the cliffs. There is a walk way that you have to take to get to the beach. This walk way is now lined with many restaurants and shops. Combined with the construction work nearby, this is somewhat disturbing as you are going to the beach.
The beach itself has clean and soft sand with surf breaks that is ideal for surfing. The waves here are suitable for intermediate surfers.
7. Balangan Beach
This beach also used to be a quiet beach in Bali. These days the beach has seen more activities. There are some restaurants that has been established on the beach.
Balangan beach is located nearby to Dreamland beach. It is a white sandy beach that offers a relaxing environment where you can walk along the soft sand without seeing a speck of rubbish. Here you will also not find any pushy vendors that offers souvenirs, massage or hair braidings.
Balangan beach also offers nice surf breaks which comes from its left hand side. If you want to head down this area, you better wear rubber footwear as the rocks are sharp and they can hurt your feet pretty bad.
Accommodations in Balangan Beach consisted of Balinese style cottages with sea views that catered to the surfers as well as some nice small resorts at the short walking distance from the beach. These days, Balangan has become a somewhat popular spot for newlyweds who are coming here in huge numbers.
8. Jimbaran Beach
Jimbaran beach is one of the most well known beaches in South Kuta area. Jimbaran beach has a 5 kilometers length and it is wide making it suitable for jogging and swimming. The beach is a white sand beach is located just south of Ngurah Rai International airport.
Here along the beach you can also catch a ride on the colorful fishermen boats to make a tour around th coast of Bukit Peninsula. The beach however is not a good place for surfing as the reef is located quite far out into the sea.
Towards the southern end of the Jimbaran beach, you will find Pura Ulun Siwi, which is a temple built by the Mengwi Dynasty in the 17th century. The beach is home to some of the most well known seafood restaurants. Here you can simply sit on the tables that is placed right on the beach sand as you enjoy the best seafood platters and watch the astonishing sunset.
9. Nyang Nyang Beach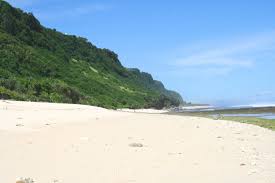 Nyang nyang is one of the most difficult to find and reach beach in South Kuta area. However, if you are determined and put extra effort to find it, you will be richly rewarded.
The beach is located just a few kilometers west from Uluwatu temple.
The beach is located underneath a cliff. From the cliff you can see the magnificent view of Indian Ocean. Descending towards the beach means that you will have to go down many steps that will be quite tiring.
Nyang nyang beach not only offers astonishing landscape, but it is also a good spot for surfing. The best surfing season is between the months of March until September. At this time, early in the day low tide will sets in and the waves are quite difficult to reach.
See also:
Now that you have known about the beaches in Kuta Bali Indonesia, what do you think? I am sure whether you are a surfer or you just enjoy sun bathing or a relaxing swim in the ocean, Bali and in particularly Kuta and Sourh Kuta beaches will have something that will satisfy your needs. So wait no further and come to Bali for a relaxing holiday.
See also: