55 Sites Diving in Indonesia – Underwater – Biodiversity – Enchanted Seas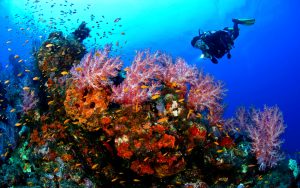 The Indonesia archipelago is one of the largest archipelagos in the world. This fourth largest archipelago of the world is wedged between the Indian Ocean at the West and the Pacific Ocean at the East. Indonesia is considered to be the world's best country for sea life. Located at the middle of the "Coral Triangle" that spans from the Philippines in the North all the way to the Australia in the south, with the island of Sumatra at the west and going all the way to the South Pacific, Indonesia has more diversity in marine life than anywhere else in the world.
Indonesia's richness in marine life is evidenced by the diversity it has. About 20% of the world's coral reefs from over 600 or so coral species can be found in Indonesian water. Along with the diversity in coral, Indonesia also has over 3,000 species of fish in its seas that has various landscapes such as deep trenches, volcanic sea mounts, shipwrecks from the time of World War II. All of this makes Indonesia a heaven for scuba divers.
Indonesia seas have an abundance of wondrous fish along with various other marine lifes you can enjoy during your dive here. There are plenty of destinations all throughout Indonesia that you can enjoy, ranging from encountering big fish that live in pelagic zone of the sea off the shore of Pulau Komodo, floating over the vividly wonderful coral fields in Raja Ampat to marveling at the huge amount of fish in Pulau Banda, Indonesia is never short of an amazement for divers.
If you are interested to diving in Indonesia, you can find diving packages that will suit your needs and budgets. If you are someone who wants to stay comfortably during your vacation and go for diving as one of the activity, then you can stay at the luxurious resort in Bali or Sulawesi. Your world-class dive sites will be just a few steps away from where you are staying. However, if you are more serious diver you may want to get on a diving cruise which will take you to the best diving destinations in Indonesia, including Raja Ampat and Pulau Komodo.
You may also visit: Places To Visit in Indonesia
With such a vast area and variety in the destinations, you will find it difficult to limit yourself to a few areas in Indonesia for your diving trips. However, we can recommend that these are the sites you definitely you have to visit during your dive in Indonesia:
1. Raja Ampat Diving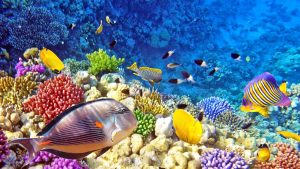 Located off the coast of Tanjung Kepala Burung, Raja Ampat is an archipelago that consisted of some 1,500 small islands that surround the 4 main islands of Misool, Salawati, Batanta and Waigeo.
According to a scientific survey from Conservation International in the year 2006, the marine biodiversity in Raja Ampat area is greater than all other areas in the Coral Triangle. The currents here can be strong and therefore it is not recommended for absolute beginners. Recommended dive spots iin Raja Ampat diving Islands here are:
Kri Island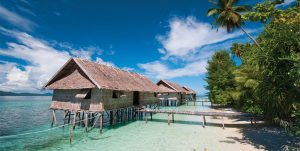 Kri Island where you can see a dense population of fish swimming below. In this small island, you can also find plenty of affordable homestays for your accommodation during your diving adventure. Alternatively, you can also stay at Kri Eco Resort, a resort with traditional Papua architecture built on the water.
Pele Bay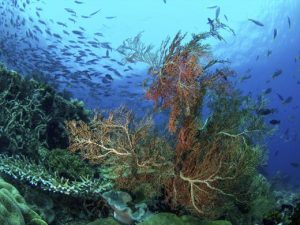 Sel Pele Bay is a bay on the west of Waigeo Island, well known as the spot for critter hunting in Raja Ampat. This bay is considered to be the photography capital of Raja Ampat as you can find rare and unique sea creatures. Part of the bay is also used for pearl farming.
South Penemu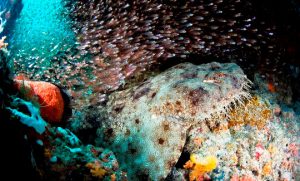 South Penemu is a summit located south of Penemu Island. In the shallow of the pinnacle, you will see many anemones of various colors and soft corals covering this area. In the deeper part you can see giant trevallies, yellow-fin fusiliers and batfish.
Waego Island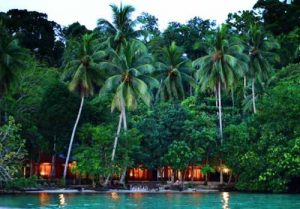 Waigeo, one of the main island of the Raja Ampat archipelago. The island is also known by the name of Amberi and Waigiu and is the largest island among the 4 main islands. Waigeo has one of the most amazing numbers of marine life
Yangelong Reef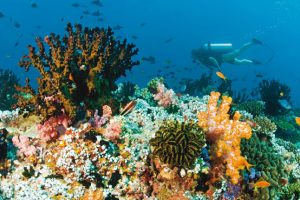 Yangelong Reef is the home to huge numbers of schooling large fish. Here you can see yellow-fin tuna and barracudas swimming in large schools.
Fabiacet Diving Site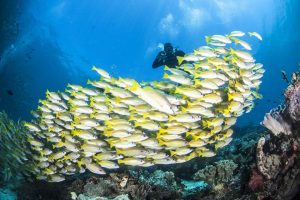 Fabiacet is one of the island in Raja Ampat archipelago with reefs that boasts the plentiful and prolific fish.
Farondi in Misool Island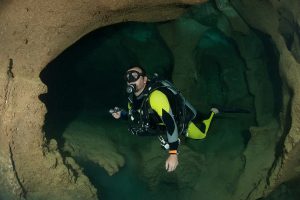 Farondi is located about 20 kilometers East from Misool Island offers one of the many unique dives due to their landscape. Here you can see tunnels and caverns carved in brightly colored walls
You may also search: Raja Ampat Islands
2. Alor Island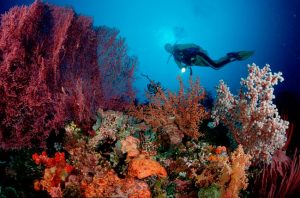 Alor is a small island in Eastern part of Indonesia which is located off the shore of West Timor. This island is very remotely located but it is a world class dive site. The highlights here are superb varieties of large marine life as well as the plentiful of schools of fish.
On certain occasions, you may be able to spot sea mammals, like pilot whales and dolphins from aboard your dive boat. Alor is a destination you need to reach by getting on dive cruises and is more suitable for experienced divers as the sea currents are strong. Here are the Alor diving spots:
Kal's Dream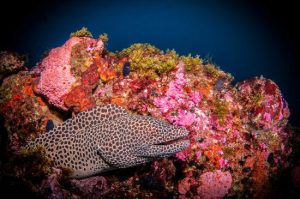 Kal's Dream where you will not find many other scuba divers; hence it offers a view of colorful and wonderful variety of fish.
Sharks Galore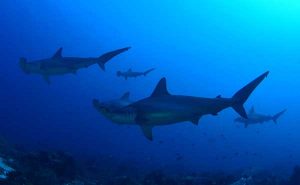 Sharks Galore is located off the coast of nearby Pura Island. Here you can see the plenty sharks, mostly black tipped and white tipped sharks from aboard your diving boat.
The Twilight Zone Indonesia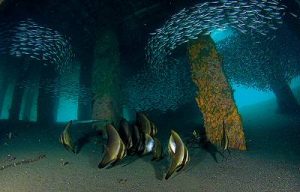 The Twilight Zone, which is located offshore from the beach outside Biangabang village on Pantar Island. The uniqueness here is you can find a hot spring on the beach.
3. Bali Diving Spots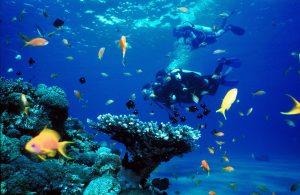 Besides being known for its culture and temples, Bali also offers plenty of dive sites with steep drop-offs, seagrass beds, and coral ridges. Bali is also home to the wreckage of USS Liberty, one of the most famous wrecks in the world, The sea around the island of Bali is filled with colorful marine life that will keep you coming year after year.
Towards the east of Bali is the strait of Lombok, where the deep sea trench first connects with the Asian continental shelf.
Dive sites in Bali includes:
Amed Diving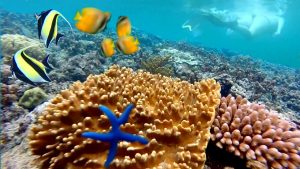 Amed, located at the northeastern side of Bali Island in front of the bay of Cemeluk, where you can see the abundance of stag horn corals, filled with lively cardinal fish.
Biaha Island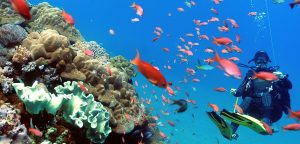 Biaha, nearby Candidasa where you can see the plentiful of fish swimming around in the currents below
Amuk Bay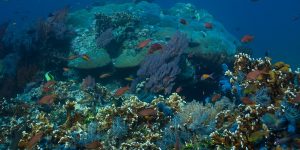 Amuk Bay about 3 kilometers southeast from Candidasa, where you can find the islet of Gili Tepekong. The naturally formed islet is about 100 meter in width and has become one of the best dive sites in Bali.
Gili Selang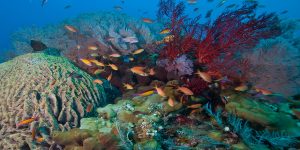 Gili Selang is a small islet located off the eastern most point of Bali. This is a location that is usually visited by dive cruises, so you need to get on board to get to this dive site
Nusa Lembongan Diving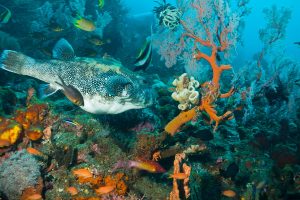 Nusa Lembongan, located about 45 minutes off the main island of Bali. Here you can see one of the most peculiar looking creatures, the giant sunfish.
Menjangan Diving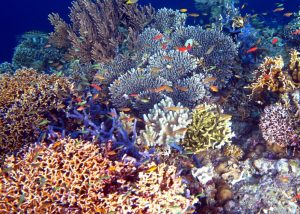 Menjangan Island is located about 8 kilometers off the northwest coast of Bali. This is one of the most popular diving spots in Bali. It offers calm sea condition with great visibility underwater
Padang Bai Diving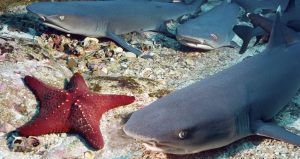 Padang Bai, near to Candidasa offers one of the best diving conditions with beautiful anemones dancing at the sea floor along with the diverse and many fish that swims around it.
Pemuteran Diving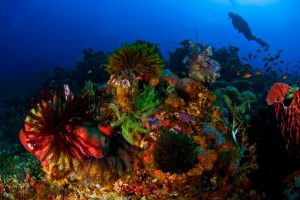 Pemuteran is where you can find Napoleon Reef, which rises about 5 meters to the surface. The reef has a northern slope that goes down for about30 meters until you reach the sea floor. This is one of the most relaxed pace diving spots in northwest Bali.
Secret Bay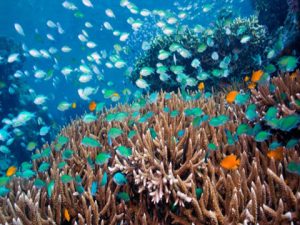 Secret Bay is a dive spot not known by many scuba divers. Located offshore from Gilimanuk township where you will also find the ferry terminal that serves the crossing between Java to Bali.
Tulamben Diving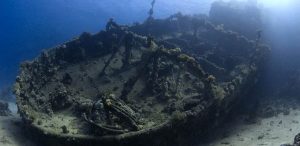 Tulamben is where you will find one of the most famous wrecks. USS Liberty is internationally renowned for easy access, mild conditions, and shallow water. This is a dive site that can be enjoyed by beginner and advanced divers alike.
You may also want to read: Airport in Bali, Indonesia – Amazing Places To Visit in Bali
4. Cendrawasih Bay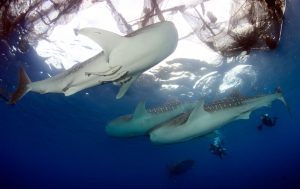 Here the main highlight is the presence of whale sharks with unique behavior. Normally whale sharks are individual creatures who mostly swim on their own. In Cendrawasih Bay however, you will see these sharks gathering below fishing platforms, taking a bit of the small fish that escape from fishing nets or discarded by fishermen. This behavior gives unique photographic moments for scuba divers to take picture of a few whale sharks of various size ranging from relatively small juvenile to massive adult male all gathering for the feed.
Aside from the whale sharks, divers here can also view the myriads of other sea creatures like tiger prawns and sea snakes. Cenderawasih Bay is also home to plenty of World War II wrecks. Many of these wrecks are rarely dived and it is possible that many of the wrecks remain yet to be discovered.
The highlighted dive sites here in Cendrawasih Bay are:
Kwatisore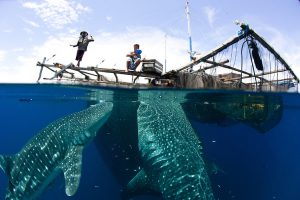 Kwatisore Bay where you will find the whale sharks we have mentioned above. Located near the town of Nabire on the southern coast of the bay, here you can have an up-close and personal encounter with whale shark unlike anywhere else in the world
Shinwa Maru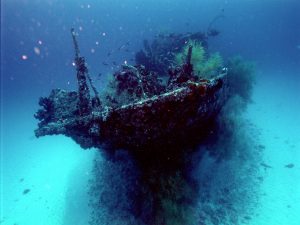 Shinwa Maru is the wreck of Japanese ship from the time of World War II, near the town of Manokwari on the western part of the bay. Here you can also find various other wrecks with varying depths.
Sungei Omiand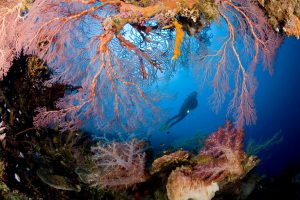 Sungei Omiand is where you will find the plenty school of fish swimming around among the coral reefs.
You may also visit:
5. Komodo Island Diving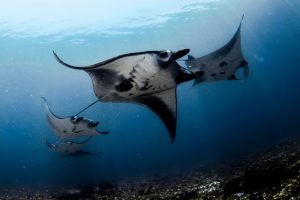 This island is the home of the world renowned Komodo Dragon, the largest lizard in the world. Apparently, Pulau Komodo or literally translated Komodo Island is also an excellent site for diving.
Komodo island is one of the best diving in Indonesia as it has the most beautiful underwater view. The marine biodiversity in the waters around the island is astounding. You can see many species like manta rays, eagle rays, pygmy seahorses, clown fish, blue ringed octopus as well as the peculiarly shaped sunfish here.
The dive spots that is popular around Pulau Komodo are:
You may also search: Komodo Island
6. Bunaken Diving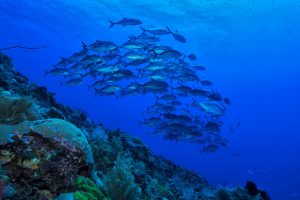 Bunaken in the Indonesian island of Sulawesi is well known for the species of coral as well as fish. Here in Bunaken you can find over 70% of all fish species known in the Indo-Pacific region. The currents from the ocean that passed through Bunaken bring a steady supply of nutrients. This ascertains the abundance of food in the sea, which in turns mean there are plentiful of marine life in the sea. Here you can see the rich biodiversity Bunaken has, ranging from small shrimps to black tipped reef sharks as well as the eagle rays. The richness in marine life of this area surely will bring you most unforgettable experience as you will surely see a marine life you have never encountered elsewhere. The most famous discovery in Bunaken area happened in 1997 when coelacanth was found living in lava tubes of Manado Tua. Considered extinct long ago, this discovery brought Bunaken to the attention of the world. Sea mammals like dugong can also be seen feeding on sea grass on the southern part of Bunaken and sperm whale on their migratory path to Sangihe Archipelago.
Most notable Bunaken diving sites here are:
7. Sumbawa Island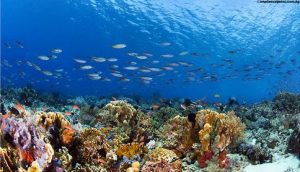 Strategically wedged between Lombok to the west and Pulau Komodo to the east, Sumbawa is often just considered as a convenient port of call by dive cruises on their way to better dive destinations to the east.
As a result, Sumbawa island Indonesia is still untouchable among the international tourists. So, Sumbawa island seas are also beautiful with the natural amazing view. The known dive sites here include:
8. Wakatobi Diving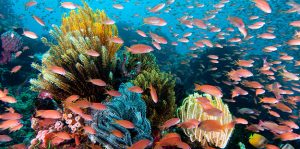 The reefs in Wakatobi is unique from elsewhere as they are fossilized. The environment is extremely clean as there is very few soil erosion. Wakatobi is a national park, which means fishing is strictly limited and the reefs here are protected making it a paradise for scuba divers.
Thus, Wakatobi diving has been the most popular and favorite tourist attraction in Indonesia. The clear blue water and underwater views are the best to blow your mind.
The marvelous dive sites in Wakatobi dive resort here are:
Coral Garden Indonesia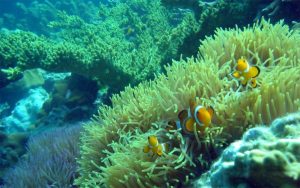 Coral Garden is a very interesting dive site. Here you can see a small crater-like contour at the sea floor with a diameter of 40 meters. Inside the crater, you will find a spectacular display of corals
House Reef Wakatobi Indonesia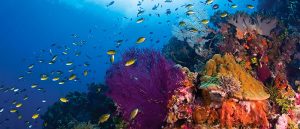 House Reef is the home to the abundance of marine life that resides in this area of the ocean. Here you can sample the rich biodiversity of marine life in the sea around Wakatobi.
More Enchanting Spots for Diving in Indonesia
Thus, Indonesia has so many beautiful seas for diving or another water spots, that is just so amazingly beautiful. As a result, here are more spots to diving in Indonesia.
In short, with so many diving destinations and the abundance of diving spots, we are certain that you will have a good time if you pick Indonesia as your destination for your diving in Indonesia adventure. So do not wait anymore, pack your mask, wet-suits, and fins and come to sunny Indonesia.
You may also want to read:
Diving, Indonesia, indonesia place