Being trapped in the crowded and stressful life often leads to a search of an escape. Stargazing to the unlimited and wonderful starts at night then becomes a way out of this problem. In Indonesia, stargazing is best done during the dry season between March to October.
Many people find stargazing as a fun and wonderful activity that can be done at night to uplift the stress of daily activities. Staring at the night sky that is full of stars feels truly amazing, especially when the Milky Way can be observed.
However, the stars are not easily seen in crowded and big cities as it is covered and hidden by polution caused by fueled vehicles and polution caused by the lights of the cities.
If you find stargazing difficult to do from your place, here is a list of 8 best stargazing sites in Indonesia that you can visit one day to enjoy the beauty of the unlimited stars.
1. Mount Bromo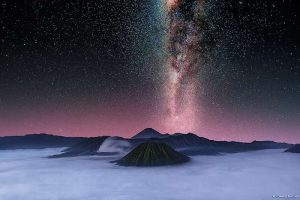 Can you climb Mount Bromo? You might need some tips for the ultimate guide to hike Mount Bromo, Indonesia. Mount Bromo, located in East Java, is an active voclano with 2,329 meters high above sea level. This makes the stars can be easily seen as it is seen from a high place.
Mount Bromo is already popular for being a great spot to enjoy the sunrise and the sunset. However, the starry night in Mount Bromo is also wonderfully amazing since the stars can be clearly seen.
For a better experience, you might need to camp on the mountain and witness for yourself the beauty of the universe.
The access to the mountain is quite easy, but if it is your first time hiking Mount Bromo, the make sure you have prepared what to prepare to hike Mount Bromo.
2. Mount Batur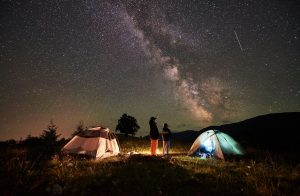 Not only popular for its beaches in Kuta, Bali also has other attractions, such as stargazing sites that offer a wonderful sight of starry night. Located in Kintamani, Bangli regency, Bali, Mount Batur is the second highest mountain in Bali that is quite far from the tourism crowed in Bali.
The location in Kintamani, Bangli also makes Mount Batur becomes less polutted as the village is a bit remote and is not filled with many vehicles. These reasons make Mount Batur a great dark place to spend the night stargazing to the stars that appear clearly.
If you have decided to go to Mount Batur for stargazing, going at Nyepi day awill be a nice option since the Balinese are turning all the lights, making the stars on the sky look even clearer. You can camp on the mountain as it is also a famous campsite in Bali. Besides stargazing, there are many other things to do in Mount Batur.
3. Mount Rinjani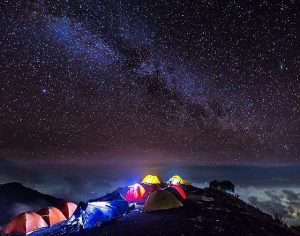 A stargazing experience in Mount Rinjani can be a tough yet the most wonderful one. Mount Rinjani is located in Lombok, West Nusa Tenggara. It is 3,726 meters high above sea level. The height requires you to prepare a good physical health and energy since hiking the mountain will be a tiring moment.
But always trust what the nature asks you to do before enjoying its magical scenery. As you arrive there and spend the night there, you will be pleased by the clear stars constellation that is clearer from a higher place like Mount Rinjani.
Further, the strong will and effort required to hike this mountain will make you have a more private moment where you can immerse yourself more with the amazing scenery.
Segara Anak lake below the mountain gives you more peaceful atmosphere in adoring the beauty of the universe. Stargazing is one of many things to do in Mount Rinjani, Lombok, a wonderful place to visit in Indonesia.
4. Mount Prau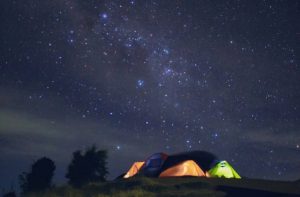 Mount Prau is not as high as Mount Rinjani as it is about 2,565 meters high above sea level. Mount Prau, often called as Mount Prahu, is located in Dieng Plateau, Central Java.
It is a vast meadow that extends from west to east, consisting of small hills and savana. Mount Prau is the highest peak in Dieng Plateau. No wonder that this is one of the best sites for stargazing.
If you are currently near Dieng Plateau or are planning to visit it, make sure to spend a day in Mount Prau and enjoy the view of the amazing stars.
The stargazing view of Mount Prau is well-known among locals, so don't be surprise if you find there are many other people who want to adore the beauty of the universe, just like you, especially on weekends and holidays.
Right in the morning when you just wake up, you will see another beautiful scenery that could immediately charge you; sunrise.
5. Hoga Island, Wakatobi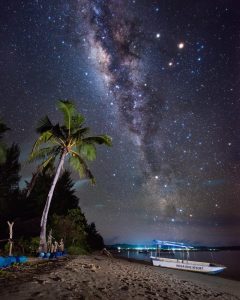 Wakatobi, a regency in is always popular for its underwater activity. If you happen to be in Wakatobi, you need to know that there are many other things to do in Wakatobi island, Indonesia besides the prominent underwater activity. The other thing that you can do is of course stargazing.
Hoga island, a small island in Wakatobi is a great choice for stargazing. Hoga island is a home for scientists who are studying the sea ecosystem in Wakatobi.
This makes Hoga island becomes a quite and less polutted island compared to the other around it. A perfect place to see the clear view of the amazing stars.
6. Ijen Crater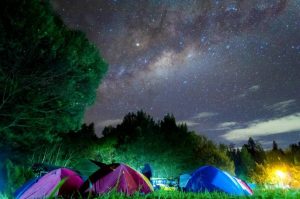 There are many things to do in Ijen crater and one of them is stargazing. Ijen crater, located in Banyuwangi, East Java province, is being famous for its legendary blue fire. But besides the magical blue fire, Ijen crater also offers a beautiful sky view that is filled by stars.
The high caldera surrounding the crater and the torquoise color of the crater creates a wonderful scenery when it is lightened by the moonlight and the starlight.
A great site where you can view the beauty of the starry night. For a longer stargazing period, you can camp on the top area of Ijen crater where greenery grows
You don't need to worry if you don't really know well the contour in Ijen crater as there are many tour services that you can take to guide you. .
7. Ranu Kumbolo, East Java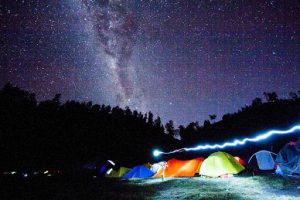 Ranu Kumbolo is one of the lakes that is situated at the foot of Mount Semeru, one of the highest mountain in Java. To be exact, Ranu Kumbolo is located at Bromo Tengger Semeru Park, East java.
The location of Ranu Kumboro makes it a perfect site for stargazing since it is on the highland and is free form polution. In Ranu Kumboro, you can see clusters of light that look dust flying into the Milky Way. Such an amazing view that showcases the beauty of the universe.
Camping near Ranu Kumboro is highly recommended for a better stargazing experience.
8. Segara Anak, West Nusa Tenggara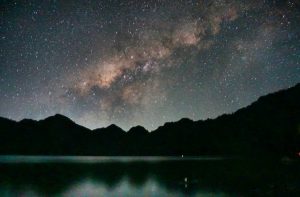 Since hiking Mount Rinjani is quite tough and challenging, spending a night in Segara Anak lake is what many people choose to do. Located in the same area as Mount Rinjani, Segara Anak lake is situated around 2,000 meters above sea level.
Even though the location is not as high as Mount Rinjani, the beautiful constellation can be still clearly seen from Segara Anak lake. Besides, the peaceful atmosphere surrounding the lake will give you a more peaceful ambience where you can completely devote yourself to adore the beauty of the nature.
The amazing experience offered by stargazing can truly hypnotized people to only gaze at the sky and adore the beauty of the universe. The amazing experience could also hypnotized people to go to these sites even though they are far from the places the people belong to.
If you are a part of those people. then you are trully amazing, for understanding and adoring the beauty of the universe. Always remember to equip yourself with warm clothes, drink, food, and snack as you are going to stay through the cold starry night.