Ciamis is a regency located in West Java Province. If viewed based on geographical location, Ciamis Regency has a very strategic location because it is the path between West Java and Central Java. The border of Ciamis in the west is bordered by the Regency and City of Tasikmalaya while the East is bordered by the City of Banjar and Central Java Province.
Air temperature in Ciamis ranges from 20 to 30 and can be quite high because Ciamis has a location adjacent to the beach. Initially, Banjar City still belongs to Ciamis area, but in 2002 Banjar became autonomous. Speaking tour of Ciamis Regency cannot be doubted because the location of Ciamis Regency which is adjacent to  Banjar and Pangandaran so that there are also many tourist attractions. If you want to vacation to Ciamis, here are the recommendations things to do in Ciamis, West Java, Indonesia and surrounding areas that you must visit when the holiday has arrived. Check out the discussion!
1. Mega Wisata Icakan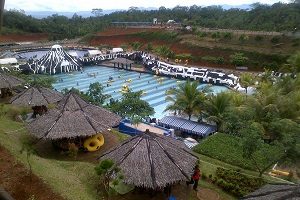 Mega Wisata Icakan is one of the best tourist attractions in Ciamis precisely located in Sukamulya, Baregbeg, Kabupaten Ciamis. Mega Wisata Icakan is located right at the foot of Mount Syawal and has an artificial lake and is located in the hills around, this tourist place has a large area which is about 70 H.
Various facilities and complete rides in Mega Wisata Icakan make this place is often used as a family vacation. Some of the available rides are water boom, flying fox, monster rat, water separate, tourist train, tour bus, horse ride and ATV. Ride monster rides are roller coaster rides if you want to get around Mega Wisata Icakan can use the train tours or if want to travel more widely can use the tour bus.
While the facilities available are gazebo for rest, lodging, circuit, boat on artificial lake, fish therapy pond, etc. Well how very much is not the facilities and rides available in Mega Wisata Icakan.
How to Get to Mega Wisata Icakan
Routes to go to Mega Wisata if you use private transportation then the standard is the square Ciamis from the square straight up to the main road Mega Wisata Icakan, but if using public transport can use public transport 016 Hyrysan Jalatrang – Ciamis. Mega Wisata Icakan is the biggest tourist attraction in Ciamis and has various rides and complete facilities. The tourist attraction to visit this tour is the cost of tickets that can be said cheap.
For the price of admission is very cheap that is Rp.5.000, all rides Rp.10.000 and rental gazebo is Rp.30.000.
2. Kampung Adat Kuta (Traditional Custom Village)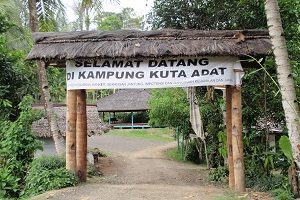 Kampung Adat Kuta is an indigenous hamlet located in Karangpaninggal Village, Tambaksari District, Ciamis Regency. Kampung Adat is one of the cultural tourism in Indonesia has customs and habits that are still preserved from the past until now so that customs and habits of the villagers of this customs become the attraction of tourists to visit.
Kampung Adat Kuta has 2 RW and 4 RT. Kampung Adat Kuta is located in a steep valley and around the village there are cliffs of the hills.
The name "Kuta" in Sundanese means wall fence. It is said that the establishment of indigenous Kampung Kuta associated with the establishment of Galuh kingdom and the first Kampung Kuta will be the capital of Galuh Kingdom but will not.
The establishment of Kampung Kuta has many historical stories related to the Galuh Kingdom. The famous figure is Earth Battery and Mr. Batasela. The customs and habits of the villagers of Kuta retain the customs of their ancestors. By maintaining customs, the surrounding natural conditions are maintained from the forest, springs and surrounding trees are maintained.
3. Tujuh Cibolang Waterfall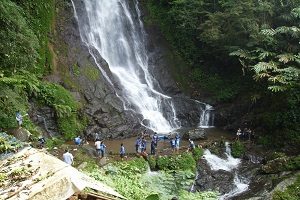 Curug Tujuh Cibolang is one of the tourist attractions in West Java, located in Panjalu, Ciamis Regency. Curug Tujuh Cibolang is natural tourist attractions that have outstanding natural beauty.
The attraction of the tourists is Curug Tujuh Cibolang have a waterfall with 7 levels. Curug Tujuh Cibolang lies at an altitude of 800 to 900 mdpl. With temperatures ranging from 17 to 18 degrees Celsius, of course, with the natural beauty that dazzling weather around the waterfall is very cool.
Then curug the last of the sixth curug (curug cileutik) and curug seventh (curug cibuluh) curug has a height of about 30 meters. Available facilities can be said to be complete for nature tourism like this. Starting from the parking area, musholla, bathroom even lodging is already available.
To access the vehicle to this resort if using a private vehicle can directly do a search on google maps, this place is contained in google maps so you only need to follow the predetermined route. Also, note the tips to tour the waterfall so that a vacation to the waterfall can be fun.
Read Also :
4. Lengkong Panjalu Lake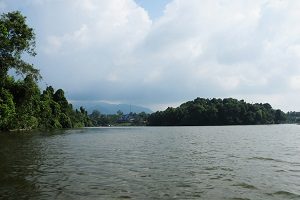 Situ Lengkong is a lake located in District Panjalu, Ciamis Regency. This lake has a depth of about 4 to 6 meters and has an island called Nusa Larang or Nusa Gede. The lake is located at an altitude of 70 masl and has a cool temperature with a green landscape.
Conditions around the lake are still clean yet polluted by pollution, in addition to nature tourism Lengkong also can be used as cultural tourism. The tourists besides enjoying the beauty of nature can also make a pilgrimage to the ancient tomb of King Hariang Kancana located in Nusa Larang. In addition, there is also a Museum Earth Alit wherein the museum there are various relics of the kings of Panjalu ranging from menhir, stone pengsucia, and various tools such as swords.
While the fauna that lives in Nusa Larang are squirrels, owls, and bats. Situ Lengkong famous for its myth that it is said lake water lake lengkong formed from water droplets zam-zam. Around the 7th century, the son of a panjalu king named Borosngora draws knowledge to Mecca.
The teacher Borosngora gave a condition if going back to Panjalu had to bring water zam-zam, so when he returned to Panjalu he brought water zam-zam and spilled into the valley of sand guava and the miracle made the lake water to form the lake. To honor the ancestors of local residents each year perform Nynagku ceremony conducted every month Mulud. Read Also : Things to Do In Sukabumi
5. Pananjung Nature Reserve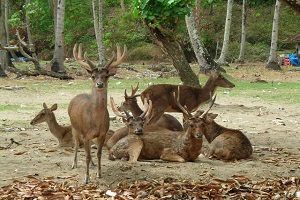 Pananjung Nature Reserve is a nature reserve located around Pangandaran beach. Various flora and fauna live in this nature reserve, while the flora that grows in this nature reserve such as laban, merong, kisegel, famous trees, etc.,
Seduna fauna that lives in this nature reserve is tando, kalong, lutung, banteng, deer, and hedgehog. In addition, various reptile and bird animals also live in this nature reserve.
In addition to seeing a natural beauty and see the various flora of fauna that lives in the nature reserve, around the nature reserve there are various attractions that can be visited among them are cave stage, cave lanang, kaide stone, and cirengganis.
To enter Nature Tourism Pananjung Nature reserve is charged Rp.16.000 and when the holiday season Rp.21.000 while for foreign tourists is Rp.215.000 and Rp.315.000 during holidays. If you want to tour the nature reserve with the guide, at the ticket payment door is usually offered a guide who will guide in the surrounding nature reserve is usually the guide is asking Rp.50.000 / jam but if with large entourage usually around Rp.150.000.
6. Cukang Taneuh (Green Canyon)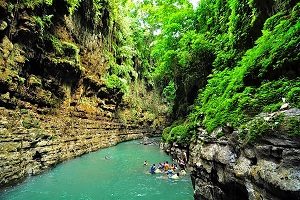 Cukang Taneuh or better known as Green Canyon Pangandaran is a natural tourism located in Kertayasa Village, Ciamis Regency. The green canyon is about 31 km from Pangandaran.
To go to the green canyon if using public transportation then use the bus with Pangandaran and down at Terminal Pangandaran then continue the journey using the minibus to the terminal Cijulang then continue the trip by motorcycle taxi or rent a private vehicle.
To get to the Green Canyon then use a wooden boat daro Ciseureuh dock and takes about 45 minutes. Boat fares are Rp.75.000 / orang, keep in mind the operating hours to go to the green canyon is at 7.30 to 16.00 pm. Along the way to the green canyon, you can see beautiful scenery, green trees, and clear river water. The most favorite activities of the tourists is Body Rafting, while the Body Rafting rate is about Rp.150.000 to Rp.250.000.
7. Pangandaran Beach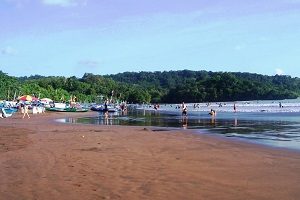 Pangandaran Beach is one of the favorite places to be a favorite citizen of West Java. This beach is visited by many local tourists and even many foreign tourists who vacation to Pangandaran Beach. Pangandaran has 2 beaches namely the west coast and the east coast.
West Coast is usually used as a playground with family, swimming, and also sunbathing under the sun. While the east coast is a place of various culinary seafood as well as various places to shop for fresh fish.
The east coast is also a beach that is used as a place to play jet ski and banana boat. Wait let alone immediately schedule your vacation time to visit Pangandaran beach. Do not forget to prepare recreational equipment to the beach for children.
Read Also :
More Ciamis Attractions
That's seven tourist attractions in Ciamis. There are more things to do in Ciamis, West Java, Indonesia. In addition to tourist attractions are still many more tourist attractions in Ciamis include the following:
Batu Karas Beach
Valley of Princesses
Karang Nini Beach
Pantai Batu Shark
Ciung Wanara (Galuh Kingdom Relics Site)
Karapyak Beach
Pantai Keusik Luhur
Ngampar Stone Tour
Great Mosque of Ciamis
Citrus River Rafting
Ciamis square
Sasak Cirahong Bridge
Madrasari
Pantai Karang Tirta
Majingklak
Peak of Mandala Rancah
Citumang River Tour
Situ Lengkong
Astana Gede Kawali
Situ Mustika
Desa Wisata Jelat
Palatar Agung
Circuit BMX Ciamis
Sukahaji Waterboom
A number of discussion about the best beautiful things to do in Ciamis, West Java, Indonesia. Hopefully with this article can give a reference where your vacation when visiting Ciamis. Have a good vacation!