Hello everyone. This time, we're gonna continue our topic about the attractions around the malls that previously mentioned in the things to do near Breeze BSD City. As you can see in that very article, around the mall, there are so many interesting locations, mostly cafes and restaurants. That's why the malls are never empty of people because, in just one place, they can get anything they want.
If they wanted to eat, they can go to the nearest restaurants that can sell them the fast foods or authentic Indonesian traditional meals. If they want to drink something, they can buy one from so many vendors in the mall. If they want to buy unique clothing like Batik, they can seek for where to by Kebaya in Jakarta or even buy some the other traditional clothing that looks interesting. Now, we want to visit a mall in Banten, called AEON Mall BSD City that is known to be the mall of lights. What else you can find in the mall? Check them below :
1 – AEON Mall BSD City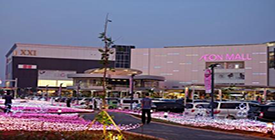 Before actually talking about the things to do near AEON Mall BSD City, we'd like to tell you about the mall itself. The AEON Mall.Co., Ltd. is actually a mall developer that first built in Japan. Their headquarters is in Nakase, Mihama-Ku, Chiba-shi, Chiba, Japan. The business itself reached its hundred anniversary years ago.
Many years later, it opened the branch in Indonesia, which is now known as the AEON Mall BSD City. They still bring their principal, "to give the customers with the best services and putting them first before anything". That's why in the mall, there are unique and interesting events that held by some famous brands, like the Barbie Dreamhouse Adventures, Super Night Celebration, and many more.
Location: BSD Raya Utama street, Pagedangan, Tangerang, Banten
Tips: To see more info about their events, you can check directly to their website at http://aeonmall-bsdcity.com/
2 – Uchino Shokudo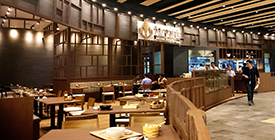 Like you may know already, Jakarta is not the only city that filled with places in where to buy Batik Dress in Jakarta. The cities around it also have the highlight points. For example, in Tangerang, you can find one of the best Japanese restaurant out there named Uchino Shokudo. The restaurant claimed to be, the authentic Japanese restaurant.
However, the restaurant brings an interesting natural concept that planted on both exterior and interior. Upon entering it, you can see the wooden aspects in their chairs, tables, and walls. Aside from that, the other best thing is of course, their foods. In here, you can order the set menu that consists of many dishes. Choose the one that you like!
Location: AEON Mall, Ground Level
Average Price: Rp200.000,- for two
3 – Kazan Ramen
The next one is still the Japanese restaurant that should be included inside the things to do near AEON Mall BSD City called Kazan Ramen. As you may know already from its name, this restaurant mainly serves ramen. The restaurant that still inside the area of Ramen Village in the mall can give you large variants of Ramen.
In here, there's special ramen called Volcano Ramen. What is it? It's a Japanese Ramen that served in a burning hot stone bowl. You can order a Kazan Karamiso to try one. It looks more authentic when served in the stone bowl rather than in the usual ceramic bowl. The taste is not too spicy, but always satisfying in a way.
Location: AEON Mall, Mezzonet 3rd Floor
Average Price: Rp160.000,- for two
4 – Popolamama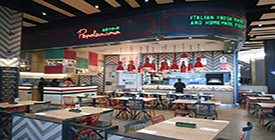 After telling you about the
Instagram worthy restaurants in Jakarta, in Banten, you can also enjoy the best Italian restaurant inside the AEON Mall called Popolamama. The restaurant is a must for all the fans of Italian foods. The name is actually inspired from Italian words, Popolare (which means home-made) and mama. So if you combine both of them, the restaurant is a place where you can taste the foods that freshly made by your mom.
So, the taste must be very memorable. However, the Popolama restaurant is actually based in Japan. The restaurant was started back in 1950 in that very country. Now, it has about 170 branches in Japan and four others in Indonesia. About the foods, you can find the combination of both Japanese and Italian. For example the pasta Yokubari Aglio Olio.
Location: AEON Mall, Ground Level
Average Price: Rp180.000,- for two
5 – Del'immo Patisserie and Cafe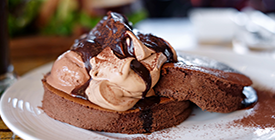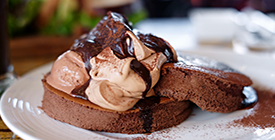 Then it's time for the cafes to show up. The first one is Del'immo Patisserie and Cafe. Like many other restaurants above, this store also originated from Japan, in Akasaka Tokyo to be specific. The quality in this cafe in AEON Mall Tangerang is not lesser than in Tokyo.
The cafe can serve you with the best pastries, with the touch of Japanese aspects of course. But, many people would recommend you to try the Black Dandy, which became the high seller item in this cafe. Other than that, the Choco Brownies can also be a refresher during the day.
Location: AEON Mall, Ground Level
Average Price: Rp150.000,- for two
6 – Crepe Signature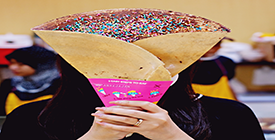 Besides the marine tourism activities in Banten, the second recommended cafe in the list of things to do near AEON Mall BSD City is the Crepe Signature. The shop opens from 10 am to 10 pm every day. Different from the other crepe vendors, this place can sell you the crepe with gigantic size.
Thanks to the size and taste of their crepes, this place became a favorite of people in a really short time. About the menu, you can choose from different categories such as Fruit Crispy, Premium Crepe, Sweet Crispy, and also Savory Crispy.
Location: AEON Mall, 2nd Floor
Average Price: Rp40.000,- for two
The Other Things to Do Near AEON Mall BSD City
So that's only a small portion of total places that we're gonna talk about in this things to do near AEON Mall BSD City. Other than that, here's the other containing the other recommendations that you could also visit in this mall :
1. Tokugawa
2. Taste Better
3. Yamatoya
4. Pappa Jack Kopitiam
5. Ootoya
6. Mama Malaka
7. Eggo Wafle
8. Lidi Gaga
9. Kin No Torikara
The topic about things to do near AEON Mall BSD City ends here. As you can see, we highly recommend the readers to visit all the fifteen locations mentioned above as they are indeed great in quality and services. However, if you find some other unique places around the mall, you can always share your thoughts below.