There are several aspects that can make a restaurant looks good. Beside good foods, there are some additional elements that can support the goodness of their cuisines like the environment and the looks of that restaurant. That's why, there are some unique looking restaurants available, especially in the big city of jakarta with its things to do in Glodok Jakarta Indonesia.
Those restaurants are not selling the best foods only, but also the great and uniquely made environment to the customers. They are very instagrammable for the people who like to put beautiful things on their feeds. So that's why, we want to give you the information about another good thing in Jakarta beside Jakarta late night dining spots, which is the instagram worthy restaurants in Jakarta. Here they are :
1. The Playground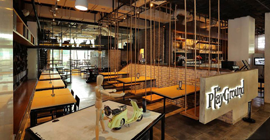 Aside from the things to do in China Town Jakarta, the part of Jakarta city always has something special ini. The example is this restaurants named Playground in South Jakarta. Every person in the world has their own childhood memories. For bringing those fun memories back, visiting the Playground restaurant can be a delightful experience.
Unlike the other usual restaurants, The Playground will give its customers a blast to the past. Tables and seats were made with the structure of kid plays like swing and spinning table. Its interesting concept supported with the varieties of meal in here which can bring back the old memories. Sure, it's gonna be a lot of fun in here.
Location : M.H Thamrin 28-30
Price Range (for two people) : Rp100.000,- to Rp200.000,-
2. Bottega Ristorante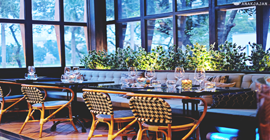 The next restaurant, the instagrammable one, is Bottega restaurant or Ristorante in another language. This restaurants is having this green tone with all the vegetations that put together inside the restaurant, decorating yet making the place more cozy and fresh. That's why it's pretty famous and yet very instagrammable.
In this forest themed restaurants, you can have some meals and very delicious dessert. You can choose the menu starting from Truffle Mac and Cheese to Penne Arrabiatta, and the other unique meals. It's very cozy in here, don't be shy to hang around for a longer time.
Location : Fairgrounds Jakarta
Price Range: Rp450.000,-
3. Rumah Kayu Ancol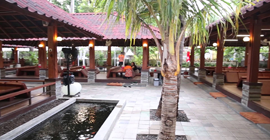 The other beautiful thing about having outdoor activities in Jakarta, is to visit the other beautiful restaurant in order for entertainment and culinary trip all at once. And Rumah Kayu can be a best destionation.  Even though the name of this place is Rumah Kayu, which means Wooden House in English, it actually has a different them for the venue.
When arriving and entering it, you realize that you're actually inside a plane, a replica a least. They have windows, seats, and tables that look similar with the plane interiors. You're not flying anywhere though, but you will have this amazing journey in culinary. You can taste seafoods and also kinds of dessert which the best.
Location : Taman Impian Jaya Ancol, Lodan Timur II number 7
Price Range: Rp250.000,-
4. Odysseia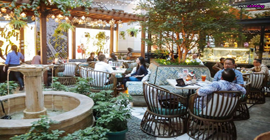 Sometimes, exploring a city that only filled with vehicles, crowds, and tall buidings can be stressing. But there's a reliever inside Pacific Place, a restaurant that can be your oasis in this big city. The name is Odysseia, a good located restaurant and also the green one of all the restaurants that located inside this very mall.
Many people do visit this venue during very day in a week. The green and cozy environment is one of reasons why they would visit this place in their busy time.  In here, there's some kinds of drinks like mocktail and cocktail. You can enjoy it with the Italian, Asian, and also western foods that also available in here.
Location : Pacific Place, South Lobby Ground Floor Kav. 52-53
Price Range: Rp400.000,-
5. Nanny's Pavilion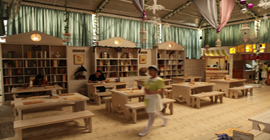 In the West Jakarta, you'll find one particular restaurant that has different theme on each branch. It's Nanny's Pavillion, and its branches are spreading all acros the area of Jakarta. You can spot the branches in Central Park, Pondok Bambu, Cilandak Town Square, and many other locations.
The picture shown on the left corner is showing one of the themes that this restaurant has, the library theme. There's also one theme that is very popular which is the girl's room. Most of them are decorated in pink. In Nanny's Pavilion, you can also enjoy your favorite foods starting from Italian, European, and Western.
Location : Letjen S.Parman number 28
Price Range: Rp250.000,-
6. JimBARan Lounge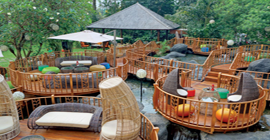 Beside the beautiful best cafes in Kemang Jakarta, you can also visit JimBARan, one of the best restaurants in town. The place looks so amazing with its small river and seat decorations which is colourful and always eye catching.
The nature theme that this restaurant gives to us somewhat making the foods taste better. With rattan seats and uniquely formed chairs, JimBARan gives a lof ot interests. For the foods, you can enjoy the Intercontinental or Western. 
Location : Ayana Midplaza Jakarta Lobby Level Kav. 10-11
Price Range: Rp450.000,-
7. Casadina Kitchen and Bakery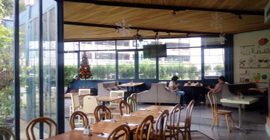 Hang out during wekeend is a must. Beside it's needed to release some stress, it can give you the opportnities of making your bond with your friends more strong. Casadina Kitchen and Bakery can be a great place to do it.
With its classical theme, the customers will be much entertained when visiting Casadine. The environment around also completed with calming musics and the view outside. You'll be accompanied with some "friends" like cake, bread, and heavy meals.
Location : Taman Rasuna Apartment Tower 17
Price Range: Rp200.000,-
The Other Instagram Worthy Restaurants in Jakarta
The instagram worthy restaurants in Jakarta, the capital city of Indonesia are so many. That's why the seven representatives above still not enough to cover our topic for today. So, we want to give you the other nine restaurants that can make your instagram feed looks amazing.
Monks
Woodpecker Coffee
Toby's Estate
3rd Avenue
One Fifteenth Coffee
Toodz House
GIOI Jakarta
Warunk Upnormal
Bistronomy
So what do you think about the instagram worthy restaurants in Jakarta above? They are very unique and each one of them has their own unique theme that applied on their stores. That reason alone can give us much options to look for the best looking restaurant based on our interest.
Thanks to differences between them, either local people of Jakarta or tourists can have so many experience of enjoying an instagram worthy restaurants. With further development, these restaurants can have an opportunity to be the best restaurant and the best " attraction" in the future.
Other Best Places for Hangout