Eating local food is one of the things you should enjoy while you're traveling. Indonesia is rich in amazing and tasty foods, including vegetarian dishes.
Bali also has some local foods that are suitable for vegetarian, so if you're a vegetarian, you still can enjoy visiting Bali. Don't be afraid of not finding any restaurants selling vegetarian food too, as there are some restaurants serving vegetarian dish.
Besides vegetarian food, you can also read more about halal foods in Bali you should try!
Let's taste these 8 vegetarian foods you can enjoy in Bali! Despite the fact they are vegetarian, they are still mouth-watering!
Urab or also known as urap is a traditional vegetable salad served with coconut dressing. It has a wide options of steamed or raw vegetables, including green beans, bean sprouts, spinach, cassava leaves or cabbage. Urab can be enjoyed on its own or as a side dish, as it is rich in flavor and nutrients.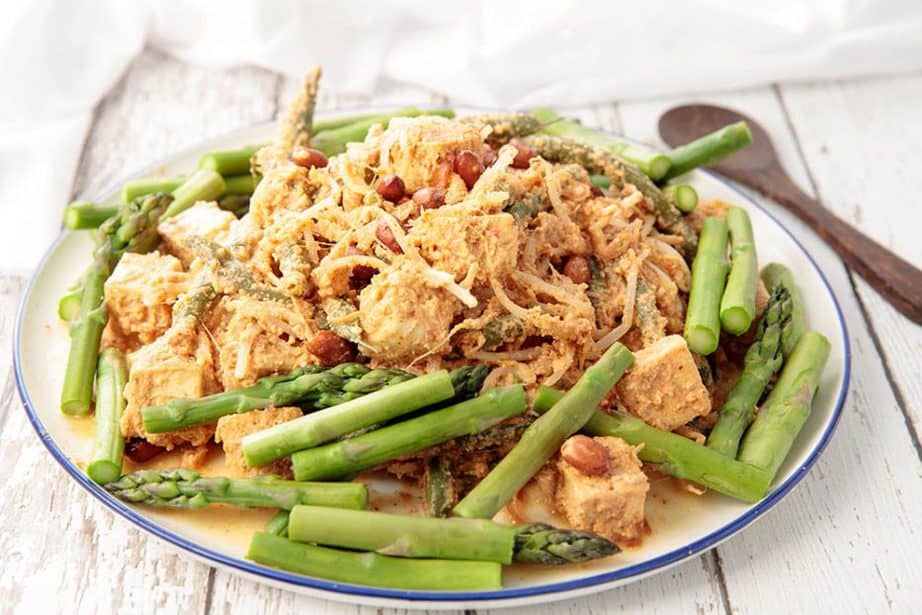 Gado gado can be enjoyed anywhere in Indonesia, including in Bali. It is a must try food if you are vegetarian. Almost any Balinese dish can be substituted for a vegetarian option.
Gado gado is also known as Indonesian salad. It has tempeh, tofu, cucumbers, bean sprouts, kidney beans and sometime it also has eggs. All of these items are topped with a special peanut sauce dressing. The salad tastes a little sweet, savory and spicy.
Spend time reading about local food in Medan. Indonesia has lots of local foods from each province.
Fried noodles – Mie goreng
Fried noodles is a very common dish you can find in Indonesia, including in Bali. It is a very flavorful dish with various use of spice. Fried noodles is a dish which is influenced by the Chinese dish.
Fried noodles is simply made of egg noodles, soy sauce, vegetables and some other toppings. For non-vegetarian fried noodles, you can find some meat inside, such as chicken, beef or meatballs.
However, for vegetarian, you can request to the restaurant or food stall not to include any meat.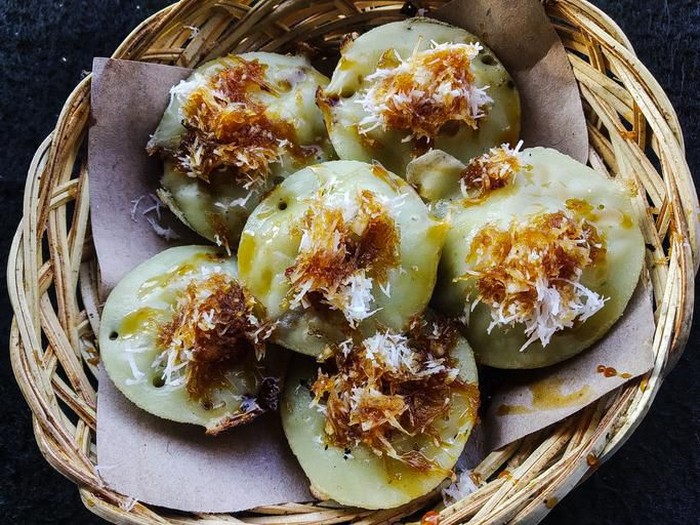 Laklak is a traditional sweet cake from Bali. This cake is made of rice flour. There are two colors: green and white.
The green color comes from pandan leaves and it also gives a light aroma. You can simply enjoy laklak for breakfast, but it is also a great snack that can be eaten any time.
It may be hard to find laklak in big cities, but you can find it in traditional markets around Bali. Once you visit Bali, don't forget to try this bite-size cake.
After tasting all the savory dishes, you can try dessert in Bali too. Bubur sumsum is a sweet and salty dessert that is often served for breakfast or as a snack.
This dessert is made out of coconut milk, rice flour and topped with syrup (palm sugar syrup). You may also find sweet potato dumplings served with bubur sumsum.
This is a great dessert to try in Bali, yet it is also very easy to make at home. You just need to practice to get the correct consistency. In Bali, there's also a cooking class that will teach you to make this delicious dessert.
Pisang Goreng or Fried Banana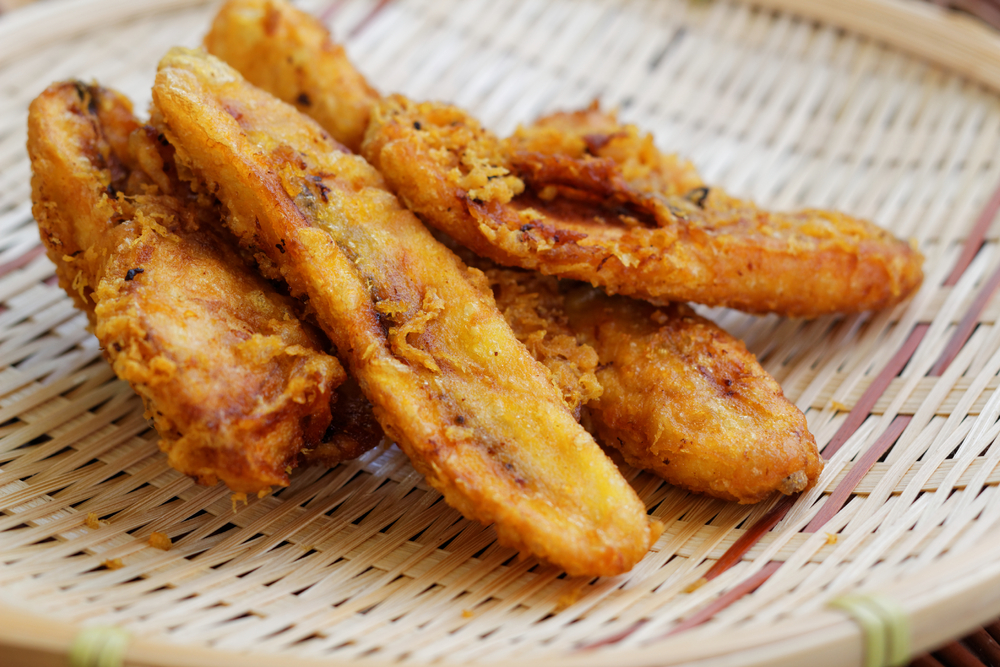 This simple food can also be found anywhere in Indonesia, including in Bali. It is a deep fried banana that is covered in batter.
You can find this snack in street vendors, restaurants and cafes. If you really love street food, then you should check these street food spots in Jakarta. They are not only cheap, but also delicious!
Some places have some unique ways to eat fried banana, such as eating it with ice cream.
Bulung in Balinese language means seaweed, so rujak bulung is made from fresh seaweed. Some foreigners may get curious about this dish as rujak is commoly made of fresh fruits.
Rujak bulung is made of two types of seaweed (the green and white seaweed). They are processed differently. The green one is not cooked, instead it is only washed with hot water. On the other hand, the white one needs to be boiled first.
This white seaweed is processed so that it will be easier to enjoy. Then, these two types of seaweed are mixed with various mashed herbs, such as galangal, ginger, lemongrass, chili pieces.
After they are mixed, there will be some additional toppings added, such as grated coconut, squeezed lime and fried soybeans. These additional toppings will make this dish perfect!
Visiting Bali is not complete without visiting its beaches. Make sure you put these beaches in Karangasem Bali.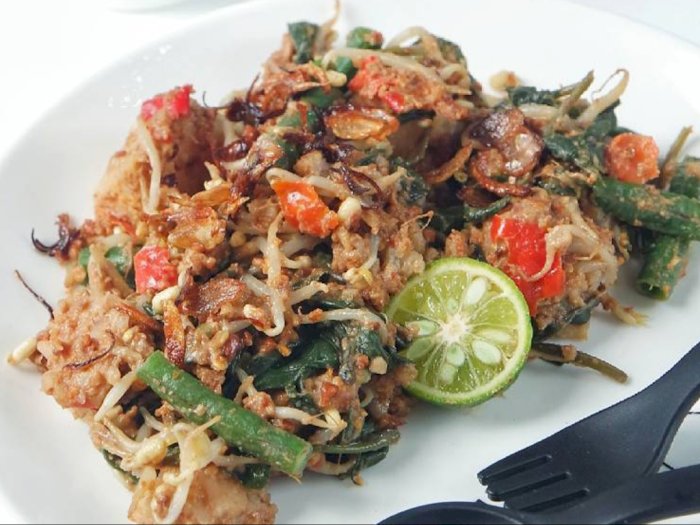 The last but not the least vegetarian food you can enjoy in Bali is tipat cantok. Tipat cantok is a common traditional Balinese food that can be found anywhere in Bali.
It is made of steamed vegetables (such as long beans, bean sprouts and water lily) with rice cake and topped with peanut sauce. Sometimes people also add sweet soy sauce on the top so that it tastes sweet.
You can find this dish on local small Balinese food stalls.
If you really love Indonesian food, then you should take a look at these spiciest food in Indonesia too and get ready to get hot!