Indonesia is home of many religions, including Buddhism and Hinduism. Since long time ago, Hinduism and Buddhism entered to Indonesia and it has a lot of impacts to our country.
One of which is the presence of temple as one of the praying site. Temples do not only function as praying site, but also as tourist attractions for both the locals and foreigners.
There are many temples in Indonesia, both the Hindu and Buddhist temples. Some of the temples are even really old and becomes the oldest temples in Indonesia. Let's explore these 6 oldest temples in Indonesia!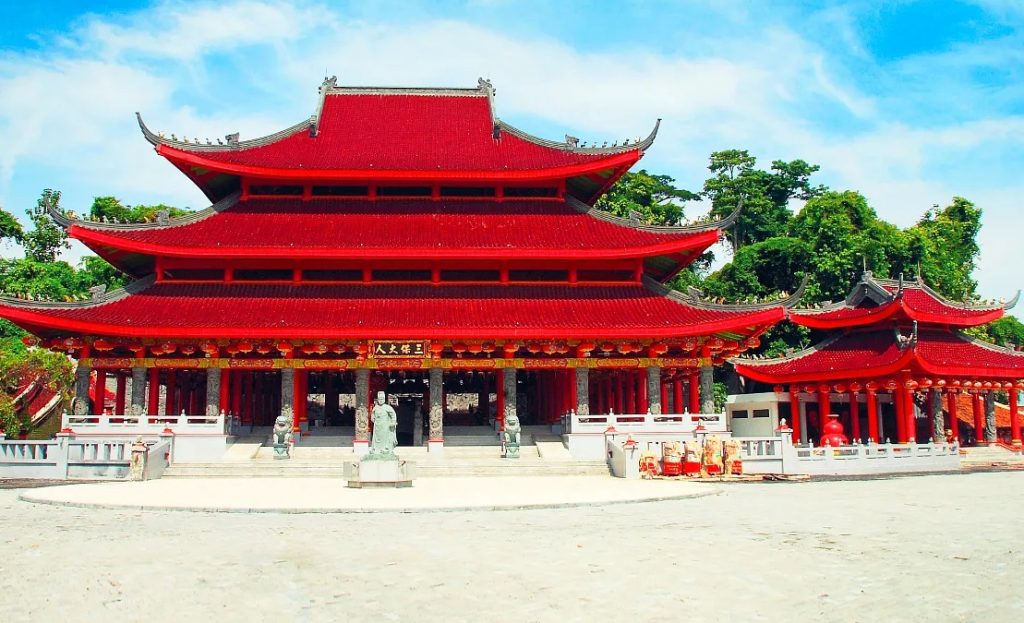 The temple which is located in Semarang, Central Java, is listed as one of the historical landmarks in Semarang. Sam Poo Kong temple is also known as Gedung Batu temple.
This temple is known as the oldest Chinese temple in Semarang. It was originally established by the Chinese Muslim explorer, Zheng He (Sanbao) and it is now shared by Indonesians of multiple religious denominations, including Muslims and Buddhists and ethnicities, Chinese and Javanese.
There's a yearly carnival held in every lunar year, on the 30th day of the sixth month. This carnival is held to celebrate the anniversary of Zheng He's arrival in Semarang.
During this carnival, Chinese Indonesians parade statues of Zheng He, Lauw In and Thio Ke from Tay Kak Sie to Sam Poo Kong.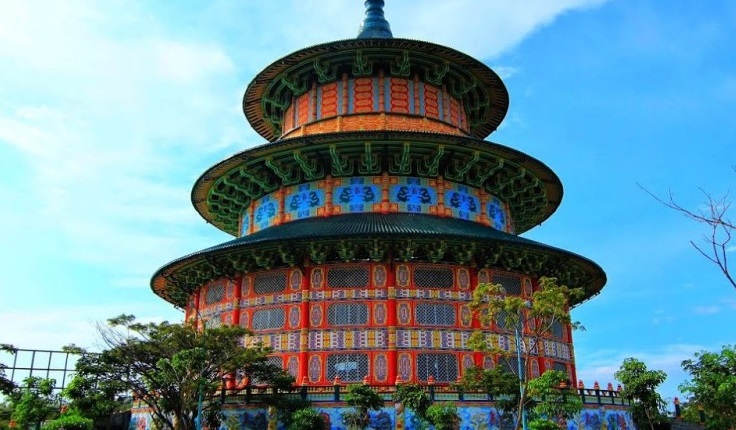 Another oldest temple in Indonesia is Sanggar Agung Pagoda, which is located in Surabaya, East Java. This temple is located inside the complex of Kenjeran Beach area of Surabaya. This temple was opened in 1999 and was built as a place of worship of Tridharma people, including the Buddhists.
The distinctive feature of this temple is the 20-meter-tall statue of Dewi Kwan Im. This statue is built on the seashore and was made as an offering to Nan Hai Guan Shi Yin Pu Sa or Bodhisatwa Kwan Im South Sea.
Besides the statue of Dewi Kwan Im, you can also find a gold-plated giant Phra Phrom statue here.
Brahmavihara Arama Temple
Located in the Buleleng area, specifically in Banjar Tegeha Village, this temple is the only Buddhist temple among Hindu temples in that area. This temple was found by the monk Girirakhito Mahatera and he became the first monk in this temple.
It is located in a hilly area and facing the sea. You can even see the North Bali Sea from this temple area. If you plan to explore Buleleng, then you can consider these things to do in Buleleng Bali and put them into your itinerary.
This temple will be suitable for you who seek for the cool and calm atmosphere due to its location. As this temple stands on the hill, the atmosphere becomes more quiet and safe. No wonder that many people coming here to learn meditation.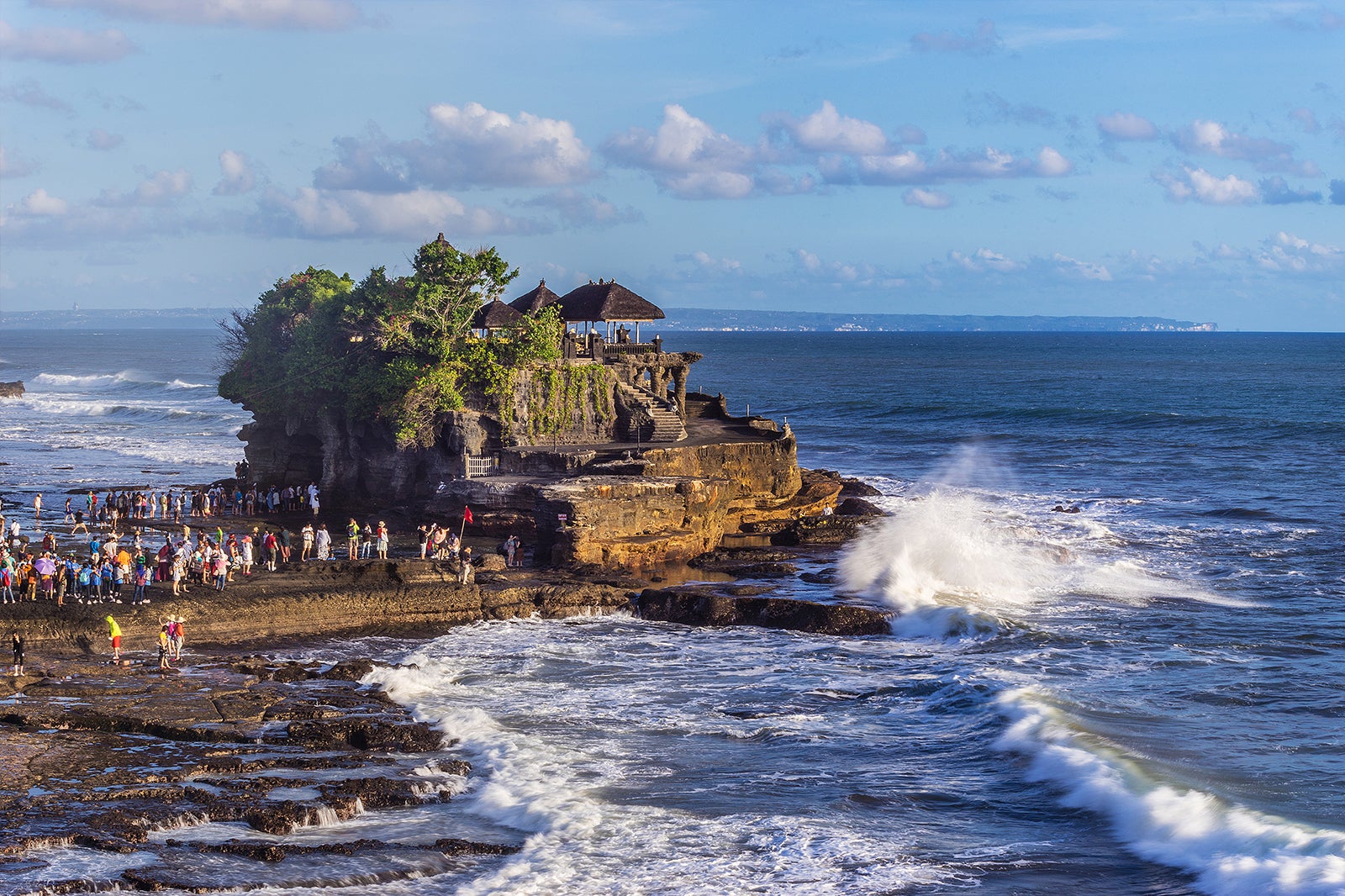 Who doesn't know the famous Tanah Lot from Bali? Bali has lots of famous temples, and one of the oldest temples there is Tanah Lot. Tanah Lot in the Balinese language means "Land in the Sea". This temple is located in Tabanan, which is around 20 kilometers North West of Denpasar.
Tanah Lot Temple sits on a large offshore rock which has been shaped over the years by the ocean tide. Tanah Lot Temple has been a part of Balinese mythology for centuries. Besides, it is also one of the sea temples around the Balinese coast.
This place serves as a tourist attraction and place for worshipping the gods of the sea guard. Many people enjoy seeing the sunset at this place.
Do you know that Tanah Lot is listed as one of the surfing spots in Bali? If you love surfing and high waves, then you should come here!
Borobudur Temple, which has become one of the most visited tourist attractions in Indonesia, is also one of the oldest temples located in Indonesia. Borobudur Temple is located in Magelang, Central Java, Indonesia. This temple was established in the 14th century as the influence of Hindu and Buddhist kingdoms in Java.
Borobudur Temple is a place of religious pilgrimage. Many Buddhists all over Indonesia and abroad gather in this temple to commemorate the Vesak Trisuci.
While you're visiting this temple, make sure you follow these etiquettes in Borobudur Temple. We need to respect this temple as this is a holy place.
Prambanan Temple is known as the largest and the most beautiful Hindu temple complex in Indonesia. It is located 18 km east of Yogyakarta. There are 3 main temples which are dedicated to 3 lords: Lord Vishnu, Brahma and Shiva.
It is considered as one of the oldest temples as it was built around the year 950 by the Ancient Mataram Kingdom. Get the complete idea of things to do in Prambanan Temple Yogyakarta and have fun!
This temple is also included in UNESCO World Heritage Site as the largest Hindu temple in Indonesia. Prambanan Temple also attracts a lot of tourists, both the locals and foreigners.