Semarang is a city which is full of character and this is why you should visit Semarang once in a lifetime for goodness sake! This city has a lot of interesting tourist attractions you must visit.
Just think of the Dutch colonial buildings and the great monuments and landmarks. Some of the tourist attractions strongly reflect the Chinese heritage and current population, making this city noticeable as the 'Old City' area.
If you wish to visit and take photos of the famous landmarks in Semarang, then you should continue reading this. Let us show you the 7 magnificent and famous landmarks in Semarang you shouldn't miss!
As stated before, the tourist attractions in Semarang strongly reflect the Chinese heritage. That's why you will find some Chinese buildings in this city. The first one is Sam Po Kong Temple. Sam Po Kong Temple was constructed to commemorate the Muslim Chinese commander, the Admiral Cheng Ho of the Ming Dynasty.
Sam Po Kong Temple has sweeping three-tiered roof and oriental façade. The extensive renovation was done in 2005/6, marking the 600th anniversary and further commemorating Cheng Ho's historical expedition to Java.
This temple is located some 5 km to the south-west of the city center. It features a spacious main hall, with an inner chamber around it, flanked by two Chinese-styled dragons. The building is also called as Gedung Batu, which means 'stone building'.
Grand Mosque (Mesjid Besar)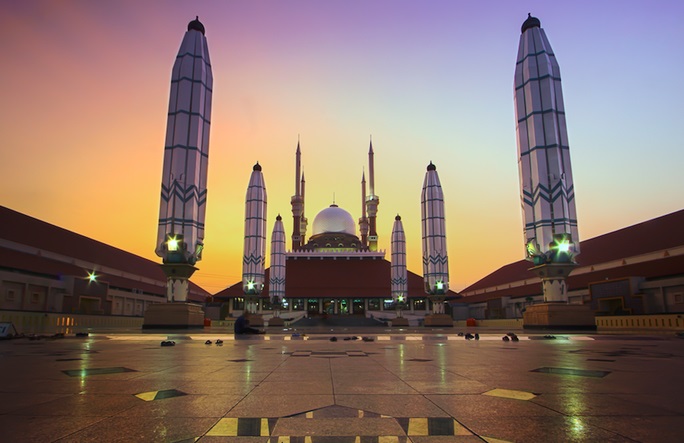 Grand Mosque of Semarang really lives up to its name, since it is a really eye-catching building. The Grand Mosque was rebuilt in 1885 after the previous mosque standing there was destroyed by fire. As its name, Grand Mosque has become the biggest of its kind in the whole Central Java.
Grand Mosque, or known as Mesjid Besar, is noticeable for its sweeping red-tiled roof. It is located in Jalan Pemuda, next to Pasar Johar square, facing the market. This famous landmark can accommodate more than 10,000 people and is very easy to spot due to its huge dome and four towering minarets.
There're four tall pillars standing outside by the main steps. This mosque is successfully built by the mixture of Asian, Middle Eastern and European architecture.
Lawang Sewu Building is also known as the "Building of a Thousand Doors and Windows". It once served as the headquarters of the company of the city's railway.
It was also formerly served as a colonial office for both the Dutch and Japanese governments. Just like its name, Lawang Sewu boasts an enormous number of windows and doors, along with the beautiful stained glass windows.
The building was commenced in 1903 and finally completed 1907. There are twin towers that add a Gothic appearance. Though it is a really beautiful and enormous structure, it has been left empty for a long period of time. As a result, the building suffers from leaky roofs and subsequent rain damage.
Interestingly, many locals consider Lawang Sewu as a haunted place, so if you wish to visit this place, keep an eye for any supernatural. That's why it is also listed as one of the spooky and haunted tourist destinations in Indonesia.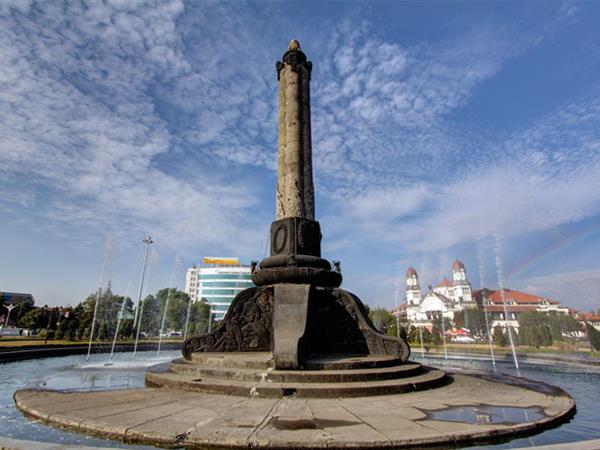 The Youth Monument is located on the west side of the Simpang Lima attraction, exactly in the city center. This obelisk was erected to remember the city's fight for independence. The Youth Monument commemorates the soldiers who lost their lives during the five-day battle with the Japanese soldiers.
The Youth Monument is situated in a large roundabout and is close to Lawang Sewu.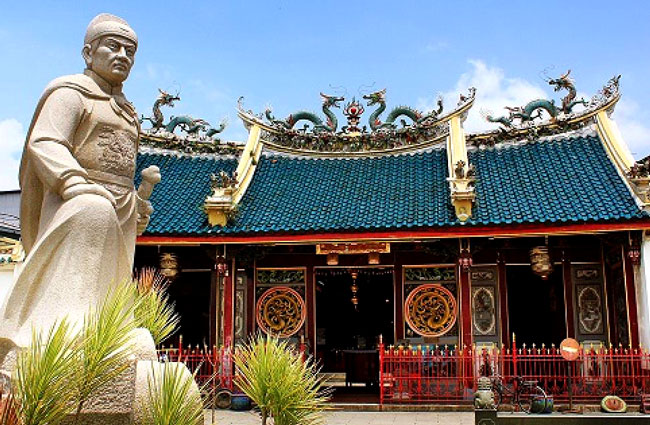 Besides Sam Po Kong Temple, there is another major landmark situated in the Chinatown district in Semarang. While you're in Chinatown distrcit, make sure you consider things to do in Pecinan, Semarang.
This temple is located just off Jalan Pekojan and close to the river. This temple is coming to life during the Chinese New Year celebrations.
You will be able to see the temple full of decorations, especially glowing red lanterns and banners. Tay Kak Sie Temple is a Confucian temple which is among the oldest. High number of visitors come to visit this temple throughout the year. The entrance fee is free!
Semarang is one of the metropolitan cities in Indonesia, so it has a very hectic road that tends to be crowded. Simpang Lima is one of the areas that is very crowded. Simpang Lima is simply a field which is named Lapangan Pancasila.
This field is located in the city center. Simpang Lima, just like its name, is also a meeting point of five streets: Jalan Pahlawan, Jalan Panandaran, Jalan Ahmad Yani, Jalan Gajah Mada and Jalan A. Dahlan.
You can enjoy some activities in Simpang Lima, such as jogging early in the morning or even try some local food that are really cheap!
Semarang is full of interesting tourist spots, isn't it? Besides those landmarks mentioned above, Semarang also has some nature attractions. Put these beaches in Semarang on your list, especially if you're a beach lover!