Welcome to Semarang! If you ever come to Jakarta or Surabaya, next place that you can visit is Semarang. It is famous with many traditional food and many tourism spot. These are why you should visit Surabaya once in a lifetime.
Semawis Market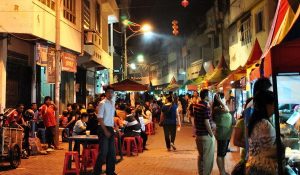 Semawis is a culinary market stall night in Semarang, located on Gang Warung. In this 200-meter long road, there are 120 tents that offer you snacks and drinks, from traditional to international. There are halal food and non-halal food as well. Semawis night culinary market is held every Friday – Sunday, 6 p.m – 12 p.m. During the market was held, vehicles are prohibited from entering or parking.
Semawis culinary market is never empty. The bustling often occurs on Sunday night. Visitors who come not only local people, but also tourists from outside Semarang. Gang with width about 6 meters is filled with visitors queuing up to try the culinary.
If you don't like with queuing and you want to enjoy culinary, you can come on Saturday night. Because on Saturday night, the number visitors is relatively less or you can come in the early hours, which is about 6 p.m.
Important note for Muslim visitors is you must ask the seller about the halal food. Because this place also offers non-halal food, so you must ask the seller. In this market, you will find pork in several stands, so it is important for you to ask the seller before you order the food. You may also check: Horseback Riding in Semarang 
What kind of food that Semawis Market offers?
Semawis night culinary market provides various heavy meal for you who came to dinner. The choice is very diverse. There are nasi ayam, nasi gudeg, nasi pecel, nasi gandul pati, nasi goreng babat, babat gongso, soto sapi, sate sapi, bakmie Jawa, and many more.
The price is vary and classify as medium, not exactly cheap but still affordable. For example, one serving of gudeg komplit sold at Rp 20.000,- A large-size grilled squid or 2 medium size being sold for Rp 35.000,-. You may also check:  Things to Do in Pecinan Semarang
Traditional snacks are abundant here, especially in Semarang. There is a famous Kalicari pancake that is known as delicious. This pancake size is smaller than a pancake in general. This food is combining with gruel, Candil, and klepon cake topped with coconut milk and brown sugar liquid. A plate of Kalicari pancakes sold for Rp 5.000,-
There also knows pong tofu. The tofu served with paste and pickled radishes that make it have rich tastes.  Pong tofu can be purchased at price of Rp 10.000 – Rp 20.000,-
For those who want to try to the cake, there are churros that is from Spain, Zupa soup, gelato ice cream, hotteok, and much more. 
One popular drink in the Semawis market is es puter at Cong Lik ice stand. This ice can say legendary because it has been around since 1944. Es puter made by twisted around. Its main ingredient coconut inserted into the metal tube, and then soaked in a large bucket of ice cubes. The tube is then rotated in circles at high speed until the coconut milk in it freezes.
There are many flavors of Cong Lik es puter: kopyor, coconut, durian, chocolate, lychee, avocado, and green beans. The best sellers drink is durian flavor. Toping available for the drink is coconut, bread, and jelly. A plate of Cong Lik es puter in a small bowl can be obtained by paying Rp 8.000 – Rp 13.000,-. You may also check: Things to Do in Semarang at Night
In Semawis market,  there are a lot of processed pork. There satay pork, pork sausage, rice dumplings that is inside is pork, pork dimsum, and others. The best sell food is Cik Lian pork satay. This satay is served with additional slices of onion. A plate of pork satay is sold for Rp 35.000 – Rp 55.000,-.
Ticket price: Free
Open Hours: Friday-Saturday 6 p.m. – 12 p.m.
Lawang Sewu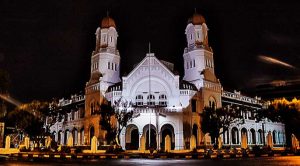 Lawang Sewu is a historic old building from the Netherlands. The building that was once used as the company's central train by the Dutch government, it has now become one of the favorite tourist attractions in Semarang.
Lawang Sewu name comes from the Javanese word "Lawang" which means door and "Sewu" which means thousand, so in terms of Lawang Sewu means the building has a thousand doors. Actually, the number of the door did not reach one thousand (based on existing data, the door of this place is about 342 pieces), but because there are many doors in this place then the local people call it as a thousand doors. You may also check: What to Eat in Semarang 
There are many things you can do there anyway. Either alone or with friends or family. 
Admire the Netherlands Architecture

First, you can admire the old Dutch architecture in Lawang Sewu Semarang. This activity is particularly suitable for you history lovers. In this place, there is a cool spot that you cannot missed. There is stained glass hangings in the wall which were under the dome of the main building.
This stained glass ornament has height over 2 meters and divided into four large panels. Not only beautiful, the architecture was also designed with full consideration. Besides having a lot of doors for air circulation, also made its chambers are connected for security reasons.
Learning History Lawang Sewu Semarang at the Railway Museum
Not many people know that there are railway museum in Lawang Sewu Semarang. In this place, there is a wide variety of artifacts, photographs, old-fashioned train tickets, duplicate locomotive, diorama, and the explanation of the history of railways in Indonesia.
If you are still hard to imagine aka "Ngawang" while reading a brief history of Lawang Sewu above, in this place you will be much easier to learn the history. Because you can see in the pictures and short movies..
In addition, there are other collections such as typewriters and calculating machines. There is also a library that contain books about trains for you who need in-depth information.
If you are reluctant to read, you can hire a tour guide at an additional cost Rp 30.000,- at the entrance. Tour guide is also ready to explain other things related to the history of Lawang Sewu. You may also check: Things to Buy in Semarang
Furthermore, there are activities that definitely favored by young people, ie selfie. There are various photo spot interesting in Lawang Sewu Semarang suitable for background selfie.
Ticket Price: Adult Rp. 10.000,-
Children Rp. 5.000,-
Open Hours:   Everyday 7 a.m. – 9 p.m.
Note: if you go to basement, you will pay Rp 30.000,-
These are the reasons why you should visit Semarang. So, don't forget to come to Semarang.