As one of the destination of attractions in Central Java, Semarang city is a place that full of  surprise. Lots of tourist attractions in Semarang that you can visits. From the bautiful view of beaches  till the fresh air of Ungaran Mountain. As a capital of Central Java did not hesitate to make this city always wanted to a new attractions.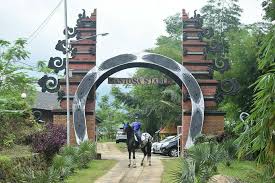 So also with the tourist who come and visit to this city. They will  always looking for a new location of new attractions that can give an experiences and different sensation.
This time, we will explore about tourist attractions, it could be said so popular in Semarang and surrounding areas. A horseback riding attractions, which is near from Semarang. As a horseback riding in Semarang, the existence of Sentosa Stable give refreshment in a choice of different types of tourism in Semarang area.
Sentosa stable can be said is a alternatife destination for spend time off in Semarang city. This locations is very suitable for use as one of alternative locations for family getaways. Although this place is not only for family getaways. If you are planning to visit Semarang city, so there is no harm if you drop in and enjoy the view in Sentosa Stable. Before that, it will be good for you to know some informations about this location.
Privilege of Sentosa Stable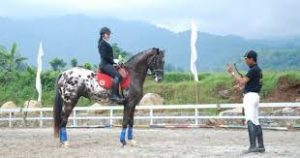 The existence of Sentosa stable is very influential for tourism world in Semarang. Although, in the administration the location of Sentosa Stable  is in Kendal district. But, lot of poeple know this as a tourism destination of Semarang. It is because the distance not that far from Semarang. In addition, this place can be said is a horseback riding, which is big and large. Also visit: Best Place to Do Horseback Riding Jakarta
If you come to this location, you will welcomed  by the view that won't dissapointing you. The rice fields, which is large and the fresh air will greet you. In addition to the beauty, this location already popular as on of the stable with international standard. With the advantages, this place more assured for you to come and enjoy the experience of horse riding that will be unforgettable. The tourists who come to this location not just limited to those from Semarang and Kendal. But also who come from other cities like Jogja and Solo, and the other cities.
you may visit : thing to do in salatiga
Facilities of Sentosa Stable
If we talk about facilities from a place with international standard, so no need to doubt. A lot of things that you can find in this place that can make you feel comfortable. Besides known as a horseback riding attractions, this location also popular with beautiful view. This is because Sentosa Stable located in the slopes area of Ungaran mount.
Seeing the opportunities of nature that can not be passed. So, Sentosa stable offering a tour package that quite interesting for us. This package named Dewi Sembrani, the abbreviation of Desa Wisata Semangat Berkuda dan Bertani. In this package the visitors will invited for horseback riding while touring the rural. Also visit: Things to Do in Bali Horse Riding
This package will materialized because of the teamwork between part of Sentosa Stable and the rural around the place. The management of this system can be used as an example for the other managemet of stable that near to the rural.
Besides the package, this place also provides a package of riding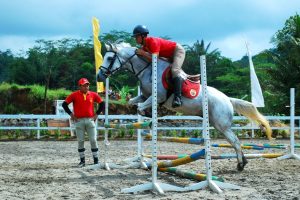 school. If you are interested to learn about how to riding a horse, you may register for join this school. For the registration will be charged about Rp. 2.000.000 for 10 meetings in 2 months. During the meeting, we will learn how to ride a horse that definitely will be fun.
This location often used as a training area for the athletes to prepare a variety of competition. Besides for riding school and training area, Sentosa stable as one of horseback riding in Semarang, also hold a competition horse riding. This competition usually intended for horse lovers in Semarang, Kendal and surrounding areas. The existenece of this competition become one of the spacecraft that was quite interesting to see.
This place has an attractive facility. We can find a kids playground that intentionally made by Sentosa stable, to make it a more attractive. There are some lodging that we can rent to spend the night and the night view in Ungaran mount area. If you are tired to explore the beautiful of stable and playing around with the horses, you may rest and enjoy the food in this place. This place has a restaurant that provides for the visitors.  This location often used for prewedding location in Semarang.
For prewedding session, it will be charged about Rp. 300.000. Include the introduction and selecting the horse. For those who want to come and touring around with horses will be charged for Rp. 50.000 and we will accompanied by the guide.
you may visit : things to do in Tegal
The Location of Sentosa Stable
Sentosa stable is in Siberi street, Dusun Lendoh, Boja district, Kendal regency. For heading to this place, we can through many routes, which is route from Semarang. This is near to Unguran mount area that also be the one of attractions, if we're heading from Semarang.
From Semarang, at least there are 3 main routes that we can take, it is Simpang lima or Tugu Muda area. Then we can go through Manyaran street, and go to darah gunungpati. Second route, for those who come from  Ahmad Yani airport, can go to Ngaliyan street and go towards the Cangkringan boja street. Third route, for those who come from the top of Semarang like Tembalang or Banyumanik, can take a route from Ungaran street to Gunungpati .
you may visit : things to do in Cilacap
Need to know, this place will be open for 6 days in a week from 8 o'clock until 5 pm in the evening. In addition, to get in this area you will charged for Rp. 5.000, it is cheap when compared with the view and the facilities that we get.
So that is a information about horseback riding in Semarang that you can visit. Come to Sentosa stable won't disappointing you because the completeness of the facilities that can make you again, and again to come to this place. Hope that this article will be useful and happy holiday.