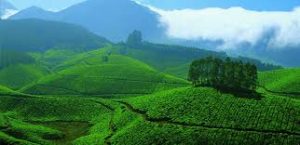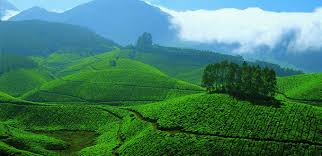 Puncak still a favorite tourist attractions that always visited for spend time off and relaxation from fatigue of job with all the demands and deadline. Every weekend, Puncak always full of crowded even jammed by the visitors who felt deserved passing through the struggle for fight the traffic line to fell the cool atmosphere and relaxing in Puncak.
This article will explore about one of the places in Puncak area with tea garden view that so beautiful, that is Kemuning Tea Plantation that also known as teletubbies hill from a distance. It is because seems like the hills in one of the favorites serial tv for kids, which is teletubbies with four living dolls called tinky wingky, dipsy, lala and po.
Serving of tea plant, which lined up neatly with cool atmosphere from the mountains, which not only pampering your eyes but will relaxing your mind and appease the hearts. Thus your holiday will more passionate and more excited to back to daily routines, again.
you may also visit : things to do in magelang
The Descripstion of History of Kemuning Tea Plantation
Kemuning Tea Plantation is one of favorite attractions in the slopes of Lawu mountain, Karanganyar Regency. Before discussing about Kemuning Tea plantation more specific, We will discuss about the land where the plantation is growing. That is Lawu mount, which is popular with the inherent history and kept maintained until now.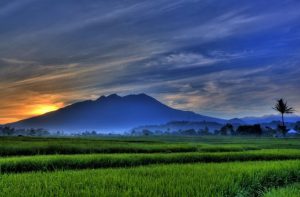 Lawu mount, is between of two provinces in Indonesia, which is Central Java and East Java with the view and the exotic atmosphere that becomes opiate by itself for many people. Especially, for  nature lovers even the mountaineers. Below, some story about Kemuning tea plantation:
It is said that, according to the story in public, Lawu mount often becomes a place for a wide variety of spiritual rites, which took place in a long time. It since Prabu Brawijaya V era till The islamic mataram kingdom era.
Even until now, Lawu mount still special and always identified with spiritual things and still have a 'tight bond' with the palace of Surakarta and Yogyakarta.
Where the relatives still frequently visits the top of Lawu mount to perform and preserve the tradition of ritual.
You may visit : Things to do in Karanganyar
The top of Lawu mount is well-known as  the top of Argodumilah  by many people and there is a building called Hargo Dalem. This building is usually become a place to do some spiritual activities, the folllowing word the description and appearance of this plantation:
Around the top of Argodumilah, you may enjoy the beautiful view from the top, which is so exotic with some decoration of plants and the forest that lay in the mountains. What's more, of the weather is sunny, you can enjoy the sun's light reflected in Indonesian ocean.
The top of Lawu mount currently used for a tea plantation, then used as an favorite attractions for many people from other place.
This attractions is known as Kemuning tea plantation. This tourism offering a very beautiful natural scenery in the form of the Orchard tea garden, which is a tea plantation used as tourism because have a beuatiful view. Moreover, with some rides and hangout places, which embellishing this tea plantation.
Visiting this tea plantation is not only can see the view and the atmosphere that so relaxing, but you may also your aerotic sport hobby with paragliding and enjoy the nature of kemuning tea plantation form the top while feeling the adrenaline race, which very challenging and fun.   
Things to Do in Kemuning Tea Gardens
There some recreation spot in around the kemuning tea plantation, you can choose or maybe explore the spot one by one. Some attractions in this plantation:
Kali picung is one of attractions that is in kemuning tea plantation area and have much rides, like flying fox, down the river with tube, horse ride, paint ball, and swimming. Do a variety of activities in the top with the atmosphere of the mountains definitely would be nice and you could feel the compactness and the emotional of your family or relatives.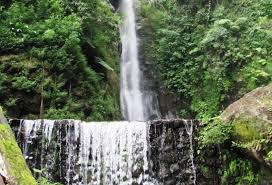 One of the unique that in kemuning tea plantation is the location near to the waterfall called Parang Ijo waterfall.
So, after take your time to enjoy the view of tea plantation, you may feel the fresh from the waterfall, which is so fresh and clean since still around the nature and not much touched by humans.
Here, you can swim in the kids pool or pool for adult, or take the rides for see the view around the mountains clearly and so unsightly.
Ndoro Donker Tea House is a culinary tour in kemuning tea plantation area. If you already tired with outbond activities, you may rest with take a walk around the large tea plantation in Lawu mount.
You can picking the tea directly with the workers who were picking tea and see the process of making tea from the beginning to the end that you can make it to some drinks or foods.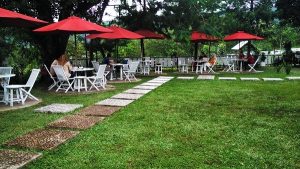 For you who want to enjoy the beautiful nature of kemuning tea plantation, while sipping a cup of tea. Then, Ndoro Donker Tea House recommended to you for come, especially for tea lovers. Below, the unique rides:
 Ndoro Donker Tea House is a cafe that the location is in Kemuning Tea Plantation area and the foot of Lawu mount. Of course, it will give a  impression and different atmosphere.
Here, you can try some tea dishes start from green kemuning tea, black donker tea, the aroma of united kingdom tea ( earl grey, cemomile, lady grey, mint, passion fruit ), Raja tea, white tea, herb tea and so on, that you can enjoy the dishes in a cup or in small teapots.
It is not only tea dishes, but here you can order the food to fill the belly often hungry when the cold atmosphere. You can choose the food from snacks, desert and main course.
In this plantation area, also there is a kemuning restaurant that served different types of food ranging from chicken to fish. Fish that are served can be fished from fish pond provided by owner. This restaurant always crowded even more visitors who had to queue up to get a seat.
Lodging around kemuning tea plantation
There are some lodging with their facilities and prices in kemuning tea plantation. It ranging from 100 thousand per night. Ranging from simple guesthouses to comfortable hotel for rest.
While staying at this tea garden, you can enjoy the night from the top of the mountains around the Inn. Then at the morning you can refreshing your entire senses from your body.
Shopping center in Kemuning Tea Plantation
There are many shops, seller that sell various kinds of tea that can be set as souvenir around kemuning tea plantation ranging from 20 thousand per pack or depending on the type of tea.
The Location of Kemuning Tea Plantation
This is in Ngargoyoso district, Karanganyar, Central Java. Kemuning tea plantation has a scenic charm than the tea plantation in Bogor. The view is so photogenic and the atmosphere is so refreshing with a temperature of 21,5 degrees celcius.
With the height, start from eight hunder to 1500 meters above the level of the sea and the moisture ranging from 60 – 80%. The sun shines only forty to fifty-five percent made this very popular tourist places and become its own opium for anyone visit him to come back here again, and again.   
you may visit : things to do in Surakarta
Located between Sukuh temple and Cetho temple, Palanggatan and Menggung temple, kemuning tea plantation is very easy to find if you want to come and enjoy all the view. You may use your private transportation or with public transportation to go to kemuning tea plantation.
If you come with your car or motorcycle, you can go through Karanganyar city, to Karang pandan area. If you already in Karang pandan, then try to focus on the road signposts leading to Sukuh temple, Cetho temple and Jumog waterfall. After that, take the left lane and keep in touch with public if you get lost.
Noted, that you have to prepare your body and your transportation. It is because the streets leading to the plantation is pretty steep. And don't bring your matic motorcycle. It will safe if you use fine-tooth motorcycle, and recommended to you for use public transportation without worrying about the Street tracks.
You can take a bus heading for Tawang Mangun to Karang Pandan terminal. After that, take a mini bus to Kemuning terminal. If you want more quickly, you can use a taxi or ojek.
You may visit : Temples in Central Java
Prepare your self and your list to go to kemuning tea plantation, don't forget your camera. Hope that this article will inspiring you and useful for your holiday. Happy holiday.