Going camping is always exciting either with family or friends. By going camping, you will feel that you are belonging to nature. You also can use your "survival skills" while you're camping.
Nowadays, many camping grounds providing outstanding facilities, so that people don't have to build any tent and prepare anything as all the things are provided already.
However, camping by building your own tent and preparing everything by yourselves is still the best. You can also bookmark these campsites in Central Java.
Semarang is the capital city of Central Java. It has some amazing tourist attractions, including the natural to the historical ones. However, there are some interesting and recommended camping sites you can visit either with your family or friends. Here they are, the 5 recommended camp sites in Semarang for your amazing camping experience.
Bumi Perkemaham Wana Wisata Penggaron
Wana Wisata Penggaron is the popular camping sites in Semarang. If you wish to go camping in Semarang, then you can put this on your first choice.
Located in the middle of the Penggaron forest area, this camp site offers a calm and refreshing environment along with the great scenery.
Though it is located in the middle of the forest area, the facilities are complete. Facilities are provided, range from toilets, praying room, parking lot to playground for kids. With these facilities, you will be able to enjoy your camping here.
The next camp site you can try is Mawar Camp Area, which is located in Jln. Goa Jepang KM 5, Semarang. Situated on a plateau, this camp site will serve you with its amazing view of the mountains and hills.
This spot is even favored for being one of the best spots to view sunset. If you wish to have an Instagrammable spot, then it will be perfect. If you're around the Mawar Camp area, you can try doing these nature things to do in Bandungan Central Java.
You don't have to be worried about camping equipment here. The management has managed a rent place for you to rent the equipment. Besides, the facilities here are also complete, such as toilet, praying room, park, and some food stalls as well.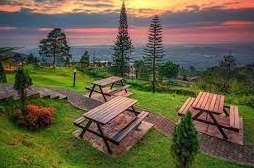 If you wish to have a different experience of camping, then you can try in Umbul Sidomukti. This site offers the concept of glamping (glamorous camping). You just need to stay inside the modern tent with complete facilities.
One interesting feature of this site is all the tents are situated near the hills, so that you can enjoy the best view from the top.
Regarding to the tent itself, it has pillows and blanket inside. Besides, there are some more things you can find, such as thermos to boil water for coffee or tea, electricity socket and others. A tent can be inhabited by 4 people.
The cost of glamping here is quite expensive if it is being compared with the others. You need to pay around IDR 450,000 for one tent. Besides having glamping, you also can enjoy some outbound activities, such as flying fox, rope course and others.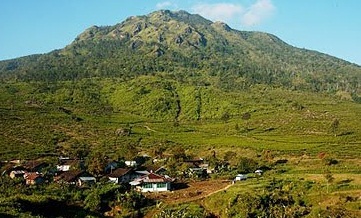 Bukit Perkemahan Medini is located at the foot of Mount Unggaran. It is worth trying to have camping here. The nuance is peaceful, and it is quite cold here. You can enjoy the view of tea plantation from here.
While you're here, you can try doing these things to do in Kendal Indonesia.
Besides the tea plantation, you can also view Mount Unggaran clearly in the morning. This spot is regularly booked by campers and scouts.
You don't have to be worried about the facilities as they are complete, starting from toilet, praying room, and bathrooms. You just need to bring your own camping equipment, such as portable stove, tent, mattress and others.
Having a camp on a mountain or hill is common, how about having it in the middle of a rice field? That what makes Sitinggil Muncul special. You can simply build your tent close to the rice field and you will be able to view the green mountain. You will also be able to view the trees surrounding the camping site.
Sitinggil Muncul also offers the concept of glamping, just like Umbul Sidomukti. So, you don't have to be bothered bringing camping equipment to the site.
All the facilities are provided inside the tent. To have camping here, you just need to pay around IDR 450,000 per night.
Semarang is full of amazing tourist attractions. Find more about it in nightlife in Semarang Indonesia and historical landmarks in Semarang.